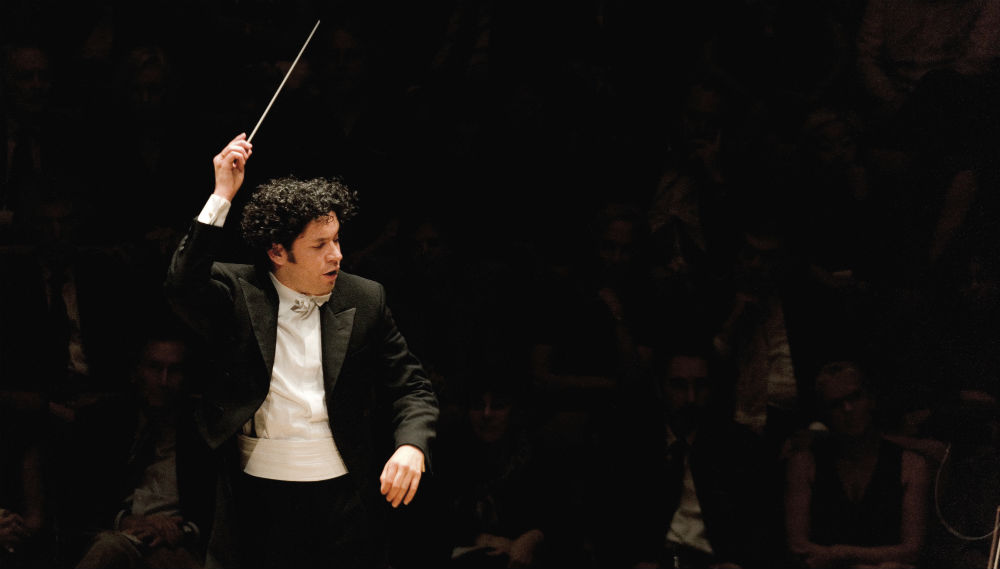 How does one orchestrate a 100th anniversary celebration for a cultural institution like the Los Angeles Philharmonic?
By Vicki Arkoff
With a 2018/2019 season filled with an all-star lineup of conductors and soloists performing classical music's greatest works by Beethoven, Bach and Brahms (naturally), plus a nine-day Stravinsky festival. By kicking things off by closing down L.A. streets from the Walt Disney Concert Hall to the Hollywood Bowl for Celebrate L.A., a daylong festival of street concerts culminating with a free concert by Katy Perry, rock-star conductor Gustavo Dudamel, Youth Orchestra Los Angeles and the L.A. Phil.
By exploring the virtuosity of the L.A. Phil musicians and its own charismatic composers, Conductor Laureate Esa-Pekka Salonen and Andrew Norman. And with ambitious nonclassical programming including cutting-edge collaborations with pop and jazz artists including Moby and Herbie Hancock. With a deep dive into 50 newly commissioned works by John Adams, Philip Glass, Steve Reich and young musical pioneers. With an opera revival, a global tour and in/SIGHT concerts that expand the horizons of music. And with a cutting-edge 3D light show projected onto the steel walls of the iconic Disney Concert Hall. To hell with sheet cakes and speeches. The L.A. Phil is the music of our city, and it's as intent on making history this year as it is on celebrating how it got here.
A Musical Prologue
The masterful two-volume book retrospective Past/Forward combed the L.A. Phil's archives to tell its forgotten stories. The Los Angeles Philharmonic Orchestra was born in 1919, the year President Theodore Roosevelt died and Prohibition was introduced. Los Angeles was home to just 500,000 people. An eccentric violin-playing son of a copper baron decided to fund a full-size ensemble to rival the city's "deficient" Los Angeles Symphony, which was 20 years old but lacking both in skill and double-reed instrumentalists. "It should be a first-class organization," declared founder William Andrews Clark Jr., who initially paid $100,000 to hire full-time players. "The programs [are] to be of the highest and most varied type, with soloists, and the prices of admission modest." He hoped to rival respected orchestras in New York, Boston, Chicago and Philadelphia. But would there be an audience for two orchestras in the same city?
After both Sergei Rachmaninoff and Alfred Hertz turned down the role, the elegant Walter Henry Rothwell was engaged as the Los Angeles Philharmonic Orchestra's first music director. Rothwell had previously led two opera tours across America and pioneered the concept of classical concerts for children, so he knew how to quickly recruit talent from established groups. In just 11 days, he managed to whip his new ensemble into shape for their concert debut at Trinity Auditorium in downtown L.A. on Oct. 24, 1919. "I shall play the Dvorák New World Symphony," Rothwell told the audience, "first, because it is a magnificent work of much popularity, and then, too, because Los Angeles and the Philharmonic Orchestra open for me a veritable 'new world' of art, a world in which I believe I can realize my musical ideals." Critics raved, calling it "the birth of the most prodigious infant in symphonic history."
The orchestra soon moved to the 2,700-seat Clune Auditorium on Pershing Square. Violinist Sven Reher noted that the venue was in shambles, "but the sound in that auditorium! Magnificent!" Clark was accused of stealing the Clune from the L.A. Symphony Orchestra, which folded later that same year, making the argument a moot point. The venue was renamed Philharmonic Auditorium and housed the L.A. Phil for 44 years. For their first concert tour, the entire orchestra and staff traveled and slept in a rented train. "In a small town in Colorado there were very few people in the auditorium," principal violinist Philip Kahgan recalled. Clark canceled the concert, gave the small audience their money back and shouted to the musicians, "Fellows, let's go on to Colorado Springs and take a bath." The Phil embarked on just one more train tour after that and didn't tour again until 1956.
Meanwhile, interesting things were starting to happen at home. A group of musical-arts patrons found a site for an outdoor theater in the Hollywood Hills on private property known as Daisy Dell. It had outstanding natural acoustics, as evidenced by a contralto singer who was pleased with the way her voiced carried across the natural "bowl" landscape. They dragged a grand piano and a kettle drum into the hills for further tests and held a few recitals. Then on Easter Sunday 1921, the L.A. Phil made its debut on a rickety platform at what was by then called the Hollywood Bowl. The sunrise service was attended by 800 guests on wooden benches, and at least 2,000 more circled the orchestra on picnic blankets. Rothwell hated conducting outdoors, so he agreed to the orchestra's return to the Hollywood Bowl in 1922 for summer concerts called Symphonies Under the Stars, but hired his friend Alfred Hertz, conductor of the San Francisco Symphony, to take his place. Hertz became known as the "Father of the Hollywood Bowl," the place that democratized music by selling tickets for as little as 25 cents. Soon, the world's leading conductors and soloists were clamoring to perform there. Proper bench seats were installed, and four acoustic "shell" stages were built over four years. The second and third were designed by Frank Lloyd Wright's architect son Lloyd Wright. The 1929 version lasted until 2003.
The L.A. Phil went on to forge new paths for an old art form. In 1925, the L.A. Phil became the first major U.S. orchestra to broadcast a symphony concert on the radio. It was one of the first orchestras to include female musicians; harpist May Hogan played in the group's first season and until 1936. By 1939, the orchestra had performed 64 concerts with the esteemed Otto Klemperer on the podium, followed by a string of guest conductors from Bruno Walter to Sir Thomas Beecham. Then the irascible Alfred "Wally" Wallenstein stepped up in 1943. He hired bassist Henry Lewis, the first black musician to play in a major orchestra, and refused to fire players accused of being communists by Sen. Joseph McCarthy. The L.A. Phil made more than 250 recordings with classical stars like Igor Stravinsky, Leopold Stokowski and Leonard Bernstein conducting. "Sometimes it was recorded under the name Columbia Symphony Orchestra so they didn't have to pay the entire Los Angeles Philharmonic," laments Zubin Mehta, the music director from 1962-1978. Mehta too actively hired women, "something that you wouldn't find in Berlin, Vienna or the London Symphony in those days."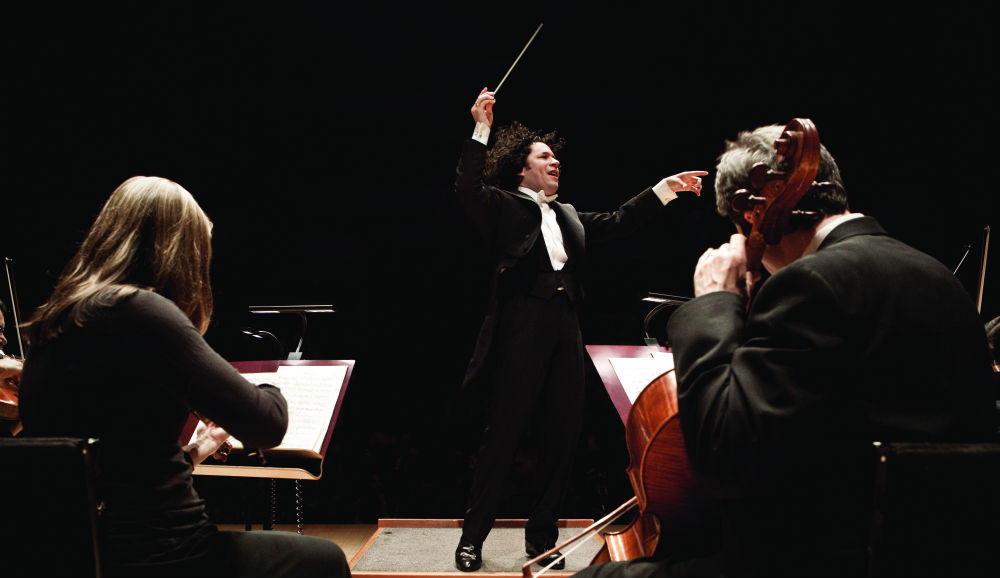 Standout recordings include Carlo Maria Giulini's Falstaff, Esa-Pekka Salonen's recording of Arvo Pärt's commissioned Symphony No. 4 Los Angeles and Gustavo Dudamel conducting John Adams' The Gospel According to the Other Mary. Most of the orchestra members also played for movie soundtracks. "Most of the time they were fairly idiotic films, but the orchestral playing was incredible," says André Previn, who served as music director from 1985 to 1989.
The L.A. Phil finally had a true home of its own when Southern California Symphony Association Chair Dorothy Chandler built a dedicated orchestra hall at the Los Angeles Music Center. She raised a nationwide record of $400,000 in donations at a "wingding of a party" featuring a Christian Dior fashion show, a Cadillac Eldorado raffle and special guests such as Jack Benny, Danny Kaye and Dinah Shore. The Pavilion—later named the Dorothy Chandler Pavilion against her wishes—opened in 1964, instantly becoming the keystone of Los Angeles' first centralized arts center. Designed by architect Welton Becket, the elegant Grand Hall was draped in midcentury-modern chandeliers and muted Byzantine tile columns. Patrons wearing tuxes and ball gowns were greeted by ushers in white gloves and red silk Nehru jackets in honor of Mehta's Indian heritage. All 3,200 seats were filled on opening night, and most were filled for symphonies and operas for the next nearly 40 years. In 2003, the orchestra moved next door to its current home at the Walt Disney Concert Hall, the fourth venue in the Music Center. It was designed by Frank Gehry, who believes that "architecture should speak to its time and place, but yearn for timelessness."
The orchestra started experimenting with concert programming under Ernest Fleischmann's mandate to "break down some of the barriers between classical music and rock." Mehta's star power led to unique collaborations with pop artists such as Joni Mitchell and Frank Zappa. They introduced the idea of a 12-hour marathon concert for Beethoven's 200th birthday where listeners could come and go as they pleased for $1. Thousands of UCLA students sang the "Hallelujah" chorus with the orchestra at its Peace Concert to honor the tragic deaths of anti-war protesters at Kent State. The now famous Star Wars concerts—with lasers, smoke and costumed characters—started as a children's matinee to fill the time when a Japan tour fell through. The Los Angeles Philharmonic's New Music Group and Green Umbrella concert series began in the '80s to spotlight the work of trailblazing living composers such as Pierre Boulez, John Cage and Peter Sellars.
Coda
The 2009 appointment of Gustavo Dudamel as music and artistic director received a Beatlemania-level reaction. The young Venezuelan conductor is so dynamic and so devoted to music education for underserved youth that he has created a child army of new classical-music lovers. Founded by the L.A. Phil, Youth Orchestra Los Angeles gives free orchestra instruction to more than 1,200 students. "I learned firsthand that music has the power to change people's lives," Dudamel says. "Now the L.A. Phil is doing just that through YOLA." Together, they hope to double the number of students by establishing a permanent home for the program: a $14.5 million project in Inglewood also designed by Gehry. "I designed the [YOLA] Center to be a world-class instrument for the community," says the architect, "and I can't wait to see how they use it." Construction will begin before the 2019 centennial celebration ends.
Following in the footsteps of the dynamic Michael Tilson Thomas and Simon Rattle, Finnish conductor and cellist Susanna Mälkki is the L.A. Phil's current principal guest conductor and is only the third to hold the post in the orchestra's history. From where she stands on the podium, she sees an orchestra that has evolved into a unique artistic unit. "There are no limits to their abilities, but being a professional today is larger than just the ability to play," she says. "To be an intelligent musician and a sincere artist is more than technical skills, and this is what I feel from this orchestra. There's a real engagement, and that's something that has grown along with its history. L.A. Philharmonic is a great example of seeing change as a positive challenge, rather than a threat."
What will symphonic music sound like 100 years from now? It's impossible to say, but there's no doubt it will continue to lean toward eclecticism, as Leonard Bernstein suggested in his final 1973 Norton Lecture at Harvard University. "Since then, music has gotten more diverse," says opera and theater director Elkhanah Pulitzer, who recently oversaw L.A. Phil productions of Bernstein's Mass, Adams' Nixon in China and the centennial season's Opening Night Concert & Gala. "Algorithms on Spotify and iTunes don't yet know how to categorize certain musicians or sound worlds."
Leading the Los Angeles Philharmonic into its second century is the daunting task of CEO Simon Woods, who was preceded by Ernest Fleischmann and Deborah Borda, whose combined tenures lasted nearly half a century. "The Los Angeles Philharmonic has become the organization that literally is refining what it is possible for an orchestra to be," says the veteran orchestra executive and former EMI Classics producer. "I don't think another orchestra has had the courage to think about doing things so differently—moving the art form forward in new ways. That combination of courage, incredibly bold thinking and very strong sense of ambition has turned the L.A. Phil into a unique organization. It's without parallel in the world."