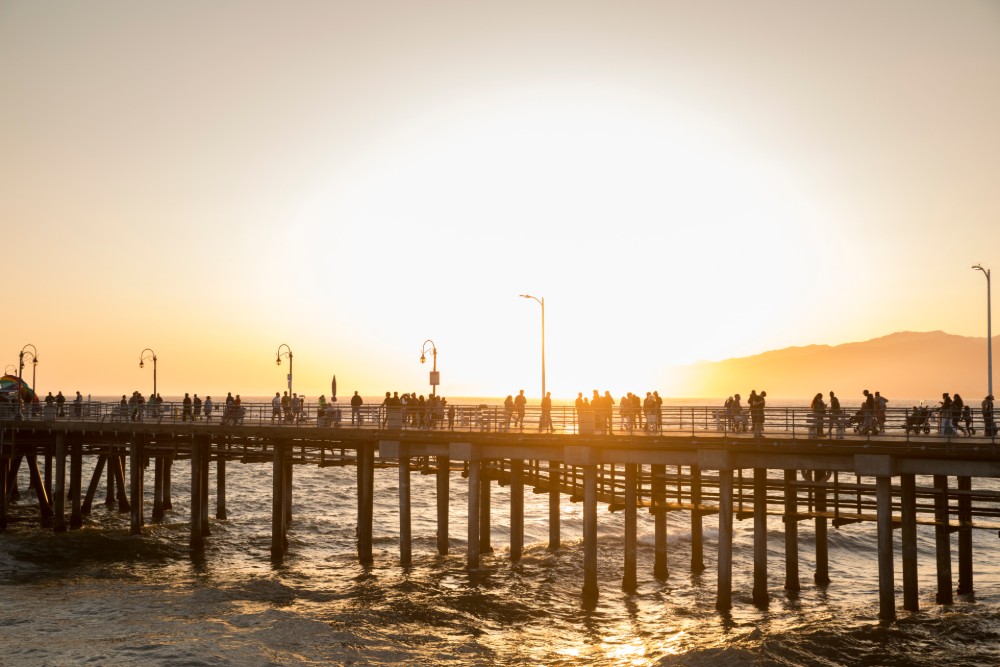 By Andrea Richards.
I wish I had the full itinerary of my grandparents' trip to Los Angeles in 1967—or better yet, a time machine that could transport me there. They came to visit my parents, who lived in San Pedro, and from the stories I've heard, iconic spots including Ports O'Call, the Original Farmers Market and the ritzy restaurant then atop the Theme Building at Los Angeles International Airport. Fifty years later, several of those are still here.
That's the definition of a classic: It doesn't lose its appeal over time. L.A. is full of restaurants, bars and attractions that keep people coming back because they continue to capture something quintessentially, well, L.A.
Though it's known for its trendiness, its fads and for being a "new" city, Los Angeles is actually a place of deep tradition. Our traditions might not look like other cities'—think tacos after rock shows or paletas in the park after a perfect hike—but that's what's great about them. Sometimes a simple bowl of chili or a certain view of the ocean acts as a wormhole that allows us to travel back in time.
Here are four days—and many ways—to experience classic L.A.
Day 1: Hit the Beach
What better way to pay homage to our endless summer than to spend a day at the beach? Start by grabbing a coffee and a ticket at the counter of Santa Monica's Bay Cities Italian Deli & Bakery, which has been making its signature sandwiches since 1925. Order the famous "Godmother" with the works and pick from the deli's ample selection of sides and salads to pack a picnic Frankie and Annette would envy.
With that and some bevies in a backpack, drive up the PCH for an easy hike along the breathtaking coast at Point Dume in Malibu (park in the lot at the end of Zuma Beach—there's a trail up the bluff). Expect incredible views, including sea lions romping in the surf below and migrating whales during the winter and spring. Break out those sammies while resting on the small deck on the trail, or wait to spread a blanket out on Zuma Beach, one of the longest surfing beaches in California, open since the 1940s.
Shake the sand off and head farther up the PCH to the Malibu Pier for a rejuvenating coffee or glass of wine at Malibu Farm Pier Cafe, located in a beautiful midcentury building at the seaward end of the pier. Originally built in 1905, the Malibu Pier is a sleepy contrast to Santa Monica's and has a long history as both a filming location (The Rockford Files, Gidget) and a military lookout. Today the patio on the second floor of the café is one of the county's best places to sip a sauvignon blanc.
After drinking in the views of Malibu, head back down the coast to Santa Monica, stopping in Pacific Palisades to visit the gardens at the Self-Realization Fellowship Lake Shrine. Here, film history comes together with L.A.'s spiritual bent—the former home of Inceville and 20th Century Fox is now an incredible meditation and retreat center.
Center yourself before re-entering the busy world in Santa Monica's Palisades Park, where you'll find an attraction that's been astonishing visitors since 1898, the Camera Obscura. Along with the optical device housed in a tiny room, the civic center below sponsors events and an artist residency.
Finally, close out a perfect beach day with drinks and dinner at Chez Jay, a 58-year-old beach shack that was a hot spot for celebrities in the 1960s (Lee Marvin once rode his motorcycle into the bar). If you're in need of a nautical nightcap, try Santa Monica's oldest restaurant, The Galley, for drinks at its fabulous South Seas Bar.
Day 2: Hollywood Stars
In most people's minds, Tinseltown and its historic industry are inseparable.
Take a tour with Hollywood Heritage or a walk on your own to see two iconic neighborhoods: High Tower Court, known for its streamline moderne architecture, and Lake Hollywood, both near the Hollywood Bowl.
High Tower Court—named for the private five-story 1920 elevator that accesses its homes—is featured in Michael Connelly novels and the film version of Raymond Chandler's The Long Goodbye. Walking the winding streets gives you a good taste of the city's eclectic hillside architecture.
Also noirish is the 1924 Mulholland Dam at Lake Hollywood. A 3.5-mile paved trail around the old reservoir offers a stunning view of the iconic Hollywood sign.
The Musso & Frank Grill has been serving up its famous flannel cakes to the crème de la crème of Hollywood, and a host of writers, since 1919. Have a martini in their honor.
Stay on the boulevard for a special screening at Sid Grauman's first Hollywood movie palace, the Egyptian Theatre, built in 1922, which now serves as the home of the American Cinematheque. Visit cinephile fave Larry Edmunds Bookshop, now marking 70 years, and browse its selection of film-related books, movie posters and scripts.
A meal at Canter's Deli, "L.A.'s best since 1931," is a must. Consider a plate of lox, a pastrami sandwich or a cocktail in the Kibitz Room.
Nearby at Third Street and Fairfax Avenue, The Original Farmers Market has been feeding locals and visitors since 1934. Landmarks within the landmark include Magee's Kitchen, Du-Par's Pie Shop, Monsieur Marcel Bistro, Bennett's Ice Cream and Patsy D'Amore's Pizza—said to have introduced pizza to L.A.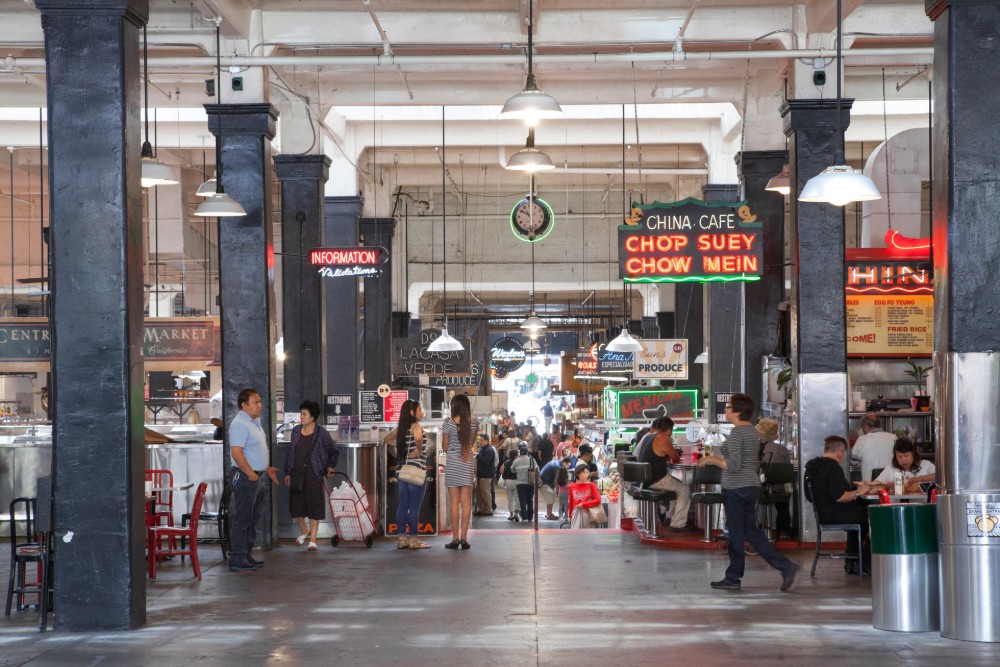 Day 3: Downtown Love
Begin your downtown tour at Grand Central Market, the epicenter of epicurean L.A.; more than three dozen vendors include Eggslut, Ana Maria and Belcampo Meat Co. Tip your hat to Blade Runner across the street at the Bradbury Building.
Take a ride on Angels Flight, the tiny, beautifully restored funicular that takes you up Bunker Hill. Built in 1901, it's the world's shortest railway. From there, it's a short walk to City Hall; the iconic art deco building offers a wonderful view of downtown from its observation deck.
Stay in that deco moment at another icon, Union Station, its new Imperial Western Beer Company brewpub and glamorous train-car cocktail bar The Streamliner.
On the way is the Little Tokyo location of the Museum of Contemporary Art; the Geffen Contemporary was a former police-car warehouse that was retooled by Frank Gehry in the early 1980s.
At the heart of downtown—across from Union Station, close to Chinatown, Little Tokyo and the Arts District, and north of the Los Angeles Civic Center—is El Pueblo de Los Angeles Historical Monument, which marks where the city began, in 1781. Watch the sun go down on the historic district's Old Plaza, and honor the moment with a few taquitos from Cielito Lindo, which has been serving rolled tacos on Olvera Street since 1934.
Enjoy a paloma or two at La Cita, then dance the night away until you're hungry enough to hit the nearby Original Pantry Cafe, which has been offering breakfast all day and all night since 1924.
Day 4: Classic Valley
Though removed from much of the hubbub of the city, the San Fernando Valley boasts its own classic attractions.
Find the 94th Aero Squadron Restaurant inside two hangars at the Van Nuys Airport. The faux French farmhouse is named for a World War I unit and was built to seem like it's been hit in an air raid. Sit on the patio and watch as private jets take off on the runway before you.
Visit the oldest remaining outpost of Bob's Big Boy in Burbank for any meal of the day. A masterpiece of Googie architecture built in 1949, it was declared a California historical landmark more than a quarter of a century ago.
It sets the tone for the intensive study of the area's history that follows at the Valley Relics Museum, whose collection of pop culture artifacts includes neon signs, vintage BMX bikes and playable arcade games.
From the heart of the Valley, head to North Hollywood for drinks at two equally kitschy spots: the Tonga Hut, L.A.'s oldest Tiki bar still in operation, and Idle Hour, a beautifully restored bar in a distinctive, barrel-shaped building. The 1941 building is one of the last remaining examples of "programmatic architecture"—and it's the one with the best cocktails and small plates in town.
Top off your Valley day with dancing at Oil Can Harry's in Studio City; open since 1968, it's an inclusive gay-and-straight cowboy club that, depending on the day, offers line dancing, salsa or disco.
Photos: Santa Monica Pier courtesy Santa Monica Travel & Tourism. Grand Central Market by Jakob Layman.