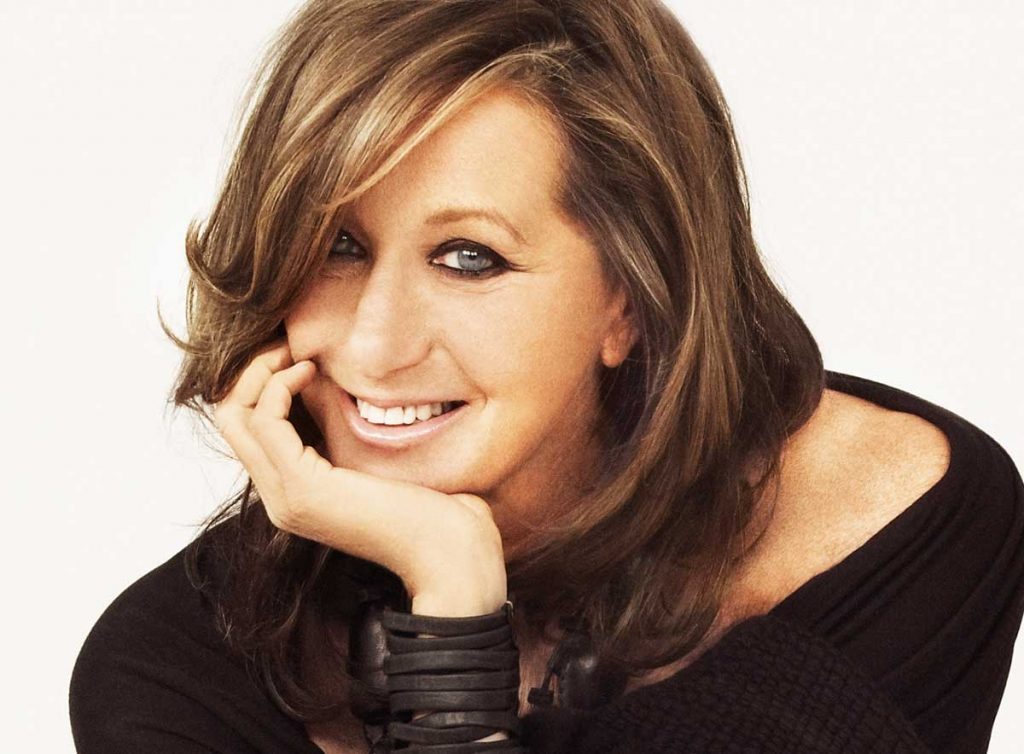 Catching up with celebrated fashion designer Donna Karan.
By Suzanne Ennis
Celebrated fashion designer Donna Karan wears her heart on her sleeve. Since selling and then stepping down as chief designer of the company that she founded in 1984 with her husband Stephan Weiss, who passed away from lung cancer in 2001, the yogi, world-traveler, visionary and philanthropist has turned her focus to Urban Zen, a lifestyle brand that she created in 2007 to bring her philosophy of "dressing and addressing people" to life. The brand works in tandem with her Urban Zen Foundation's initiatives to promote wellness, education and the preservation of culture—topics about which Karan has long been passionate. True to its name, the West Hollywood Urban Zen store–one of just five such stores in the U.S. —seems miles away from the buzz of nearby Santa Monica Boulevard, with a tranquil courtyard and cottage filled with luxurious ready-to-wear, jewelry, handcrafted leather pieces, furniture and home decor designed by Karan and made in partnership with global artisans. Karan's memoir, My Journey, fills out the shelves. We sat down with the New York native (but self-proclaimed Malibu girl) at the store when it reopened last fall to discuss that journey, as well as what's in store.
Your new shop, Urban Zen, has such an amazing feel. I would love to move right in.
So would I!
Can you tell me about the Urban Zen Foundation, and how the store fits into its initiatives?
Urban Zen is dressing and addressing people from the inside outside. About 15 years ago, my husband was passing and I saw this vision for Urban Zen. I told LVMH Moët Hennessy Louis Vuitton [who was acquiring Donna Karan International], "I see a space and a place where people come together who want to create change." I explained, "It's not just about dressing, but addressing," and that's really how I started Urban Zen. I had a vision. It started in my husband's studio after he passed away, and I had his holiness the Dalai Lama there, and I said, "I can't even talk about it anymore—let's do it."  [Then I held a] seminar on healthcare, and out of that came the Urban Zen Integrative Therapy program.
UCLA was the first hospital on the West Coast to adopt the program, right?  
The nurses are all being taught the program. They just adore it. My husband said, "Whatever you do, take care of the nurses." The nurses, they were doing their medical job, but nobody was caring for [patient]. So we started the Integrative Therapy program, which is in-bed yoga, reiki, aromatherapy, nutrition and palliative care. We did a clinical study on it and saved $900,000 on one floor of the hospital.
Saved? Wow!
But this was a long time ago. It was hard for people to understand this, because it was all about the disease. I said, "We're all going to be patients. We've got to take care of the patients." So, during the seminars I was having, everyone said, "Donna, where are the clothes?" Okay! [Laughs] So I did a few clothes, then I opened up this little store next to my [New York] studio, Urban Zen.
What brought you to LA?
My dream was always LA, because LA, I thought, got it. They understand juicing, they understand yoga. My yoga teacher is originally from California, Rodney Yee. Rodney and Colleen [Saidman Yee] were the people who started to the Urban Zen Integrative Therapy program with me. The Young Living oil people do the oils. Now we have trained hundreds and hundreds of integrative therapists. So that's been a dream of mine, and taking it to the next dimension is what we are going to do now.
How does Urban Zen support the preservation of culture?
When Haiti had the horrible [earthquake in 2010], the person who was running my studio was Haitian and said, "Donna, you have to do something for Haiti," and I said, "Where is Haiti?" I didn't even know where it was! Sure enough, I put two and two together, and I said, "I don't believe in giving money; I believe in giving jobs." …Then, I went to Haiti and I realized that everybody was an artisan. So Donna Karan [International] figured I would get all of the handmade products out to all of the stores, but there was one person who did the pottery, one person who did leather—it was all onesies. I said [to the artisans], "We have got to train you to develop into another level." The first thing I did was to try and get other designers to come down with me, but in the end, we went with Parsons School of Design and the graduates of Parsons. We picked three people every year and we started vocational education school, called the D.O.T, Design Organizational Training, and we teach the people.
And that still exists?
It started [formally] just about three years ago, but when I started, I was buying all of these products and working with [the artisans] independently. … [Today,] the chandeliers were made in Haiti, the pottery, the jewelry—a lot of the things I have here—were made in Haiti, which I adore. So I have always been about dressing and addressing people, and that's what Urban Zen is really all about. It's not about a season. It's a lifestyle. My hope out here in LA is to build the community for people who are interested in healthcare, people who are interested in education and preservation of culture. I think LA is the perfect place. I've always wanted to move out here.
I love hearing that.
I'm really an LA girl. I say I work in New York, but I live in the world. I'm really a Malibu girl.
Can tell me about some of your favorite things in the store?
I designed the furniture for myself, and then everybody else wanted it. [Same with] my shawl. Everybody would say, "Oh my God, I have to have one."  You can sleep in it, go out in it, it's the best thing to have on a hook. For people staying in hotels and on airplanes, it's fantastic. For me, a scarf is one of the most important things. The thing about this collection that I love is the layering of it. These pants are to die for! I bought about six pairs of them. They hold you in.
How does the clothing differ from past collections?
It is totally me, to the next dimension. It's a luxury version. It's clothes that will last forever. It's not about a season. I only do two [see now/buy now collections] a year. The clothes are from day to night. It's a system of dressing. You can pack them up in the closet, rolled them up in a ball.
So, perfect for traveling.
Perfect, perfect, perfect. I said if you can't sleep in it and go out in it, I don't want to know from it!
What's next for you professionally?
My real vision is to have a hotel. That's my real passion. A hotel/condominium where people live and have all of the healthcare and everything that they need on a daily basis.
With all of your accomplishments—and you have had so many—what makes you most proud?
I love Urban Zen. I love the fact that I have brought all of my worlds together. It's a place and a space where people can come together to make change. Then—I don't know, is this my first or second?—it's my family. … In my world that I live in today, my dream is to see the world and show it to my children. Find the calm in the chaos.
Urban Zen, 9045 Nemo St., West Hollywood, 424.335.0655, urbanzen.com