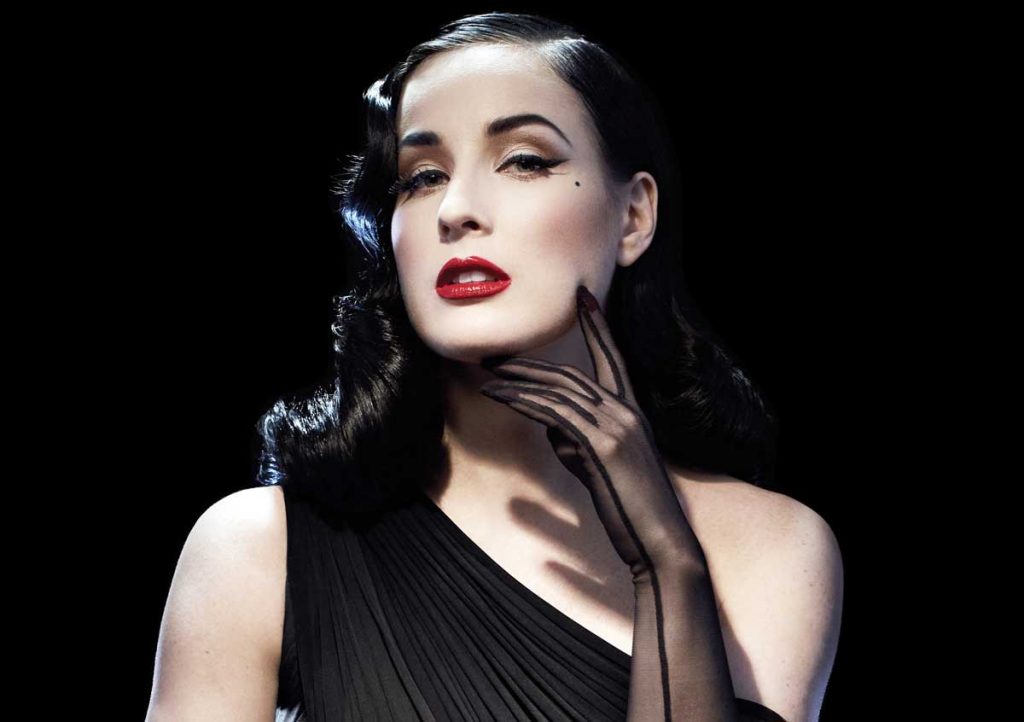 The world's top burlesque queen, Dita Von Teese chats about her favorite spots in Los Angeles.
By Vicki Arkoff, adapted from Queen of the Night in the November 2016 issue of WHERE Los Angeles Magazine
It's only natural to think of the world's top burlesque queen, Dita Von Teese, as someone who comes out just at night. But between nightclub performances, there are Dita Von Teese lingerie, stockings, eyeglasses and gloves to design, books to write and fragrances (such as Erotique) to create. One day she's autographing copies of her book Your Beauty Mark at Stan Lee's Comikaze Expo, and the next she's jetting to Paris to headline at Crazy Horse or preparing to tour the U.S. with her new striptease spectacle, "The Art of the Teese," kicking off Feb. 1. Plus, there is no one more passionate about seeking out classic Hollywood glamour than this former Midwestern farm girl who knows where it can still be found … besides in the reflection of her dressing-table mirror.
What is it about the Golden Age of Hollywood that fascinated you so much, so young?
When I was a little girl, my first experience seeing pretty ladies was on TV, watching old movies with my mother. It lit a fire. I grew up with an obsession for this made-up, glamorous look that is about a silhouette and the ultra-feminization of a woman: red lips, nails, high heels and stockings. … I'm a natural blonde from a farming town in Michigan, so, clearly, I became something other than that by choice.
Where are you able to still find that kind of glamour in LA?
The most glamorous place in town is the Chateau Marmont. Everyone likes to go outside to smoke and people-watch, but I'm talking about indoors, inside the hotel's beautiful, art deco lobby bar. The lighting is sexy, and there's nowhere else that I've been that has that true essence of Hollywood glamour.
Where else do you go for cocktails with a sidecar of nostalgia?
You can't go wrong with Musso & Frank, of course, for the best martini in the city. I also really love Clifton's, which recently reopened. … Then there are places that I really love, though they aren't the coolest, like the Tam O'Shanter. It's an old Tudor-style restaurant and bar. It's a time capsule, as is my house.
What are your top local sources for vintage gowns and baubles?
I love the stores The Way We Wore and Golyester, and I love going to the flea markets—the Rose Bowl, Long Beach and all those mega antique markets— but the Santa Monica Airport Antique Market is my favorite.
What are LA's best burlesque and cabaret venues?
There's a lot of faux-lesque in this city, places with shakedown dancers on tabletops, which is a bit stale. … I look for something more sophisticated. No Vacancy is nice for a bar-club kind of experience in a beautiful Victorian house, but my favorite venue for my show is the Avalon. It has everything that you want from an old, historic theater, but it also has a club vibe.
You design your own line of satin and lace lingerie. Where are the best lingerie shops?
My last favorite lingerie store closed recently, so now Bloomingdale's lingerie department is the place to [shop]. I usually go to the one in the Glendale Galleria or Century City. My brand can be found there, alongside a lot of others.
Where do you go to treat yourself?
I really love the Korean spa experience. I'm a big fan of the Wi Spa and the Grand Spa. They're not fancy, but I love them more than classic Beverly Hills spas because they're open 24 hours. When I want to treat myself to the best meal ever, I go to Sushi Sasabune in Glendale.
Are there any places left in L.A. fancy enough for ladies to step out on the town wearing Dita Von Teese elbow-length gloves?
I love being overdressed. It makes everyone feel like they need to step up their game! Dress to kill and walk into Musso & Frank's. You'll look like you own the place.