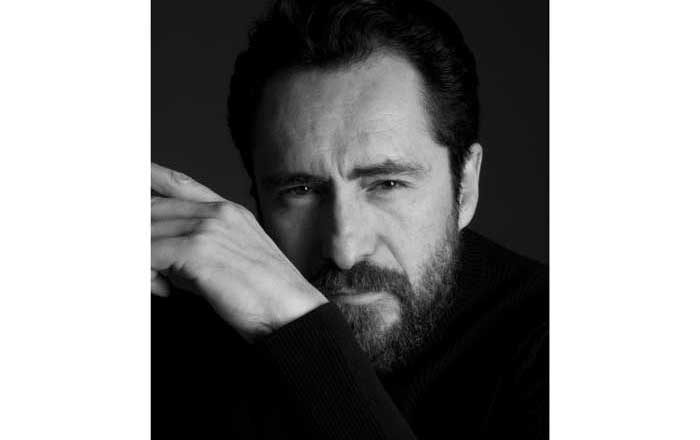 International stage and screen star Demian Bichir is earning rave reviews as El Pachuco in Center Theatre Group's revival of Zoot Suit. He chats with us about coming to LA, finding fantastic chile rellenos … and playing the role of a lifetime.
By Suzanne Ennis, adapted from Risks and Rewards in the March 2017 issue of Where Los Angeles magazine
U.S. audiences know international stage and screen star and ACLU Celebrity Ambassador for Immigrants' Rights Demian Bichir from his roles in Showtime's Weeds, FX's The Bridge, Quentin Tarantino's The Hateful Eight and the 2011 film A Better Life, for which Bichir received an Academy Award best actor nod—only the second Mexican actor to be so honored. Up next on the big screen: Alien: Covenant, Lowriders and Bichir's directorial debut, Un Cuento de Circo & a Love Song. In the meantime, he's earning rave reviews as El Pachuco in Center Theatre Group's revival of Zoot Suit at the Mark Taper Forum, a play that, nearly 40 years ago, put Chicano theater on the map. En route to rehearsal, Bichir talked to Where Los Angeles magazine about coming to LA, finding fantastic chile rellenos … and playing the role of a lifetime.
What attracted you to playing El Pachuco in Zoot Suit?
This is one of the great American plays. Who doesn't want to play Richard the Third? Who doesn't want to play Hamlet? [El Pachuco] is a bigger-than-life type of character and a huge challenge for any actor. … You just want to be a part of great literature and great drama, and Luis Valdez is one of the best playwrights.
Is there a role that you always wanted to play?
El Pachuco. Without a doubt.
What do you hope audiences take away from your performance?
I never see myself as a one entity—I see my work as part of bigger machinery. …  I'm really proud of being a part of this company, and we are really happy with the audience's response so far. People are really excited because many of the people saw this play forty years ago, and many of them just heard of it or never had a chance to see it, so there's some excitement when they come to the theater. That excitement is even bigger when the play ends. People just jump out of their seats and it's a standing ovation automatically. It's really overwhelming. It's really, really wonderful.
Many students are attending, as well, so it's a whole new generation being introduced to the play.
Whether you are Hispanic or not, [seeing this production] is a way of getting in touch—probably for the first time ever—with high quality theater. In these times where you have so many options, with TV and so many different channels, I think it's wonderful that kids can come to the theater and have this experience that definitely will stay with them for the rest of their lives.
What was your motivation to write and direct Un Cuento de Circo & a Love Song?
I think there is a director in every actor, and some of us are just crazy enough to go ahead and try and actually make it happen!
Where did the idea come from?
I think it came from personal experiences of my own journey from Mexico to the U.S. … This story is about faith and is about redemption and the possibility of love. Those three elements have always been in my life.
Alien Covenant and Lowriders come out this spring. What attracted you to each of them? They are so different from each other.
That's probably the answer right there. I am always looking for new risks. If I can jump from one character into a whole different one, I will always look for that. … I think the biggest change came when I did Lowriders because I had just come from shooting The Hateful Eight. Bob "The Mexican" and Miguel in Lowriders are so different in every sense; physically and psychologically and in every characteristic. I like playing with that. I like going to extremes if I can. You can't always achieve that because you get many offers that are similar, and you have to say no.
You are the ACLU Celebrity Ambassador for Immigrants' Rights. Does your activism influence your choices in roles?
I think it's the other way around. I think the ACLU invited me to work with them closely because of the choices I've made. They know that I have spoken my mind and they pretty much know that I've been talking about the need for immigration reform for many, many years. This is not a new subject matter; not a new issue in our society. This is one of those social struggles that has been going on for a long time and needs to be won, as have many others in the history of the U.S.
Why did you first move to the U.S.?
I was an adventurer ever since I was a kid, and I guess it has to do with that. Also, growing up as a young actor in Mexico, I was a big admirer of the work of Gene Hackman, Jack Nicholson, Dustin Hoffman, Robert De Niro and Al Pacino. Whenever I saw one of their films, I always thought it would be so cool to do that in a different language, to do that with these guys. Then I realized the first thing that I needed to do was learn the language, so that's when I first moved away.
You were already very successful in Mexico; why move back to Los Angeles?
A lot of people thought the same. They all thought, "What are you going to do somewhere else? You have your place here, your name; people respect you and love you, why are you leaving?" I just wanted to expand the possibilities.
What do you love about living here?
I would say that food is one of the best things in the city. … One of my favorite [places] for Mexican food is Tere's. The food is just delicious. It's always fresh and the quality of the products they use is triple-A. We were shooting The Hateful Eight only a block away from there, and I would send my friends, and I remember Kurt Russell saying, "Man, that's a great chile relleno." Brad Pitt has his office in the same studio, and he goes there all of the time, too. … My other favorite place is La Casita Mexicana. It is a little farther, all the way to the 710 freeway, but you can get there easily. Those guys are incredible chaps, and they have some of the most wonderful, authentic Mexican cuisine.
How about bars?
I think home is the best bar. I can't wait to get home after long days at work and get a nice shot of whiskey. I taught Stephanie, my girl, how to make martinis, and now she is the queen of martinis. She makes the best martinis on the planet! I can make a fantastic bloody Charro, which is the Mexican version of a Bloody Mary. Instead of vodka, I just make it with tequila.
What are your favorite spots in your neighborhood?
We are in the Valley, where you will find some fantastic restaurants. One of my favorites is Little Izaka-ya. It's pretty much like my house because all of my fellow countrymen are at the sushi bar, [where the chefs are] making fantastic, beautiful dishes and sushi rolls of all kinds. … They're all my friends, so all you have to do is go there and be happy.
Where do you like to go to see theater and art in Los Angeles?
When I first arrived in Los Angeles, I went to see Hurlyburly at the Geffen Playhouse. … I thought, "What a beautiful theater, what a beautiful house. I have to work here one day." Then I had a chance to do that in By the Waters of Babylon. … I've always been a big fan of the Music Center because I'm a big opera fan, and I go to the Dorothy Chandler to [see] the Los Angeles Opera every time I can. Of course, I have been to the Mark Taper Forum. … I am lucky to say that [at] two of the theater houses I love the most, I have been on the stage already.
So have you fulfilled your dream in Los Angeles?
I think we are on our way. I say "we" because my team is a key part of [my success]. We have certainly reached a really beautiful point. … But there is a lot more to do.