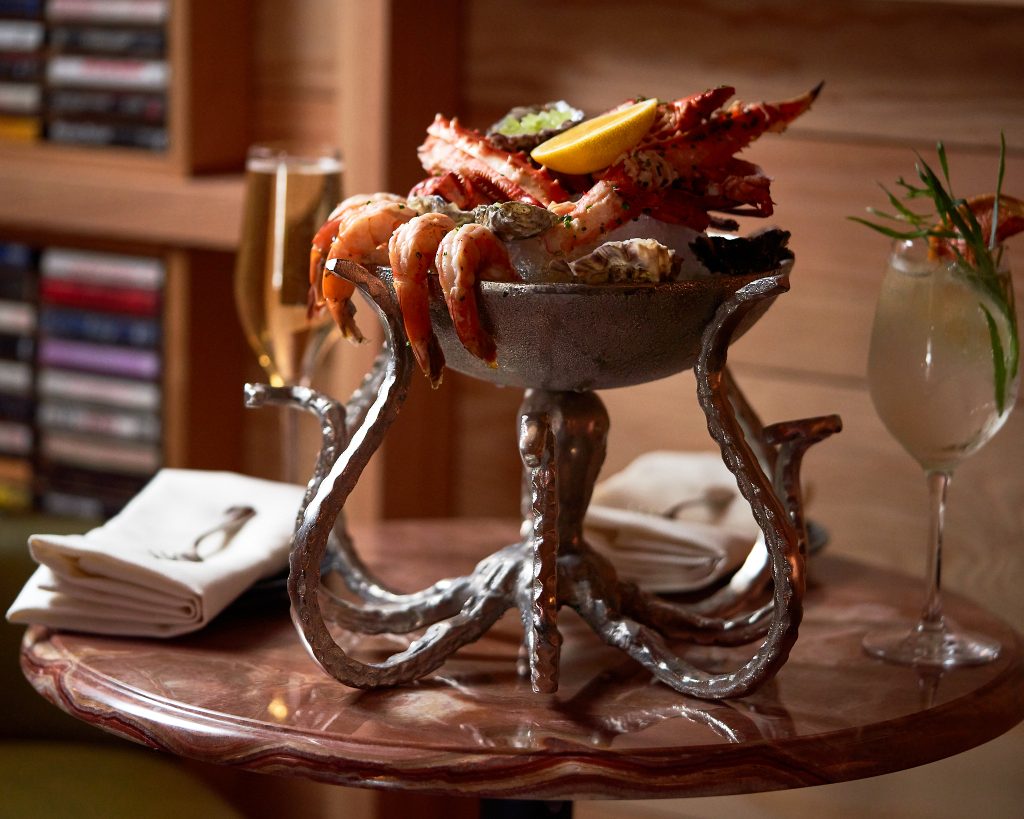 Eye- and tastebud-popping restaurant opens in Long Beach.
Talk about a powerhouse partnership.
Michael Mina's Mina Group operates about 40 restaurants around the world including brasseries from Las Vegas to Dubai—actually several in Vegas, including one called Michael Mina—not to mention Bourbon Steak locations in Nashville, Glendale and Dana Point. Before all that, the Michelin-starred Mina won the James Beard Award for best chef.
Brent Bolthouse is the nightlife guru behind the Bungalow in Santa Monica and Huntington Beach—which have earned design accolades from Architectural Digest—and countless other clubs, lounges, bars and restaurants in Southern California over three decades. He's produced parties for HBO, Dolce & Gabbana and Mercedes Benz.
Together, Bolthouse and Mina have just launched Bungalow Kitchen, taking over adjoining restaurant spaces at 2nd and PCH in Long Beach to create an eye- and tastebud-popping venue for the Belmont Shore neighborhood. And they're about to unveil another in stylish Tiburon in Marin County.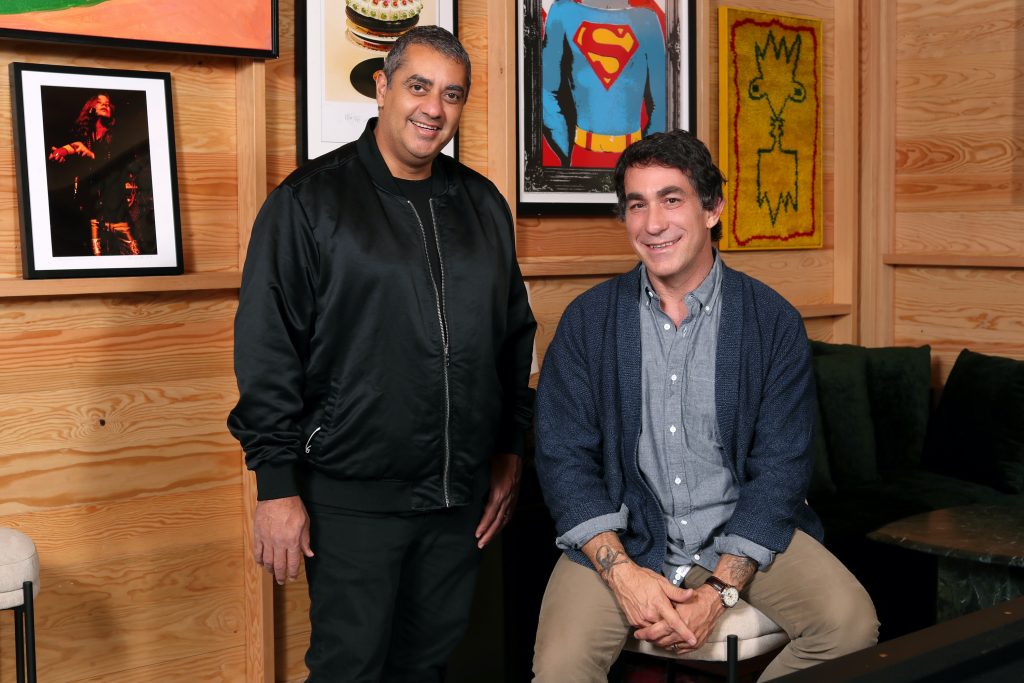 The vibe is chic and bohemian, eclectic and residential, and the decor in every room, passageway and alcove intriguing.
In the dining room are plush sofas, a large fireplace, '70s rock relics and a copper-topped bar. There's a sunroom with white oak plank walls and a game room with a pool table. The spacious deck patio, its retractable awning built into a red cedar trellis, looks out onto glorious marina sunsets.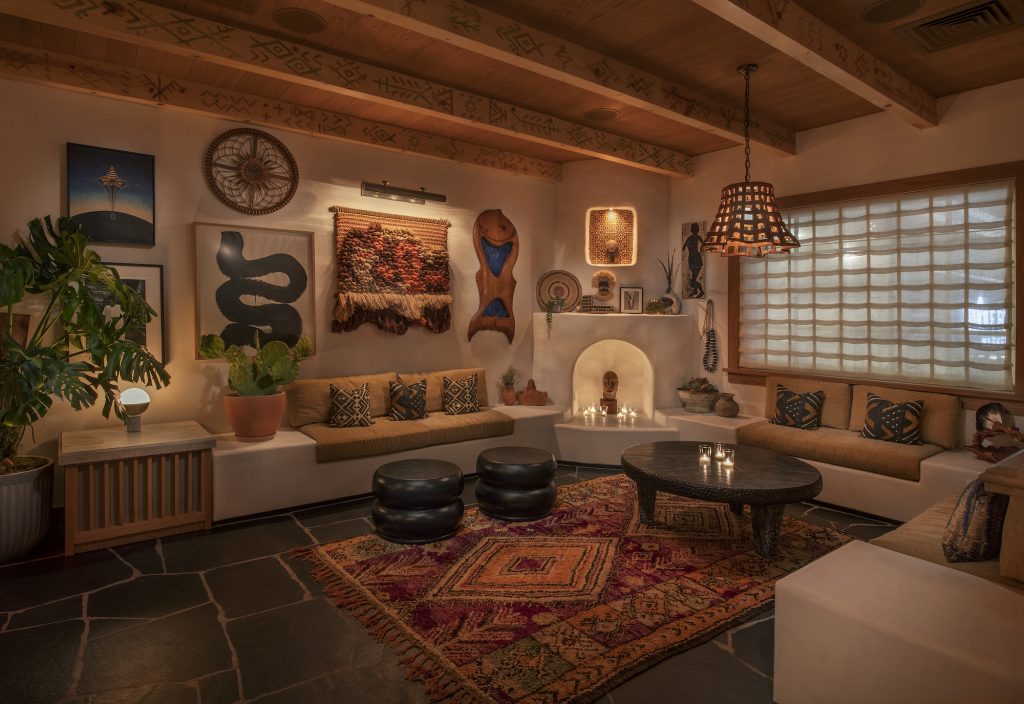 The cuisine is seasonal Californian and features several Mina classics—lobster pot pie, anyone? The wine list is robust and the cocktails superb. Service couldn't have been more personable.
Sweet-potato pancakes with house-smoked king salmon and Tsar Nicouli osetra caviar began an extensive first tasting—and it got better from there. Best, perhaps, was the chile-garlic king crab with scampi butter and charred lime. Other starter highlights included crispy duck wings glazed with Grand Marnier and black pepper and a short-rib "pop tart" au poivre with horseradish cream and crispy shallots.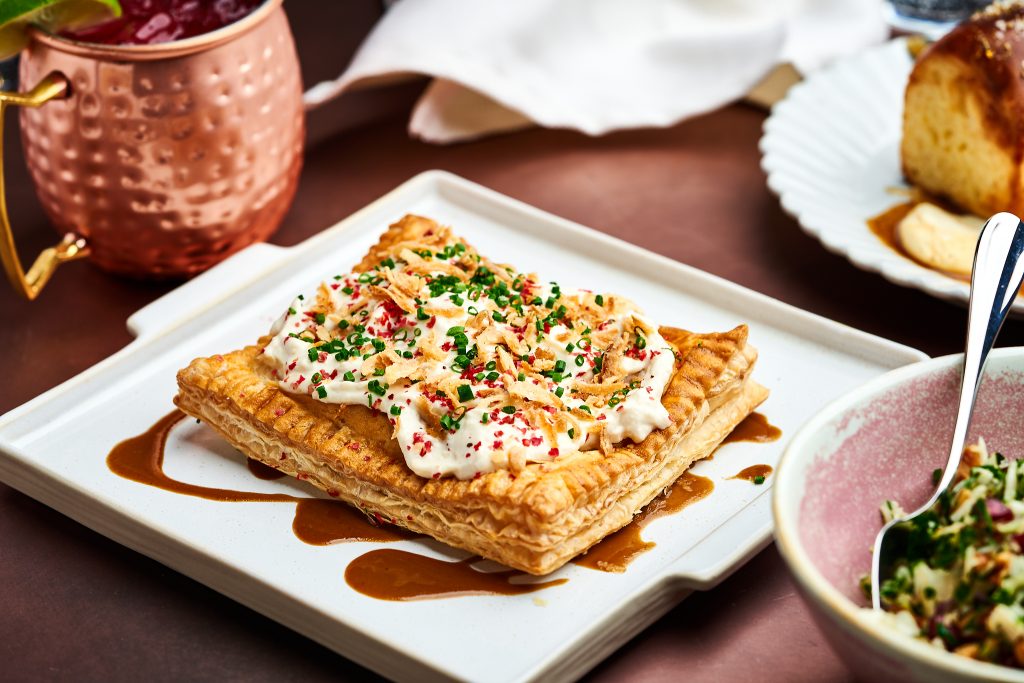 We'd return for any one of these: a salad of za'atar-roasted zucchini with mint vinaigrette, cara cara oranges, feta and hazelnuts; carbonara pizza, a white pie with crispy guanciale, Yukon gold potatoes, Pecorino Romano cheese and a poached farm egg; crispy char-grilled chicken with roasted eggplant and sauteed Swiss chard; and blistered asparagus with black-garlic vinaigrette and black-truffle crumble.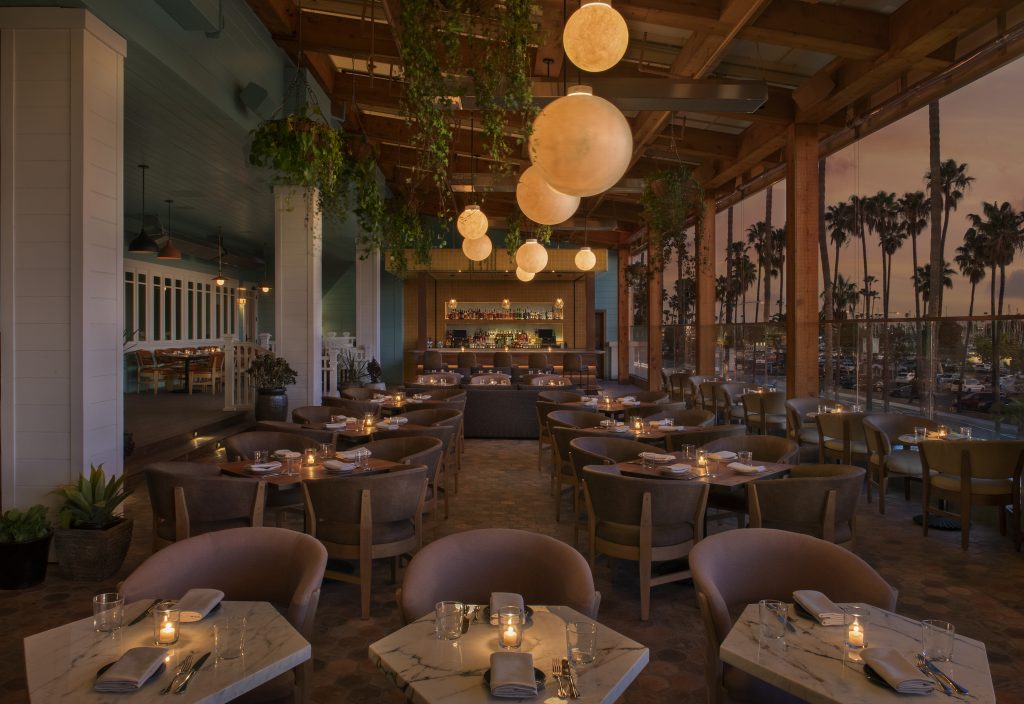 Spill the Tea, among our most memorable cocktails so far this year, uses tamarind-chai-infused sweet vermouth to elevate what would otherwise be a Bulleit Rye Negroni; it arrives in a Nick and Nora coupe. We finished with the Bungalow Meyer lemon crêpe cake, a many-layered wonder stacked with crème fraîche, lemon curd and local raspberries.
Brunch is beckoning. We're eyeing creative fare such as Matzo "Quiles" as well as a Tokyo hot-chicken sandwich with sweet-and-spicy Yuzu Kosho honey on matcha green tea waffles. Can't wait.
2nd and PCH, 6400 E. Coast Hwy., Long Beach, 562.719.9400, michaelmina.net
Photos: food by DW Varley; design by AVABLUE / Ryan Forbes; portrait by Jerritt Clark