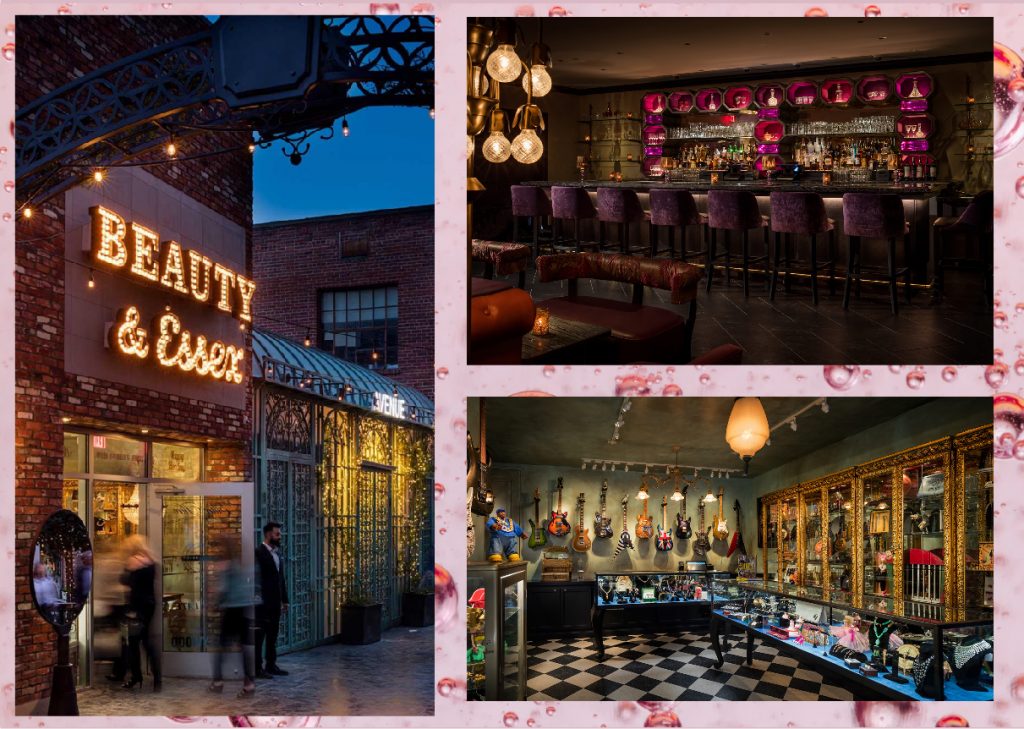 Celebrate with Bubbles
Located at North Cahuenga Boulevard, Tao Group's Beauty & Essex showcased their new Tuesday dinner special Bubbles & Pearls last month and we came over to experience what the buzz was all about. As always, Beauty & Essex's gorgeous allure starts from the moment you step inside the restaurant, where the first thing you see is this pawn shop looking entrance with pop culture items surrounding the place. As you walk past it, you are introduced to the restaurant's vintage exterior and spiraling stair case with an intricate designed chandelier hanging above, giving guests an extravagant welcome.
What makes Beauty & Essex an experience dining destination is for their extravagant interior design, decorated lounge/bar area and upscaled dining space. The upstairs area on Tuesdays are closed, but on the weekends the atmosphere is very upbeat with an outdoor view of the city and another shimmering chandelier that hangs above the entire dining room floor. The main dining room on the first floor is quite spacious with an enormous elevated roof and an outdoor seating area as well. Each velvet colored wall has flowing feather designs with peacocks etched on the center and as you look at every single table, each one has a candle light. No matter how busy your day was, dining at Beauty & Essex was going to be an enchanting and intimate experience, perfect for that Los Angeles night life.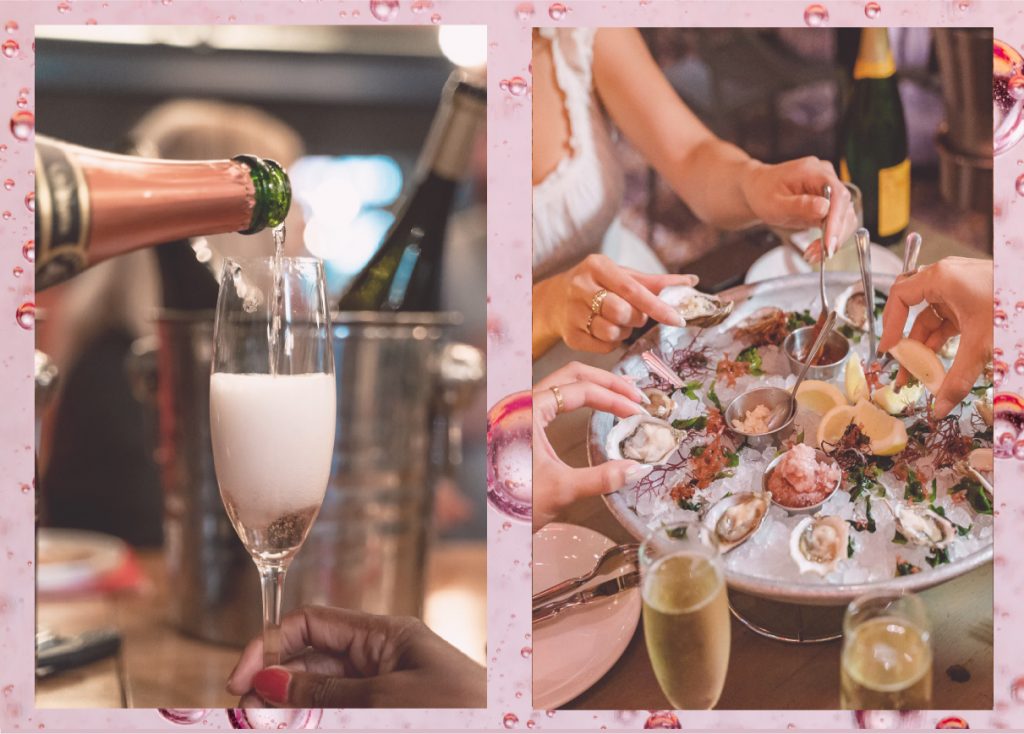 This is a recommendation on how to order their bubbly special: You have to order the dozen oysters and they give you a complimentary bottle of their finest champagne. The oysters are presented with several sauces, garnishes, and lemon, very aesthetic for a starter. The next thing that came out was the grilled cheese smoked bacon and tomato soup dumplings presented in red spoons for an immediate bite. This particular dish is very popular amongst guest, reminding them of homemade tomato soup with grilled cheese and bacon bits.
The next was one was much more of a surprise, as the server said it was on the top dishes amongst the team members – the Mexican Street corn ravioli, a bit spicy for the roasted poblano crema and jalapeño, a bit sour from their cotija cheese, finished with a hint of sweetness from the corn, creating a flavor fusion that we all know from the tasty Mexican street corn. Second to last, my personal favorite was the Thai shrimp. This one stood out because it had everything you wanted from a sweet and spicy sauce with a crispy exterior on top of a carrot cucumber slaw. Don't forget to squeeze the lime on top for that chef's kiss, just a flavor adventure.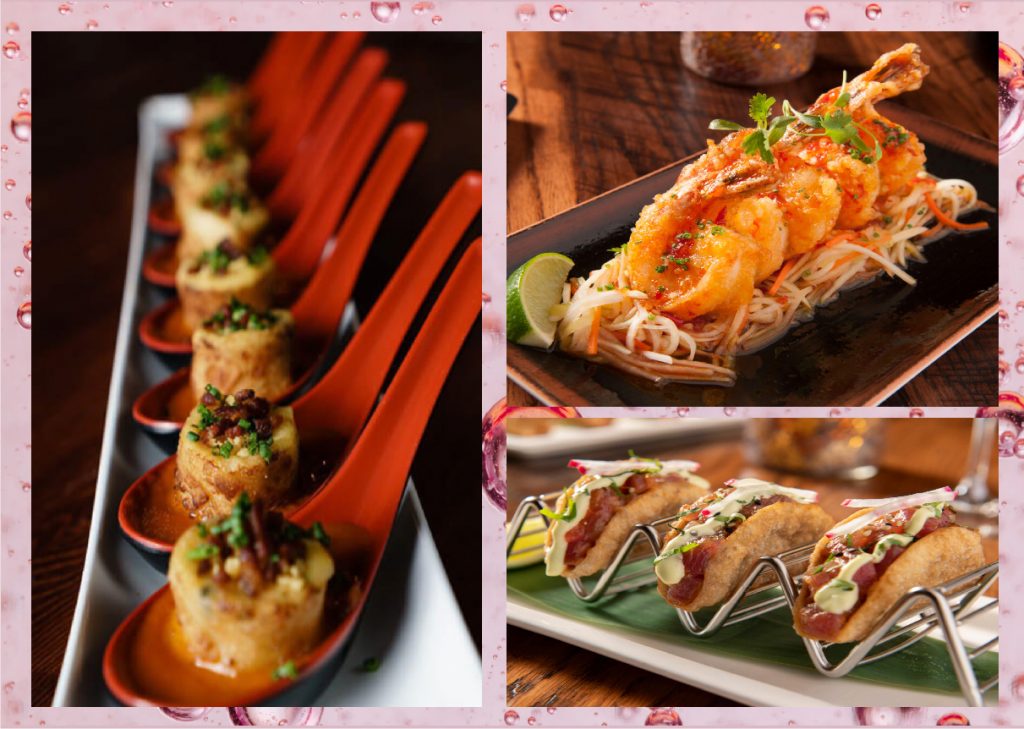 Finally, for the main course was their grilled branzino that had crispy chili oil with pickled ginger. This was paired with seared Brussels sprouts that was tossed with some lemon dressing, pickled red onion and garlic croutons. These two were made for a balanced pairing and both dishes enhanced each others flavors, as the sharp tasting flavor of the Brussels sprouts was a nice contrast from the mild, sweet flavors of the branzino.
Overall, the new Bubbles & Pearls is a great addition to Beauty & Essex, making a regular Tuesday night feel like a celebration. From quality customer service to delicious menu items, Beauty & Essex offers a glam atmosphere with upbeat music that makes every guest feel welcome.
Bubbles & Pearls
Beauty & Essex showcases their new Tuesday' dine-in special of Bubble's and Pearls, which customers receive a complimentary bottle of bubbles with the purchase of one dozen oysters. Available from 5:30pm-8pm.
Location: 1615 Cahuenga Blvd, Los Angeles, CA, 90028
Link: taogroup.com
Pictures courtesy of Beauty & Essex