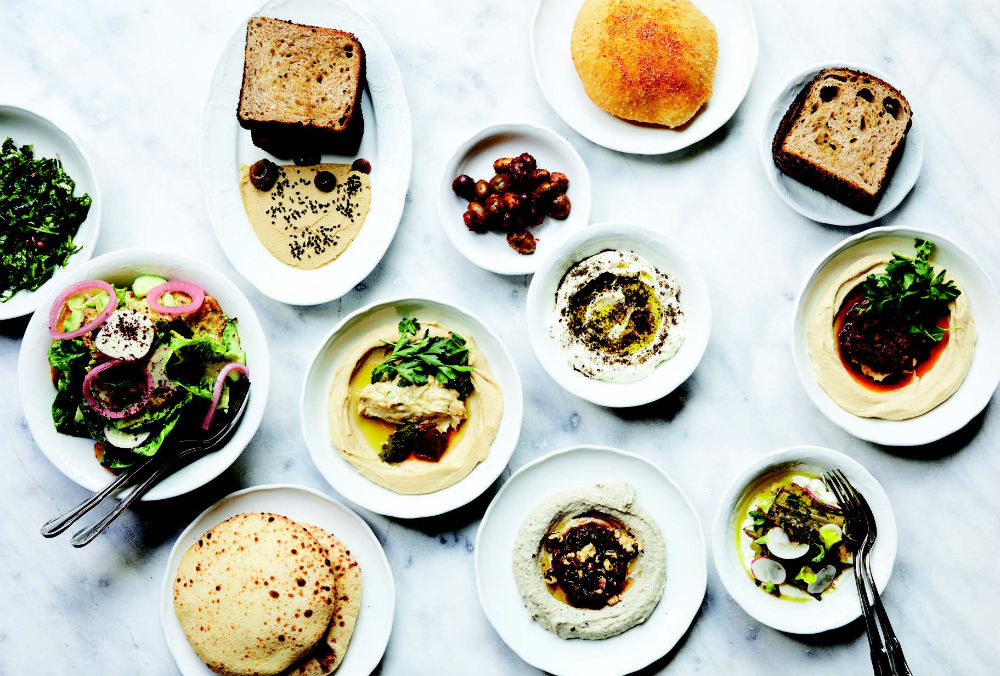 By Roger Grody.
Since it opened its doors in 2012, Bestia has been one of L.A.'s hottest restaurants, not to mention bringing instant credibility to the nascent Arts District dining scene. A second AD restaurant from Bestia chef Ori Menashe and wife/pastry chef Genevieve Gergis—one promising to be a breakout opportunity for Middle Eastern cuisine—has long been in the works. Finally, the much-anticipated Bavel has arrived.
Menashe, who was born in L.A. but raised in Israel, was eager to present Middle Eastern cooking with a fresh, contemporary approach, and Bavel appears on the scene just when there is pent-up demand for the cuisine. Collectively, the couple have roots in Israel, Morocco, Turkey and Egypt; Bavel's menu draws inspiration from the entire culinarily diverse region.
Bavel is in an old brick warehouse flooded by light through skylights cut out of a soaring sawtooth roofline. Exotic cocktails are dispensed from a white marble bar; a roaring flame draws attention to the open kitchen. Overhead are planters whose dangling vines infuse the space with a splash of green. Clear glass Moroccan-inspired lanterns hang over wood and marble tables, and seating spills out onto a front patio.
Typical of Middle Eastern restaurants, the menu features a wide-ranging selection of meze (shareable appetizers) from which an entire meal could be created. One version of silky hummus features a well of heavily cumin-scented duck 'nduja (an Italian spread typically made with pork) in the center; baba ghanoush arrives with puffy fried pita. Halvah, which usually indicates a sweet confection, translates into a thick foie gras mousse artfully spread onto a plate with dollops of date paste, sprinkled with black sesame seeds and accompanied by thick slices of grilled buckwheat bread.
Among thin-crusted flatbreads are sujuk sausage with grated tomato, red onion and yogurt; malawach (a cracker-like fried bread) is plated with dill creme fraiche dip, strawberry zhoug (a Yemeni condiment traditionally made with herbs) and a turmericstained soft-boiled egg. A purple butter lettuce salad is tossed in rose water/buttermilk vinaigrette dusted with za'atar; marinated okra is plated with whipped feta and spiced with cumin, Turkish Marash pepper flakes and sea salt.
One of the spicier dishes at Bavel is roasted cauliflower tossed in hawaij chile sauce and served with creme fraiche embellished with pistachios and dried flowers. The dip, despite being spiked with a hint of serrano chile itself, is essential for cooling the palate. Grilled octopus is accompanied by herbed yogurt, pickled onions and fried pita blackened by squid ink. Not to be overlooked are sumac-crusted oyster mushrooms, fresh from the open-flame grill and presented over a cardamom-stinging nettle purée.
Should diners proceed to entrees after their parade of meze, there are several options for family-style consumption. A whole grilled, herb-stuffed dorade is flavored with red chermoula, preserved orange and smoked anchovy; grilled-beef-cheek tagine features preserved lemon and is paired with fluffy couscous. An exceptional entree is the yogurt-marinated confit chicken leg, served with an acidic fennel salad that can be stuffed into lacy, saffron-infused Yemeni pancakes along with a more refined version of the garlic sauce found at Zankou Chicken.
Although offering scant options for budget-conscious imbibers, the wine list masterfully captures the breadth and diversity of the Mediterranean with intriguing bottles from Spain to Greece, from France to Lebanon. Eclectic cocktails include the spicy-sweet Omaira, featuring pisco, pear liqueur, grenadine and lime; it's presented with a trio of pink peppercorns floating atop a nasturtium leaf.
The self-taught Gergis has emerged as one of the best pastry chefs in the city, and here she applies her craft to cardamom apple-prune cake and a strawberry, sumac and sweet-cheese pastry with pistachio ice cream. A licorice ice cream bonbon features sour licorice caramel and caramelized white chocolate layered over a muscovado sugar cookie base.
Like Bestia, Bavel is a loud, casual place in a long-forgotten neighborhood where the joy of discovering new flavors—and of experiencing cleverly repackaged versions of familiar dishes—can be enormously satisfying.
Bavel, 500 Mateo St., downtown, 213.232.4966. baveldtla.com
Photo by Nicole Franzen