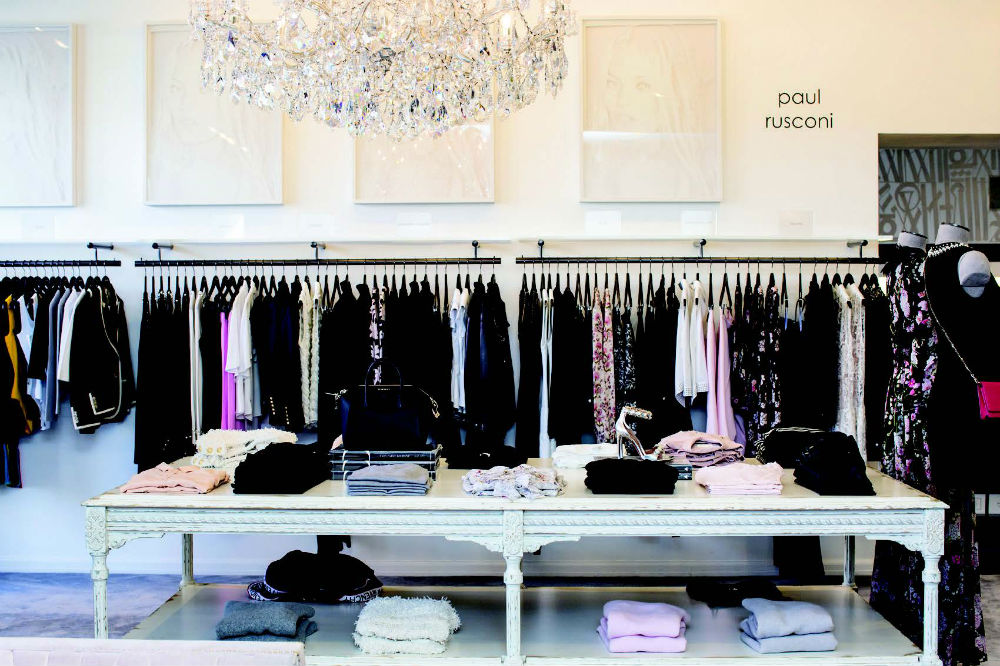 By Joseph LeMoyne.
Among the Westside's premier destinations for high-end women's fashion is Elyse Walker, the eponymous boutique of one of the city's most respected entrepreneurs, stylists and designers. For almost two decades, Walker's Pacific Palisades shop has been a mecca for fashionistas in search of anything from a serious Valentino cocktail dress to a vintage tee from Los Angeles-based Re/Done.
Walker, who learned the retail fashion business at her mother's shoe store in Scarsdale, New York, opened her Palisades Village shop in 1999 after her husband was transferred to L.A. It began as a modest 900-square-foot establishment, but over time it has grown in size—at 6,500 square feet, it takes up nearly the entire block—and prestige. In addition to a loyal clientele of civilians, her celebrity customers include Kate Hudson, Julia Roberts, Jennifer Garner and Fergie.
The store blends Rodeo Drive chic and Silver Lake boho, with a whiff of haute couture in the air yet with the approachability of a pop-up. An ornate crystal chandelier anchors the space; handbags and shoes with 6-inch heels are displayed on backlit shelving. Walker is an avid art collector, and her boutique showcases the work of Robert Mars, Paul Rusconi and celebrated graffiti artist Retna.
"It's important for me that the space is not overwhelming and that there's always a place for our clients to sit, have lunch, catch up, etc.," explains Walker, who recently updated the shop with assistance from the architects at Marmol Radziner. "I've always wanted our stores to feel like an extension of my living room, where people can feel at home," she says. "The store is pretty relaxed, considering the high fashion we carry.
"I'm currently obsessed with Saloni," she says of the brand from Indian-born, London-based Saloni Lodha. "The collection is new and fresh, the dresses are beautiful, and the cuts are so flattering." Available at the store is Saloni's Alexia tiefront silk/chiffon maxi-dress ($895) in a colorful floral print.
Another label that Walker is fond of is Ganni, a Copenhagen firm operated by husband-and-wife team Ditte and Nicolaj Reffstrup. A crossover crepe top ($160) from Ganni is one of the more affordable options at a shop that skews pricey. Accessories include Chloé's supple leather Roy bucket bag ($1,650) and multi-band gold-and-diamond Nexus ring from Spinelli Kilcollin ($10,125).
Another staple is Saint Laurent; Walker has long been a fan of Anthony Vaccarello, the current creative director at the iconic label. "I was excited to follow him into his new chapter," says the boutique owner. "Shoes, belts, hats, bags, tees and dresses…. Saint Laurentis definitely one of my absolute favorites."
Putting together a wardrobe can be assisted by one of the store's professional stylists, who Walker reports develop close relationships with customers.
"We're constantly in contact with our clients, over time the customer and stylist develop a great rapport," Walker says. "They know their clients' travel schedules, what styles will flatter them and their color and fit preferences."
Though dedicated to brick-and-mortar merchandising, Walker is not one to be left behind by technology. In 2012, she merged with Forward to create Forward by Elyse Walker. Fwrd.com has since become one of the premier online destinations for luxury apparel, shoes and accessories for women and men. Most brands are offered both in the boutique and online, but "because its customer is slightly younger," Walker notes, "Fwrd.com has the great ability to feature emerging brands with a sexy twist."
Online, you might find Saint Laurent's super-sexy crystal-embellished satin ankle-strap sandals ($1,495) or leather-banded straw hat ($285) from L.A.-based Janessa Leoné.
In 2016, Walker was lured to Newport Beach, opening a second art-laden store in charming Lido Marina Village.
Walker insists she does not have a "typical" customer but rather a more eclectic clientele. "We meet a lot of moms and career women, people with busy schedules looking for a really nice experience, great selection and service," she says.
Elyse Walker, 15306 Antioch St., Pacific Palisades, 310.230.8882; 3444 Via Lido, Newport Beach, 949.612.2646. elysewalker.com
Forward by Elyse Walker fwrd.com