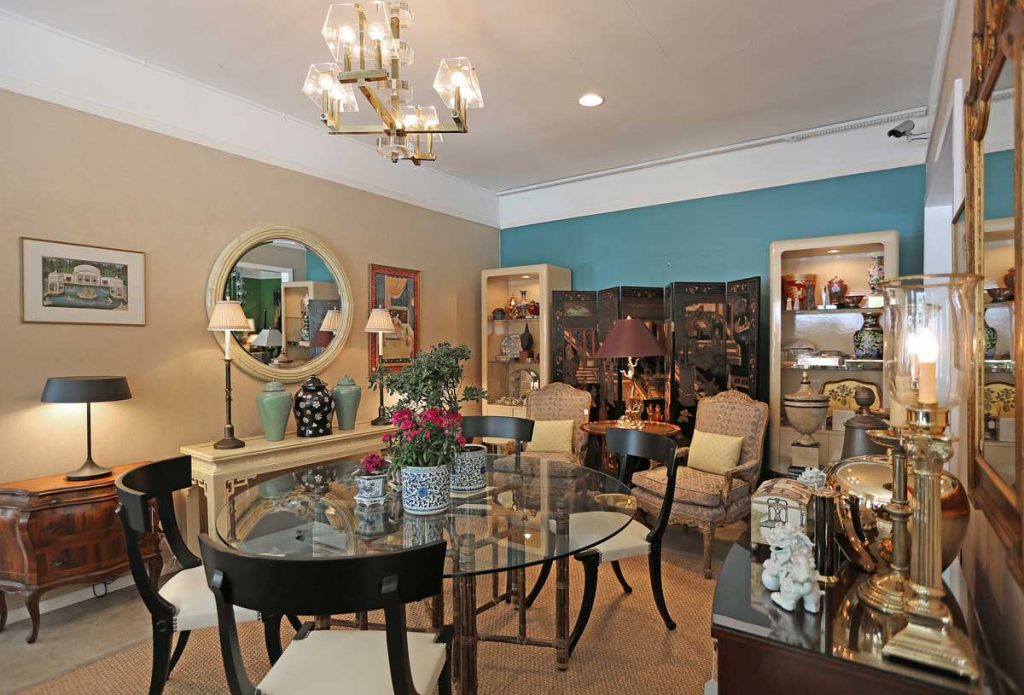 From minimalist modern pieces to a wide array of ornate Asian vases and statuettes and more, find it all at Rubbish Interiors in Silver Lake.
By Roger Grody, adapted from Rubbish Collector, in Performances Los Angeles Magazine, September 2016
Designer Scott Mangan's Rubbish Interiors sits on a lively stretch of Silver Lake Boulevard amid a concentration of creative enterprises, with midcentury-modern showroom Lawson-Fenning and Scandinavian gift purveyor Yolk just across the street. For the culinary-minded, Rubbish is a couple doors from L&E Oyster Bar, steps from LA Mill (a Mangan interior) and chef Zach Pollack's Alimento.
In a building shaded by a clean-lined awning, ivy climbing over its terra cotta-colored facade, Rubbish Interiors' exterior aesthetic reveals little about the merchandise inside. Mangan offers plenty of minimalist modern pieces but also carries a wide array of ornate Asian vases and statuettes, as well as Louis XV-style chairs and Chippendale dressers. The pieces are displayed in tight vignettes throughout three rooms whose walls are splashed with vibrant colors and lined with eclectic art.
"The look of the shop is constantly evolving," says Mangan, who recently offered a set of Eero Saarinen chairs originally acquired by Richard Neutra himself for one of the midcentury master's signature Silver Lake homes. "I want the shop to be warm, inviting and comfortable," says the owner, whose establishment has a different aura than some of the more austere showrooms in La Cienega's Design Quarter. A well-mannered shop dog, a black poodle named Tommasino, adds to the homey vibe.
"We always greet the customer but provide only the level of interaction he or she desires," says Mangan, who appreciates some guests' wish to browse silently with little interference. The joyful eclecticism of Rubbish is also reflected in his portfolio of residential interior design services, fueled by his ever-changing inventory and sought out by a celebrity clientele.
Mangan used to be best known for his extensive midcentury-modern collection but now delves into Danish, Hollywood Regency and other styles. The vintage of his current global collection spans primarily from the 1940s to the '80s, and it includes a generous assortment of pieces from throughout Asia. The common denominator, regardless of style or era, is quality craftsmanship, and all refurbishment is executed by local artisans using American-produced fabrics. A large Lucite-and-glass coffee table from the '80s features intricate detailing on its legs; a modern
interpretation of an Asian screen, filled with flamboyant birds on a silver-leaf background, stands nearby.
A burgundy-hued console ($1,850) from wallpaper designer Ralph Miller (circa mid-'80s) is wrapped in a lacquered paper that resembles leather. A card table ($3,250) by midcentury German-American designer Karl Springer is covered in rich woven raffia. A 1946 Dunbar coffee table ($2,150) designed by Edward Wormley features a walnut surface supported by graceful bentwood legs.
Lighting includes a selection of Casella midcentury pieces, including a '70s replated brass floor lamp ($1,250) with a half-globe shade and a futuristic chrome-plated cousin with a long tubular shade. An impressive chandelier ($1,250) from the '60s consists of 10 chrome-plated globe shades arranged in a graceful helix, something that would suit any modern architectural
environment.
There is always a variety of Asian accessories on hand at Rubbish Interiors, among them bronze figurines and busts from Thailand and cloisonné ginger jars or boxes from China. The walls are lined with a diverse, constantly rotating selection of paintings and wall sculptures. Much of the appeal of Rubbish Interiors lies in its flea market quality, and thanks to the endless curiosity of its owner, every visit feels like a new adventure.
According to Mangan, about half of his customers are in the design trade, and the other half are homeowners—primarily from communities such as Silver Lake, Hancock Park and Pasadena—who are looking for unique items to fill their living spaces. Thanks to relatively approachable prices and accommodating service, some of those customers have been returning for two decades.
Rubbish Interiors 1627 Silver Lake Blvd., Silver Lake, 323.661.5575. rubbishinteriors.com