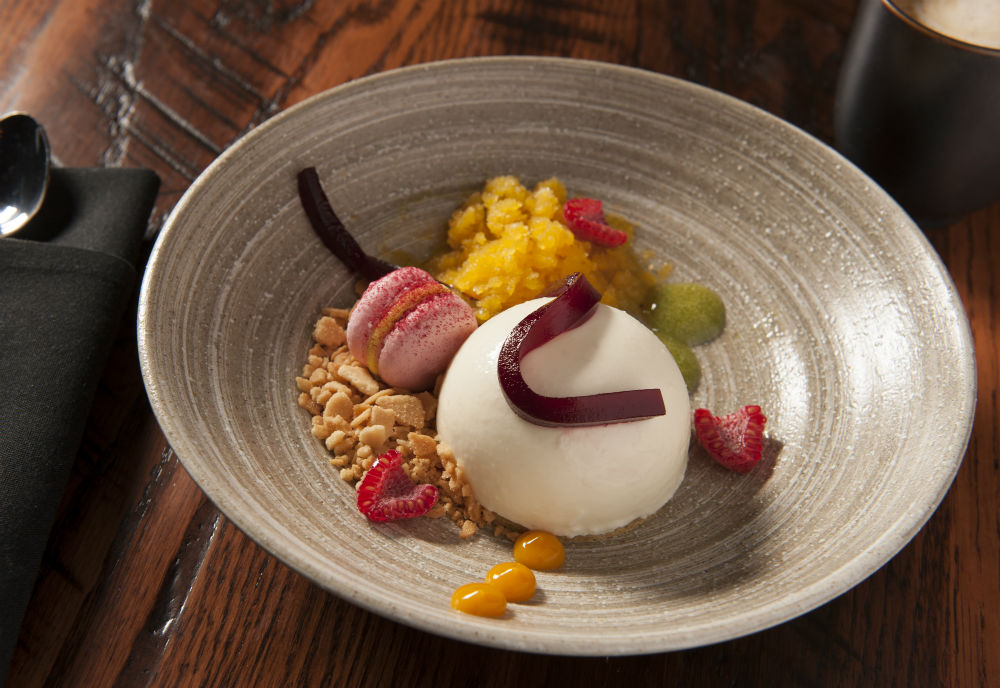 After decades of dismissing Los Angeles as unworthy, New York chefs and restaurateurs are rushing here to participate in the city's hot dining scene.
By Roger Grody
The respective food cultures in New York and Los Angeles remain very different. Despite generational preferences, New Yorkers still generally value formality and a European connection, resulting in a wealth of fine-dining establishments. L.A. restaurants reflect the city's proximity to the Pacific Rim and Latin America, as well as a more laid-back vibe. Some New Yorkers continue to cast doubt on L.A.'s culinary clout, but a parade of their hometown's celebrity chefs are opening restaurants here.
Jean-Georges Vongerichten, one of New York's most honored culinarians, opened restaurants in Las Vegas and Miami Beach before the Waldorf Astoria Beverly Hills finally lured him to L.A. Considering a Michelin three-star chef's name is on the door, Jean-Georges Beverly Hills is a relatively approachable restaurant, a light and airy space with a wavy bronze-inlaid terrazzo floor, long leather banquettes and boxed lemon trees. Year-round alfresco dining—something few restaurants in the Big Apple can offer—is available on a Mediterranean-garden inspired patio that captures Southern California's easygoing lifestyle.
At Jean-Georges, one might begin with caviar paired with sea urchin or a black-truffle-fontina pizza before indulging in steak au poivre or poached cod in dashi, then finishing with a butterscotch soufflé. Lighter, more casual fare (think hamachi sashimi, avocado toast and lobster burgers) from the chef can be found at the Rooftop by JG, along with awesome 270-degree views.
"L.A. was already part of our restaurants in New York, because six months of the year we buy most of our produce from the West Coast," reports Vongerichten, who was intrigued by the city whenever he came to L.A. for culinary events. "So when the opportunity to open Jean-Georges at the Waldorf Astoria Beverly Hills came up, I had to say yes," explains the chef. "Most importantly, the multiculturalism is similar to New York, only more spread out, with maybe even greater variety," he adds.
After an excruciating tease, NoMad Los Angeles—an exciting boutique hotel with a collection of dining and drinking venues—finally opened downtown last year. The original NoMad in New York's Flatiron District is where partner Daniel Humm translated the ultra-fine dining offered at his Michelin three-star Eleven Madison Park into a more attainable experience. Here, in the historic Giannini Place, a neoclassical structure that once housed the Bank of Italy, he reprises some of his Big Apple hits with executive chef Chris Flint at the NoMad Restaurant. Other dining and drinking opportunities at the hotel, where the 1922 building's gilded details have been restored, include the Library, Giannini Bar and Rooftop.
The NoMad Restaurant sits beneath the building's ornate ceiling, which is among the landmark's most dazzling architectural elements. A mezzanine level reserved for special events offers the best views of both the architecture and the scene. Among the most notable dishes is NoMad's signature chicken, in which the pedestrian bird is elevated to unforeseen heights. After black truffles and foie gras have been rubbed beneath its skin, the chicken is roasted to a rich mahogany color and presented to the table before carving. The more decadent dark meat arrives in miniature cast-iron crocks with a brown-butter sabayon and crispy chicken skin.
Ramzi Budayr, general manager of NoMad Los Angeles dining and a veteran of Eleven Madison Park, reports being drawn to downtown L.A., as opposed to Hollywood or the Westside, because of the city center's boundless potential. "We've loved embracing the challenge of finding the rhythm of the neighborhood, especially as it continues to evolve," says Budayr. "It's exciting to be a part of such a diverse food scene, and to be a part of L.A.'s dining fabric."
Anybody who's ever stood in line outside Momofuku in New York's East Village for one of chef David Chang's addictive pork-belly buns was long dreaming of the day when the wunderkind chef/restaurateur would open a restaurant in L.A. Thankfully, that day arrived last year in the form of Majordo¯mo, tucked into a long-neglected corner of Chinatown. Occupying a former warehouse, the restaurant has an industrial-chic vibe dressed up with the work of street artist David Choe.
A collection of shareable snacks at Majordomo is accompanied by bing, a fluffy Chinese flatbread grilled to order, while macaroni is tossed with Hozon (Chang's proprietary fermented chickpea seasoning, akin to miso) and shaved with black truffles. Hozon, sake and mirin impart a slight sweetness to black cod, and a massive, dramatically presented hunk of short rib can feed a table of six. Chang, the ultimate culinary disrupter, appears well suited to L.A., a city obsessed with creativity.
Famous for its dazzling decor and Asian-fusion cooking, Manhattan's Tao Asian Bistro has now become a hot destination in Hollywood. A stunning 20-foot statue of Quan Yin, the goddess of mercy, rises from a koi pond to dominate Tao Los Angeles' soaring dining room at the Dream Hollywood hotel. In addition to a dramatic, sexy scene, the menu—featuring solidly prepared lobster wontons, Peking duck and miso-glazed black cod washed down with lychee martinis or premium sakes—gives this clubby scene some culinary cred.
"Los Angeles is a market we've always wanted to be in," states Rich Wolf, co-founder of Tao Group, who adds, "We've been looking for the right opportunity for a while, and once we met with [hotel developers Richard Heyman and Grant King], we knew this was something we wanted to be involved in." Partner Noah Tepperberg reports, "Our guests are able to enjoy a great dinner at a world-class restaurant, followed by a premier nightlife experience and upscale hotel stay without getting in a car or leaving the block."
Located in the same hotel is Tao's sister restaurant, Beauty & Essex, which features fun, eclectic fare from Chopped judge Chris Santos. Its theatrical decor is consistent with the Tao Group's DNA. Guests enter the main dining room through a pawn-shop-inspired boutique. Between an upstairs lounge dominated by a pearl-stranded chandelier and a Champagne bar in the ladies' restroom, Beauty & Essex is filled with glamour. Santos' crossover restaurant-club menu offers starters like steak tartare on sticky rice cakes and grilled cheese sandwich-like dumplings presented in spoons filled with tomato soup—a nostalgic pairing. Main courses include chili-dusted scallops and a rib-eye with truffle hollandaise sauce, followed by riffs on all-American desserts.
After finding monumental success in Manhattan, Dominique Ansel, the marketing-savvy inventor of the Cronut, expanded to London and Tokyo. Now, 189 by Dominique Ansel—his establishment at the Grove with a bakery on the ground floor and full-service dining room above it—is the pastry chef's ambitious foray into L.A.
"Our original shop in SoHo is located at 189 Spring St., where everything began for us back in 2011," says Ansel. "Our L.A. restaurant address also happens to be at 189 The Grove Drive, so it was meant to be." Restaurant menu highlights include sweet-corn-infused milk bread served in corn husks that mimic the Mexican street food elote; seared hen-of-the-woods mushrooms; an octopus corn dog with gochujang aioli; and innovative plated desserts. Weekend brunch at 189 is a unique experience, with staff circulating the dining room to deliver fried chicken with biscuits, cast-iron crocks of creamy scrambled eggs and build-your-own lobster rolls consumed family-style.
For about 15 years, Employees Only has been one of New York's most popular bars, and the speakeasy-themed West Village hot spot has also received high marks for its internationally inspired bistro menu. Co-founder Dushan Zaric—who also supervises the cocktail program at downtown's reimagined Hotel Figueroa—has brought Employees Only to West Hollywood with an expanded food menu. Running the kitchen is Sascha Lyon, an accomplished chef who cooked with Daniel Boulud in New York and Michel Richard in his native L.A.
Cocktails at Employees Only include signatures from the New York location, such as the West Side (Charbay Meyer lemon vodka, lemon juice, fresh mint and soda), along with updated interpretations of classics like the Sazerac and French 75. Lyon turns out dishes like bone marrow poppers, tableside steak tartare, wood-fired pizzas and grilled branzino. Aesthetically, Employees Only is a sumptuous version of a 1920s speakeasy, clad in rich materials like mahogany and bronze, with a tin-stamped ceiling and art deco accents.
"When I first visited L.A., it felt like Queens with palm trees," admits Zaric, but adds, "When I got deeper into the culture of the city, I discovered how cool it is." Now a resident ("I got tired of shoveling snow"), Zaric says that the bar's WeHo location is tailored to L.A. dwellers' preferences. "Food and drink have to address local ingredients and be appropriate for the people of L.A.," he says, noting the cuisine here is lighter than in chilly New York.
New York City has its share of great pizzerias, and Roberta's, which was founded in Brooklyn, is certainly one of them. It's now expanded to Culver City's Platform, the smash-success shopping center with a compelling collection of boutiques and eateries. "We've had our eye on Los Angeles for quite some time," says co-owner Brandon Hoy, who explains that a West Coast location of Roberta's seemed like a natural progression for the brand. Chef/co-owner Carlo Mirarchi, who has participated in culinary events in California for years, adds, "Opening Roberta's in Los Angeles felt like a natural next step." "We've been overwhelmed by the incredibly warm welcome from the L.A. community, not to mention the amazing quality and quantity of the ingredients here," he reports.
In addition to the wood-fired New York-style pizzas that made it famous, Roberta's also offers some Cal-Italian dishes like polenta with sea urchin and clam broth, butter beans with kale and bottarga, and roasted porchetta with escarole and fennel pollen. The space's intriguing design is based on the geometry of a pizza slice, with every major element—from custom concrete blocks to furniture—paying homage to the triangle.
Chef Christina Tosi created the first dessert menu for David Chang's original Momofuku in New York, and she eventually opened Milk Bar in the space next to another Chang restaurant. There are now Milk Bars in New York, Washington, D.C., Las Vegas and Toronto—and, as of last year, on Melrose Avenue in L.A., just around the corner from Pink's Hot Dogs. Favorite sweets include Tosi's trademark-protected Crack Pie and Compost Cookie. Among the savory items are her Bagel Bombs, including a classic New York deli-inspired rye-bagel dough dome filled with pastrami, sauerkraut and Russian dressing.
At two elegant locations in Midtown Manhattan, the place to go for upscale Greek cuisine is Avra Estiatorio, and now the restaurant has expanded to Beverly Hills. While Avra is hardly a rustic taverna, it lacks the over-the-top decor of some New York transplants like Tao or Beauty & Essex and is the epitome of contemporary good taste. A 1,500-pound wall sculpture and dramatic drapery are the only features disrupting a neutral palette and generously spaced, linen-clad tables. In addition to staples like saganaki and Greek salad, diners are able to select their catch from a market-like display of fresh, iced seafood. The offerings, ranging from Maine lobster to Mediterranean varieties like branzino, tsipoura and fagri, are then grilled whole over charcoal.
Hollywood is not Greenwich Village, nor is the Arts District Williamsburg, but New York chefs and restaurateurs are starting to feel at home in L.A. While their differences should be celebrated, the culinary cross-pollination occurring between these cultural capitals benefits everybody.