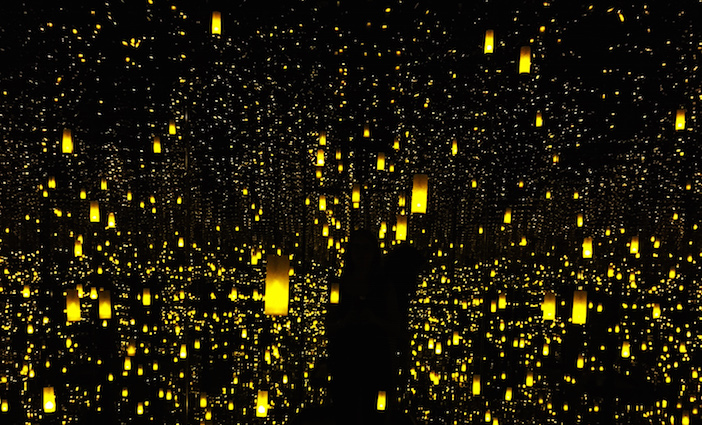 Los Angeles is not only a capital of entertainment, but also a mecca for fine art. One of this fall's don't-miss events is the Getty-led initiative Pacific Standard Time: LA/LA, presented in partnership with dozens of SoCal cultural institutions. But wait, there's more—picture a Superman mega-exhibit and Instagram-worthy infinity-mirror art. Color us inspired.
by Marina Kay, adapted from WHERE Los Angeles magazine
1. The Broad
The Broad presents the hotly anticipated Yayoi Kusama: Infinity Mirrors (on view through January 1, 2018), a traveling exhibition comprising six kaleidoscopic mirrored environments—including Kusama's most recent room, All the Eternal Love I Have for the Pumpkins (2016)—alongside large-scale installations, key paintings, sculptures and works on paper from the Japanese artist's 65-year career. Catch it while you can: The Broad is the only space in California to host this exhibition. Advance tickets, $25; limited same-day standby tickets, $30. 221 S. Grand Ave., downtown, 213.232.6200. thebroad.org

2. California African American Museum
Originating at the Brooklyn Museum, We Wanted a Revolution: Black Radical Women 1965–85 (on view through January 14, 2018) brings together film, photography, painting, sculpture, video art and prints by more than 40 African-American women artists who committed themselves to activism during the civil-rights, Black Power, women's, anti-war and gay-liberation movements. Free. 600 State Dr., Exposition Park, L.A., 213.744.7432. caamuseum.org
3. The Getty
Leading PST: LA/LA, the Getty Center hosts five associated exhibitions including The Metropolis in Latin America, 1830-1930, which traces the transformation of six capital cities (Buenos Aires, Havana, Lima, Mexico City, Rio de Janeiro and Santiago de Chile) through prints, plans and photographs. Also notable: Photography in Argentina, 1850–2010: Contradiction and Continuity and Golden Kingdoms: Luxury and Legacy in the Ancient Americas—a show of more than 300 rarely or never-before-seen luxury and gold works from over 50 international lenders. For more information about PST: LA/LA and exhibition end dates, visit pacificstandardtime.org. Free. 1200 Getty Center Dr., L.A., 310.440.7300. getty.edu
4. Hauser & Wirth Los Angeles

This Mike Kelley mega-exhibition is the first in L.A. to present the full sweep of the artist's late series inspired by the comic-book tale of Kandor, the capital city of Krypton, birth planet of Superman. Mike Kelley: Kandors (on view through January 21, 2018) presents a number of works for the first time in L.A., including Kandors Full Set (2005–2009)—a miniaturized, sprawling array of illuminated cities, some set in colorful hand-blown bottles—and the monumental Kandor 10B (Exploded Fortress of Solitude), Kelley's take on Superman's cave-like postapocalyptic bunker. Free. 901 E. 3rd St., downtown, 213.943.1620. hauserwirthlosangeles.com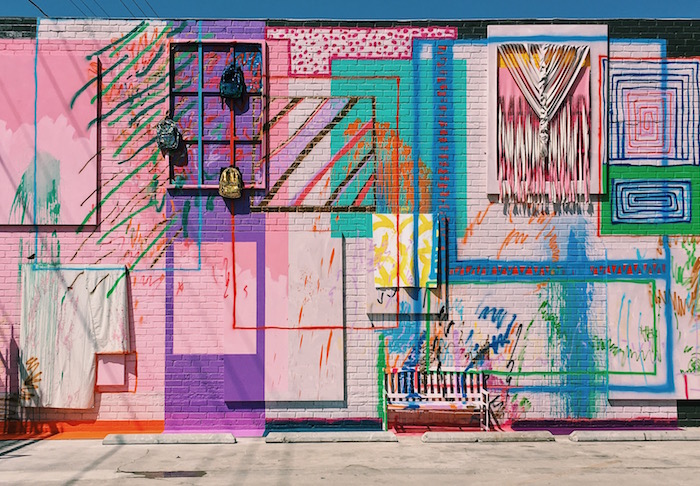 5. ICA LA
The Santa Monica Museum of Art has a new name, location and identity: Meet the Institute of Contemporary Art, Los Angeles (ICA LA), housed in a renovated industrial building downtown. Part of PST: LA/LA, the museum's inaugural exhibition, Martín Ramírez: His Life in Pictures, Another Interpretation (on view through December 31, 2017), is the first solo presentation of this self-taught artist in Southern California. After moving to California from Mexico and being diagnosed with schizophrenia, Ramírez was confined to psychiatric hospitals, where he created a unique style of art defined by concentric lines, undulating patterns and surreal topography. See 50 of his works, plus a monumental 18-foot scroll comprising a glossary of his singular imagery, on view for the first time.
And on ICA LA's courtyard wall: L.A.-based artist Sarah Cain's Now I'm Going to Tell You Everything (on view through December 31, 2017), a temporary 800-square-foot color explosion that takes its title from a poem written for the artist by celebrated poet Bernadette Mayer. Free. 1717 E. 7th St., downtown, 310.284.8100. theicala.org
6. LACMA
The largest art museum in the western United States, LACMA scored the first major retrospective of one of the most influential Los Angeles Chicano artists of the 1970s. Playing With Fire: Paintings by Carlos Almaraz (on view through December 3, 2017), another PST: LA/LA participant, enchants with its exuberant display of color and impressionist style. Also, Found in Translation: Design in California and Mexico (on view through April 1, 2018), 1915–1985 shows the modern and anti-modern design movements of the 20th century through a compilation of architectural drawings, photographs and films, as well as furniture, ceramics, metalwork and murals.
Separate from, but complementary to, PST: LA/LA is film director Alejandro G. Iñárritu's installation Carne y Arena (Virtually Present, Physically Invisible), which explores the difficult journey of Latin American immigrants and refugees. The immersive 6.5-minute virtual-reality experience is a harrowing walk in a migrant's shoes. Advance tickets sold out; limited same-day tickets, $30 plus regular admission. 5905 Wilshire Blvd., L.A., 323.857.6000. lacma.org
7. LAXART
Partnering with the Getty Research Institute, the groundbreaking nonprofit LAXART gallery presents Video Art in Latin America (through December 16, 2017), a landmark exhibition that unravels the evolution of Latin American video art through 60 works, ranging from the earliest experiments in Argentina during the 1960s to movements that emerged across Ecuador, Guatemala and Costa Rica in the new millennium. Free. 7000 Santa Monica Blvd., Hollywood, 323.871.4140. laxart.org
8. MOCA
Anna Maria Maiolino (on view through January 22, 2018) is a moving retrospective that charts the Brazilian artist's career, Brazilian art history and major postwar movements through an extraordinary collection of drawings, woodblock prints, concrete sculptures, politically charged performances and unfired clay installations. $15, at MOCA Grand Avenue. And Axis Mundo: Queer Networks in Chicano L.A. (on view through December 31, 2017) marks the first historical consideration of queer Chicano artists in the context of broader artistic and cultural movements such as fashion culture, punk music and artists' responses to the AIDS epidemic. Free, at MOCA Pacific Design Center. moca.org
The Broad photo and ICA LA photo by Christina Wiese.