By William Yelles.
It's late at night. You're hungry. But your delivery options dried up hours ago. That means you need to go out. But for what exactly? Being decisive isn't easy at this hour. Somewhere with a big menu would help. Perhaps a strong cup of coffee if an all-nighter is in the cards. So we present for you seven great diners open 24 hours a day in Los Angeles. All are solid options whether it's morning, noon or well past midnight.
1. Burbank Bob's Big Boy
Once upon a time, the pudgy lad clad in checkerboard overalls greeted eaters at locations from coast-to-coast. The Bob's chain is still around but has evolved and not for the better. However, the Burbank Bob's Big Boy—built in 1949 and the oldest remaining Bob's Big Boy in America—keeps true to its roots with a unique old-time menu of burgers, milkshakes, breakfast and more. On Friday nights, the classic vibes continue in the parking lot, where spectators gawk at rides reminiscent of Happy Days. Back inside, regulars and tourists alike request "The Beatles Booth" where The Fab Four once dined. 4211 W Riverside Dr., Burbank, 818.843.9334. bobs.net
2. Du-par's
Sure, it's the hotcakes that made this place famous but the original house recipe still in use since 1938 at its original home at Third and Fairfax. But Du-par's lots of other things well. Burger options include an old-school patty melt with melted Swiss cheese. The authentic Monte Cristo on batter-dipped brioche bread is a standout among sandwich offerings. And don't forget about the pie. No matter what time of day it is, be sure to leave room for a slice. 6333 W. Third St., L.A., 323.933.8446; 214 S. Lake Ave., Pasadena, 626.405.8820. dupars.net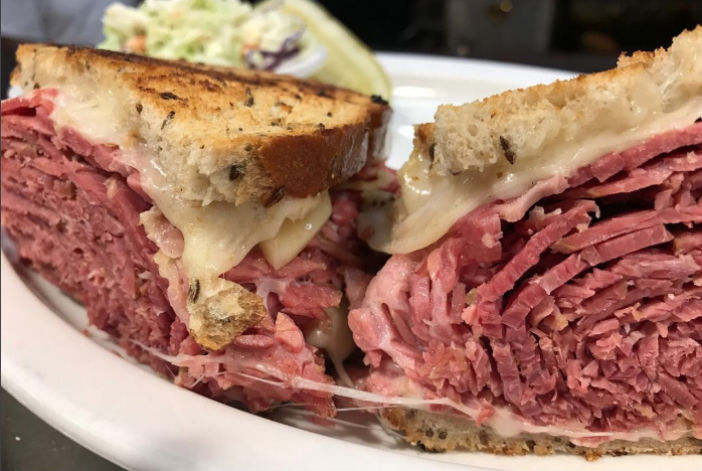 3. Izzy's Deli
Santa Monica insomniacs have flocked to owner-proprietor Izzy Freeman's New York-style eatery since 1973. Traditional deli favorites like ginormous corned beef sandwiches and heaping bowls of matzo ball soup are available along with a broad array of breakfast, lunch and dinner options served up by a friendly long-tenured waitstaff. Izzy's bills itself as "deli to the stars," so you may see a celebrity. More likely, you'll spot doctors and medical professionals from nearby Saint John's and UCLA hospitals fueling up before or after work. 1433 Wilshire Blvd., Santa Monica, 310.394.1131. izzysdeli.com
4. Killer Cafe
While Marina del Rey isn't known as a bastion of late-night hot spots, the laid-back upscale oceanfront enclave is surprisingly home to one of L.A.'s best-kept 24/7 secrets. Killer Cafe has been a go-to for in-the-know Westsiders since opening in 2012. Take a seat at the counter, in one of the oversized booths or out on the waterfront patio and choose from a generous selection of diner standards—breakfast, burgers, salads, sandwiches and the like—along with seafood classics from sister restaurant Killer Shrimp. And in case, say, you want to make that coffee an Irish one, the full bar serves cocktails until 1:30 a.m. 4213 Admirality Way, Marina del Rey, 310.278.2250. Website
5. Mel's Drive-in
A Sunset Strip mainstay since its 1997 debut, Mel's has served up burgers, salads and shakes to a diverse mix of clubgoers, tourists and WeHo locals. Put some coins in one of the functional table-top jukeboxes and enjoy burgers, shakes and diner classics galore. Earlier this year, Mel's took over the former Penguin coffee shop in Santa Monica and restored it to its 1959 heyday, albeit with some modern touches such as a juice and smoothie bar. Both locations are open 24/7; Mel's Hollywood and Sherman Oaks outposts are open 24 hours Fridays and Saturdays. 8585 Sunset Blvd., West Hollywood, 310.854.7201; 1670 Lincoln Blvd., Santa Monica, 310.392.0139; 1660 North Highland Ave., Hollywood, 323.465.3111; 14846 Ventura Blvd., Sherman Oaks, 818.990-0648. melsdrive-in.com
6. Pacific Dining Car
Since opening its doors in 1921, Pacific Dining Car stands out as a true L.A. late-night original. On one hand, it comes closest to being a true diner—custom-built in 1921 as a replica of a railroad dining car, wheels included. On the other hand, PDC can be considered a traditional steakhouse—tablecloths, fine china and all. Where else in town can you satisfy a 3 a.m. craving for filet mignon? If you're in the mood for something else, the overnight menu here (and since 1990, in Santa Monica) includes egg dishes, sandwiches, salads and more. 1310 W. Sixth St., L.A., 213.483.6000; 2700 Wilshire Blvd., Santa Monica, 310.453.4000. pacificdiningcar.com
7. The 24/7 Restaurant at The Standard
Way back in the aughts, late-night options in downtown L.A. were hard to come by. Enter The Standard Hotel which opened as part of downtown L.A.'s continuing redevelopment boom. Since The Standard attracts mostly millennials, that means the comfort food served here is made with organic, locally sourced ingredients. And the breakfast choices go beyond pancakes and waffles to include de riguer avocado egg toast (poached egg, cherry tomato, pickled fresno chile, herbs, lemon). There's also a big wine list and weekend brunch. 550 S. Flower St., L.A., 213.439.3030. Website
Mel's Drive-In photo courtesy @melsdrivein/Instagram. Izzy's Deli photo courtesy @izzysdeli/Instagram.