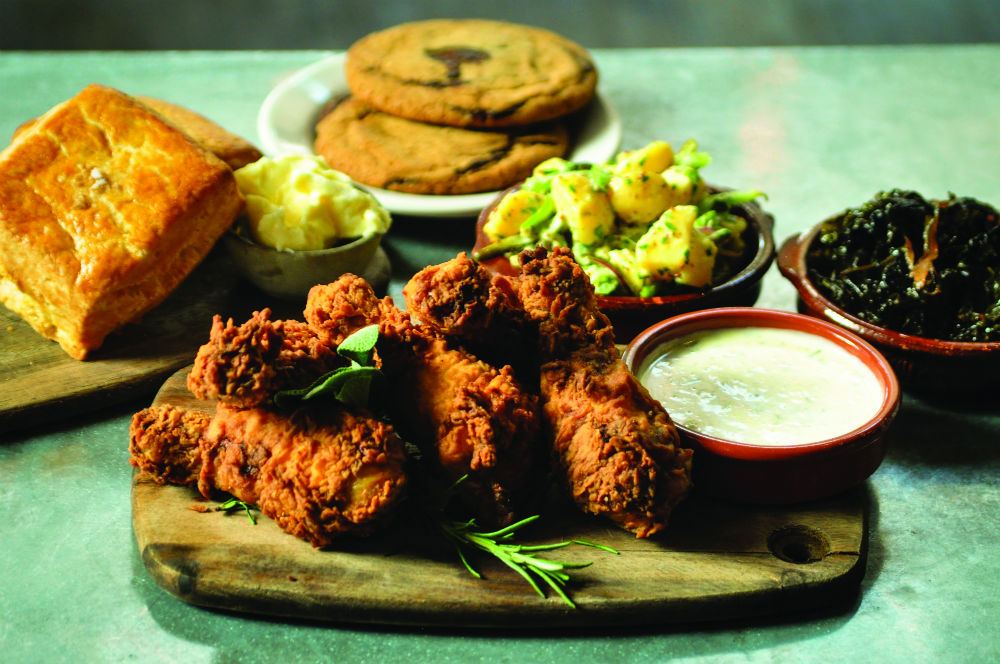 Alfresco activities abound all summer long in L.A. Whether you're headed outdoors for a movie screening, concert, Shakespeare play or beach day, there's little more idyllic than spreading out a blanket and unpacking a picnic basket filled with artisanal treats and comforting classics. We've rounded up seven of our favorite local spots for gourmet, no-hassle picnic provisions.
By Gillian Glover.
Joan's on Third
You can't go wrong with chef-driven marketplaces like Joan McNamara's celeb-beloved spot, where the picnic menu consists of both the classics (salads, cheese and wine) and entrées like beef tenderloin with horseradish crème fraîche. Don't forget to load up on Joan's freshly baked pastries. 8350 W. 3rd St., L.A., 323.655.2285; 12059 Ventura Place, Studio City, 818.201.3900. joansonthird.com
Larder
At the Larder at Tavern and the Larder at Burton Way—from James Beard Award winners Suzanne Goin and Caroline Styne (also behind the culinary program at the Hollywood Bowl)—diners can choose from four picnic boxes, like the "Southerner" (fried chicken, a biscuit, potato salad, summer succotash and a cookie) or the cheese and charcuterie box for two. Styne-curated wines can be suggested to pair with each box. 11648 San Vicente Blvd., L.A., 310.806.6464; 8500 Burton Way, L.A., 310.278.8060. lardersatburtonway.com
Playa Provisions
Top Chef winner Brooke Williamson and husband Nick Roberts' Westside restaurant houses several concepts under one roof, including Tripli-Kit, a cookware store where you can buy vessels like the wine-focused Napa Basket or the rustic Picnic Time Country Basket, then fill them up with pastries, salads and sandwiches from next-door casual market counter King Beach. 119 Culver Blvd., Playa del Rey, 310.683.5019. playaprovisions.com
Dopolavoro
This downtown neighborhood market is an extension of popular Italian restaurant Terroni. You'll find picnic-friendly options like cheeses, cured meats, nuts, olives, jams and spreads to create the perfect cheese and charcuterie board on-the-go, as well as Old World wines—perfect for filling up a basket. 808 S. Spring St., downtown, 213.266.8530. dopolavorodtla.com
The Oaks Gourmet
This grocer in Franklin Village is a one-stop shop for artisanal goodies. During the summer, it offers reusable picnic baskets specially tailored to the Hollywood Bowl, with options ranging from the "Super Seat" to the pricier "Pool Circle," which comes with three sandwiches, three salads, a cheese and meat plate and two bottles of wine. 1915 N. Bronson Ave., L.A., 323.871.8894. theoaksgourmet.com
Seaside on the Pier
Restaurateur Robert Earl's new multilevel concept is located directly on the Santa Monica Pier, with amazing ocean views. If you want to picnic on the sand, though, the first level's Seaside Sandwich Company offers convenient grab-and-go options. For $35, you can get three boxed lunches that include a sandwich or a torta, chips and a soda. 250 Santa Monica Pier, Santa Monica, 310.883.7437. seasideonthepier.com
Petrossian
And for the height of decadence, picnic options are available at this French restaurant and boutique that's known for its caviar. The "Picnic in the Park" option includes delicacies like Classic Ossetra or Chataluga Prestige Caviar, sardine rillettes and chocolates. Bon Appétit! 321 N. Robertson Blvd., West Hollywood, 310.271.6300. petrossian.com
Larder's "Southerner" picnic box photo by Aaron Cook.
[et_bloom_inline optin_id=optin_11]