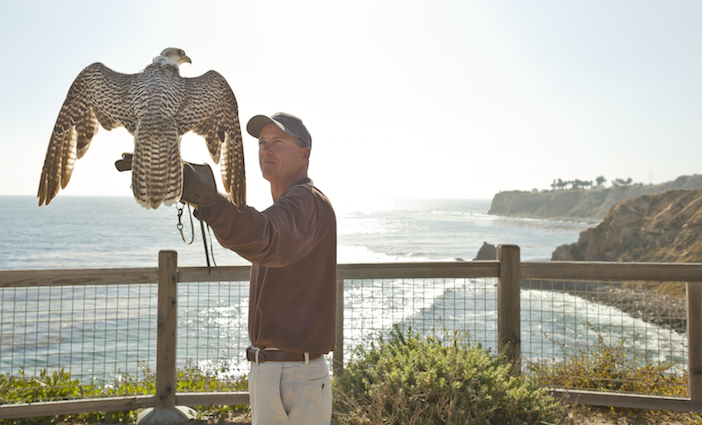 Meet cool creatures of land, sea and sky at these six animal attractions in Los Angeles.
Aquarium of the Pacific
Hop on over to the Aquarium of the Pacific in Long Beach to get up close to fascinating animals, including nearly two dozen species of amphibians in the new exhibition Frogs: Dazzling and Disappearing. The aquarium is also swimming with opportunities for guests to interact with its inhabitants: Dive with tropical fish, cozy up to penguins and even wade into a pool with a shark! August is prime time to see fin and blue whales just off the coast, so purchase a combo ticket for aquarium admission and a 3.5-hour cruise with aquarium naturalists and experts. 100 Aquarium Way, Long Beach, 562.590.3100. aquariumofpacific.org
Discovery Cube
Dinosaurs come alive at Discovery Cube in the San Fernando Valley. The STEM-centered children's museum's newest exhibit, Dinosaurs Unearthed, will immerse you in a Jurassic world with life-size, lifelike animatronic dinosaurs, full-sized skeletons, real and replica fossils, a fossil dig site and more. The exhibit is geared to kids ages 5-13 and their families, but even your youngest explorer will dig it, thanks to an Early Learner's Explorer Experience in Cube Jr. for children ages 2-7.11800 Foothill Vlvd., L.A., 818.686.2823. discoverycube.org
La Brea Tar Pits and Museum
During the ice age, mammoths and saber-toothed cats roamed L.A. The unlucky among them were swallowed by asphalt seeps, and now, more than 10,000 years later, you can observe scientists at La Brea Tar Pits and Museum engaged in real-life excavation and work on their fossils, including the preparation of a baby mammoth skull discovered during Metro digs under Wilshire Boulevard. Plus, thanks to a 3-D movie, Titans of the Ice Age, and an interactive show featuring a life-size adult saber-toothed-cat puppet (Friday-Sunday only), you'll get as close as possible to interacting with real ice age animals. 5801 Wilshire Blvd., L.A., 323.934.7243. tarpits.org

Los Angeles Zoo
At the L.A. Zoo, visitors of all ages can not only get face-to-face with Earth's tallest land animals, they also can give them a snack during new interactive Giraffe Feedings, which the zoo just launched as part of its yearlong 50th anniversary "ZooLAbration." Feedings take place at 11 a.m. and 2 p.m. daily (weather permitting), and tickets cost $5 cash per person at the giraffe exhibit during feeding time. In addition to having food grabbed out of your hand by a Masai giraffe's 14-inch-long tongue (!), you will learn about the giraffes' lives at the zoo, where they can eat up to 80 pounds of as many as 100 different species of plants a day and feed for 16 to 20 hours. You may even get a peek at a baby giraffe, born this winter. 5333 Zoo Drive, L.A., 343.644.4200. lazoo.org
Natural History Museum of Los Angeles County
At the La Brea Tar Pits' sister museum, the Natural History Museum of L.A. County, a new exhibit puts mammals from prehistory through the present under a microscope. Extreme Mammals: Odd Features. Unusual Creatures. pulls from NHMLA's own collection (including standout specimens from the Tar Pits, a rare dwarf mammoth fossil from the Channel Islands and footage of L.A.'s own P-22, the Griffith Park mountain lion), as well as rare fossils and specimens from around the world, to examine evolutionary oddities of the last 200 million years. Paired with the specimens are vivid reconstructions, video installations and hands-on activities that help illustrate the shared ancestry of this diverse class of animal (which includes humans). Dinosaur eaters, walking whales, platypuses with venomous feet—your relatives are even weirder than you thought! 900 Exposition Blvd., Exposition Park, L.A., 213.736.3466. nhm.org
Terranea Resort
Perched on a bluff above the Pacific Ocean, Terranea is a playground for nature lovers and adventure seekers. Unique among the great outdoor activities available to locals and guests alike is a meet-and-greet with the resort's falconer and his birds of prey. The talk is complimentary, but spring for the 1.5-hour private Falconry Experience for $125 per person, and you'll get to see the raptors in flight. 100 Terranea Way, Rancho Palos Verdes, 310.265.2851. terranea.com
Raptor photo courtesy of Terranea Resort.