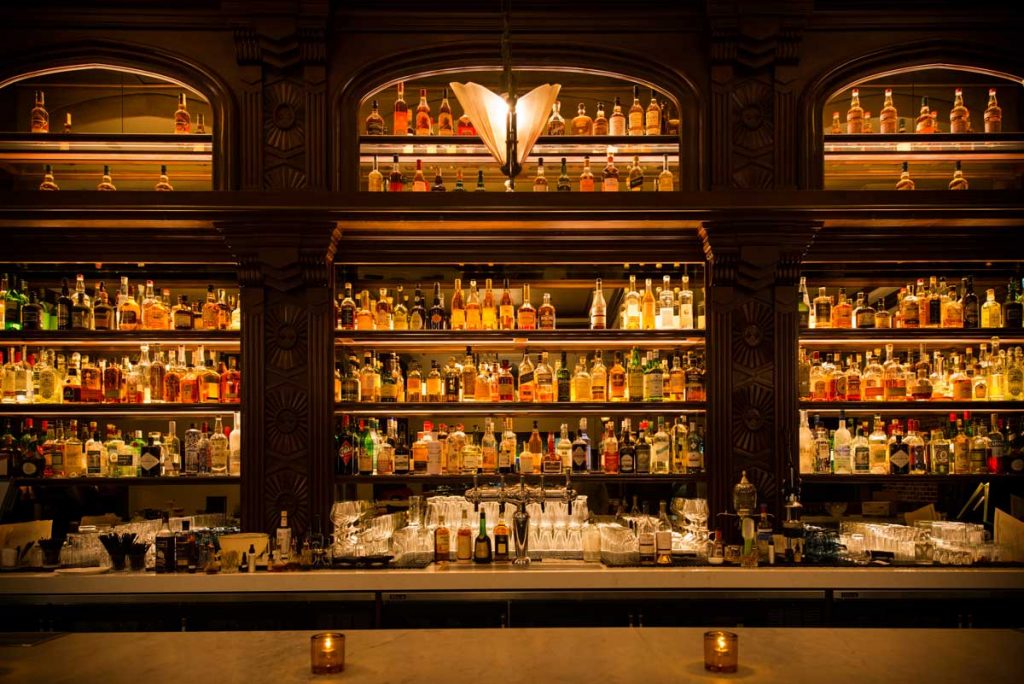 Looking for a hot spot to dine before, after or even during a show in Los Angeles? Explore these four new LA restaurants.
Adapted from Sound Bites, from the April 2017 issue of WHERE Los Angeles Magazine
The Edmon
The Edmon recently checked into the Hollywood Historic Hotel, which dates to 1927—one year after the nearby Studios at Paramount moved onto its current lot. Thanks to a detailed renovation, the restaurant harkens to those early years of Hollywood's Golden Age with gorgeous art deco details, classic cocktails (as well as a great selection of wines and sherries) and a globally inspired modern-American menu crafted by executive chef Gabriel Cappelli that offers hearty items such as brûléed oysters and a 24-ounce tomahawk rib eye served with deviled eggs. D (Tu-Sa). 5168 Melrose Ave., L.A., 323.645.5225. theedmon.com
Local Venue > You're already there: The Edmon's stage hosts live jazz Tuesday and Wednesday nights starting at 7:30.
Farida
If you've spent time in Hollywood, you've likely seen one of George Abou-Daoud's eateries; the chef/restaurateur is behind everything from a gastropub (Bowery) to a refined pizzeria (Delancey) to an old-school sandwich shop (Tamarind Ave. Deli). His latest entry, Farida, brings flavors from the Mideast, North Africa, Anatolia and the Mediterranean to a colorful, casual space right next to Bowery. Start with a cocktail before digging into shareable dishes like lavender baghrir crepes, fried cauliflower, falafel baguette and spicy lamb riblets. L (M-F), D (nightly). 6266 Sunset Blvd., L.A., 323.498.5100. faridarestaurant.com
Local Venue > The Hollywood Palladium is right across the street.
Maré Silver Lake
The third outpost of Maré, executive chef Eric Greenspan's and Midcourse Hospitality Group's breezy European-coast-inspired restaurant, transports you to the shores of Portugal while seated in trendy Silver Lake. The new spot retains the Melrose and Santa Monica locations' menu—dishes like shellfish served with your choice of broth and whole branzino with fig-pomegranate glaze—and offers rotating specials perfect for late-night snacking (think bouillabaisse croquettes and grilled focaccia with chorizo and leek fondue). Designwise, the lush, airy spot features large, open windows and accents of patterned tile, framed paintings, plants and candles, which make for a charming and romantic date-night spot. Or keep things casual on the outdoor patio, outfitted with string lighting, a wraparound bar and a foosball table. D (nightly). 2609 Hyperion Ave., L.A., 323.522.6656. marerestaurants.com
Local Venue > Silver Lake staple the Satellite is 1.5 miles away.
Tsubaki
Echo Park's new modern izakaya, Tsubaki, is a delicious reminder to Angelenos that there's more to Japanese cuisine than California rolls and tonkotsu bowls. The duo behind the cozy but sophisticated neighborhood tavern, Charles Namba and Courtney Kaplan, come with serious L.A. culinary chops: Namba was a chef at Thomas Keller's Bouchon in Beverly Hills, and sommelier Kaplan poured at Bestia. At Tsubaki, they've created a convivial environment where dishes like buttermilk fried chicken with honey vinegar; steamed egg custard with Dungeness crab, mitsuba and wasabi; and irresistible Caledonian blue prawns with yuzu kosho tartar dipping sauce are shared and paired with beer and small-production sake and shochu (a French-dominated wine list is available, as well). This is the kind of locals' gathering spot that will make you want to move to the neighborhood. D (T-Su). 1356 Allison Ave., L.A., 213.900.4900. tsubakila.com
Local Venue > The Echo and Echoplex are little more than half a mile away. Even closer is Dodger Stadium, a bonus for baseball fans and concerts.