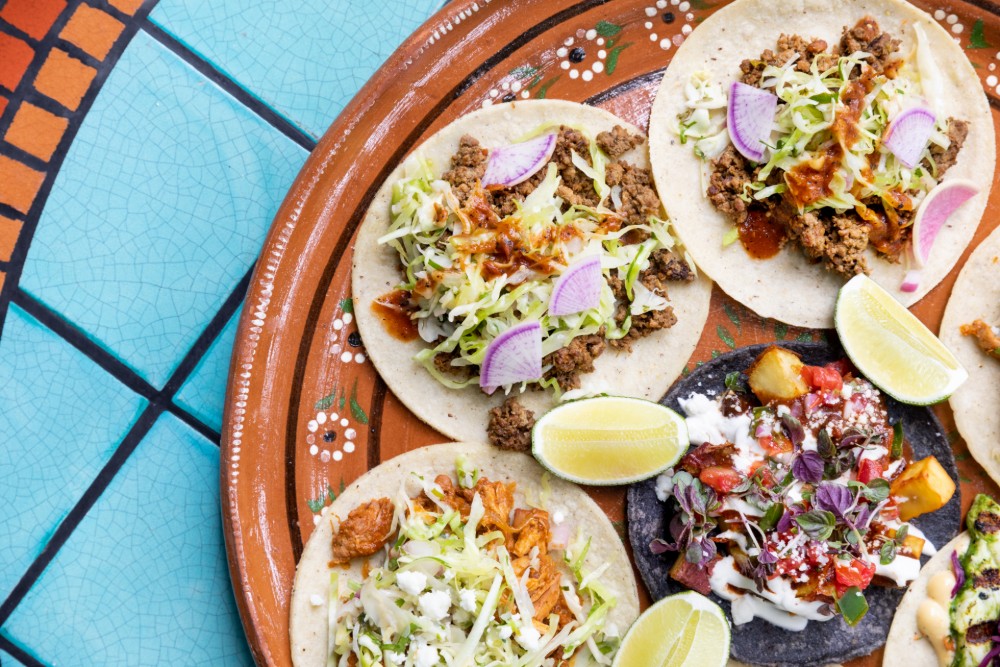 Cinco de Mayo and Kentucky Derby festivities plus outdoor roller skating, Food Bowl happenings and more…Check out our top Los Angeles weekend events for May 2-5.
Edited by William Yelles.
EVENTS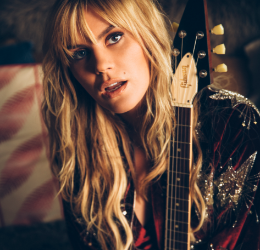 The BeachLife Festival
May 3-5. Performers include Brian Wilson, Bob Weir, Willie Nelson, Ziggy Marley, Violent Femmes, Steel Pulse, Grace Potter (pictured), Bruce Hornsby, Everclear, Chevy Metal, Sugar Ray, Donavon Frankenreiter and more. While music takes center stage, top chefs will have a stage of their own—a 50-seat, sit-down, pop-up restaurant that will give festival-goers access to an upscale dining experience. F-Sa 11 a.m.-10 p.m., Su 11 a.m.-9 p.m. See website for ticket prices. Redondo Beach Marina, 137 N. Harbor Drive, Redondo Beach. beachlifefestival.com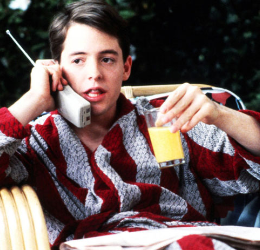 Eat/See/Hear
May 4. Traveling outdoor movie-event series, presented by Showtime, boasts the largest outdoor inflatable screen on the West Coast, as well as food trucks and live musical performances. This year's schedule of summertime screenings kicks off with 1980s teen comedy classic Ferris Bueller's Day Off. 5:30 p.m. doors, 7 p.m. music, 8:30 p.m. movie. $8-$21. North Hollywood Recreation Center, 11430 Chandler Blvd., North Hollywood. Tickets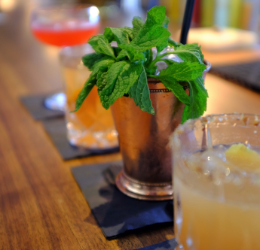 Kentucky Derby at Baltaire
May 4. Baltaire celebrates Derby Day with its annual viewing party complete with a DJ and livestream of the race on multiple screens. Classic Derby cocktails will be served alongside Executive Chef Travis Strickland's favorite Southern dishes including Kentucky Hot Browns. Guests are encouraged to let their Southern fashion style shine with wide-brimmed hats, blazers, and bowties fit for the Churchill Downs Millionaires Row. Baltaire will award prizes for Best Hat and Best Outfit, and a portion of proceeds from raffle tickets will be donated to No Kid Hungry. 1-5 p.m. 11647 San Vicente Blvd., Brentwood, 424.273.1660. baltaire.com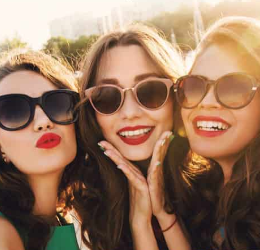 SPONSORED
Mom's Day Out at The Point
May 4. In honor of Mother's Day, grab your gal pals and stroll through the shops at The Point enjoying beauty touchups, drinks, live music, shopping incentives and more. Plus enjoy a spring pop-up with local makers from Artisanal LA. Your $10 ticket includes an exclusive tote from The Point, a passport unlocking special promos, and champagne from the Bubble Tap Trailer. All attendees must be 21+. Event check-in located between UMI and Superba Food + Bread. 11 a.m.-2 p.m. $10. 850 S. Pacific Coast Hwy., El Segundo, 310.414.5280. Tickets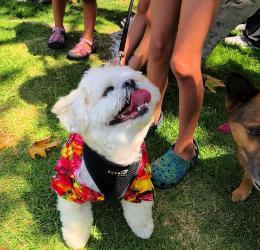 Pets In the Park
May 4. Celebrate spring at this family-friendly event for pups and people. See pet tricks and a dog parade, and meet lots of local pet shops with products and food, and rescues with pets for adoption. Also professional pet photos and blessings of the animals. 10 a.m.-1 p.m. Free. Valley Park, 2521 Valley Drive, Hermosa Beach. hbchamber.net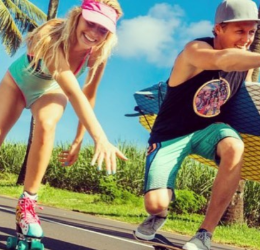 POP SK8
Opens May 4. California's first themed pop-up outdoor roller-skating rink features all-ages fun with performances, contests and themed nights like disco, '80s and "La La SK8 Land" (movie musicals and show tunes). Quad skate rental included with admission. You may also bring your own quad or inline skates. M-Th 2-10 p.m., F 2 p.m.-midnight, Sa noon-midnight, Su noon-10 p.m. $15+. Westfield Valencia Town Center, 24201 Valencia Blvd., Valencia, 818.508.0082. popsk8.live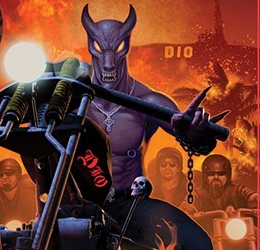 Ride for Ronnie Motorcycle Ride and Concert
May 5. The fifth annual event raises awareness and funds for the Ronnie James Dio Stand Up and Shout Cancer Fund. Continental breakfast precedes the motorcycle ride that originates in Glendale and culminates with a concert, raffle, food trucks and auctions in Encino. Registration 9 a.m.; ride begins 11 a.m.; rally and concert 11:45 a.m.-5 p.m. $35-$55. Harley-Davidson of Glendale, 3717 San Fernando Road, Glendale; Concert: Los Encinos State Historic Park, 16756 Moorpark St., Encino. diocancerfund.org
CINCO DE MAYO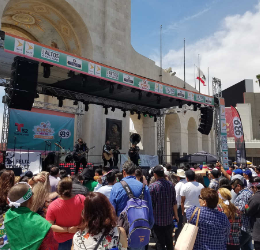 Cinco de Mayo at The Coliseum
May 5. Head down to the historic Olympic Plaza for the biggest party in town. The family-friendly event features live music, dancing, games, food trucks, celebrity meet-and-greets and lots more. Win prizes playing games—or for the brave—pepper-eating contests. Noon-8 p.m. Free. 3911 S. Figueroa St., Exposition Park. lacoliseum.com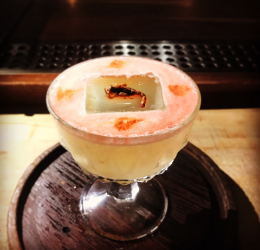 Cinco de Mayo Cocktails
May 5. Relax at the W Hollywood's swanky indoor-outdoor bar Station Hollywood and The Living Room with a special menu of Casamigos featured margaritas for $12 each. 5 p.m.-midnight. 6250 Hollywood Blvd, Hollywood. stationhollywood.com Or head to District to try one of the special cocktails like the El Mito (Mezcal, ginger syrup, lime, egg white and Peychaud's bitters with a scorpion in ice). 11 a.m.-midnight. $14. 700 W. 7th St., downtown. districtdtla.com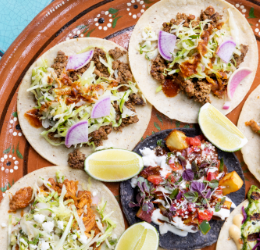 Tallula's Cinco de Mayo Celebration
May 5. Hang out at the beach, then walk across the street to celebrate with friends over pitchers of margaritas alongside chilaquiles or a special Cinco De Mayo taco platter. A mariachi band and photo booth add to the fiesta. Tallula's (part of the RUstic Canyon family) kicks off the celebration at noon (four hours ahead of its usual opening time). 118 Entrada Drive, Santa Monica, 310.526.0027. tallulasrestaurant.com
FOOD + DRINK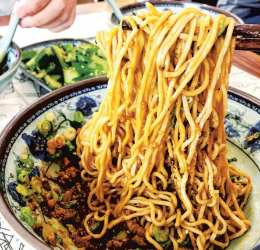 Los Angeles Times Food Bowl
All Month. The Los Angeles Times' monthlong food festival celebrates the city's dynamic food scene with almost 200 culinary events. L.A.'s most notable chefs and restaurants participate, as well as internationally renowned chefs. See website for full lineup of events and tickets. lafoodbowl.com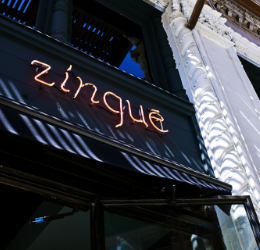 Zinque Downtown L.A.
Opens May 3. Inspired by the zinc-topped bars found all over France, Zinqué has become a destination in Venice, West Hollywood, Newport Beach and, starting today, downtown Los Angeles. Zinqué regulars will recognize the famous breakfast sandwich (egg, tomato, basil, aged Gruyère). For lunch and dinner, choose from gourmet sandwiches, salads, and larger plates such as the grilled branzino and steak frites. Su-Th 7 a.m.-midnight, F-Sa 7 a.m.-2 a.m. 939 S. Broadway, downtown. lezinque.com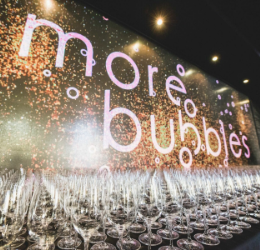 Effervescence LA
May 3-5. Leading epicurean event centered solely around Champagne and sparkling wines returns to L.A. at this Food Bowl event with grand tastings from around the world and master classes taught by leading experts. An exclusive gala dinner at Jar and a sparkling wine brunch for collectors, winemakers, and enthusiasts will be hosted by celebrity chef Nancy Silverton. See website for schedule, locations and pricing. effervescencela.com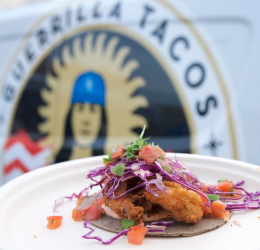 Hecho in LA: Taco Madness '19
May 4. Clebrate the taco lifestyle in Los Angeles with the best micheladas and tacos from pop-ups, food trucks, award-winning chefs and restaurants. 21+. 6 p.m.-midnight, Free; menu items $8 each. LA Plaza de Cultura y Artes, 501 N. Main St., downtown. ilovemicheladas.com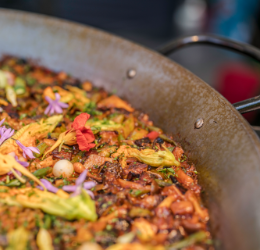 Taste of the Nation
May 4. At No Kid Hungry's annual L.A. foodie event—celebrating its 30th anniversary this year—award-winning chefs, sommeliers and mixologists from the region come together to help end childhood hunger in America. Taste offerings from top restaurants including The Bazaar by Jose Andres (pictured), Jaffa, Maude, Ms Chi Cafe and Tesse. There's also a silent auction, photo booth, kids corner and prizes. 1-4 p.m. (VIP admission 12:30 p.m.) $115; VIP $165; kids 6-13 $25, under 6 free. Media Park, 9091 Culver Blvd., Culver City, 800.969.4767. events.nokidhungry.org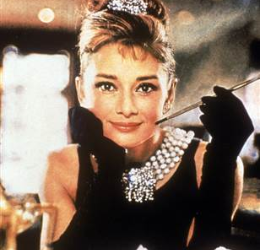 Breakfast at Tiffany & Co.
May 4-5. In celebration of Mother's Day, Tiffany & Co. has created a pop-up breakfast experience inspired by The Blue Box Cafe at its New York flagship store. served on the patio adjacent to the Beverly Hills store, the $45 prix-fixe breakfast includes croissants, main course, three beverages (including a mimosa), tax, and gratuity. All proceeds will be donated to support Baby2Baby. Online reservations a must. 208 N. Rodeo Drive, Beverly Hills. RSVP
ARTS + CULTURE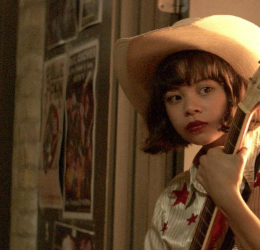 Los Angeles Asian Pacific Film Festival
Opens May 2. The Los Angeles Asian Pacific Film Festival by Visual Communications is dedicated to showcasing films by and about Asians and Pacific Islanders from around the world. Yellow Rose (pictured) opens the festival. See website for screening schedules, locations and ticket prices. festival.vcmedia.org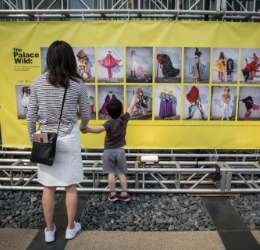 Photoville L.A.
May 2-5. The second and final weekend of this outdoor photography event features dozens of eexhibitions from local and international photographers, plus talks, workshops and family-friendly activities. See website for schedule. Th 5-9 p.m., F 5-10 p.m., Sa noon-10 p.m., Su noon-8 p.m. Free. Outside the Annenberg Space for Photography, 2000 Avenue of the Stars, Century City. photoville.la
STYLE + BEAUTY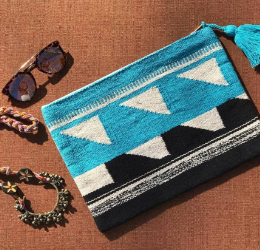 Vintage x Artisan Market
May 4. The One Colorado Vintage x Artisan Market will feature over 30 women exhibitors from across L.A. offering unique collections of vintage clothing, textiles, ceramics, jewelry, home decor and accessories. This inaugural show will bring together vintage sellers for the first time in the heart of Old Pasadena and introduce artisans from the artist collectives Lost Art L.A. and Textile Arts Los Angeles. The day will include workshops, art activations and music. Sage Vegan Bistro and Brewery will host a no-host Green Bar featuring organic wine, beer and kombucha on tap. 10 a.m.-3 p.m. Free. One Colorado, 41 Hugus Alley, Pasadena, 626.564.1066. onecolorado.com
Photos: Grace Potter by Josh Reed courtesy BeachLife Festival. Ferris Bueller's Day Off and Breakfast at Tiffany's courtesy Paramount Pictures. Pets In the Park courtesy Hermosa Beach Friends of the Parks/Facebook. POP SK8 courtesy @popsk8live/Instagram. Cinco de Mayo at The Coliseum courtesy The L.A. Coliseum. Cinco de Mayo Cocktails (El Mito) courtesy District. Zinque Downtown L.A. courtesy Zinque. Taste of the Nation by Dustin Downing. Tallula's by Jakob Layman. Los Angeles Times Food Bowl courtesy Los Angeles Times. Los Angeles Asian Pacific Film Festival (Yellow Rose) courtesy @vcmediaorg/Instagram. Vintage x Artisan Market courtesy @lost_art_la/Instagram.