St. Patrick's Day, Pi Day, cats, dogs and Wolves…Check out all of our top Los Angeles weekend event picks for March 14-17.
Edited by William Yelles.
EVENTS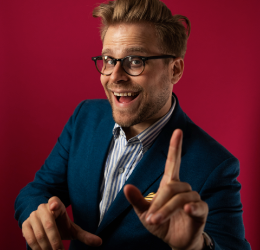 Adam Conover
March 16. Adam Conover—the creator, writer and host of TruTV hit Adam Ruins Everything—brings his Mind Parasites Live tour to L.A. In this original hybrid of stand-up comedy and psychedelic biology class, Conover will reveal the cultural parasites that seek to control your mind and behavior, and explain how you can protect yourself from their influence. 7 p.m. doors, 8 p.m. show. See website for ticket prices. El Rey Theatre, 5515 Wilshire Blvd., L.A., 323.936.6400. Tickets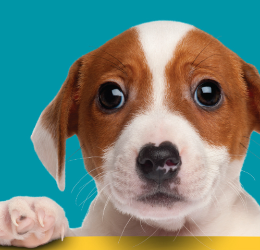 Dogs! A Science Tail
Opens March 16. Go behind the bond between humans and dogs and find out how both are wired for social connection at this new California Science Center exhibit. Discover dogs' amazing senses through hands-on activities and see live demos from work and rescue dogs. While there, grab a seat at Superpower Dogs 3D, now playing in the IMAX theater. 10 a.m.-5 p.m. See website for ticket prices. 700 Exposition Park Drive, downtown, 323.724.3623. californiasciencecenter.org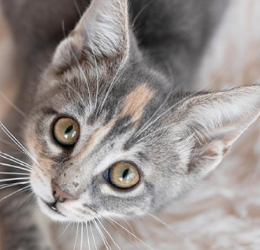 Kitten Shower
March 16. Best Friends invites cat lovers of all ages to its kitten shower as the animal rescue prepares to welcome almost 3,000 kittens into its nursery this year. Enjoy complimentary light bites and refreshments while enjoying tours of the kitten nursery, education on fostering kittens, volunteer opportunities, kitten shower games, and more. 1-3 p.m. Free; donations (monetary or cat supplies) encouraged. Best Friends Lifesaving Center, 15321 Brand Blvd., Mission Hills, 818.643.3989. bestfriends.org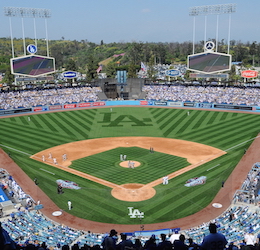 Melanoma Angel Network Gala
March 16. Dodger Stadium is the setting for Melanoma Angel Network's community fund-raiser. Walk the blue carpet and enjoy an open bar, a gourmet dinner, a silent auction, a live band and virtual reality exhibit as well as the ability to mingle with special guests. Melanoma Angel Network is focused on supporting the lives of the friends, family, caregivers, loved ones, and the extended community and network of patients affected by cancer. 5:30 p.m. $150. Dodger Stadium, 1000 Vin Scully Ave., L.A. Tickets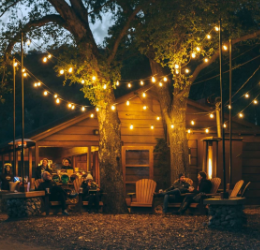 Night Garden: Plant Power
March 16. Bask in the healing power of nature at Descanso Gardens. Sample essential oils, learn some new garden yoga poses, then relax with the calming but powerful sounds of singing bowls and a guided meditation session. Food and drinks by Patina. Advance tickets required. 5:30-8:30 p.m. $5 members; $15 non-members. Descanso Gardens, 1418 Descanso Drive, La Cañada Flintridge, 818.949.4200. descansogardens.org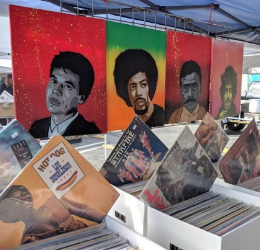 Beat Swap Meet
March 17. Beat Swap Meet returns to Smorgasburg LA, bringing over 70 popup vendors selling classic vinyl, vintage clothing and more. The family-friendly event features multiple stages with live music from old school and on-the-rise artists plus a classic car exhibit and all the usual food and fun available each Sunday at Smorgasburg LA. 10 a.m.-4 p.m. Free. ROW DTLA, 777 Alameda St., downtown. smorgasburg.com
ST. PATRICK'S DAY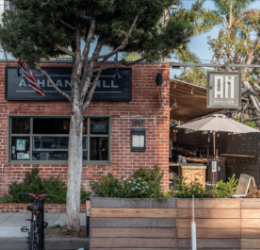 Ashland Hill Shamrock Social
March 17. Featuring all kinds of fun to celebrate St. Patrick's Day including a variety of beer, green beer, Jameson whiskey, corned beef and cabbage, games, a DJ and the much celebrated giant beer pong tournament. The beer pong winner gets bragging rights for the year and their team name inscribed on the axe trophy displayed in the bar. Event proceeds benefit Heal the Bay. Noon-6 p.m. $20-$45. Ashland Hill, 2807 Main St., Santa Monica. Tickets
Casey's St. Patrick's Day Street Festival
March 17. To celebrate St. Patrick's Day, Casey's will be holding its annual all-day street festival featuring Irish whiskey and beer, plenty of food, DJs, and dancing. Casey's Irish Pub will open at 6 a.m.; festival starts at 11 a.m. $20. Casey's Irish Pub, 613 S. Grand Ave., downtown. caseysstpatricksday.com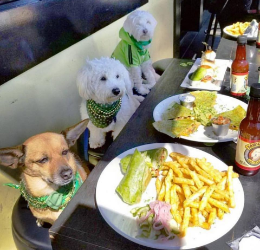 The Morrison
Through March 17. Get your pack together and head to The Morrison restaurant and pub for holiday-themed food and drink specials like the corned beef sandwich which pairs with a green beer or Guinness. The dog-friendly space offers a special menu just for pups. 3179 Los Feliz Blvd., Atwater Village, 323.667.1839. themorrisonla.com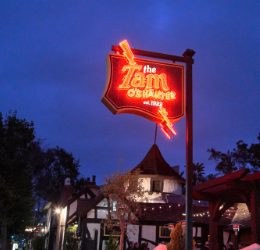 The Tam O'Shanter
March 17. Join the Tam O'Shanter for their annual St. Patrick's Day celebration. The restaurant has become one of L.A.'s St. Patrick's Day destinations complete with live music, drink specials, raffles and a festive Irish buffet. Admission includes five drink tickets, lunch and dinner buffets, entry into an exclusive bar with hourly drink specials and seating in the live music tents. Doors open at 11 a.m. $179. 2980 Los Feliz Blvd., Los Feliz, 323.664.0228. lawrysonline.com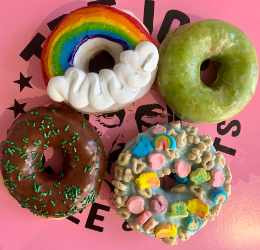 Trejo's Coffee and Donuts
Through March 17. Danny Trejo's gourmet bake shop features holiday treats including End of The Rainbow (raised donut with rainbow buttermilk glaze and fluffy royal icing clouds), Me Lucky Charms (sky blue buttermilk glaze with Lucky Charms cereal), It's Not Easy Being Green (raised donut with lucky green dye and basic glaze) and Leprechaun (raised dark chocolate donut with dark chocolate glaze and green sprinkles). 7 a.m.-4 p.m. 6785 Santa Monica Blvd., Hollywood, 323.462.4600. trejosdonuts.com
More St. Patrick's Day picks on our complete guide to Where to Celebrate St. Patricks' Day in L.A.
FOOD + DRINK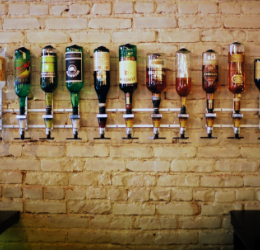 Normandie Club Extension
Opens March 14. The former Walker Inn space has been revamped as an extension of The Normandie Club just in time to celebrate the bar's fourth anniversary. Featuring new design details—including an "infinite mirror" photo booth—the new Normandie Club back room will only be open Thursday through Saturday to start. The debut will also be marked by a brand new spring cocktail menu, available in both the front and back. 6 p.m.-2 a.m. 3612 W. 6th St., Koreatown, 213.263.2709. thenormandieclub.com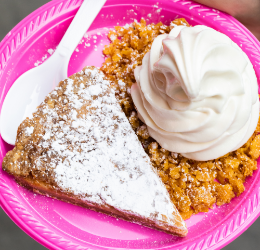 Pi Day Pie
March 14. Milk Bar's addictive fan favorite Crack Pie is going a la mode. For one day only, in honor of Pi Day, get a slice of Crack Pie next to a Cereal Milk® Soft Serve, which is placed on a mound of cornflake crunch. 10 a.m.-midnight. $10. 7150 Melrose Ave., Hollywood, 347.577.9504 ext 15. milkbarstore.com Or head to Winston Pies for a special 3.14-inch PieBite in apple, blueberry, cherry or chocolate for $3.14. 11678 San Vicente Blvd., Brentwood, 310.207.5743; 8366 W. 3rd St., Beverly Grove, 323.925.4743. winstonpies.com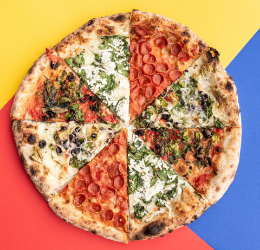 Pi Day Pizza
March 14. Superfine Pizza—the old-school pizza joint from Rossoblu and Sotto chef Steve Samson—is offering a 3.14 Pie Day special: Choose any three toppings to put on either a vegan or cheese pizza for $14. 11 a.m.-10 p.m. 1101 S. San Pedro St., Unit F, downtown, 323.698.5677. superfinepizza.com Or head to new pizza and beer hangout California Sun for $3.14 cheese and pepperoni slices all day. 11 a.m.-11 p.m. 3903 Sunset Blvd., Silver Lake, 323.800.2456. calsun.la
ARTS + CULTURE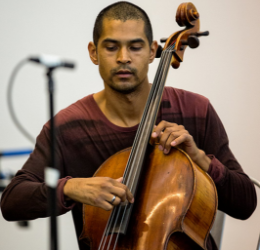 (M)iyamoto is Black Enough
March 14-15. The Wallis Annenberg Center for the Performing Arts and Brooklyn's acclaimed National Sawdust present (M)iyamoto is Black Enough, a collaborative musical and spoken word exploration of meaning and conversation based on the controversy surrounding Ariana Miyamoto, the biracial Miss Universe Japan 2015 winner who weathered backlash for her lack of "pure" parentage. 8 p.m. See website for ticket prices. The Wallis, Lovelace Studio Theater, 9390 N. Santa Monica Blvd., Beverly Hills, 310.746.4000. thewallis.org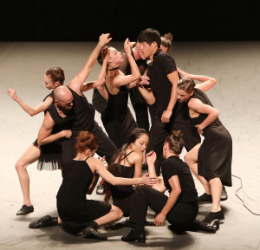 Batsheva Dance Comapny
March 15-16. UCLA's Center for the Art of Performance presents acclaimed Tel Aviv-based Batsheva Dance Company in two performances of Venezuela, a new evening-length work in which choreographer Ohad Naharin and the dancers explore the dialogue and conflict between movement and the content it represents. 8 p.m. $39-$99. Royce Hall, UCLA, 340 Royce Drive, Westwood, 310.825.2101. cap.ucla.edu
The Wolves
Opens March 16. A suburban girls' soccer team navigates big questions and wage tiny battles with the ferociousness of a pack of adolescent warriors in Sarah DeLappe's Pulitzer Prize finalist The Wolves. Los Angeles premiere. See website for show times and ticket prices. Echo Theater Company, Atwater Village Theatre, 3269 Casitas Ave., L.A., 310.307.3753. echotheatercompany.com
STYLE + BEAUTY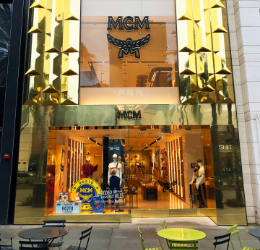 MCM Rodeo Drive Grand Opening
March 14. If you're in the market for, say, a $300 t-shirt, $800 backpack or $1,500 jacket, head to the grand opening of luxe designer MCM's new Rodeo Drive shop. Women's and men's fashions, shoes, accessories and travel gear are all available. 10 a.m.-6:30 p.m., 414 N. Rodeo Drive, Beverly Hills, 855.626.1976. mcmworldwide.com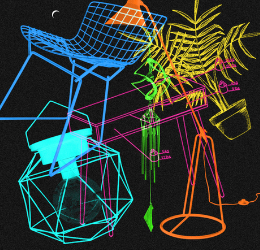 Fun Shui: Marketplace for Home Goods
March 16. Fun Shui will bring to life a marketplace for home goods from over 20 vendors, offering art, photography prints, vintage and homemade décor, small house plants, records, and candles, incense, and aromatherapy. Featured vendors include The LA Garden, Kin Candle Co., A Good Used Book, and Lovers and Monsters. Noon-5 p.m. Free. Grand Central Market, 317 S. Broadway, downtown. grandcentralmarket.com
Photos: Casey's St. Patrick's Day Street Festival courtesy Casey's Irish Pub. Adam Conover courtesy Right On PR. Night Garden: Plant Power courtesy Descanso Gardens/Facebook. Dogs! A Science Tail courtesy California Science Center/Facebook. Kitten Shower courtesy Best Friends Animal Society. Melanoma Angel Network Gala courtesy Los Angeles Dodgers. Beat Swap Meet courtesy @beatswapmeet/Instagram. Ashland Hill by Stan Lee/Fried Chicken Sandwich Studios. The Morrison courtesy @morrisonpubla/Instagram. Tam O'Shanter by Ryan Tanaka. Trejo's Coffee and Donuts courtesy Trejo's Coffee and Donuts. Normandie Club Extension courtesy The Normandie Club. Pi Day Pie courtesy Milk Bar. Pi Day Pizza courtesy Superfine Pizza. (M)iyamoto is Black Enough courtesy National Sawdust. Batsheva Dance Company by Ascaf. The Wolves by Darrett Sanders. MCM Rodeo Drive Grand Opening courtesy MCM. Fun Shui courtesy Grand Central Market.