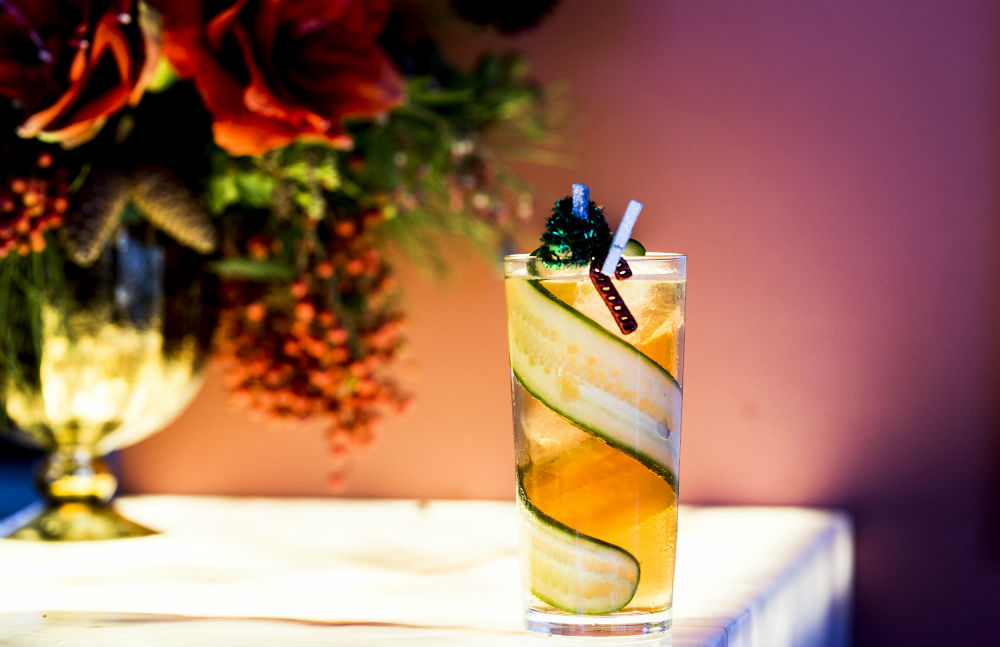 From fireworks by the beach to holiday cocktails in the heart of the city, here are your top Los Angeles weekend event picks for December 6-9.
By William Yelles.
EVENTS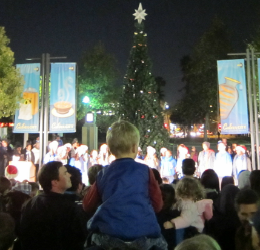 Culver City Holiday Tree Lighting Celebration
Dec. 6. Downtown Culver City gets into the festive spirit as the historic district comes to life with the lighting of its 22-foot Rocky Mountain pine tree. Enjoy hot beverages, cookies, treats, local choirs and appearances from "Dixie" of Dixie's Tupperware Party (now playing at the Kirk Douglas Theatre)—and, of course, Santa. 6 p.m. Free. Culver City Town Plaza, Culver Boulevard at Van Buren Place. downtownculvercity.com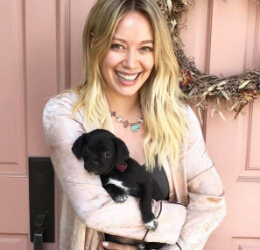 Love Leo Rescue Fundraiser
Dec. 6. Hilary Duff, Whitney Cummings and Olivia Munn join Petrossian restaurant and Chervona vodka to raise funds and awareness for Love Leo Rescue, a nonprofit foster-based rescue saving abused and abandoned dogs. Bid in the auction for lavish items from top fashion and jewelry designers, artists, spas, hotels, sports tickets, restaurants and more. 6-9 p.m. $100. Rolling Greens, 7505 Beverly Blvd., L.A. Tickets
Dickens Holiday Celebration
Dec. 8. The International Printing Museum transforms into Fezziwig's warehouse replete with Victorian decorations. Print your own Victorian holiday cards and gift tags with type and cuts from Victorian presses while interacting with Dickens characters and enjoying old carols. Dickens "himself" will invite audience members into the cast for a rendition of his classic A Christmas Carol. Admission includes a holiday lunch of bangers, gingerbread and punch. 10 a.m.-4 p.m. $25. 315 W. Torrance Blvd., Carson, 310.515.7166. printmuseum.org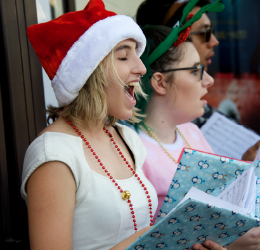 Jollywood
Dec. 8. The Hollywood Walk of Fame is transforming into Jollywood with a holiday gift market, sweet treats and music from carolers. Wood & Vine will serve up cocktails including wassail—a traditional combination of hot ale or beer, apples, spices and mead typically enjoyed in the dark of winter. Santa Claus is expected to kick off the event in style with his arrival on an L.A. Fire Department truck. 5-9 p.m. Free. 6201 Hollywood Blvd., L.A. onlyinhollywood.org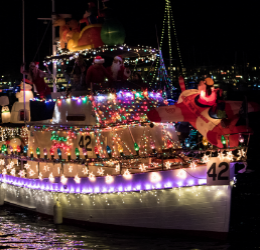 Marina del Rey Holiday Boat Parade
Dec. 8. The theme of this year's annual parade of decorated boats and fireworks show is "Holiday Water Wonderland." Fireworks, 5:55 p.m.; parade, 6-8 pm. Beforehand, enjoy real snow, sledding, arts and crafts, face painting, a DJ and food trucks in the park from noon-6 p.m. Free. Burton Chace Park, 13650 Mindanao Way, Marina del Rey, 310.670.7130. mdrboatparade.org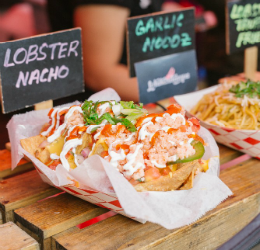 Smorgasburg LA Holiday Popup on the Pier
Dec. 8. Taste the best of downtown's weekly Smorgasburg LA as over 70 vendors journey west to the Santa Monica Pier, including favorites like Goa Taco, Katsu Sando, Lobsterdamus and Ponchos Tlayudas, plus special pop-up vendors including New York's Burger Supreme and more. 11 a.m.-4:30 p.m. Free. 200 Santa Monica Pier, Santa Monica. la.smorgasburg.com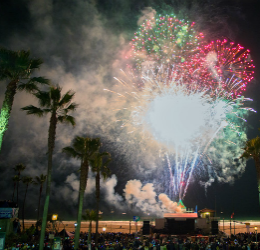 Manhattan Beach Holiday Fireworks
Dec. 9. The picturesque beachside city's annual holiday celebration features a Skechers-sponsored snow park, a Santa float and live music, capped off by a fireworks show over the pier. Snow park, float, 4 p.m.; fireworks, 7 p.m. Free (new, unwrapped toy or cash donation to benefit the YMCA Adventure Guides Toy Drive requested for snow park admission). 2 Manhattan Beach Blvd., Manhattan Beach. mbfireworks.com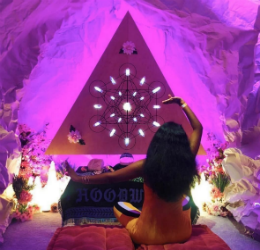 29Rooms
Through Dec. 9. Millennial women's media brand Refinery29 presents its fourth annual festival of style, culture and creativity featuring a diverse mix of talent coming together for a unique storytelling experience. New additions to the Instagram-friendly experience include Kesha and Lena Waithe, along with previous collaborators House of Yes, artist Carlota Guerrero, musical artist Cocovan, poet and activist Rupi Kaur and artist Uzumaki Cepeda. See website for hours and ticket prices. The Reef, 1933 S. Broadway, downtown. Tickets
FOOD + DRINK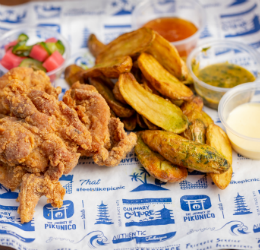 Pikunico
Now Open. Honoring her Japanese roots, renowned chef Kuniko Yagi's naturally gluten-free fried chicken is made with rice flour and crisped to perfection. Alongside fried-chicken baskets and sandwiches, the fast-casual restaurant features fresh salads and soups, as well as a curated selection of local craft beers, wines, coffees and teas—part of her philosophy to support local businesses. 11 a.m.-9 p.m. 767 S. Alameda St., downtown, 213.278.0407. pikunico.com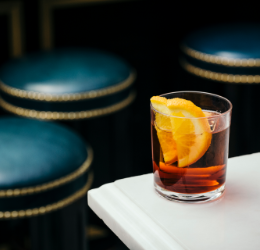 "NoMad Holiday Spectacular"
Starts Dec. 6. NoMad Los Angeles' Coffee Bar celebrates the season with the return of its festive cocktail pop-up. The menu of "Naughty" and "Nice" cocktails includes the Partridge in a Pear Tree with spiced pear, sherry, verjus, honey and pommeau; Hot Buttered Rum; and a boozy Egg Nog (bourbon, rum, cognac and scotch). Guest bartenders will be making special appearances. First up on opening night is Devon Tarby of the Walker Inn. 5-11 p.m. 649 S. Olive St., downtown, 213.358.0000. thenomadhotel.com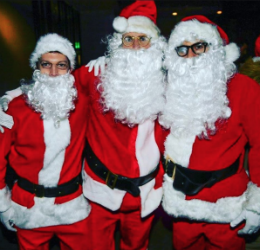 Santa Monica Pub Crawl
Dec. 8. Santa Monica's 10th annual holiday tradition promises merriment and good cheer while raising money for the Westside Food Bank. Don festive holiday attire and choose one of four routes to sample food and drink specials at 30 of the city's best bars and restaurants. 5 p.m. $15. See website for route map and participating venues. santamonicapubcrawl.com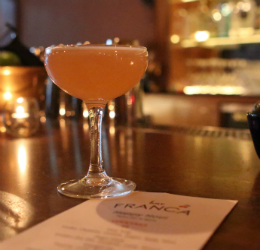 Bar Franca Fire Fundraiser
Dec. 9. The recently opened Bar Franca is hosting a fundraising event for victims of both the Woolsey Fire and the Borderline shooting. Guests will receive two drinks and one raffle ticket with all sales, and proceeds from the event go to the Los Angeles Fire Department Foundation and the Ventura County Community Foundation. In addition to the raffle, there will be a silent auction. 7-10 p.m. $20. 438 S. Main St., downtown, 213.935.8515. barfranca.com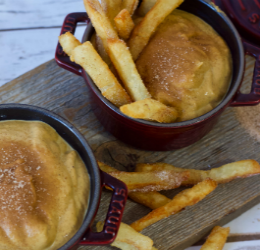 Pumpkin Pie Fry-Eating Contest
Dec 9. Great American Fries Co. co-founder Caroline Artiss tosses twice-cooked fresh potatoes in cinnamon sugar and sprinkles with powdered sugar for an unexpected sweet and savory treat. Topped off with housemade pumpkin-pie dipping sauce, her Pumpkin Pie Fries taste like a doughnut and funnel cake in one. Each participant will receive a monster-size Pumpkin Pie Fry, and the first to finish will receive a gift card to GAFC. 3 p.m.; sign-ups begin 30 minutes prior. Free. 1601 Ocean Ave., Santa Monica. greatamericanfries.com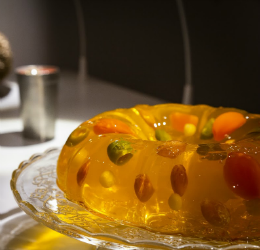 The Disgusting Food Museum
Opens Dec. 9. From the folks behind the Museum of Failure pop-up comes this new exhibition providing the opportunity to smell and taste dozens of the world's most vile creations—some of which are considered delicacies in other cultures. Maggot-infested cheese, sheep-eyeball juice, frog smoothies, roasted guinea pigs and mouse wine, anyone? W-F 2-8 p.m., Sa-Su noon-7 p.m. See website for ticket prices. A+D Architecture and Design Museum, 900 E. Fourth St., downtown. disgustingfoodmuseum.com
ARTS + CULTURE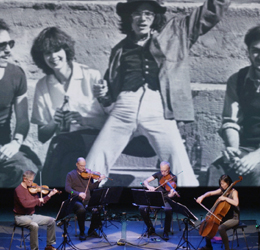 SPONSORED
A Multimedia Performance Featuring Kronos Quartet
Dec. 7. Oscar-nominated filmmakers Sam Green and Joe Bini have teamed up with Grammy Award-winning Kronos Quartet for a wildly creative multimedia performance piece that blends live music and narration with archival footage and filmed interviews with such prominent artists as Philip Glass, Tanya Tagaq, Steve Reich, Wu Man and Terry Riley. 8 p.m. $29-$59. The Theatre at Ace Hotel, 929 S. Broadway, downtown, 310.825.2101. cap.ucla.edu
STYLE + BEAUTY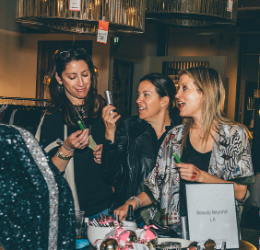 Local Mercato's Holiday Marketplace
Dec. 6. This fun and festive evening will feature over 20 local brands to shop, with a portion of sales supporting the Los Angeles Ballet. Along with a special Nutcracker meet-and-greet, guests will enjoy a cannabis gifting lounge, Pink Taco truck, complimentary craft-cocktail bar and more. 6:30-9:30 p.m. Free. The Riveter, 2236 S. Barrington Ave., L.A. localmercato.com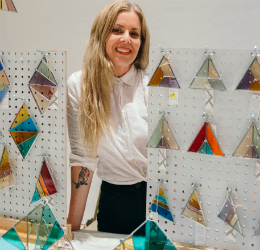 Echo Park Craft Fair
Dec. 8-9. This popular homegrown arts and design event showcases the wares of over 120 talented local artisans. Shop for jewelry, clothes, ceramics, perfume and more in Silver Lake. 10 a.m.-6 p.m. One day $12; weekend pass $20. Mack Sennett Studios, 1215 Bates Ave., L.A. echoparkcraftfair.com
"NoMad Holiday Spectacular" photo courtesy NoMad Los Angeles. Culver City Holiday Tree Lighting Celebration photo courtesy Culver City Downtown Business Association. Love Leo Rescue Fundraiser photo courtesy Love Leo Rescue. Dickens Holiday Celebration photo courtesy The International Printers Museum/Facebook. Jollywood photo courtesy Hollywood Entertainment District. Marina del Rey Holiday Boat Parade photo courtesy Marina del Rey Convention & Visitors Bureau. Smorgasburg LA Holiday Popup on the Pier photo courtesy Smorgasburg LA. Manhattan Beach Holiday Fireworks photo courtesy MB Holiday Fireworks, Inc. 29Rooms photo courtesy @29rooms/Instagram. Pikunico photo by Jakob Layman. Santa Monica Pub Crawl photo courtesy @smpubcrawl/Instagram. Bar Franca Fire Fundraiser and Pumpkin Pie Fry-Eating Contest photos courtesy White Oak Communications. Disgusting Food Museum photo by Anja Barte Telin. Local Mercato photo courtesy Local Mercato. Echo Park Craft Fair photo by Taka Nonaka-Hill.
[et_bloom_inline optin_id=optin_11]