Find the best Los Angeles things to do this weekend
Edited by Christina Xenos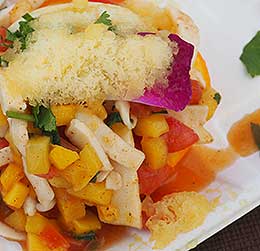 EVENTS
Masters of Taste
May 7. The luxury food and beverage festival lets you stroll the 50-yard line at Rose Bowl Stadium while feasting on fare from some of LA's top chefs and restaurants (including Alexander's Steakhouse, Miro and Redbird), sipping signature cocktails by the city's master mixologists, tasting offerings from eclectic California wineries and local craft breweries and listening to live entertainment. All proceeds benefit Union Station Homeless Services. 4-7 pm; VIP 3-7 p.m. $105-$185. (Photo courtesy of Masters of Taste.) Rose Bowl Stadium, 1001 Rose Bowl Drive, Pasadena. mastersoftastela.com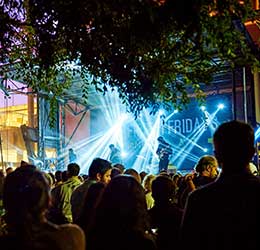 First Fridays
May 5. This year's foodie-themed First Fridays series at the Los Angeles County Natural History Museum continues. The provocative event offers discussions from top scientists, prestigious food writers and farm and garden experts, along with live music and DJ tunes. Drop by this month for cutting-edge science and musical performances by Buyepongo and Chico Mann & Captain Planet, and DJ performances from KCRW DJ Anthony Valadez and Subsuelo. 5-10 p.m. 900 Exposition Blvd., L.A., 213.763.DINO. nhm.org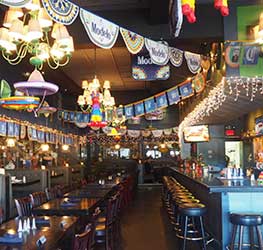 Cinco de Mayo
May 5. Los Angeles is getting into the Cinco de Mayo spirit with deals on every type of margarita under the sun, plenty of tacos and other festive fare. Check out our roundup of the best places to celebrate Cinco de Mayo in LA.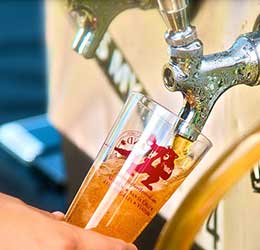 BBQ & Beer Festival
May 5-7. The three-day festival welcomes summer with a weekend filled with barbecue, craft beer and live music. Expect a beer-focused Friday evening for adults featuring tastes from a variety of microbreweries. The rest of the weekend brings family-friendly barbecue with plenty of food, brews, live entertainment and a kid zone; show up to see live bands including renowned blues band Tommy Castro & the Painkillers on Sunday. $20-$40. Central Park, 27150 Bouquet Canyon Rd., Santa Clarita. bbqandbeerfestival.com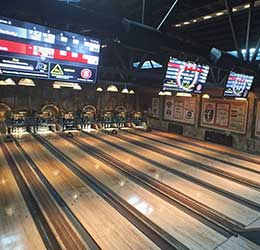 Highland Park Bowl 90th Anniversary
May 6. LA's oldest operating bowling alley flashes back to 1927 Prohibition with daytime discounted games and an evening of music, burlesque and a reenactment of its former pharmacy-bootleg practice featuring a specialty prescription cocktail menu. During Temperance the bowling alley legally supplied medicinal alcohol through its onsite pharmacy and upstairs doctors' facilities and through that became a recreational gathering place for those seeking cocktails and fun. At the party you will fill out a a check list of symptoms  (think shame, dizziness and FOMO), then head upstairs to seek spirited advice (in the form of a cocktail recommendation) from Dr. Wente, played by lead barman Johnnie Santiago. Once you're remedied, head back to the lanes for a sociable good time. Prohibition farm encouraged. Bowling is first-come-first-served, accommodating up to six people per lane; $19.33/hour per lane from 11 a.m.-6 p.m. and $70/hour per lane from 6 p.m.-2 a.m. Party goes from 11 a.m.-2 a.m. 5621 N Figueroa St., Highland Park, 323.257.BOWL. highlandparkbowl.com
Street Food Cinema
May 6, 13, 20, 27. Outdoor summer film series hosts screenings every Saturday night at various locations across L.A. Features live music and food from the city's top trucks. Highlights this month include Singin' in the Rain and Back to the Future. See website for a full schedule and door times. Band 6:30 p.m.; movie 8:30 p.m. $6-$21, under 6 free. 323.254.5068. streetfoodcinema.com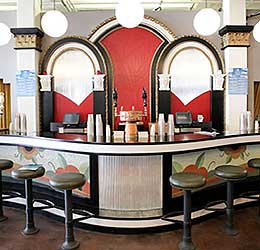 Angel City Brewery Heritage Music & Arts Festival
May 6-7. What started as a grand opening party in 2012 has now turned into a two-day festival of craft beer and Downtown LA's culture. Each day will feature a different line-up of live music, cultural performances, food trucks, a live mural painting by Cali native street artist Young Mer and specialty Angel City beers. A portion of each day's beer garden proceeds will go to the Los Angeles River Artists and Business Association. 216 Alameda St., downtown. angelcitybrewery.com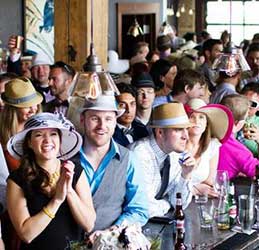 Ocean Avenue's Day at the Races
May 6. Restaurants and hotels along Santa Monica's premier oceanfront street come together for a culinary walking tour to celebrate the Kentucky Derby and raise funds for the Surfrider Foundation. Dress in your Derby best and receive complimentary tastings from Ocean Avenue restaurants including Herringbone, Del Frisco's Grille, Red O, Jimmy's Famous American Tavern, Chez Jay, O+O Sicilian Kitchen & Bar, Shore Hotel and Loews Santa Monica Beach Hotel. Also enjoy complimentary mint juleps, food and drink specials, hat contests and watch the most exciting two-minutes in sports, all while helping to protect the world's oceans and beaches. $40/pp. Noon-5 p.m. Tickets. derbyonocean.eventbrite.com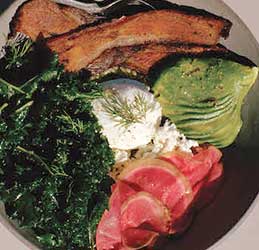 Food Bowl
May 1-31. The Los Angeles Times' new, citywide food festival celebrates LA's dynamic and influential food scene throughout the month of May while promoting social awareness about food waste and hunger. The Bowl hosts hundreds of events, but the centerpiece is Night Market, May 10-14 at Grand Park (200 N. Grand Ave, downtown), which features 50 restaurants, bars and food trucks, plus live entertainment. lafoodbowl.com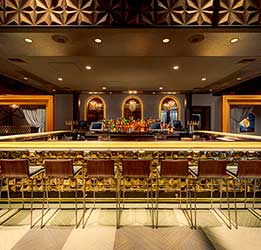 FOOD + DRINK
Mama Lion
The newest addition to Koreatown's thriving dining scene is a supper club that teams plush surroundings with luxe fare from veteran chef Michael Hung (Viviane, Faith & Flower). Dine on everything from snacks and finger food, to oysters, Santa Barbara uni tostadas and Osetra caviar service. Larger mains include pan fried Jidori chicken schnitzel. Also enjoy 13 distinct cocktails like the Black Swan with with cardamom-infused vodka, vanilla, Kahlua, cold brew and coconut foam. (Photo by Alen Lin.) 601 South Western Ave., L.A., 213.377.5277. mamalion.com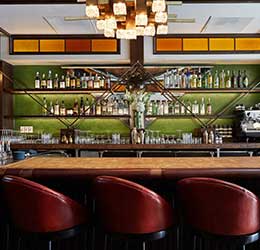 Westbound
May 4. The Arts District bar and eatery celebrates their one-year anniversary with a "Baby's First Birthday" party complete with a cotton candy maker, bouncy house, boozy slushy machine, cupcakes and balloon animals—everything you'd want if you were celebrating your first birthday. Also enjoy an menu of Westbound's greatest hits. 5 p.m.-2 a.m. 300 S. Santa Fe Ave., L.A. Info.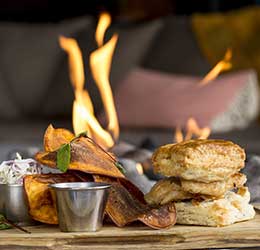 Citizen
May 7. The Beverly Hills restaurant's punch drunk Sunday brunch launches this weekend. Dine on chef Scott Howard's new American fare with a Southern flare, along with plentiful day drinking options such as Citizen's Cup punch bowls, a Georgia Peach Julep and lots of bubbly. (Photo by Katie Bickerstaff Photography.) 184 N. Canon Dr., Beverly Hills, 310. 402.5885. citizenbeverlyhills.com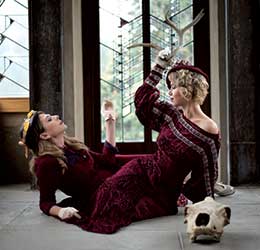 THEATER
Fefu and Her Friends
May 6-28. The pioneering play marks the first time a production has ever taken place at the UNESCO-nominated Hollyhock House at Barnsdall Art Park. Set in 1935—a little over a decade after Hollyhock House was built for oil heiress Aline Barnsdall—the play provides a unique reference point to the period and will take place inside the Hollyhock House, transitioning throughout the historic quarters and ending in the central courtyard. The play touches on culturally relevant topics to the period and today like gender wage gaps, sexist political rhetoric and women in leadership roles. $60. (May 6-8, 13-15, 20-22, 26-28.) Hollyhock House, Barnsdall Art Park, 4800 Hollywood Blvd., L.A. circlextheatre.org/fefu/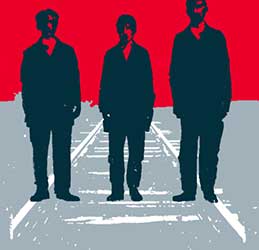 Archduke
Through June 4. The Mark Taper Forum hosts the world premiere of Pulitzer Prize finalist and Obie Award winner Rajiv Joseph's new play about a group of young men and their unlikely path to terrorism at the onset of World War I. Mark Taper Forum, 135 N. Grand Ave., downtown, 213.628.2772. centertheatregroup.org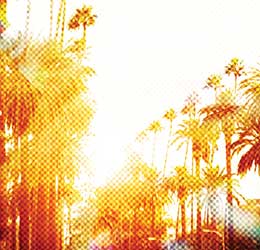 Block Party
Through May 21. This celebration of the Los Angeles theater scene spotlights three recent productions from local theater companies, each of which plays for two weeks. Failure: A Love Story runs from April 14-23; Citizen: An American Lyric opens April 28; Dry Land runs from May 12-21. Kirk Douglas Theatre, 9820 Washington Blvd., Culver City, 213.628.2772. centertheatregroup.org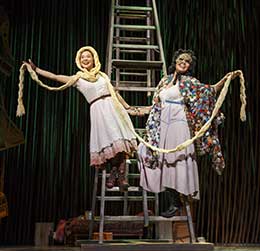 Into the Woods
Through May 14. This reinvention of James Lapine and Stephen Sondheim's fairy-tale musical about the power of wishes finds the acclaimed Fiasco Theater ensemble revisiting classic songs like "Children Will Listen" and "Giants in the Sky." (Photo by Joan Marcus.) Ahmanson Theatre, 135 N. Grand Ave., downtown, 213.628.2772. centertheatregroup.org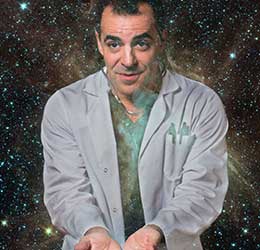 Plasticity
Through May 22. The multilayered, multimedia theatrical event aims to take audiences on an often comedic tour of the collective unconscious. Ovation Award-winning co-writers Alex Lyras and Robert McCaskill (The Common Air) team with Grammy Award-nominated composer Ken Rich, visual artist Corwin Evans and two-time Emmy Award-winning editor/producer Peter Chakos (The Big Bang Theory) to examine how the brain is able to rewire and heal itself. In it, a comatose man recreates his identity by delving deeply into his memories, while hovering family members and loved ones (all played by Lyras) divide into scheming camps over grave neurological decisions. Monday nights. Hudson Theatre, 6539 Santa Monica Blvd., L.A., 323.960.7787. plasticitytheplay.com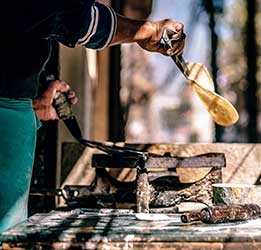 COMING SOON
Los Angeles Times Night Market
May 10-14. The first annual Los Angeles Times Night Market will be a bustling outdoor street food market that takes over Grand Park for five consecutive nights. Night Market will feature 50 diverse and exciting food booths from LA's favorite restaurants, food trucks and bars as well as a selection of artisanal vendors. Expect a variety of tastes from khao soi, pad kee mao, dim sum to pupusas, encased meats and izakaya. The event is free but you have an option to take it to the next level by purchasing tickets to the Super Market, which offers access to curated food vendors, additional seating areas and food booths, bars, premium lounges and entertainment. lafoodbowl.com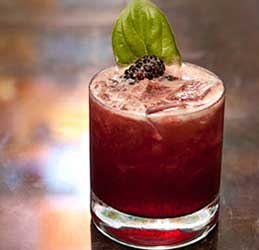 May Mix-Off
May 10. The Mixing Room at JW Marriott Los Angeles L.A. LIVE gathers Los Angeles' best bartenders ­ to compete in the May Mix-Off in collaboration with William Grant and Sons. The three-week competition takes place Wednesdays through May 24. Each night includes live mixology demonstrations, a sampling of cocktails from each participant of the week and a hand in selecting the city's most talented bartender to receive a grand prize trip to Tales of the Cocktail. Kicking off the competition, guests are invited to participate in a complimentary mixology class featuring tastings of Milagro Tequila on Wednesday, May 3 at 6 p.m., as part of the bar's ongoing Liquid Intelligence series. 900 W Olympic Blvd., downtown, 213.765.8600. lalivemarriott.com