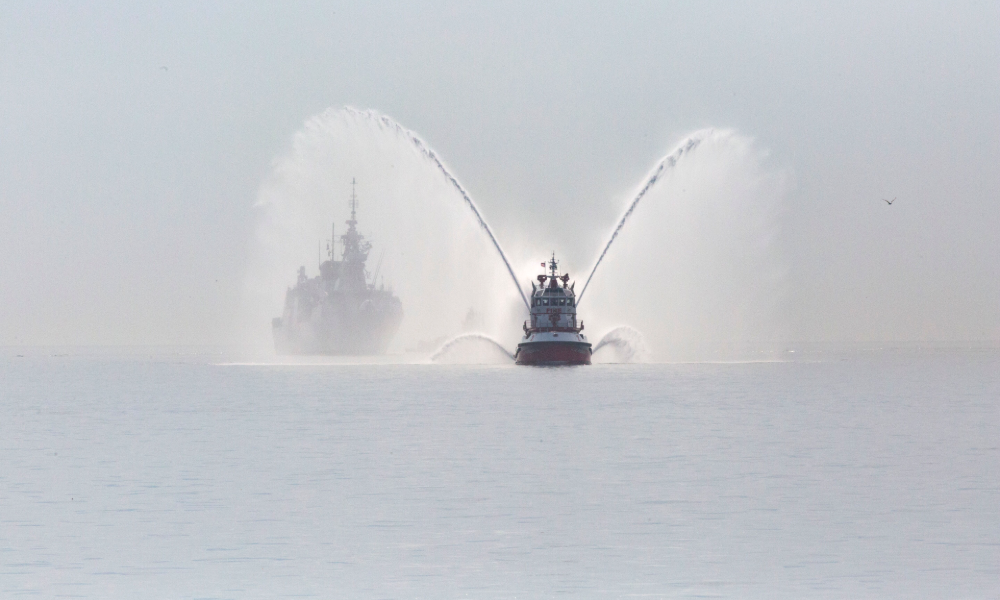 Celebrate the unofficial last weekend of summer with music festivals, the L.A. County Fair, Labor Day celebrations and more. Check out our roundup of all the best Los Angeles has to offer this weekend.
Edited by Alicia Luchak.
EVENTS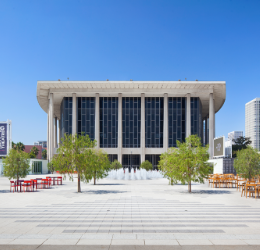 Music Center Plaza Opening Weekend 
Aug. 29- Sept. 1. Enjoy celebrations all weekend long at the recently revamped Music Center Plaza. Between late-night dance parties on the plaza, musical performances, art displays, games and the Splish Splash Plaza Bash party in the Music Center Fountain, you can fully admire all of the new additions to the classic outdoor venue. Check out the site for the schedule full of weekend activities like drag-queen story hour, mini golf and more. F 7 p.m.-midnight; Sa 4-7:30pm; Su noon-6 p.m. Free. 135 N. Grand Ave., downtown. musiccenter.org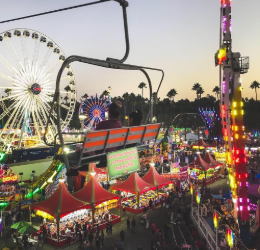 L.A. County Fair
Opens Aug. 30. Cheer on a racing pig, learn about farming, ride a Ferris wheel, attend a concert and chow down on deep-fried food at this year's "pop"-themed fair. W noon-10 pm; Th noon-11 pm; F noon-midnight; Sa 10 am-midnight; Su 10 am-10 pm. $6-$20, under 6 free; parking $15. Fairplex, 1101 W. McKinley Ave., Pomona, 909.623.3111. lacountyfair.com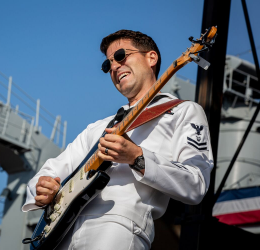 L.A. Fleet Week
Aug. 30-Sept. 1. The fourth annual waterfront celebration of America's Sea Services returns for the extended Labor Day weekend. Some highlights will include live U.S. Navy parachute demos, the 11th annual 5.3-mile "Conquer the Bridge" Labor Day morning race over the Vincent Thomas Bridge, active duty ship tours, obstacle course competitions, a five-on-five basketball tournament, Galley Wars culinary competition with celebrity-chef judge Robert Irvine, live entertainment and more. Visit website to view map or register for competitive events. 8 a.m.- 3 p.m. lafleetweek.com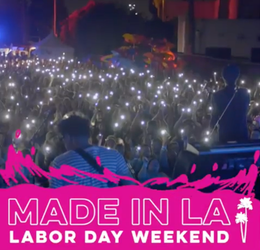 Made in L.A.
Aug. 31-Sept. 1. Golden Road Brewing's third annual festival celebrates L.A. art and culture with music, art, food and beer. Enjoy performances by Cold War Kids, Phantom Planet, Lemaitre and more. Ages 21+. Single day $25; two days $40. 5410 W. San Fernando Road, L.A., goldenroad.la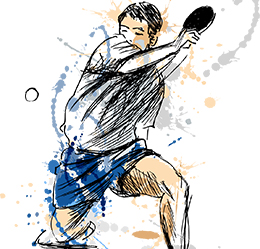 Ping Pong Fit
Aug. 31-Sept. 1. The International Ping Pong Fit Festival in Long Beach runs concurrently with the ninth annual L.A. Open Table Tennis Tournament. Up to 400 top-ranked players from around the world, and Olympians, compete at the L.A. Open for the highest cash prize awards in the U.S. Family-friendly events at the festival include celebrity tournaments and community competitions, as well as art, culture and music. 9 a.m.-6 p.m. Free. Long Beach Convention Center, Exhibit Hall C, 300 E. Ocean Blvd., Long Beach. pingpongfit.com
LABOR DAY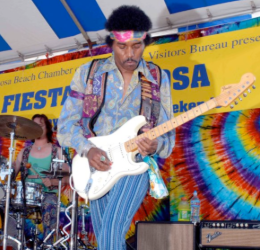 Fiesta Hermosa
Through Sept. 2. Spend Labor Day at this arts-and-crafts festival in Hermosa Beach. Find over 300 artists selling their wares, plus live music and a beer and wine garden. This biannual festival features over 300 artists and crafters, food, live music, a "kiddie carnival," a charity beer and wine garden and more. 10 am-6 pm. Free. See website for free bike valet, parking and shuttle information. Downtown Hermosa Beach on Pier Plaza, Hermosa Avenue and lower Pier Avenue, 310.376.0951, fiestahermosa.net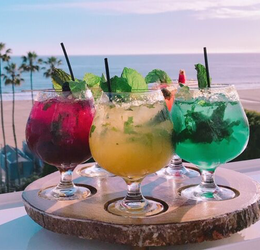 Hotel Shangri-La BBQ Pool Party 
Sept. 2. Use the holiday as an excuse to relax by the beach in the glamorous Hotel Shangri-La's solar-powered pool while savoring delicious barbecue. The a la carte menu's delicacies include Sonoran Hotdogs, Grilled Baby Back Ribs, Grilled Chicken and, of course, Shangri-La's famous Kobe Beef Burger. Noon-5 p.m. Hotel Shangri-La Courtyard, 1301 Ocean Ave., Santa Monica, 310.394.2791 shangrila-hotel.com
FOOD + DRINK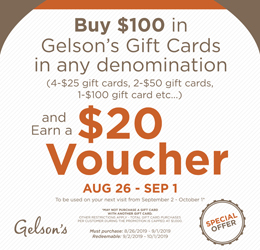 SPONSORED
Gelson's
Now. It's back! Get a $20 Voucher* When You Buy Gelson's Gift Cards! *Purchase $100 in Gelson's gift cards from August 26-September 1 and receive a Gelson's $20 voucher! May purchase gift cards in-store or online. Vouchers can be redeemed Sept. 2-Oct. 1, 2019. Limitations apply. $400 gift card limit. May not purchase a gift card with another gift card. gelsons.com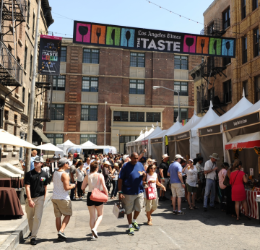 The Taste
Aug. 30-Sept. 1. During the Los Angeles Times' annual food and wine fest, dozens of hand-picked local restaurants come together for three evenings of amazing food, wine, spirits and chef experiences, plus unique culinary pop-ups and collaborations, over Labor Day weekend. Check website for schedule. Ages 21+. 7:30-10:30 pm. $115-$190. Paramount Pictures Studios Backlot, 783 N. Van Ness Ave., L.A. Tickets
Gelato Festival Flagship Store's Grand Opening Weekend
Aug. 31-Sept. 1. In the mood for an end-of-summer treat? The world's one-and-only celebration for artisanal gelato, Gelato Festival, will be settling down with its very own store in West Hollywood with countless award-winning flavors from around the world. The new dessert destination will provide samples and scoops for alfresco savoring in the piazza. Watch as gelato is made fresh on the premises, partake in workshops and explore its museum dedicated to gelato's sweet history, starting in the 16th century. Check out the site for more info about upcoming events and classes. 8906 Melrose Ave., West Hollywood. gelatofestival.com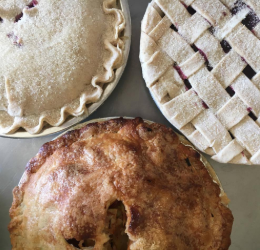 Gourmandise Workshops
Aug. 31-Sept. 2. For those who prefer to sing for your supper, so to speak, be sure to check out one (or more) of the many interactive cooking classes being held at the Gourmandise School this weekend. There is a workshop for everyone—from a fun Children's Handmade Fresh Pasta to a romantic Couple's Night Sushi course. The Labor Day Bake & Take Pie Class is perfect for those attending Labor Day barbecues who want to impress their friends or guests with a couple of homemade desserts. There will even be a business seminar for those interested in working in the small food industry. $75-225. Santa Monica Place, 395 Santa Monica Place, Santa Monica. More Info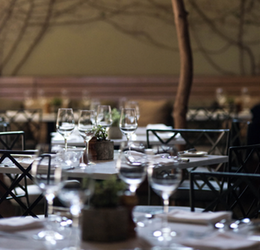 The Last Splash: Rosé Supper
Sept. 1. Feast family-style at Lucques' Rosé supper while sipping on variations of the celebrated rosy wine—either by the glass or in flights featuring four refreshing samplings, curated by Caroline Styne. Savor Suzanne Goin's delicious menu items like the heirloom tomato tart with basil; anchovies and socca fritters with saffron rouille; grilled local rockfish with sauce verte; grand aïoli with farmers market crudites and baguette toasts drenched in tapenade; and, for dessert, meringue glacée with vanilla ice cream, strawberries and lavender sablé crumble. $52. 8474 Melrose Ave, West Hollywood, 323.655.6277. Make reservation
ARTS + CULTURE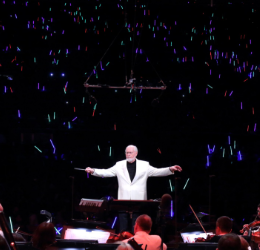 Maestro of the Movies
Aug. 30- Sept. 1. Oscar-winning film composer John Williams introduces a night of the Los Angeles Philharmonic (led by David Newman) performing his iconic scores. 8 p.m. Visit site for ticket prices. 2301 N. Highland Ave., Hollywood, 323.850.2000. Tickets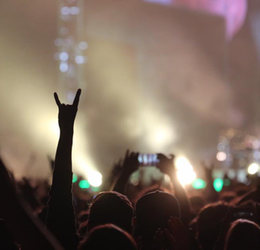 Pasadena Daydream Festival
Aug. 31. Rock & Roll Hall of Famers the Cure curated and headline this new music fest at Brookside at the Rose Bowl. The Pixies, Deftones and more round out the bill. $150 GA, $300 VIP. 1133 Rosemont Ave., Pasadena, 626.585.3594. Tickets
Photos: LA Fleet Week courtesy LA Fleet Week. Music Center Plaza by Tim Street-Porter. L.A. County Fair courtesy @lacountyfair/Facebook. Ping Pong Fit courtesy Ping Pong Fit. Made in LA courtesy @GoldenRoadBrew/Instagram. Fiesta Hermosa courtesy Fiesta Hermosa. Hotel Shangri-La BBQ Pool Party courtesy Hotel Shangri-La. Gelson's courtesy Gelson's. Gelato Festival Flagship Store's Grand Opening Weekend courtesy Gelato Festival. Taste courtesy L.A. Times The Taste. Gourmandise Workshops courtesy The Gourmandise School. The Last Splash: Rosé Supper by Rob Stark. Maestro of the Movies courtesy @HollywoodBowl/Facebook. Pasadena daydream Festival courtesy @rosebowlstadium/Facebook.