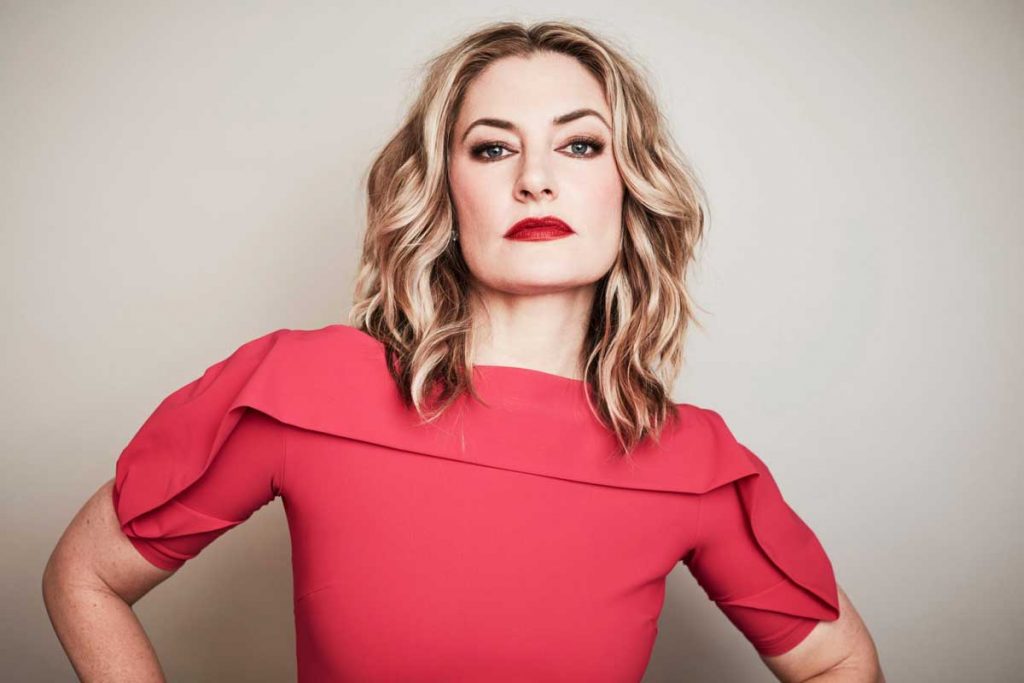 Twin Peaks' actress Mädchen Amick shares where she goes to get her glow.
By Vicki Arkoff.
Lightning is about to strike twice for Mädchen Amick. Twenty-five years after her breakthrough in David Lynch's cult drama Twin Peaks, she's revisiting her role as waitress Shelly Johnson in a new 18-episode revival series for Showtime. Between the Twin Peaks runs, the former model and lifelong exercise devotee has tackled some 70 projects, from Stephen King's Sleepwalkers to Californication, Damages, ER and, most recently, American Horror Story: Hotel. Amick now does double duty on Twin Peaks and Riverdale, the CW's drama based on Archie comics. "[Co-star] Luke Perry and I are campaigning to get rock star Alice Cooper on the show," says Amick, who plays Betty's mom, Alice Cooper. "He named himself after my character, so I think we're due for a face-to-face showdown."
Is it surreal to be recast in the role that launched your career?
It's a dream come true. I was a young girl with stars in her eyes who had just moved to LA from Nevada and was incredibly lucky to have Twin Peaks be one of my first jobs. It's mind-blowing to go back to it 25 years later, snuggle right in and again get to work with a master like David Lynch.
You've barely aged since then. What's your secret?
I'm a big advocate of aging gracefully and embracing beauty as it evolves. I'm adamant about not doing invasive work, but I do routine facials at The Humble Abode, a great, off-the-beaten-path spa, where I'm dedicated to my facialist, Christine Kaz. I'm also dedicated to my hair colorist, Dawn Tracey at Mèche Salon, and haircutter Nikki Ternosky, who I've been using ever since the original Twin Peaks years. And I love Korean scrubs at Century Day & Night Spa, an authentic, no-frills K-Town place where you soak and walk around naked and are thrown on the tables like a slab of meat.
What's your fitness routine?
I'm lucky to have an ex-athlete husband who's now a personal trainer, and my two kids were NCAA D1 athletes. I just try to keep up! I'm deeply into high-level Iyengar yoga, so we had beautiful yoga walls built at our home. And I'm grandfathered in at 24 Hour Fitness in West Hollywood, where I get to pay just $90 a year for a lifetime. I love that and embrace it! I do the weight circuit a couple times a week, and I'll jump into any spin class, anytime, anywhere.
What outdoor workouts get your adrenaline pumping?
My husband and I jump on our bikes and ride very long distances. I get all my biking accessories and tune-ups at a great bike shop, I Martin Bicycles. And Freddie Prinze Jr. gets me out hiking all the time. He, Sarah Michelle Gellar and I hike off-trail paths together near the Griffith Observatory.
And you're equally devoted to healthy eating?
Organic, vegetarian … that's my lifestyle. I take people all the time to Vegan Glory, which has great, healthy choices, and it's so delicious that my meat-eater friends don't even care. And I'm obsessed with Joan's on Third. I think they sprinkle an addictive substance on everything!
Where do you go in L.A. for coffee and pie worthy of the Twin Peaks Double R Diner?
There are two diners in town that I love: Du-par's at [The Original] Farmers Market and Ed's Coffee Shop, which is a tiny, neighborhood spot that should have been gone 50 years ago. Ed's is my go-to when all the Sunday brunch places are packed. I love diners, but an actual greasy spoon is a deal breaker.
I hear that you're also a regular at City Hall, giving testimony to save old buildings.
I absolutely believe in preserving this city's history. My very favorite historic building is Chateau Marmont because of all the Hollywood ghosts roaming the halls. I used to stay there before it became super swanky! So much has happened there that it's literally a case of, "If these walls could talk."