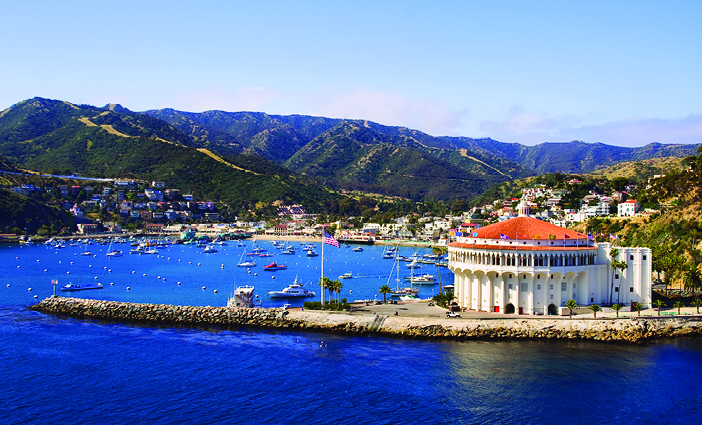 As you approach Catalina Island aboard a high-speed ferry, it gradually transforms from the familiar silhouette we see on the horizon to a beautiful paradise that beckons all to come ashore and explore. And there's no better time to explore Catalina Island than during 2019's Wrigley Centennial, a year-long celebration that commemorates William Wrigley Jr.'s vision in 1919 to create a world-class tourist destination just an hour off the Southern California coast. After spending some time here, I can say with confidence that Mr. Wrigley's vision was spot on.
Planning Your Catalina Escape
You could spend weeks, even months, exploring all that Catalina has to offer. But if you just want to get away for a day or two, Catalina Island Company's Boat & Hotel Package is a great way to start planning your island adventure. It includes round trip transportation on Catalina Express from Long Beach, San Pedro or Dana Point, and overnight accommodations at Pavilion Hotel, which is just a few steps from the beach in the heart of Avalon. It's a great spot to relax and enjoy some island time while you plan your adventures. And hot breakfast is included, as are the wine and cheeses they serve every evening.
Exploring the Island of Adventure
With miles of roads crisscrossing its rugged interior and crystal clear water lapping its countless coves, Catalina is the island of adventure. In fact, Catalina Island Company offers more than two dozen land & sea adventures for you to explore, like the Zip Line Eco Tour, where you soar across a canyon and through the trees on five separate zip lines at speeds approaching 35 mph. It's easy to see why this is Catalina's top-rated adventure.
The new Bison Expedition, which takes you on a journey through favorite grazing grounds of Catalina's world-famous bison, is a great way to see these magnificent animals in the wild. If you want adventure on the high seas, try the Ocean Expedition, where you skim across the water aboard a 500hp speedboat as you search for bow-riding dolphins and frolicking sea lions. What a rush!
Relaxing in Paradise
If you need a place to relax in between adventures, kick back at Descanso Beach Club. It's home to Avalon's only beachside restaurant and bar. I like it because you can have a drink in your hand and your feet in the sand…at the same time. Two Harbors is another great place to relax for the day. Just hop on the Cyclone powerboat in Avalon and head for the other end of the island, where you can rent a palapa or lounge chair and enjoy beverages and beach bites in the peaceful South Pacific ambiance of Harbor Sands.
You could also schedule a massage or signature treatment at Island Spa Catalina. The amenities there are first class: Jacuzzi, eucalyptus steam room, dry sauna, soaking pool, and an oceanview relaxation deck. The Spa also has a café that offers light breakfast and lunch menus, as well as beer, wine and sparkling wine.
Tasting the Flavors of Catalina
You'll find a lot of great places to eat on Catalina Island. One of my favorites is Avalon Grille. Great atmosphere with harbor views, and their brunch, served on both Saturday and Sunday, is one of the best in town, especially if you opt for the bottomless mimosas. Another culinary treat is lunch at Mt. Ada, the former Wrigley mansion. This can't miss experience high above Avalon Bay offers three exquisite courses paired with your choice of beer, wine or sparkling wine. And the views are the best, hands down. If you make it to Two Harbors, stop into Harbor Reef Restaurant and Saloon. Great food, great service, and it's the birthplace of Catalina's world-famous Buffalo Milk, a frozen concoction with a serious kick.
Visit Catalina during the Wrigley Centennial, and discover why this island paradise is more than just a silhouette on the sea that catches the setting sun; it's California's Island Escape™.