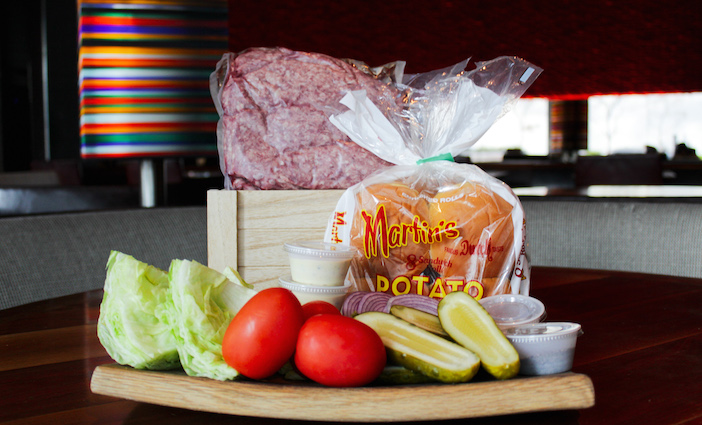 Looking for grill kits or ready-to-eat meals? Here's our curated a list of 20+ SoCal restaurants offering specials you can pre-order for this Memorial Day weekend!
Adya (Anaheim, Irvine)
Spice up your Memorial Day weekend with Adya's ready-to-grill meals. Order options include marinated chicken or paneer skewers with veggies ($35 for two) or sea bass with veggies ($45 for two). All grill kits come with watermelon chaat, Indian-style street corn, cumin rices, naan and mint chutney. Pre-order by emailing info@adyaoc.com. Pickup: Adya Anaheim on May 22, 23 or 24; Adya Irvine on May 22 or 23; or Adya pop-up at OC Baking Company on May 22. Anaheim Packing House, 440 S. Anaheim Blvd., #201, Anaheim, 714.533.2392; University Center, 4213 Campus Drive, #P-166D, Irvine, 949.679.2299; OC Baking Company, 1960 N. Glassell St., Orange. adyaoc.com
Akasha (Culver City)
Akasha is serving up mouth-watering Memorial Day meal options including St. Louis barbecue pork ribs with a bourbon barbecue sauce, fried chicken thighs, and a Creekstone brisket-chuck ready-to-cook burger kit. With a variety of sides, cocktails and sweets to choose from, Akasha is infusing your Memorial Day with comforting tastes. 9543 Culver Blvd., Culver City, 310.845.1700. akasharestaurant.com
Blue Water Seafood (San Diego)
Instead of beef and pork, grill up some seafood this Memorial Day from Blue Water Seafood. Guests can pre-order fresh fish, shellfish, cooked items and more from Blue Water's seafood market on May 24 and pick up the order the next day from 11:30 a.m. to 7 p.m. Don't want to grill? Order from the regular menu for ready-to-eat meals that include items such as chilled seafood cocktails, sashimi appetizers, grilled fish and sandwiches. For seafood market orders at the Ocean Beach location, email ob@sdbluewater.com. For seafood market orders at the Mission Hills location, email info@sdbluewater.com. Mission Hills, 3667 India St., San Diego, 619.497.0914; Ocean Beach, 5083 Santa Monica Ave. 1B, San Diego, 619.255.8497. bluewaterseafoodsandiego.com
BOA Steakhouse (Multiple Locations)
Elevate your Memorial Day barbecue with kits and baskets featuring premium steak from BOA Steakhouse. Options include a D.I.Y. smoked brisket sandwich kit, a barbecue Wagyu burger basket (feeds 10) and BOA raw premium signature steaks from Creekstone Farms. Herbed chicken, salmon and Alaskan halibut are also available. All orders are available with white-glove curbside pickup and delivery. 9200 Sunset Blvd., West Hollywood, 310.278.2050; 101 Santa Monica Blvd., Santa Monica, 310.899.4466. boasteak.com
Conservatory (West Hollywood)
Cocktails, ribs, sausages and all the fixings—Conservatory has you covered. For $95, your Memorial Day will be complete with a full rack of hickory smoked baby back ribs, 12-hour smoked beef ribs, Cassava-smoked sausage, potato salad, baked beans and grilled street corn. Add RED Rocket, WHITE Streamer and BLUE Angel cocktails to give your Memorial Day celebration a festive touch. 8289 Santa Monica Blvd., West Hollywood, 323.654.0020. conservatoryweho.com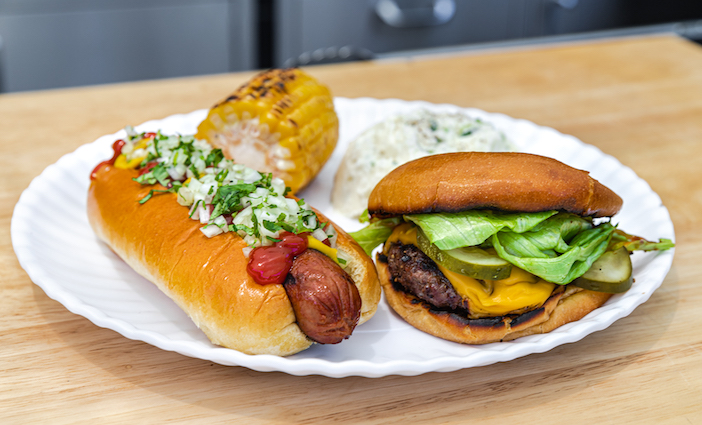 Delilah (West Hollywood)
Make it a one-stop shopping venture with Delilah, who has put together a "Grill Your Own Burger and Hot Dog BBQ Kit" for your holiday weekend plans. Feed four to six people for $99. Kit complete with burger patties, bun and fixings, all-beef Kosher hot dogs, potato salad, corn on the cob, kettle chips and dip, market greens and fresh fruit. Pre-order by May 24. 7969 Santa Monica Blvd., West Hollywood, 323.745.0600. delilahla.com
Georgia's (Anaheim + Long Beach)
Make this Memorial Day weekend one to remember with Georgia's "soul-delicious" holiday family packs for takeout, delivery and curbside pickup. Order a fried chicken bucket ($20), the feast for two ($35), the family feast special (feeds up to four; $50) or the family size jambalaya special (feeds up to five; $35). Don't forget about the made-to-order Hurricanes and Georgia's Peach Sangria (two for $15; mix-and-match), mimosas ($5) and bloody marys ($9) served in Mason jars, along with wine and beer. Call the locations to pre-order. Anaheim Packing House, 440 S. Anaheim Blvd., Anaheim, 714.906.1900; Long Beach Exchange, 4101 McGowen St., Long Beach, 562.420.5637. georgias-restaurant.com
The Grill at Torrey Pines (La Jolla)
Celebrate Memorial Day with a barbecue spread from the Grill at Torrey Pines. The menu includes 12-hour smoked brisket and chef Nate's smoked pork ribs, plus family favorite sides such as baked beans and macaroni salad. All meals also come with a side of white cheddar and roasted poblano cornbread. Call to pre-order by May 22 at 5 p.m. for curbside pickup on May 24 or 25 from noon to 6 p.m. $45 per person. The Lodge at Torrey Pines, 11480 N. Torrey Pines Road, La Jolla, 858.777.6641. lodgetorreypines.com
Haven Craft Kitchen + Bar (Orange)
For Memorial Day weekend, chef Craig Brady is offering two different meal kits that can feed up to four people. One kit include a 36-ounce stout-braised pulled pork shoulder with cumin cilantro slaw, potato and green bean salad with bacon vinaigrette, and four OC Baking Company Portuguese buns ($49). The second is an 8-ounce prime flat-iron grill kit with marinated asparagus, duck fat potatoes and smoked paprika chimichurri ($60). Add on beverages, including beers, a variety of wines, and cocktail kits to-go. Orders must be placed by 4 p.m. on May 21 for pick-up over the weekend. Call to pre-order. 190 S. Glassell St., Orange, 714.221.0680. havencraftkitchen.com
Hendrix Restaurant & Bar (Laguna Niguel)
Celebrate the weekend with your family and Hendrix's family-style menu items. Chef Rainer Schwarz offers palate-pleasing meals, including whole rotisserie chicken, barbecue baby back ribs and prime rib. Add on sides such as shrimp mac 'n' cheese and Brussels sprouts. Hendrix is offering cocktails to-go (32 ounces; serve up to six); buy one, get one free bottle of select wine; and 30 percent off select specialty wines. Place orders online at hendrix2go.com or by calling (closed Memorial Day). 32431 Golden Lantern, Laguna Niguel, 949.248.1912. hendrixoc.com
Khan Saab Desi Craft Kitchen (Fullerton)
Celebrate Memorial Day with Downtown Fullerton's newest restaurant Khan Saab, offering an entirely halal menu of elevated Desi cuisine (a culmination of cuisine from Pakistan, India, and Afghanistan). Guests can order the family take-out barbecue kit which feeds four people and includes a choice of smoked beef kabob, Malai chicken tikka or Afghani Seekh kabob—served with vegetable biryani for $50. The menu is available daily from 2 p.m. to 9:30 p.m. and get 10 percent off all phone orders. 229 E. Commonwealth Ave., Fullerton, 714.853.1081. khansaaboc.com
Lucques (Beverly Hills)
Lucques Restaurant's famous ribfest is back for Memorial Day weekend but you must order now before they are sold out! The Quarantine Edition features a feast of slow-cooked ribs, beef brisket, hot wings and sides that have become a Lucques tradition since 2000. 345 N. Maple Drive, Beverly Hills, 310.800.1789. Order | thelucquesgroup.com
Malibu Beach Inn (Malibu)
In partnership with famous Champagne producer Henriot, Malibu Country Inn will host a virtual winemaker's brunch, hosted by president/chairman of Maisons & Domaines, Henriot Gilles De Larouziere, live from his home in Burgundy, France. The brunch features a selection of three family storied wines and champagnes (retailing for $300 alone), paired with a four-course meal prepared by chef Ryan Caldwell of Carbon Beach Club at Malibu Beach Inn. Limited to 12 couples, deliveries (within 25 miles) will be made on May 23 for the live Zoom event, scheduled for noon on May 24. Call 310.651.7777 to participate. malibubeachinn.com
The Nice Guy (Los Angeles)
Interested in something other than burgers and brisket for Memorial Day this year? Wanna be the "nice guy" and offer some variety? Get a make-your-own pizza kit that is complete with four pizza dough balls, pizza sauce, cheese blend, mushrooms and pepperoni. Of course you can always add your own flair so get creative. Pre-order by May 24. 401 N. La Cienega Blvd., Los Angeles, 310.360.9500. theniceguyla.com
Old Vine Kitchen + Bar (Costa Mesa)
This Memorial Day, Old Vine Kitchen & Bar is offering curbside barbecue to help celebrate the most American way! The family-style options serve four to six people and include pork short ribs, strawberry serrano barbecue sauce, elote slaw and twice-baked cornbread for $75. For dessert, add a whole fresh strawberry pie for $40 (serves six people). Call to pre-order and schedule a time for May 24 or May 25 curbside pickup. 2937 Bristol St., Suite A-103, Costa Mesa, 714.545.1411. oldvinekitchenbar.com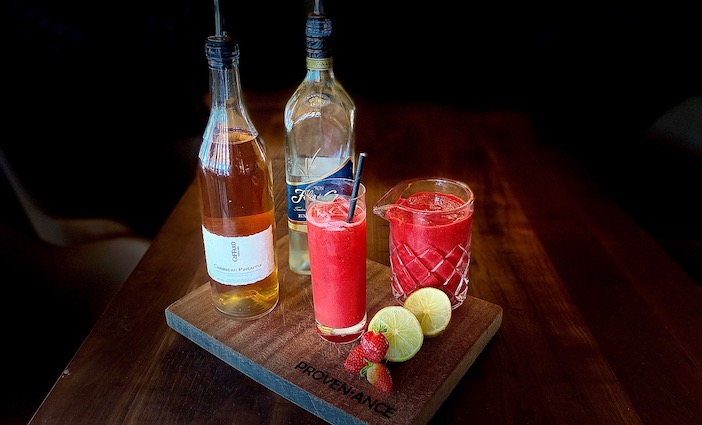 Provenance (Newport Beach)
Chef Cathy Pavlos of Provenance is offering special grill kits and adult beverages to-go through May 24. The restaurant will offer bottles of wine and Champagne at 50 percent off and a featured strawberry daiquiri "Cocktail in a Pouch" ($9.50). The grill kits feature meals for two ($35.95) or for four ($67.95). As a sweet ending, chef Cathy offers cookies and ice cream sandwiches ($6.95 each), made with housemade peanut butter cookies with dark chocolate ice cream, and housemade chocolate chip cookies with French vanilla ice cream. Dinner entree specials and regular weekly takeaway menu offerings also available. Orders must be placed by calling for pick-up by May 23 or May 24 (closed on Memorial Day). 2531 Eastbluff Drive, Newport Beach, 949.718.0477. provenanceoc.com
Puesto (Irvine)
Enjoy a Memorial Day weekend with Mexico City-style tacos made with non-GMO organic, maíz azul stone-ground tortillas, crispy melted cheese and scratch salsas. In addition to the menu, Puesto offers a family taco meal with choice of chicken rajas, carnitas, birria or mushroom, along with Puesto's tortillas, guacamole, salsas/pico and other necessary condiments (serves 20 tacos; $50). Add to your order margarita bottles to-go, with selections such as Quarantender's Choice, Personal Paradise and Cadillac & Chill. Guests may also purchase tequila and mezcal by the bottle (selections available online). Open daily from 11:30 a.m. to 7:30 p.m. Los Olivos Marketplace, 8577 Irvine Center Drive, Irvine, 949.608.9990. eatpuesto.com
The Ranch Restaurant (Anaheim)
Take care of the family this Memorial Day weekend with the Ranch's family-style ready-to-eat package or the cook-at-home burger pack. The ready-to-eat one includes includes a half rack of baby back ribs, four barbecue chicken thighs and four jalapeño-cheddar sausages, plus sides of smoked baked beans, creamy coleslaw and mac 'n' cheese. The burger kit—feeds four at $38—includes four steakburgers, OC Baking Company potato buns, butter lettuce, sliced tomatoes, sliced red onions, the Ranch's secret sauce and Tillamook cheddar cheese. Pre-order by May 21 for pickup on May 23 or 24. 1025 E. Ball Road, Anaheim, 714.817.4200. theranch.com
Slab (Los Angeles)
Get your "Grill Your Own BBQ Kit" and SLAB cooler bag to make your Memorial Day easy, relaxing and delicious. SLAB has two meal kit options available to feed four to six people. Fire up the grill for prime tomahawk steak, rack of ribs, whole chicken and burgers with choice of sides. Pre-order by May 24. 8136 W. 3rd St., Los Angeles, 310.855.7184. slabbarbecue.com
Taco Rosa (Irvine + Newport Beach)
Taco Rosa is offering barbecue kits that are guaranteed to make your Memorial Day weekend grilling a little more exciting. Barbecue kit options include barbecue tacos al pastor ($40), barbecue tacos asada ($50) and barbecue chicken breast ($45). Each kit serves four guests and must be ordered by 5 p.m. on May 23 for curbside pick-up at the Newport Beach location or at the Irvine location on May 24 from 10 a.m. to 5 p.m. Call to place orders. The Market Place, 13792 Jamboree Road, Irvine, 714.505.6080; 2632 San Miguel Road, Newport Beach, 949.720.0980. tacorosa.com
Tavern Restaurant (Los Angeles)
Suzanne Goin's Harissa barbecue chicken is now available for Memorial Day. The dinner for two comes with cornbread stuffing with mustard greens, carrot and snap pea slaw, mac and cheese, baked beans, tavern pickles and apricot and berry cobbler. Got a larger party? Order the D.I.Y. Burger Box for six. 11648 San Vicente Blvd., Los Angeles, 310.806.6464. Order | tavernla.com
The Winery Restaurant & Wine Bar (Newport Beach + Tustin)
Celebrate Memorial Day weekend with a little Hawaiian getaway! Chef Yvon Goetz has created an Aloha menu for two (priced at $89) for curbside pick-up that includes a white shrimp and tropical fruit salad—served with Hawaiian slaw and Hawaiian sweet rolls—along with a choice of two entree options (slow-cooked Kalua Pork and cabbage; Macadamia nut-crusted Mahi Mahi with lemongrass butter; or Hawaiian chicken kebabs). The meal ends with a pineapple upside-down cake. Wines by the bottle or craft cocktails may also be purchased. Orders must be placed 24 hours in advance for pick-up at the Tustin location on May 22 through May 24 between 4 p.m. and 6:30 p.m.; and pick-up at the Newport Beach location on May 23 or May 24 between 4 p.m. and 6:30 p.m. 3131 W. Coast Hwy., Newport Beach, 949.999.6622. The District at Tustin Legacy, 2647 Park Ave., Tustin, 714.258.7600. thewineryrestaurants.com
Photos: BOA Steakhouse Saucy Creative. Delilah, Kathryn Ballay. Provenance courtesy Moxxe PR.