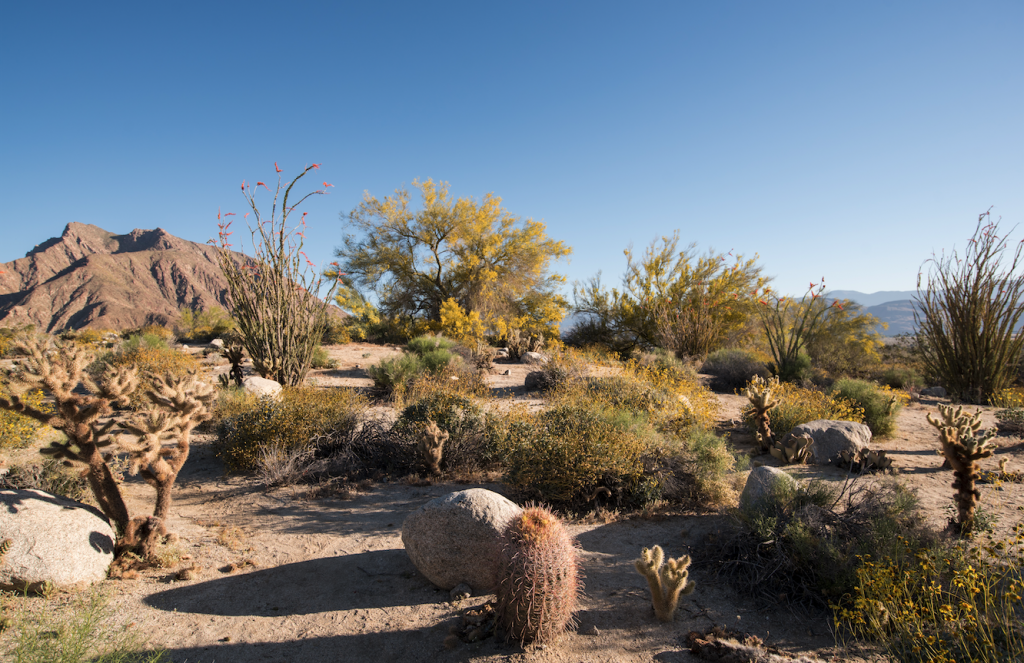 Wildflowers and adventure await at San Diego County's blooming desert oasis in springtime.
It's one of San Diego's more scenic—and unsung—natural wonders: Anza-Borrego Desert State Park (often referred to as simply Anza-Borrego). What makes this remote slice of northeast San Diego County so special? With its abundance of diverse terrain, flora and wildlife, Anza-Borrego is an adventure-rich destination for nature lovers—the embodiment of the great outdoors. And right now, amid a pandemic, it's a breath of fresh air.
Important note: A visit to this rural region is a doable day trip from central San Diego and most areas of SoCal—and recommended if it's your first visit. Bear in mind that area campgrounds, visitor centers, points of interest and the main park itself are subject to weather restrictions and pandemic-related closures without notice, so be sure to contact locations directly and check their websites often for updates.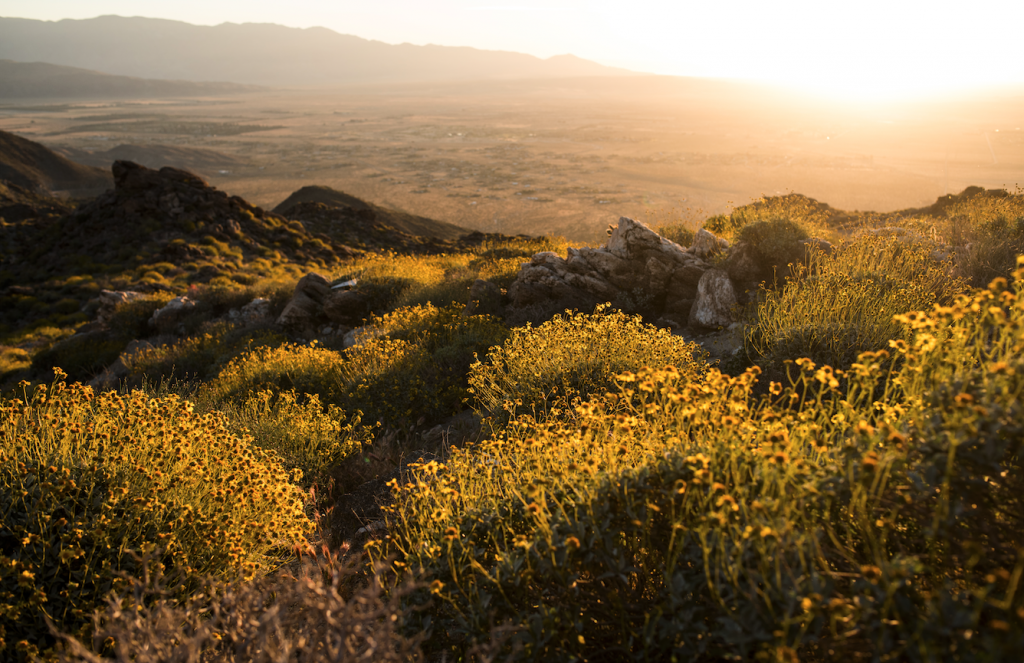 Located approximately 60 miles due east of Escondido (90 miles from downtown San Diego), Anza-Borrego is the largest desert state park and the second largest state park in the U.S. Surrounding the area's main town of Borrego Springs, the park spans 640,000 acres of hiking and biking trails alone. It also includes 500 miles of dirt roads, 12 wilderness areas, historical landmarks, natural preserves, paleontological sites, 4,500 cultural sites, campgrounds, canyons and caves. History buffs will have a field day here, literally, as the park houses five locales on the National Register of Historic Places; and some of the rocks found on-site are more than 470 million years old. Jaw-dropping views can be found at every turn—from the stark Borrego Badlands to Font's Point to crystal-clear stargazing at night.
Springtime is ideal for maximizing enjoyment of this natural playground, which transforms into a Technicolor oasis of blooming wildflowers—typically from mid-February through late April. Spring 2017 was a banner year for wildflower blooms in the desert, dubbed the "super bloom"—the most vibrant wildflower bloom in two decades. It made national headlines it was so prolific, thanks to record rainfall. This year, as usual, the amount of rainfall will be a determinant of prime bloom time; thankfully, there's an actual wildflower hotline that visitors can call for updates (760.767.4684). Be on the lookout for brittlebush, yellow asters and halgania solanacea—delicate blueish-purple flowers.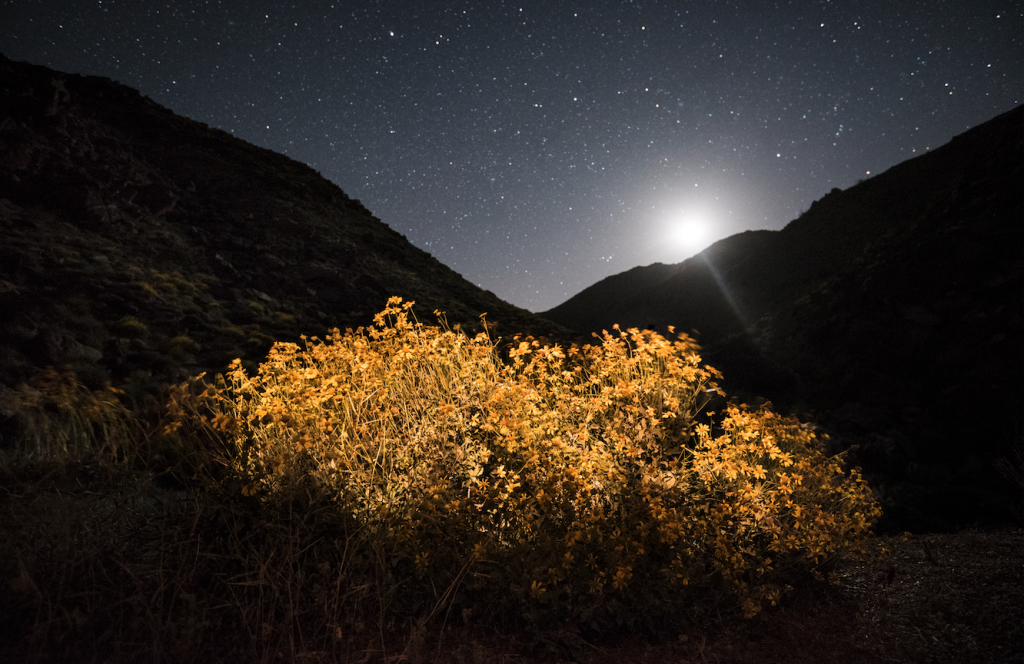 Adding to the vibrant landscape are palm groves, cacti and sweeping vistas for miles. You're likely to happen upon wildlife in the form of bighorn sheep, golden eagles, roadrunners, kit foxes and mule deer; as well as red diamond rattlesnakes, iguanas and chuckwallas in warmer weather. The park's native tiny pupfish can be spotted in the pond at the visitor center (currently closed). To explore the terrain in style, California Overland offers high-adrenaline adventures to the Borrego Badlands, slot canyons, a dry lake bed and Font's Point.
The area is also a destination for some interesting artsy experiences. The Borrego Art Institute in Borrego Springs—showcasing local plein air painters and artists such as renowned sculptor Ricardo Breceda—encompasses a gallery, pottery studio, workshop, gardens and more. ArtPark is a particularly cool conception; it's an outdoor campus that blends gardens and orchard trees with hands-on education about sustainable farming—with fresh produce for sale on Wednesday and Friday mornings. The Institute also hosts art exhibits and special events throughout the spring season.
Speaking of artist Breceda, Galleta Meadows is a must-visit. Take an easy driving tour through a menagerie of more than 130 of Breceda's life-size metallic sculptures depicting modern-day, mythical and wild beasts that once roamed the Anza-Borrego Desert as far back as 6.5 million years ago. Get up close with gomphotheres (four-tusked, elephant-like animals); giant tortoises; camelops (early camels); giant sloths; the Wind God Bird, which boasts a majestic 17-foot wingspan and is based on the fossil remains of the extinct Aiolornis incredibilis; a 350-foot-long serpent with the head of a dragon; dueling dinosaurs; and a parade of other gargantuan characters by the dozen.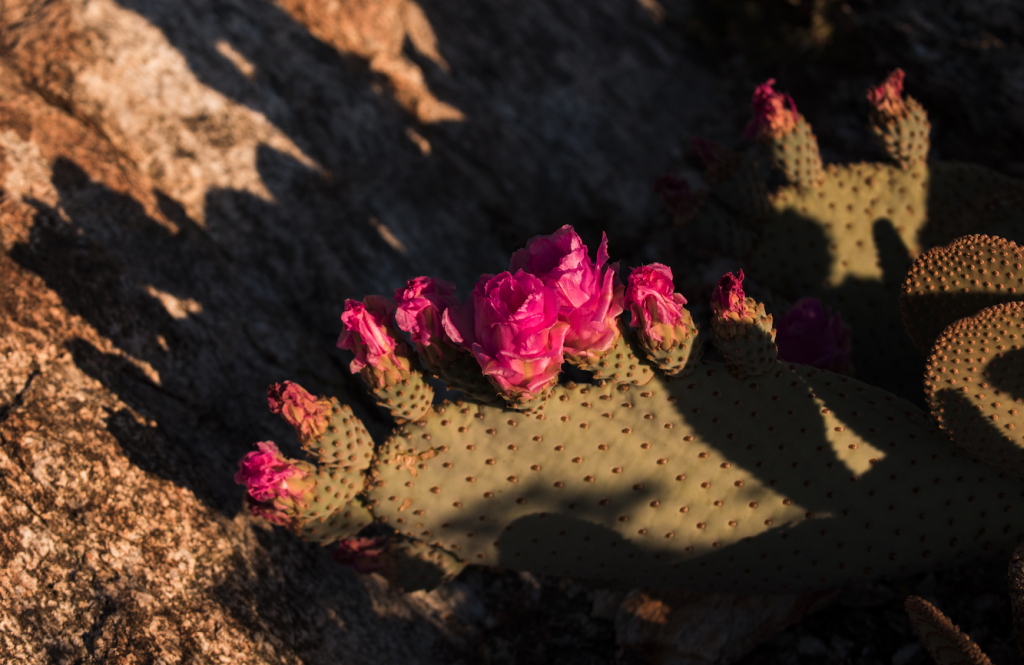 Accommodations in the area (if camping isn't your thing) range from quaint inns to five-star digs. I love the mid-century modern decor and quiet charm of The Palms at Indian Head, a renovated boutique hotel that once hosted the likes of Marilyn Monroe, Bing Crosby and Cary Grant—located just a mile from the park and 2.5 miles from downtown Borrego Springs. The vibe is low-key, private and diminutive—with just 12 simply decorated guest rooms and no phones. However, the sheets are soft, the pillows are abundant, and warm cookies arrive at your doorstep each night around sunset. The Palms also boasts one of the largest privately owned pools in California; and the outdoor patio at its Coyote Steakhouse is perfect for an intimate dinner and drinks. Another bonus: At the back of the property, guests have access to the Palm Canyon hiking trail, a particularly popular loop for wildflower viewing in the spring. Just be prepared for photobombs by the area's bighorn sheep.
Photos by Tim King.