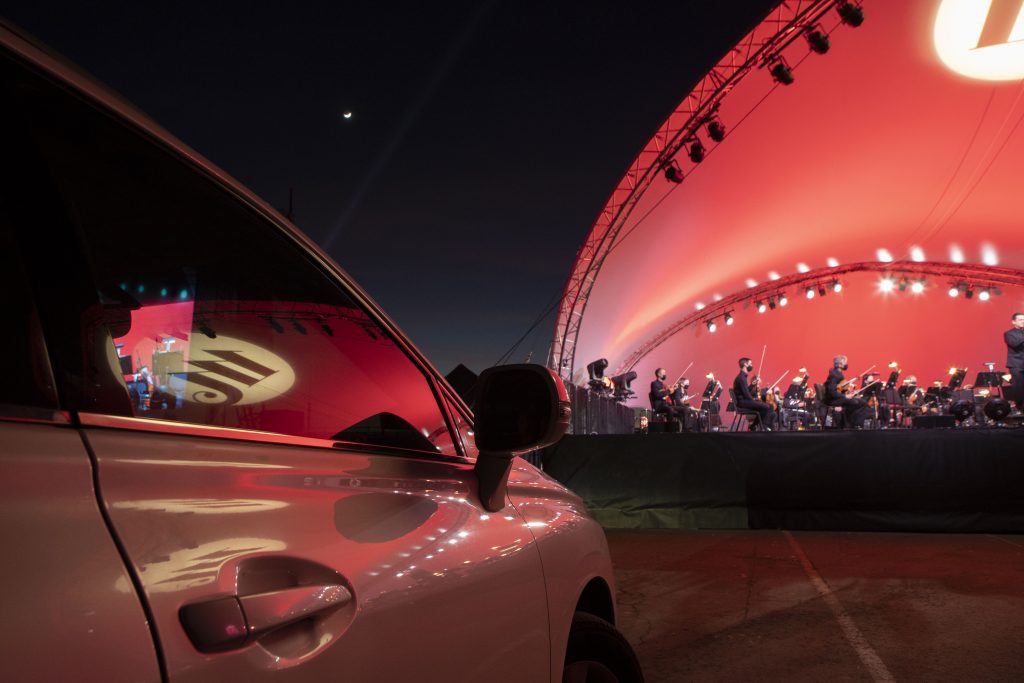 Performing-arts audiences flock to parking-lot concerts and opera.
Fifth in a nine-part series, "The Arts of Innovation," powered by Performances Magazine.
By Stephanie Thompson
It seems inevitable that one solution to performing live classical music during the pandemic shutdown would come out of Southern California—the drive-in. After all, we have good weather nearly year-round, car culture always, and big parking lots that had been sitting empty when San Diego Opera and Mainly Mozart began filling them.
"As soon as we canceled our concerts last spring, I knew that we wanted to commit to returning to live performance, whatever that meant," says Nancy Laturno, founder and CEO of San Diego's Mainly Mozart. "At no point did we consider creating product to livestream. The only question was how."
In June 2020, Mainly Mozart advisory board member Jerry Kohl suggested a drive-in concert. "He pushed us to put it together by July," Laturno recalls. "It was important to get back up and running in some capacity as quickly as we could."
On July 11, Mainly Mozart became the first classical music organization in the country to return to live performances, offering 10 free concerts for 60 cars each in the overflow parking lot at Del Mar Fairgrounds.
The response was enthusiastic; Mainly Mozart slowly increased capacity to 350 cars. The sellout concerts are now held in the fairgrounds' main parking lot with a large stage and shell, a giant LED screen and light design.
"If you had told me in February 2020 that Mainly Mozart would bring top musicians and their best instruments to perform outdoors on a dirt lot with heaters and hand warmers—it was crazy," Laturno recalls.
In February 2021, more than half of the 950 cars at three Festival of Orchestras concerts represented first-time, and generally younger, ticket buyers. "The people in the back have just as great an experience as those in the front," Laturno says. "We see lots of children in their PJs with snacks."
Producing drive-in concerts is expensive, but while other performing arts groups slashed their budgets in 2020, Mainly Mozart's increased 30%. Plans are to remain outdoors through summer.
More drive-in Festivals of Orchestras are planned, one featuring members of New York's Met Orchestra and D.C.'s National Symphony on April 15-18. The 32nd annual Mainly Mozart All-Star Orchestra events—billed as the largest gathering of concertmasters and principal players in North America—take place June 11-19.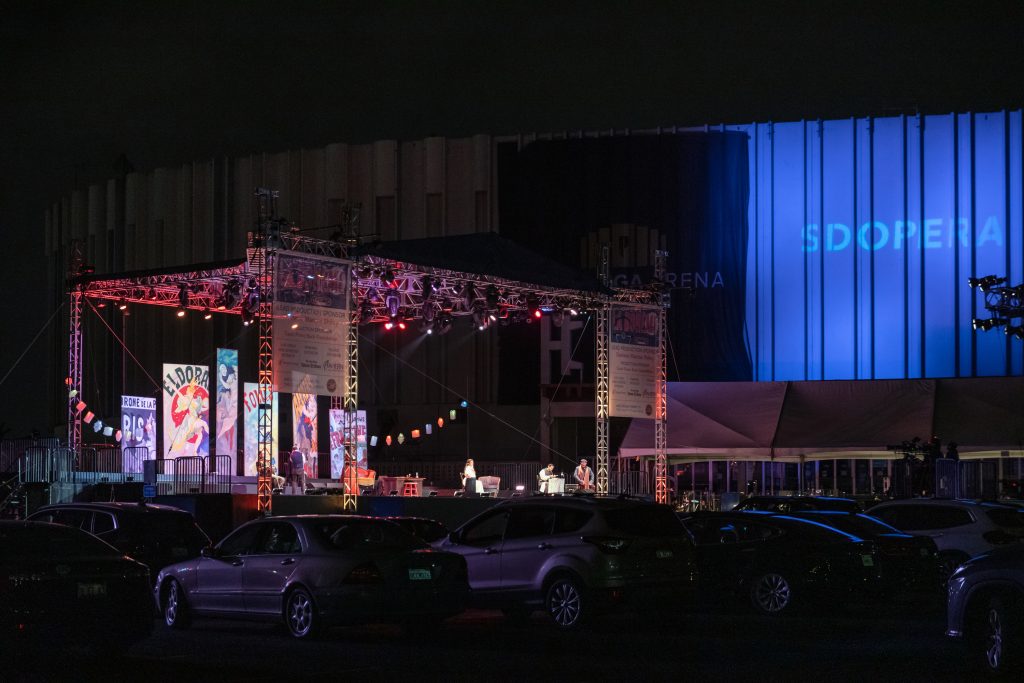 Attending Mainly Mozart drive-in concerts last summer, San Diego Opera general director David Bennett was moved by the group's pluck and tenacity and hoped to create a similar model for the opera. "I loved the sense of community that occurred at these performances," he recalls.
In October, San Diego Opera presented an abridged version of Puccini's La bohème, which had been scheduled for its regular season, in the Pechanga Arena parking lot. Giant screens projected the semi-staged performances; socially distanced members of the San Diego Symphony accompanied. Capacity at each of four performances was 450 cars; 95% of tickets were sold, and 34% of the audience was completely new to San Diego Opera.
"That's an astonishing number," Bennett says. "Clearly, our community is craving opportunities to gather. They also appreciate casual experiences…. Outdoor performances of some kind will clearly be in our long-term future. Drive-in? Perhaps. Outdoors? Definitely."
Based on the success of La bohème, San Diego Opera moved the rest of its season into the drive-in space: Upcoming are the concert One Amazing Night on April 24 and fully staged performances of Rossini's The Barber of Seville, April 25-May 1.
Among other innovations at San Diego Opera, Performances Magazine unveils its program app in lieu of printed programs. Though originally created, like the drive-in performances, in response to the pandemic, the app is here to stay.
The drive-in concept is gaining ground. To the north, Long Beach Opera presents James Darrah's choreographed production of Philip Glass' Les enfants terribles live on the roof of a parking garage. Darrah is LBO's new director; events take place May 21-23.
"We will go back indoors in 2022, God willing," says Mainly Mozart's Laturno. "But now I know better than to do much advance planning!
"If we hide from adversity, hunker down and wait for it to pass, we're missing the opportunities it offers," she says. "It's on us to embrace rethinking and change. New ideas can be born—some may be terrible, but some are great."
Photos from top J. Kat Photo, Karli Cadel