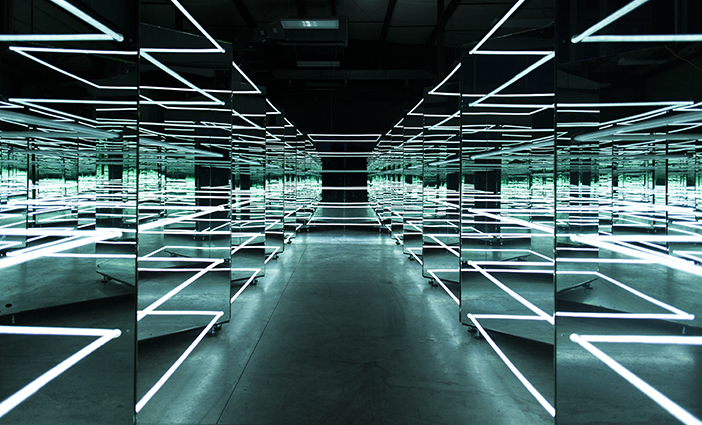 Wonderspaces is back in San Diego with an all-new show, titled With Creative License. Here is a peek of a few of the fifteen new art installations that will be on display this year.
Edited By Eva Scattergood
HOSHI
Immerse yourself in HOSHI, an installation created by Nonotak Studio that creates an "infinite space" through lights, mirrors and sound. Nonotak was founded by illustrator Noemi Schipfer and architect and musician Takami Nakamoto, who work with light and sound installations and performance pieces to create ethereal, immersive and dreamlike environments which are built to envelop, challenge and stagger the viewer.
Body Paint
Body Paint is a visual instrument that allows you to paint on a virtual canvas with your body, interpreting movement, gestures and dance into evolving compositions. It explores the ways of creating images and color through capturing the motion and energy of the body. Artist Memo Akten works with computation as a medium, exploring the collisions between nature, science, technology, ethics, ritual, tradition and religion.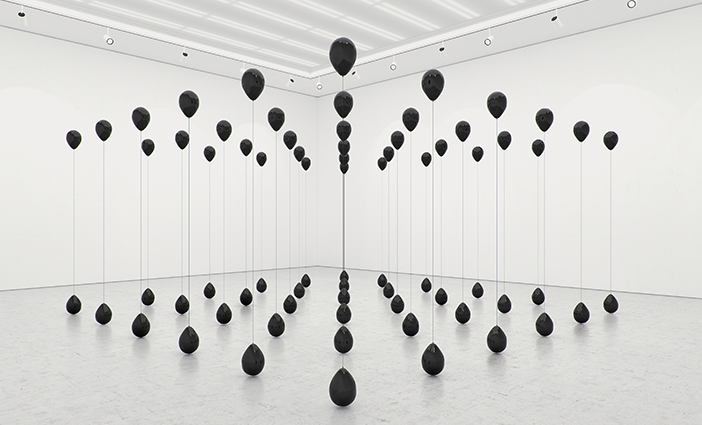 Black Balloons
Black Balloons began with the idea to connect two balloons. Artist Tadao Cern tested this idea by using two balloons and two different gases—a light and a heavy, and then worked out how to make the balloons float in the middle of a glass tank without connecting them to anything. Once in the space, these black objects divide into equal segments and trick the viewer's mind by giving them the feeling that they have seen a rendering from augmented reality.
The Border
The Border visualizes the edge between dreams and reality. One walks between both worlds through this whimsical and graphic forest created by Carolin Wanitzek, an artist, scenographer and set designer from Mannheim, Germany. Working in the field of scenography, she blends graphic design, set design and photography to develop concepts for extraordinary worlds.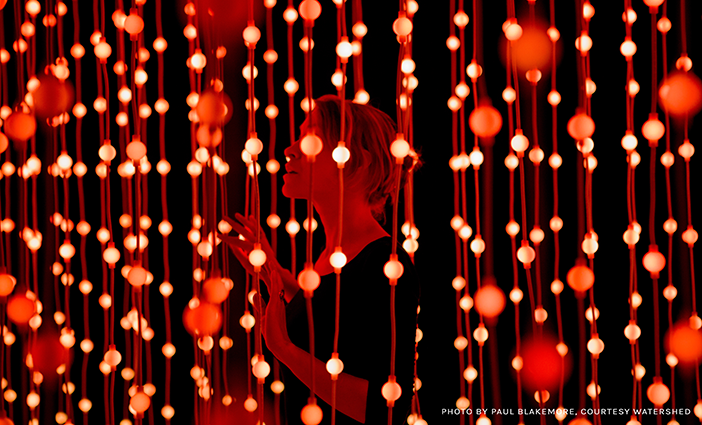 Submergence
Submergence is a walk through experience that uses up to 8,064 individual points of suspended light to create feelings of presence and movement within physical space. You are walking into a space occupied by real and virtual components, and you can affect both. This is a Squidsoup project, made by Anthony Rowe, Gaz Bushell, Liam Birtles, Ollie Bown and Chris Bennewith.
10 a.m.-8:30 p.m. $14-$24. B Street Pier, 1140 N. Harbor Dr., San Diego. wonderspaces.com