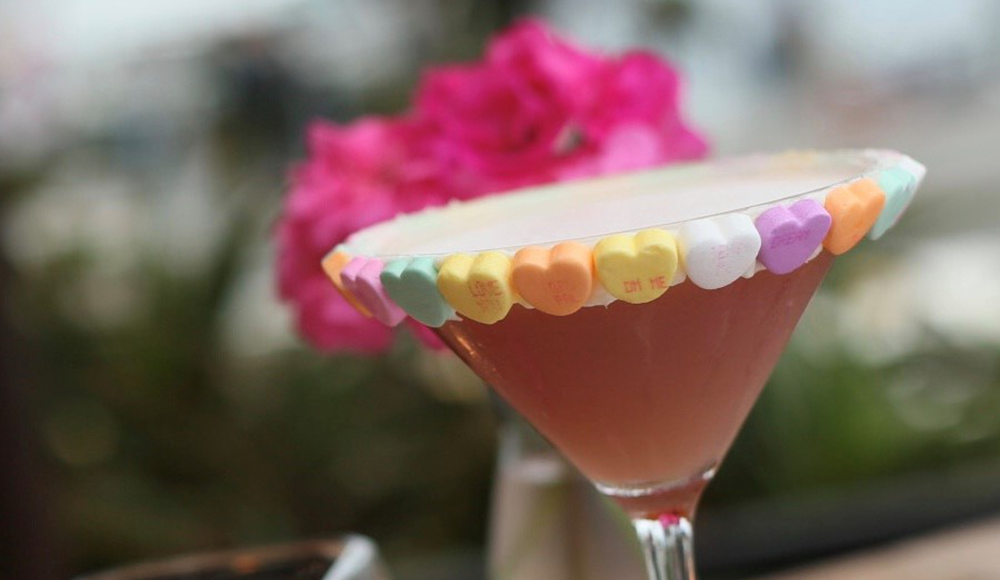 Make reservations at one of our top 25+ Orange County picks to celebrate Valentine's Day.
Five Crowns 
Feb. 13-16. Treat yourself and your loved one to a romantic evening with a four-course dinner created by executive chef Alejandra Padilla. The prix fixe menu offers starters such as steak tartare or seasonal mushroom soup with devonshire cream. Entrees choices include a crisp potato horseradish-crusted salmon or classic beef Wellington. End your evening with dessert options such the vanilla bean crème brûlée or profiteroles. Th 5-9 p.m., F-Sa 5-10 p.m., Su 5-9 p.m. $129+ per couple. 3801 E. Coast Hwy., Corona del Mar, 949.760.0331. thefivecrowns.com
Knife Pleat
Feb. 13-15. Chef Tony Esnault presents a six-course tasting menu featuring mood-boosting ingredients such as oysters, chocolate, champagne, ginger, vanilla and truffles. $155 per guest ($205 including tax & gratuity); ticket sales are final and non-refundable. Optional wine pairings, special Valentine cocktails and other beverages available for purchase. South Coast Plaza, 3333 Bristol St., Suite 3001, Costa Mesa, 714.266.3388. Reservations | knifepleat.com
McClain Cellars Wine Tasting Room Lounge
Feb. 13-14. Bring your sweetheart to one of two cheese-and-wine-pairing nights to celebrate this sweet holiday at the McClain Cellars' wine tasting lounge. Enjoy six different wine pairings with a cheese and charcuterie board as romantic music plays in the background. Open 11 a.m.-7 p.m.; click link for tickets. $45+. 849 Laguna Canyon Road, Laguna Beach, 949.590.9980. mcclaincellars.com
Toast Kitchen + Bakery
Feb. 13-15. Spend your special time together over a three-course dining experience by chef John Park. The menu includes scallop crudo, spinach tortellini, salmon with smoked turnips and fennel risotto, ribeye, and white chocolate mousse. 3-9 p.m. $69 per couple, additional $20 per person for optional drink pairing. ​​1767 Newport Blvd., Costa Mesa, 949.873.5057. toastkitchenbakery.com
21 Oceanfront
Feb. 14. Indulge in a three-course menu at one of Orange County's most romantic restaurants. Starter choices include coconut shrimp, Tzatziki lamb lollipops and lobster bisque. Look forward to entree highlights such as jumbo lobster tail, center-cut filet mignon and vegan quinoa stuffed delicata squash. For sweet endings, choose between a dark chocolate cake, blackberry shortcake or cupid's crème brûlée. Two-hour limit per table, credit card taken upon booking. Reservations 4-10 p.m. $125 per person. 2100 W. Oceanfront, Newport Beach, 949.673.2100. 21oceanfront.com
Anaheim White House
Feb. 14-16. Experience a four-course prix fixe dinner at the historic landmark Anaheim White House. The heart-shaped Ravioli Amore appetizer is followed by the White House baby-greens salad. For the entree, enjoy Romeo & Juliet, an oven-roasted 7-ounce filet mignon with a red wine and black truffle reduction—paired with a 4-ounce Atlantic lobster tail in a Champagne sauce. End the evening on a sweet note with Cuore di Chocolata, made with chocolate cake and dark chocolate mousse with a raspberry creme center. Call to check for seating availability. $85 per person. 887 S. Anaheim Blvd., Anaheim, 714.772.1381. anaheimwhitehouse.com
Andrea
Feb. 14. Recognized as one of America's Top 10 most romantic restaurants by Gayot and Southern California's most romantic restaurant by Los Angeles Times readers, Andrea offers a three-course lunch and four-course dinner on a heated ocean-view terrace with a live guitarist and a selection of Italian wines. From February 15-16, a la carte specials are also available. Lunch starts at $95 per person, $155 with wine pairings. Dinner starts at $155 per person, $225 with wine pairings. The Resort at Pelican Hill, 22701 Pelican Hill Road South, Newport Coast, 877.563.5102. pelicanhill.com
Andrei's Conscious Cuisine & Cocktails
Feb. 14. Treat your Valentine to a three-course dinner locally sourced with the finest ingredients. First course options include arugula salad, King crab legs, oysters, and black truffle and asparagus velouté. The next course features selections such as Maine lobster tail, dry-aged Kansas City steak, rack of lamb, and filet mignon with truffle ragout. Finish the meal with Amour Duet, a rosemary passion fruit and chocolate mousse tart with red velvet cream cheesecake. Reservations required. $80 per person, additional $25 for wine pairings. 2607 Main St., Irvine, 949.387.8887. andreisrestaurant.com
Back Bay Bistro
Feb. 14. Enjoy a romantic evening amid panoramic views of the Back Bay. Indulge in a four-course dinner, courtesy of executive chef Daniel Jimenez. Menu highlights include roasted butternut squash cognac bisque, airline chicken, braised short ribs, grilled king salon and garlic butter portobello mushrooms. End the night with a red velvet cake or lava chocolate cake. 4-9 p.m. $85 per person. 1131 Back Bay Drive, Newport Beach, 949.999.3170. backbaybistronb.com
Bayside Restaurant
Feb. 14-15. Come celebrate with your special date—or with friends and family! Enjoy a chef-driven menu on Friday or a three-course prix-fixe dinner menu on Saturday. Possibilities include freshly shucked oysters, lobster bisque, King salmon, venison medallions and filet mignon. Champagne and sparkling wine pairings are suggested on the menu. F $88 per person, Sa $85 per person. 900 Bayside Drive, Newport Beach, 949.721.1222. baysiderestaurant.com
Bello by Sandro Nardone
Feb. 14. Let romance run rampant at new Bello! Chef Sandro Nardone offers his entire menu, along with specials, including beef-heart tartare, grilled chicken heart Spiedino, ricotta gnocchi with duck liver sauce and tres leches tiramisu. Sip on a seasonal craft cocktail with an Italian twist or an incredible Italian wine offered as part of Bello's dynamic bar program. 5-11 p.m. 1200 Bison Ave., Newport Beach, 949.520.7191. bellobysandronardone.com
Bistango
Feb. 14. Make reservations for a three-course prix fixe dinner at Bistango. Savor dishes such as Tandoori-spiced roasted chicken breast, Tamarind chile-glazed Ora king salmon and oven-roasted Chilean sea bass. Enjoy live music from musicians roaming the lounge or opt for a more intimate table setting. 5-10:30 p.m. $82 per person. 19100 Von Karman Ave., Irvine, 949.752.5222. bistango.com
The Bronze Quail
Feb. 14. Follow your heart to the Bronze Quail for a six-course prix-fixe menu created by executive chef Mark Piepkorn. Reservations recommended. $115 per guest, addtional $45 per guest for wine. The prix-fixe menu has limited availability and must be reserved in advance via Resy; the a la carte menu is also available. Hotel Fullerton, 1500 S. Raymond Ave., Fullerton, 714.635.9025. thebronzequail.com
Eats Kitchen + Bar
Feb. 14. Enjoy a bottle of wine with your date, or two cocktails or beers, plus a shared appetizer, two main courses and a shared dessert at Eats. Guests receive a complimentary rose to give to their sweetheart. Additional specials include four oysters on the half shell, Yuzu mignonette, lobster truffle risotto and chocolate cremeux. 5-9 p.m. $110 per couple. 17900 Jamboree Road, Irvine, 949.225.6780. eatskitchen.com
EnoSteak and Raya
Feb. 14. The Ritz-Carlton, Laguna Niguel's pan-Latin coastal restaurant Raya offers a four-course prix fixe dinner with highlights such as basil poached lobster, Adobo marinated chicken and prime filet mignon. The resort's more intimate rEnoSteak features a four-course prix fixe dinner with options such as bluefin tuna crudo, squab Wellington, and coffee-rubbed beef tenderloin and poached lobster tail. Reservations required. EnoSteak: 5-10 p.m. $165 per person. Raya: 5-9:30 p.m. $135 per person. One Ritz Carlton Drive, Dana Point, 949.240.2000. ritzcarlton.com
Fable & Spirit
Feb. 14. Eat to your heart's content, and that of your love's, at Fable & Spirit, where executive chef David Shofner presents a four-course Valentine's dinner. Begin with cold-smoked yellowtail and rosewood American wagyu strip loin, then enjoy Norwegian halibut, and end with dark chocolate mousse. Call to make reservations or book online. $100 per person, full menu available. 3441 Via Lido, Suite A, Newport Beach, 949.409.9913. fableandspirit.com
Habana
Feb. 14. Spend the holiday at the Cuban-inspired eatery in Costa Mesa or Irvine. Start with tuna crudo tostones or perhaps the vegan papa rellena. The wide selection of entrees include the paella a la Habana for two and pan-roasted filet mignon. Call to make reservations. The Lab, 2930 Bristol St., Costa Mesa, 714.556.0176; Irvine Spectrum Center, 708 Spectrum Center Drive, Irvine, 949.419.0100. restauranthabana.com
Heirloom Farmhouse Kitchen
Feb. 14. Treat your partner to a romantic three-course prix fixe dinner. First course options include roasted beet salad, albacore crudo or lobster bisque. The second course options are Bellwether Farm's ricotta gnocchi, pan-roasted scallops or filet with grilled asparagus, chive mashed potato, crab and béarnaise. The final course includes choices such as red velvet marquise with cheesecake mousse and chocolate crumble; or chocolate dome with crunchy praline, vanilla crème brûlee and cherries. $112 per person. Marriott Irvine Spectrum, 7905 Irvine Center Drive, Irvine, 949.759.0200. heirloomfarmhousekitchen.com
Hendrix Restaurant & Bar
Feb. 14. Celebrate your love with chef Rainer Schwarz's four-course prix fixe Valentine's dinner: Greater Omaha black angus beef filet mignon with braised short rib, bigeye Hawaiian tuna crudo and butternut squash risotto, are just a few of the featured dishes. 4:30-9:30 p.m. $69 per guest includes a champagne toast. 32431 Golden Lantern, Laguna Niguel, 949.248.1912. hendrixoc.com
Hornblower Cruises
Feb. 14. Love is on the water this Valentine's Day. Feast on a five-course seated dinner at a romantic private table while sipping on your beverage of choice. Then dance the night away to DJ entertainment or step outside to enjoy the best views of Newport Beach Harbor. Enjoy a glass of Champagne or cider upon boarding. See website for details. F 7-10 p.m. or 7:30-10:30 p.m., Sa 7:30-10:30 p.m. $160 per person. 2431 W. Coast Hwy., Newport Beach, 949.631.2469. hornblower.com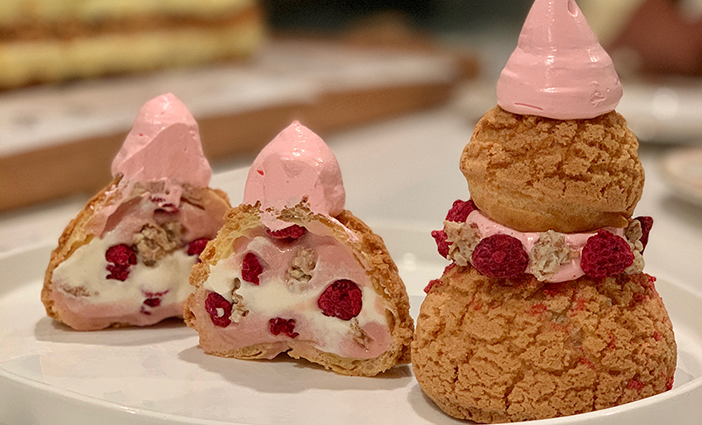 Marché Moderne
Feb. 14. Enjoy a delectable three-course La Saint-Valentin prix fixe dinner from acclaimed chef Florent Marneau. Featured dishes include steak egg soigné, smoked roasted duck breast, braised veal cheek and roasted veal filet, and Maine black sea bass. Don't forget pastries from chef Amelia such as Religieuse Fraise Craquelin (pictured) with strawberry mousseline, lemon verbena chantilly and meringue, and a "Tirami-Choux" (tiramisu-meets-puff pastry). $140 per person, additional $50 for wine pairing. 7862 E. Coast Hwy., Newport Beach, 714.434.7900. marchemoderne.net
Mesa
Feb. 14. The chic cocktail haven and eatery offers a a prix fixe menu for couples, as well as an mixer at the bar top and lounge area for singles that includes bar-side appetizers and two well drinks. Prix fixe: $60 per person, additional $25 for a bottle of prosecco or sparkling rosé; Mixer: 6-9 p.m. $35 per person. 725 Baker St., Costa Mesa, 714.557.6700. mesacostamesa.com
Mix Mix Kitchen Bar
Feb. 14. Award-winning globally inspired dining concept presents a four-course prix fixe menu. Start with prosciutto with goat cheese, saba and fruit; tuna tartar; petite crudite on endive; or caviar. Second-course choices include peppered-seared hamachi or five-spice honey-glazed duck breast. Main course selections include beef duo and Maine lobster. To top it all off, indulge in desserts such as tropical panna cotta, tiramisu and sorbet. See website to make reservations. $75 per person, additional $30 for wine pairing. 300 N. Main St., Santa Ana, 714.836.5158. mixmixkitchenbar.com
Provenance
Feb. 14. Celebrate the romantic holiday for a four-course prix fixe dinner, courtesy of chef Cathy Pavlos. Menu highlights include roasted tomato bisque with jumbo shrimp, Black Canyon filet mignon, baby heirloom tomato risotto and plancha-seared wild branzino filet. Gluten-free and vegetarian options available upon request. $80 per person, additional $35 or $50 for wine pairing. 2531 Eastbluff Drive, Newport Beach, 949.718.0477. provenanceoc.com
The Ranch Restaurant & Saloon
Feb. 14. Crafted by executive chef Michael Rossi and brother pastry chef Dave Rossi, the curated Valentine's Day four-course prix fixe menu. Highlights include housemade sweet potato gnocchi, Dungeness crab and champagne bisque, Colorado lamb chop and strawberry cheesecake. The Ranch Saloon celebrates with live music and two complimentary dance lessons for ages 21+. Dinner: 5-10 p.m. Dance sessions: 5:30-8 p.m. and 8 p.m.-12:30 a.m. Dinner: $95 per person.; first dance session: $5 cover charge; first dance session: $10 cover charge. 1025 E. Ball Road, Anaheim, 714.817.4200. Dinner | Dance
Sapphire Laguna
Feb. 14. The culinary team at Sapphire Laguna is playing Cupid with a special prix fixe dinner menu. Menu highlights include pan-seared Barramundi and shrimp raviolini; rosemary-crusted Colorado rack of lamb; and grilled beef tenderloin and butter-poached lobster. The bar menu featuring craft cocktail specials to get you in the mood, including the Bisou (Makers Mark, Sweet Vermouth, Campari, chocolate bitters and a dark chocolate kiss) and the Ambrosia (Beefeater gin, Chambord, lemon, apple juice and Aquafaba). $71-$95 per guest (excludes taxes, gratuity and beverages). 1200 S. Coast Hwy., Laguna Beach, 949.715.9888. sapphirelaguna.com
Watertable
Feb. 14. Elevate your Valentine's Day date night with a three-course menu featuring highlighted items from chef Adrian Lagov's winter menu, coupled with romantic music by guitarist Ben Woods. Stand-out menu items include grilled baby lamp chops, roasted cauliflower bisque, and a petite filet with chive mashed potatoes and red wine demi. End your evening with the "Be My Valentine" dessert for two. $70 per person. Hyatt Regency Huntington Beach Resort & Spa, 21500 Pacific Coast Hwy., Huntington Beach, 714.845.4776. watertablehb.com
Photo credits: Bistango courtesy Bistango. Marché Moderne courtesy FWD PR.