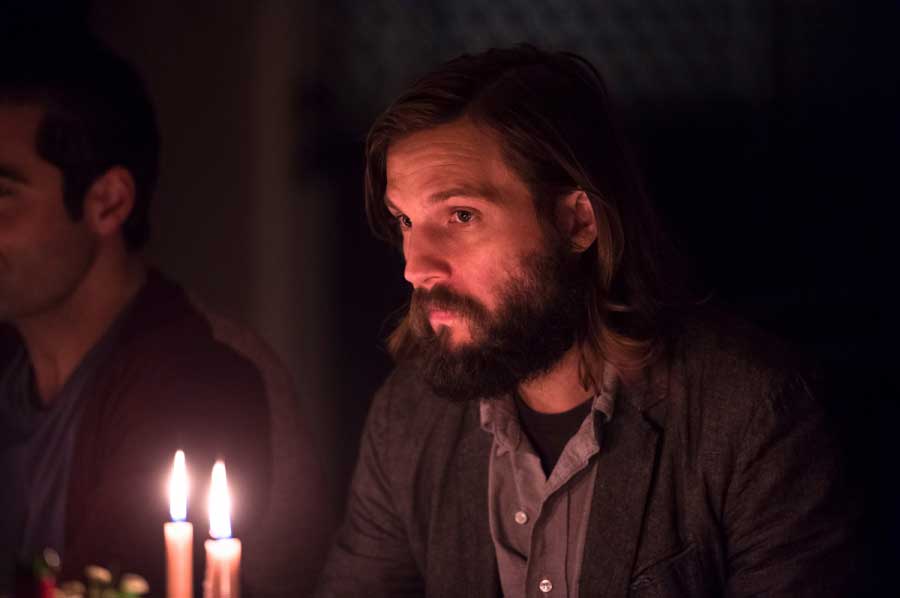 The Invitation
The Invitation is undoubtedly gorgeous to look at. It's just a shame that it doesn't do nearly enough to hook, before laboriously meandering to its foreseeable conclusion.
An hour into The Invitation, you'll be pleading for it to finally get to its point. Having begun up with an ominous opening scene that immediately set a twisted tone the film then grinds to a halt once it arrives at the home that the titular summons has asked them to.
The Invitation starts with Will (Logan Marshall Green) and his new girlfriend Kira (Emayatzy Corinealdi) driving to the house that Will used to share with his ex-wife, Eden (Tammy Blanchard), who now lives there with her new husband David (Michiel Huisman). Also in attendance is a hoard of Will and Eden's old friends, who haven't all gathered together since the former couple's child tragically died at a party in the same house. Obviously, this makes things slightly awkward and tense, which is only exacerbated by the fact that Eden and David are acting very peculiar, and have a specific reason for inviting their guests into their home.
The sinister intentions of David and Eden tepidly boil underneath The Invitation, but it takes too long for its twist to occur. And once it does, it's been danced around and teased so much that you're left nonplussed and disappointed that this was all The Invitation had to offer.
On the plus side, this is what finally jolts The Invitation into action, as it becomes clear why Eden and David asked the group to attend. But even though there's a lot more energy and action, the final act quickly loses its momentum and starts to drag, too.
The Invitation is also stunted by just how awkward the gathering actually is. None of the characters actually want to be there, but rather than making us — as a viewer — uncomfortable in a tense and oddly thrilling way, it just does so in a tedious and bored way. These circumstances means that it's impossible to invest or be intrigued by anyone from this posse of friends, none of which are memorable or actually that fun to be around. Plus, there's just too many of them to keep track of, which stops any sort of camaraderie or genuine friendship between them from growing.
That's not to say that I found myself repelled by any of the performances, which were all admirable. Logan Marshall-Green emanates a concerned paranoia in a compelling fashion, Michiel Huisman is an odd concoction of both appealing and creepy, while Tammy Blanchard masks her frail emotional state in a mystifying yet subtle manner.
Which makes it all the more frustrating that The Invitation doesn't build upon its intriguing set-up to deliver the requisite thrills that are implied from an entry into the thriller genre. Director Karyn Kusama shows some nice touches, while Bobby Shore's cinematography is undoubtedly gorgeous to look at, but the use of flashbacks to show Eden and Will when they were married feels tacky and forced.
This stops the sentimentality and emotional heft that Eden and Will are feeling because of their child's death from manifesting. In fact the dialogue and even the flashbacks skirt around the tragedy so much that you just don't care about it. If it had been more prominent it could have anchored the weight of the film and even made it more compelling.
Without it there's not enough to feed on. The Invitation isn't chilling enough to be scary, or psychological enough to be disturbing, and since it never does enough to hook you into the plot you'll have long given up the ghost before it plods to its dreary end.
Source: Movies