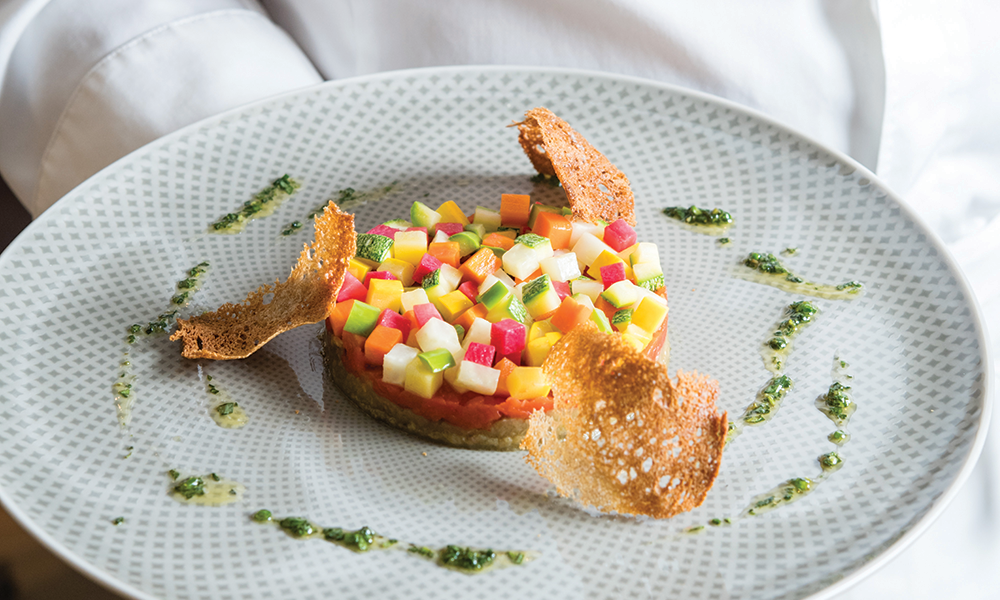 In the 1980s, French chefs were gods. Fine dining meant French dining. These days, a dozen Italian restaurants open in Orange County for, if we're lucky, every one French. With the debut of Knife Pleat at South Coast Plaza by chef Tony Esnault and restaurateur Yassmin Sarmadi, Francophiles did get lucky. And the buzz seems forever at Marché Moderne in Newport Beach, Florent and pastry chef Amelia Marneau's lofty bistro. But is the French chef disappearing? Are Esnault and Florent Marneau exceptions? Does French cuisine conjure images of "a tumbleweed blowing down the Champs-Elysées?" (Merci, Quench magazine.)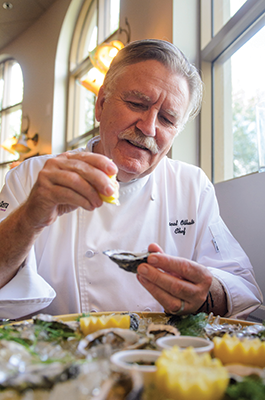 Pascal Olhats of charming Café Jardin, elder statesman among the county's French chefs, offers his perspective.
Olhats' restaurants have included Pascal in Newport Beach—which had been rated by Zagat the county's top restaurant for 15 years—as well as Traditions by Pascal and a casual Pascal. He has scaled back but continues to oversee Café Jardin at Sherman Library & Gardens in Corona del Mar. Olhats has mentored many of the region's finest chefs, among them Florent Marneau.
"In the 1980s, if you wanted a fine-dining experience, without doubt you went to a French restaurant owned or run by a French chef," says Olhats, 63. "If we had rated the best restaurants in the world, Antoine would have been included—Bruno Cirino was the equivalent of today's Michelin three-star chef." Antoine was at Le Meridien hotel, now the Renaissance Newport Beach.
"We were on top of the world in the food scene," he recalls. "The star-chef frenzy didn't exist yet—if it had, French chefs were it. When we had a Southern California chef event, half of the chefs there were French, all talking French with each other. Now, it can feel like I am the only French chef there!"
So what happened to all those French chefs and exquisite French dishes? According to Olhats, neither went anywhere—they were assimilated, hidden in plain sight.
Many French chefs no longer cook French, but their heritage shows up on their menus. Yvon Goetz, for example, offers dishes such as duck deux façons and YG's Alsatian Pizza at the Winery, known for its California cuisine in Newport Beach and Tustin.
"A lot of hotels don't call their restaurants French, but if you look the menu, most of the food is French," Olhats notes. "If you serve tartare in a California restaurant, that's a French recipe and French technique—but you're thinking it's the best Pacific cuisine. Not many restaurants have the French label, but often when you go for fine dining, you are eating French food." Asian and Latin influences further blur lines.
At modest Café Jardin, amid immaculate gardens, walkways and conservatories, the Normandy-born Olhats serves prix fixe lunches that might include chicken liver pâté with walnut toast; braised short-rib bourguignon with celery-root purée; and lavender crème brûlée.
TWO TRENDS—one culinary, the other economic—eroded the popularity of French cuisine. "The '90s were the start of nouvelle cuisine," notes Esnault, 48, born in the Loire Valley town of Saumur. "Very small portions, three haricots verts on a plate—even the French were complaining."
Then came the Great Recession.
"Resources had been available in the '80s and '90s to open these beautiful, grand restaurants, to do the kind of beautiful cooking these chefs were trained to do," Sarmadi says. "In the 2000s, that changed, the economy took a dive. The price points of French food as we knew it couldn't be sustained."
Italian food was more accessible. Not only is pasta easy to love, Sarmadi points out, but it is more affordable to make and sell than a '90s dish such as duck à l'orange.
Sarmadi, now Esnault's wife and partner, opened Church & State in Los Angeles at the start of the downturn, in 2008. Esnault had previously served as executive chef at Michelin-spangled chef Alain Ducasse's Essex House in New York and at Joachim Splichal's flagship Patina in Los Angeles.
The timing of its opening arguably could not have been worse, but Church & State introduced a more affordable bistro concept when California knew only haute cuisine, and it gained widespread acclaim. This year, Church & State earned the Michelin Guide's Bib Gourmand award—and changed hands.
Sarmadi and Esnault also opened much-lauded Spring in 2016 but closed it when they decided to open Knife Pleat at South Coast Plaza—in the penthouse-level space that had been vacated by Marché Moderne.
Here, nestled among boutique neighbors such as Christian Louboutin and Louis Vuitton, Esnault offers contemporary fare that has a lightness of being complementing the room's translucent facade, alabaster chandelier, white Calacatta bar and expansive skylight.
Knife pleat is a fashion term. With its soft hues and sculptural settees, the restaurant's decor suggests high fashion. The cocktails are named for designers: The Christian Dior is a nod both to Dior's roots in Normandy—known for its Calvados apple brandy—and to one of the center's boutiques. Each espresso cup is a designer collaboration.
The dishes' presentations suggest high fashion, too, chief among them the vegetable dishes: the intensely flavorful Vegetable Mosaic—with tomato, eggplant, zucchini, watermelon radish, kohlrabi, green bean, carrot and rye chips—and the légumes de saison, featuring as many as 20 or more seasonal vegetables, some raw, some cooked, each prepared to vibrant perfection.
Chilled Norwegian langoustine, with radish, green papaya, mango and coconut/lemon-grass espuma, is as light and sophisticated as it sounds. Escargot ravioli, with wild Burgundy snails, cèpe mushrooms, black garlic and watercress, does not sound light … yet it is. The Crescent duck breast and leg confit with Swiss chard, Tokyo turnip and pickled rhubarb is the menu must-have. Desserts such as the Caramel—with VSOP cognac mousse; almond cake and crumble; and caramel cream and ice cream—are alone worth a visit.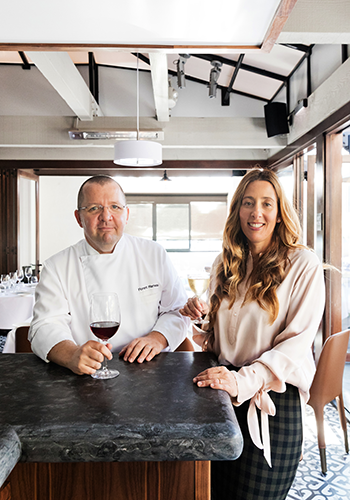 MARCHÉ MODERNE opened in Costa Mesa in 2007, and for the Marneaus the timing also proved surprisingly fortuitous.
"There have been trends," Florent Marneau, 50, acknowledges. "There was a Spanish trend, and there is Italian, obviously. But we are so into what we do—we breathe French food every day—for us it has never left. The elegant clientele that comes in here, enjoys a bottle of Bordeaux and a multicourse meal—it never really goes away. I look at 5,000 to 6,000 guests a month. For us, it is French all the way."
It's been two years since the elevated bistro moved to a stunning space on the coast with Provençal-style stone walls, walnut beamed ceiling and white-tile-and-marble exhibition-style kitchen. It is one of the few restaurants that use white tablecloths and—aside from forays into earthenware—elegant white china, albeit often in creative shapes.
How does Marché Moderne stay relevant despite the trends?
"The key for many restaurants, French or any other, is great food, of course—the food has to be good. It has to change; it has to evolve," says Marneau, born in the region Île-de-France. "But what I call the Big H—hospitality—is what defines us. The servers try to give more than the description of a dish—our guests get the feeling the servers actually know what they are talking about."
The menu at the Crystal Cove Shopping Center is at once sophisticated and rustic, with generous portions more often associated with comfort food. Even at its most refined, there is nothing nouvelle about it.
There are oysters du jour and several types of caviar, but don't overlook the tasting of five Bordier butters with "une bonne baguette." Among starters are a crustacean degustation, with Maine lobster, Hokkaido scallops and sepia cuttlefish from France, and two versions of octopus, one from the restaurant's opening in 2007, the other very of-the-moment. Stars among entrées include roasted duck breast with pithivier of duck, potatoes, chanterelles and truffles. Coq au vin and steak frites au poivre pay tribute to the bistro. Amelia's macarons and Napoleons are unforgettable.
The new brunch may be the county's best. Our picks: deviled eggs with suckling pig, pork-belly rillette and Sriracha; potato crisp with smoked salmon and caviar; and Oeuf & Boeuf with short rib, Kobe beef tallow and sunny-side-up egg. Variously flavored mimosas each come with a matching house-made marshmallow. The Café Citronné cocktail with limoncello, espresso and tonic actually goes with pastries.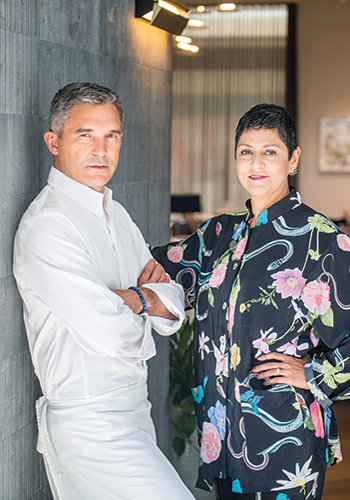 KNIFE PLEAT and Marché Moderne are widely considered the county's best French restaurants. There are French-Belgian, French-Swiss, French-American and Cal-French restaurants in Orange County, but few others have you thinking "Vive le France" from start to finish. Recommended among those is modest Pescadou Bistro, on the Balboa Peninsula for 20 years, and French bakery-cafe Moulin—Laurent Vrignaud just opened in Costa Mesa his fourth Moulin in five years.
"There are a few younger French chefs in L.A.—Ludovic Lefebvre, Christophe émé—but French is more popular in New York and Boston than here in California," notes Esnault. Lefebvre and Émé are star chefs; there are no young French chefs in Orange County whose reputation extends beyond the eatery's walls.
Reflects Amelia Marneau, "This has always been our dream, to do this day in and day out, in the very traditional way they do in France, where the husband and wife own and operate a restaurant. I'm not sure how many chefs are training in France, getting that kind of nuanced, in-depth culinary experience, then choosing to come to Orange County versus San Francisco or L.A. or New York."
Only time will tell if Esnault and the Marneaus are part of a final flowering in the county of the cuisine that had been at the epicenter of Western cuisine for three centuries—given the squeeze by pizzerias and farm-to-table concepts—or if they are on the vanguard of a new era of French fare that has yet to find a label.
Either way, two of the county's very best restaurants are in deft French hands and generating excitement like few others.
Enjoy them now.