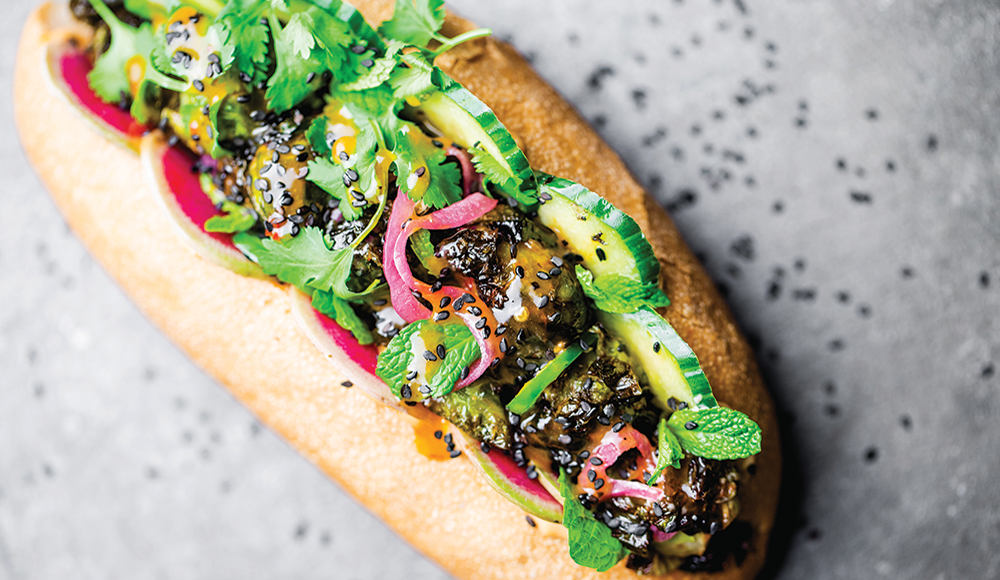 Man does not live by bread alone, says Scripture. For secular foodies, that verse might end, "but by everything that goes on it."
Americans do live by sandwiches: According to the U.S. Department of Agriculture, about half the country eats a sandwich on any given day. Visitors to Orange County—where sandwiches push the envelope in terms of quality, concept or both—would do well to stick with the program.
Continuing trends here include Asian and Latin influences, greater spice in general and chile peppers in particular; evermore contrasting textures—"crispy" might be the descriptor of the year—and flavors; and artisanal bread. Pork is huge; charcuterie is also in.
If you ate a sandwich every day for a year in Orange County, you wouldn't scratch the surface when it comes to good ones. Here are the most memorable—in some cases, remarkable—meals on sliced bread we've enjoyed of late.
Crispy Brussels Bánh Mì / Sessions West Coast Deli
Who puts Brussels sprouts on a sandwich? Where's the pâté? Find a fascinating vegetarian version of the iconic Vietnamese sandwich at a spot that manages to be both fast-casual and chef-driven. Sweet, spicy and savory, this bánh mì spotlights produce rather than pork—Brussels sprouts done crispy, watermelon radish, cucumbers, fresh cilantro and mint, pickled onion and thin-sliced jalapeño—plus chile garlic sauce, Sriracha aioli and sesame seeds on OC Baking's Jersey hard roll. 4736 Barranca Parkway, Irvine, 949.333.3949; 414 Pacific Coast Hwy., Huntington Beach, 714.594.3899; 2823 Newport Blvd., Newport Beach, 949.220.9001.
Steak Sandwich / Arc
Noah von Blöm—named O.C.'s best chef at the 2018 Golden Foodie awards—always delivers on his motto "flame, flavor, finesse," and this citrus-marinated skirt-steak sandwich is no exception. The steak—perfectly medium-rare or whatever your requested doneness—shares a house-baked, fire-toasted, cornmeal-crusted, curly-parsley topped sourdough roll with aioli, spinach tossed in buttermilk dressing, pickled fresno chiles, caramelized onions and Gruyère fondue. Another option is the Sloppy Joe with Texas chili, aged cheddar and fried egg. In either case, also be sure to order the best fries in the known universe. SoCo and OC Mix, 3321 Hyland Ave., Costa Mesa, 949.500.5561.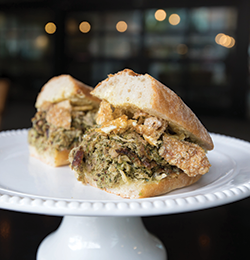 Crispy Pork Shoulder and Cracklings / Burnt Crumbs
Burnt Crumbs gets endless attention for its spaghetti sandwich, an Instagram darling if ever there was one. Meanwhile, the hall-of-famer in our book is this one featuring crispy pork shoulder and cracklings, laced with chile lime and salsa verde, a texture and taste-bud fiesta served up on house ciabatta. Some sandwiches on the menu rotate out seasonally; please, Lord, don't let this one ever go away. Bonus: There's a pre- or post-pork pingpong table at the Huntington Beach location, inside the Lot 579 food hall. Pacific City, 21058 Pacific Coast Hwy., Huntington Beach, 714.374.0777; Los Olivos, 8549 Irvine Center Drive, Irvine, 949.502.5998.
Lobster Roll / The Cannery
Seafood of the Pacific A boatload of lobster—a pound and a quarter of claws and tail butter-poached to tender perfection, dressed in lemon-Old Bay aioli, topped with chives and micro celery—crowns a top-split, gorgeously burnished butter bun. The roll is in a class of its own; the fries beguile, too. Bonus: Newport Harbor views. It's pricey at $32. 3010 Lafayette Road, Newport Beach, 949.566.0060.
The Southern Samurai / Buttermilk Fried Chicken
Before it closed last year, fine-dining spot Three Seventy Common in Laguna Beach hosted an acclaimed fried-chicken dinner once a month. When owner-chef Ryan Adams opened fast-casual Buttermilk, he brought the recipes for the chicken and sides with him. This sandwich enhances the bird with chile oil, soy mayo, mint, cilantro, lettuce, carrot, jalapeño and fresno chile. It glistens with chile oil and soy mayo; the oil and two peppers leave a nascent glow. The samurai reference may be Japanese, but the mint, carrot and jalapeño suggest a bánh mì. The white-bread bun is a foil for a Mt. Fuji of flavor. 238 W. Chapman Ave., Orange, 714.941.9124.
Roasted Porchetta / Braizen Sexy Sandwiches
Pork butt and belly—rolled and roasted with herbs and garlic, then grilled to sensuously crispy perfection—join arugula, hazelnut-and-parsley gremolata and lemon aioli on a toasted French roll. The jus for dipping would be superfluous were it not so tasty itself. All that said, it's a toss-up which is better, the roasted porchetta or the guajillo pork torta: slow-cooked pork simmered in red guajillo chile sauce and topped with avocado crema, pickled onions, shredded cabbage, cilantro, tomato … and a little melty cheese skirt! This newcomer is tucked behind a DoubleTree by Hilton near the airport. 31 E. MacArthur Crescent, Santa Ana, 657.900.2040.
Clobster Grilled Cheese / Slapfish
Cholesterol hell—or heaven! Thanks to lots and lots of lobster, copious chopped crab, monumental mozzarella and a buttery grilled brioche, this ode to grilled cheese attacks arteries with gleeful abandon. Natural-cut fries are dusted with an Old Bay-paprika mix and served with tangy "fry sauce." 211 Broadway St., Laguna Beach, 949.715.0460; 19696 Beach Blvd., Huntington Beach, 714.963.3900; 3405 E. Imperial Hwy., Brea, 657.444.2291; 4249 Campus Drive, Irvine, 949.748.1174; 2727 Newport Blvd., Newport Beach, 949.723.0034.
Green Curry Chicken Breast / Ocean at Main
It's a tale of two cities—Bangkok and Barcelona—and Michelin-starred mentors; think Thai chicken dip with a soupçon of Spain. Seared breast and leg are simmered with lime- and garlic-laced curry and served on toasted ciabatta with pickled shallots, napa cabbage and piquillo aioli. It had its origins decades ago as an after-work treat in the kitchen with chef Joël Antunes. "I have been dreaming of this sandwich for years," says chef Craig Strong, who opened his spot after nine years at Studio at the Montage. 222 Ocean Ave., Laguna Beach, 949.715.3870.
Brisket Meatloaf Sandwich / Left Coast Brewing Co.
The brisket holds together as a loaf tenuously at best, but the statuesque construct—of Gouda cheese, crispy shoestring onions, barbecue sauce and dill pickles on Texas toast—is a flavor bomb that not even double-thick toast can contain. There's a panoply of housemade beers and spirits to sample—the new spot is a brewery and distillery as well as a restaurant. Order a flight. Contemplate a sip. Contemplate a bite. Repeat. 6652 Irvine Center Drive, Irvine, 949.387.5170.
Salmon Smørrebrød / Lido Bottle Works
Served at a harborside hideaway, this open-faced, fork-and-knife affair is among the county's most elaborate constructs. Inspired by Denmark's bread-and-butter feasts—smørrebrød means "butter and bread"—it lives up to those repasts' reputation as being equally decadent and decorative. Faroe Island salmon stars; chef Amy Lebrun finishes it with horseradish-dill aioli, frisee, radish, watercress, cornichons, Espelette peppers and sour rye. Lido Marina Village, 3408 Via Oporto, Suite 103, Newport Beach, 949.529.2784.
La Española Bocadillo / Pueblo
Tapas mecca Pueblo's porcine ode finds freshly sliced jamón serrano, house-smoked wild-boar shoulder, the Spanish salami salchichón, marinated manchego, pickled zucchini, fresno aioli and piquillo-dressed arugula on fresh-baked ciabattastyle bread from Bread Artisan Bakery. Sharing the plate, a sweet foil to the saltiness of the charcuterie, is a marvelous red quinoa salad with golden raisin relish. Served at lunch Mon.-Fri. SoCo and OC Mix, 3321 Hyland Ave., Costa Mesa, 714.340.5775.
Tuna Veggie / Moulin Bakery Café
Wrapped sandwiches are piled high in a display case at these upmarket meccas for francophiles. Think of this one as a niçoise sandwich: House-made soft bread, as streamlined as a UFO, barely conceals tuna prepared with shallot-chivehot-sauce aioli and topped with slices of hard-boiled egg, red onion and Kalamata olives. You'll also find anything else you might need for a piquenique français. 48 Forest Ave Laguna Beach, 949.715.6990; 1000 N. Bristol St., Newport Beach, 949.474.0920.
Pho Rib-Eye Dip / AnQi Bistro
Decor alone—a sexy setting with backlit bar and 60-foot glass catwalk over a running stream—makes every meal at AnQi feel like a special occasion, and that extends to the lone sandwich on its innovative Cal-Vietnamese menu. Rib-eye is joined by caramelized onions and a three-cheese fondue of manchego, Swiss and age white cheddar on a baguette and served alongside a bowl of chef "Mama" Helene An's pho broth for dipping. South Coast Plaza, 3333 Bristol St., Costa Mesa, 714.557.5679.
Chicken Scaloppine Sandwich / Bistango
Imagine an Italian entrée on a sandwich, and meatballs might come to mind. Business magnet Bistango offers a more upmarket creation: Grilled chicken on a bed of wild arugula is layered with prosciutto di Parma, fontina cheese and tomatoes, finished with lemon caper aioli and served on artisan bread. Enjoy it in any of several spaces filled with paintings. 19100 Von Karman Ave., Irvine, 949.752.5222.
Anchovy Bocadillo / Vaca
Anchovies, mozzarella, piquillo-pepper confit, red-pepper jam, green olives…. The presumed outsized flavor profiles of these ingredients paired with Amar Santana's outsized personality might suggest otherwise, but here the chef is all modesty. You only think you don't like anchovies—these tender lovelies are nothing like what you might get in a supermarket or put on a pizza. Santana, near-winner of Bravo's Top Chef Season 13 and the recent Korean Food Battle on South Korea's Olive TV, also heads up Broadway by Amar Santana in Laguna Beach and the Hall Global Eatery at South Coast Plaza, opening in summer. 695 Town Center Drive, Costa Mesa, 714.463.6060.
Pulled Pork / The Q Joint
Would we recommend a sandwich you can get only one morning a week? At a farmers market? In the case of the 12-hour-hickory-smoked, marinated and spice-rubbed pulled pork shoulder with slaw on garlic Texas toast at the Q Joint booth—the only sandwich on the menu among entrées including USDA Prime brisket—the answer is a resounding yes. Let's just say pitmaster Benny Chang comes with some serious credentials: His advanced certifications and awards include barbecue Judge of the Year for California. The Irvine Farmers Market takes place Saturdays from 8 a.m. to noon. Mariners Church, 5001 Newport Coast Drive, Irvine, 714.573.0374.
Yellowfin Tuna Steak Sandwich / The Catch
Fried avocado? Wonderful. Tempura avocado? Even better. Blackened, perfectly rare sashimi-grade ahi—the main ingredient—is also a lure. But what sets the hook are the sesame slaw—which brings crunch and pairs with the sesame brioche bun—and tasty togarashi aioli. The Catch, near major sports and entertainment venues including Angels Stadium and the Honda Center, features ales and lagers from sibling Taps Fish House & Brewery. 2100 E. Katella Ave., Anaheim, 714.935.0101.
The Mighty Zeus / Meat Up BBQ
This spot in the northernmost reaches of the county specializes in traditional hickory-smoked barbecue fare—including what may be the county's best brisket—but owes much of its popularity to untraditional creations such as a Greek-god-almighty smoked-tri-tip sandwich with fried cherry peppers, tapenade, garlic aioli and feta cheese on a french roll. Twenty-five beers on tap include lots of hoppies, hazies and sours. 1450 N. Kraemer Blvd., Placentia, 714.983.7558.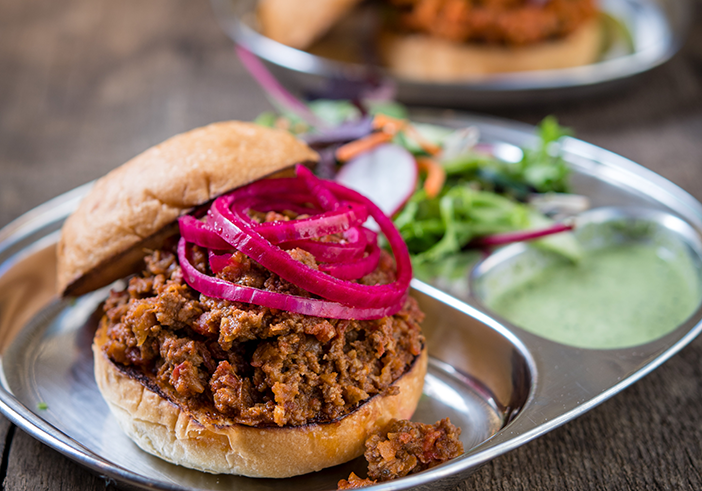 Packing Them In: Anaheim Packing House
No single address in the county boasts more intriguing sandwich options than its premier food hall. 440 S. Anaheim Blvd., Anaheim.
The #1 / Black Sheep GCB
Black Sheep's siblings include Anaheim's Center Street Cheese and the Cheese Shop at Costa Mesa's OC Mix. The GCB stands for Grilled Cheese Bar. Pick the right seat, order the #1, and the OC Baking marble-rye bread will be buttered and pressed to burnished perfection before your eyes. On it are goat cheese, caramelized onions, roasted tomatoes and an arugula pesto that conjure an idyllic pastoral scene that any sheep would gladly inhabit. The #1 is the bar's most popular item. 714.533.3850.
Spicy Andouille Po'Boy / Georgia's
Georgia's is known for its crispy-fried, herb-seasoned, cornmeal-coated chicken—arguably the county's best—and soulful sides (that cornbread! those collard greens!). But on the sandwich list, that chicken is bested by the andouille po'boy: spicy sausage with a snappy casing served on a French roll with a flavor-forward trio of dill pickles. garlicky mayo and Dijon mustard plus shredded lettuce and tomatoes. Heavenly cornbread comes out first. 714.906.1900.
Keema Pav / Adya
Chef-owners Shachi Mehra and Sandeep Basrur showcase creative and classic street foods of India, marrying the country's vibrant flavors and spices with the bounty of California farmers, growers and purveyors. A perfect example: spiced, minced-lamb, prettily topped with pink pickled onions on a grilled brioche roll, served with a cooling mint cilantro chutney and a lightly dressed salad. There's something special for vegetarians, too: the pav bhaji, a Bombay-style spiced veggie sloppy Joe. 714.533.2392.
Panini: Italian Pressed Sandwiches
Torta de Lengua / Old Vine Kitchen + Bar
A Mexican panino? Chef Mark McDonald was trained in southern Italy, leads culinary tours to Southern Italy, and teaches at the Italian Culinary Institute in Italy. And yet … his menu offers a Mexican-inspired tender slow-cooked beef-tongue sandwich with tomatillo salsa, pickled serrano chile and pepper jack cheese on potato focaccia by OC Baking. Enjoy them with red-skin potato chips with Cajun seasoning or beautiful mixed greens topped with aged pecorino cheese and balsamic vinaigrette. Old Vine has just moved next door (into the former Ecco Pizzeria space) and added a bar. The Camp, 2937 Bristol St., Costa Mesa, 714.545.1411.
Reuben / SideDoor
A Jewish panino? In an English gastropub? SideDoor, marking its 10th year, shares a replica of England's oldest inn with venerated Five Crowns, which not so long ago marked its 50th. The Reuben was invented in the early 20th century by either a Jewish Lithuanian-born grocer in Omaha, Nebraska, first name Reuben, or a German- Jewish owner of a New York City delicatessen, last name Reuben. Pastrami, sauerkraut, Swiss and Russian dressing on rye are the classic but here Gruyère and pressed sourdough rye make a richer match for craft ales such as Old Speckled Hen or sour Green Flash Nouveau Tarte. 3801 E. Coast Hwy., Corona del Mar, 949.717.4322.
Panini / Davio's Northern Italian Steakhouse
Back to basics—an Italian panino! Never mind that the menu employs the American-ish plural for the singular, panini are about proportions: Too much bread, no good. Too much meat, no good. But crusty pressed focaccia, buttered on every conceivable surface, filled with paper-thin, almost lasciviously yielding soppressata, mortadella and capicola, Provolone and a one-two punch of tapenade and whole-grain mustard? Too good! The new spot is the first West Coast location of an East Coast chain with nine other locations. Pick your setting: white-jacket service in the dining room, or the popular bar. Irvine Towers, 18420 Von Karman Ave., Irvine, 949.477.4810.
Photo credits: Crispy Brussels Bánh Mì courtesy Sessions West Coast Deli. Adya and SideDoor by Anne Watson.