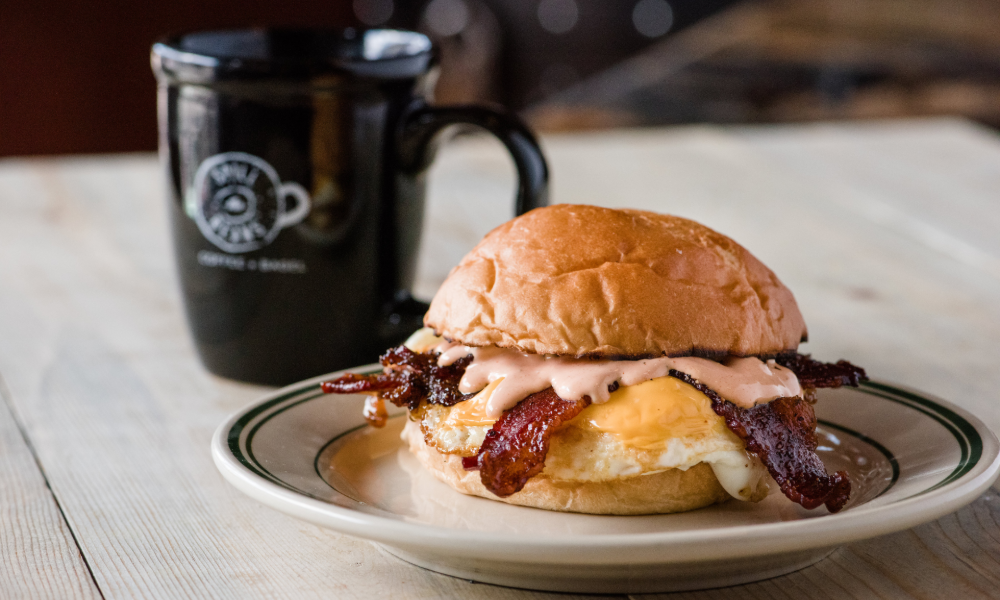 What lies between two slices of bread (or a bun) is the stuff of culinary dreams when you're a sandwich lover in San Diego. And the county has no shortage of offerings for every taste, from straightforward sammies with fresh local ingredients, to swoon-inducing gourmet sandwiches. (Lobster and fontina BLT, anyone?) We rounded up some of our current favorites.
Ian Kensington, romantic bistro Bleu Boheme cares about its croques—recently debuting a new menu of five renditions dedicated to this decadent French sandwich of sorts. Our favorites: the traditional Croque Madame, with ham, gruyere cheese, dijon, Mornay sauce and a fried egg atop brioche; and the Croque Provençal, with tomatoes, black olive tapenade and Mornay sauce. Ils sont très délicieux.
For another breakfast-inspired sandwich fix, Spill the Beans in the Gaslamp is more than a coffee and bagel shop, and The San Dieggo is proof. A fried egg is topped with pepper jack and American cheese, a choice of bacon or sausage, and cayenne aioli—all stuffed between a homemade sweet bun.
Cafe 222 downtown is an institution when it comes to breakfast, but the quirky-cool eatery's lunch menu is an underrated gem (there's an entire "Melted" section!). Go for a traditional grilled cheese or patty melt, or hold out for the hearty grilled turkey Rueben with sauerkraut, Swiss cheese and house-made horseradish-Russian sauce—all griddled on rye bread.
For fans of French dip and steak sandwiches, these beauties don't disappoint. Stake Chophouse & Bar in Coronado makes a roasted New York French dip that is simply divine—layers of tender New York strip steak, horseradish, Comté cheese and grilled onions on a crusty baguette, with a side of rosemary-garlic jus to dip. Known more for its East Coast-style pizzas, Surf Rider Pizza Co. has locations across town, but we love their Ocean Beach outpost in particular, paired with the signature Surf Rider Cheesesteak—a recipe hailed from co-founder Hilary Rossi's native Pennsylvania. The secret is in the sauce—Surf Rider's famous jalapeño-infused "Dirty Sauce"—and in the hearth-baked sandwich rolls shipped in from Amoroso's Baking Company in Philadelphia. And skip breakfast to take on the San Diego Cheesesteak sammie served at The Smoking Gun—shaved top sirloin, caramelized peppers and onions, and poblano-beer cheese sauce drizzled over a house-baked, open-face bagel roll.
Seafood lovers will swoon over the salmon sandwich at Point Loma Fish Shop— teriyaki-marinated salmon with house tartar sauce, pickled red onions and lettuce on toasted sourdough or a wheat torta. Enjoy it with a local craft beer on their dog-friendly patio. At C Level, pair their sinful lobster and fontina BLT—served on jalapeño-cheddar sourdough with a side of sherry-infused lobster bisque— with dreamy views of San Diego Bay and the downtown skyline.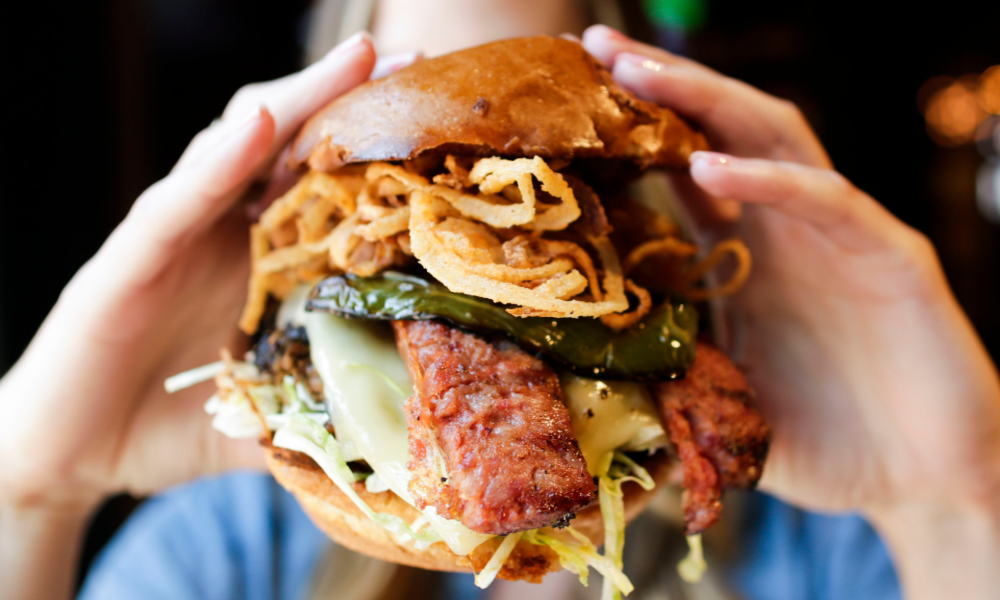 Partial to pork? The panko-crusted pork Milanese sandwich at Cucina Urbana—with prosciutto, pickled pepper relish and lemon aioli—is a top-seller on the lunch menu. At Caribbean-inspired Miss B's Coconut Club, the El Cubano is stellar—a Cuban roll filled with grilled pork, smoked ham, gruyere, bread-and-butter pickles, spiced mustard and garlic aioli. Hemingway's Cuba comes to life at Havana 1920, a classic Cuban restaurant and bar featuring live Latin music and more than 150 rums. Its Cuban sandwich is equally authentic, made with slow-roasted pork, ham, Swiss, pickles and mustard. And living up to its name, The Ultimate at Wood Ranch BBQ & Grill packs a powerful punch with Carolina pulled pork and much more. The sheer height alone of this beast makes it difficult to pick up, but if you can manage, be rewarded by layers of Carolina slaw, Double R Ranch brisket, Tillamook Swiss, grilled kielbasa, charred jalapeño and crispy onions piled on a toasted brioche bun.
And carnivores don't get to have all the fun. Vegans will delight in the BBQ Jackfruit Sandwich at Union Kitchen & Tap in Encinitas—braised jackfruit, smoked cherry barbecue, baby kale slaw and crispy sweet potato on caramelized onion bread. In Oceanside, Masters Kitchen and Cocktail offers its locally sourced Buffalo Cauliflower Sandwich—a house-made cauliflower "steak," vegan "cheese," lettuce, tomatoes and Frank's RedHot buffalo sauce served on brioche. Carnivores won't even miss the meat.
All images are courtesy photos.