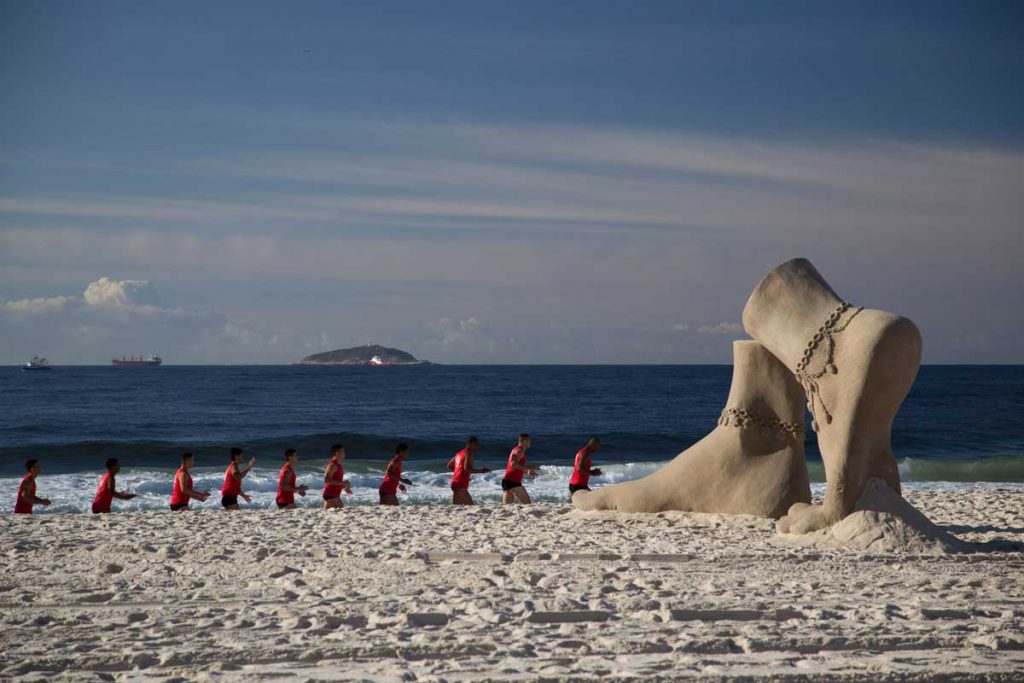 Rio follows Paris and NYC as the third "I Love You"-film destination.
A talent-laden omnibus in which nearly no one delivers his best (not even close), Rio, I Love You continues the path of diminishing returns charted from 2007's generally likable Paris, Je T'Aime through 2009's tough-to-swallow New York, I Love You. The only people sure to love this concoction are those working for Rio's tourism bureau, which may well have picked the camera's vantage points for many lush and lovely overhead shots of the city's distinctive terrain. A slew of respectable actors and filmmakers will pique interest at theaters, but word-of-mouth will not help with longevity, and some of the directors involved may silently pray Netflix doesn't encourage their fans to add this mishmash to a viewing queue.
Paolo Sorrentino kicks things off on a sour note with a vignette whose only obvious connection to his filmography is that it concerns an elderly man whose wife (Emily Mortimer, in a performance that's beneath her) is much too young for him. Before treating what may be a quasi-murder/suicide as comedy, the pic finds dubious hilarity in "Mrs. Nobody," an elderly woman who chooses to be homeless for the fun of it. Mercifully brief — though short enough we fear there may be more of this storyline to come — it ends with the woman convincing her grandson to shake off his middle-class desire for shelter and clean up with her under a waterfall.
Further head-scratching moments include Vincent Cassel playing a sand-sculptor in what feels like an artsy Mentos ad (director: Fernando Meirelles) and an elderly waiter (actually a vampire) who slays the prostitute he loves and then leads an impromptu samba parade. The latter episode, by Sang-soo Im, is at least one of few parts of the film — however weird it is — that seems to have emerged from an actual artist, as opposed to a collective of caipirinha-dulled screenwriters spitballing ideas before heading down to the beach. Another of those is the section written and directed by John Turturro, in which he and Vanessa Paradis play lovers at the end of a relationship: Their stagey encounter is more Brooklyn-via-Broadway than Brazil, but it has some potential before it veers off and becomes a music video starring Paradis.
Unforgivably, music is most often a bland add-on here, with limp ballads slathered over half-baked interactions in the hope we won't notice how few really romantic encounters we're seeing. A nice pas de deux between two ballet dancers, who whisper their way through a relationship crisis while onstage, is an exception (Carlos Saldanha, directing an Elena Soarez script). But in a city so closely identified with both the electric sexuality of its perfect beach bodies and the delicious ache of saudade, Rio, I Love You offers shockingly little romance or sex appeal.
Production company: Conspiracao Filmes
Distributor: Screen Media Films
Cast: Emily Mortimer, Nadine Labaki, Harvey Keitel, Vincent Cassel, John Turturro, Vanessa Paradis, Jason Isaacs, et al
Directors: Vicente Amorim, Guillermo Arriaga, Stephan Elliott, Sang-soo Im, Nadine Labaki, Fernando Meirelles, José Padilha, Carlos Saldanha, Paolo Sorrentino, John Turturro, Andrucha Waddington, César Charlone
Screenwriters: Various
Producers: Joshua Skurla, Pedro Buarque de Hollanda, Dan Klabin, Denise Gomes, Leonardo M. Barros
Executive producers: Emmanuel Benbihy, Oliver Kwon, Eliana Soarez, Edu Tibirica, Ariel Elia, Marcos Tellechea, Ricardo Rangel, John Lyons
Directors of photography: Ricardo Della Rosa, Yves Sehn
Production designer: Daniel Flaksman
Costume designer: Marcelo Pies
Editor: Vicente Kubrusly
Composer: Celso Fonseca
Casting directors: Laura Rosenthal, Jodi Angstreich, Maribeth Fox, Rosa Fernandes
In Portuguese and English
R, 109 minutes
Source: Hollywood Reporter