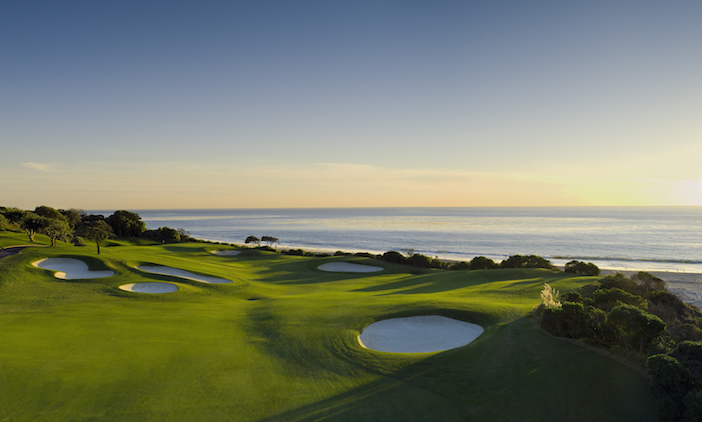 You know these holes are great when you see them. You confirm they are great when you play them—though you may not always be able to say exactly why they're great. Aesthetics and natural beauty are factors—but golf courses from Newport Beach to Nantucket feature beautiful holes that aren't great holes. And courses from Anaheim to Atlantic City have interesting holes whose beauty don't take your breath away. Great golf holes are eye candy and brain food—and they're excellent for beginners or experts.
By Brian Robin, adapted from WHERE Orange County magazine
Strawberry Farms Golf Course
Hole No. 10 / 369 Yards / Par 4
For some reason, short par 4s are often considered the best holes on a course. Maybe it's because so many of them make a player think—never mind that many golfers don't like to think.
Here's what they think about on this short but beautiful par 4 in Irvine: Do you want to hit with an iron or hybrid off the tee and deal with a longer approach shot and fairway bunkers? Or pull out the driver and avoid all of that? Using the driver brings into play the reservoir, which runs along the left side of the hole and out of bounds on the right side until the hole doglegs left. The reservoir stays in play, as does a large bunker, should you yank your approach left to a diamond-shaped green that slopes back to front.
The vista of the hills behind the hole is postcard-worthy; in fact, the views at every juncture and in every direction are the best on the course, which is owned by former Angels third baseman Doug DeCinces.
Anaheim Hills Golf Club Hole
No. 15 / 357 Yards / Par 4
You're standing on the tee, 100-plus feet above the fairway with a commanding view of the clubhouse and about half of the golf course, when you hear rustling in the bushes behind you. It might be a rabbit. Or it might be a hawk who just found a rabbit—and flies away with his prey right over the hole you're about to play. The fauna plays through at Anaheim Hills.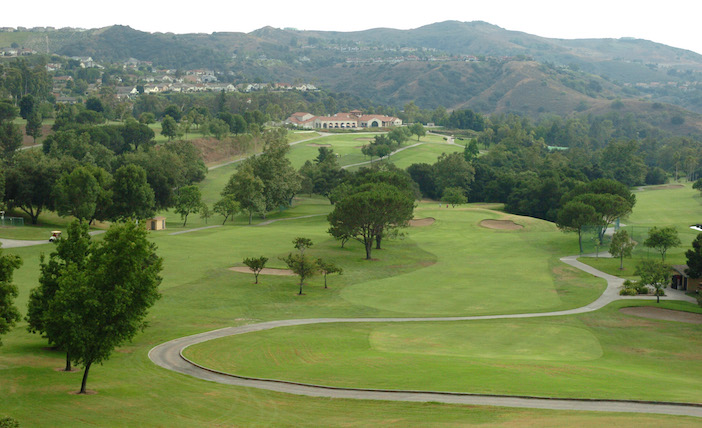 But back to that striking view—and the options the hole's dramatic elevation presents to golfers.
To best play this hole, advises Cameron Carr, Anaheim Hills general manager, the average golfer should take a 3-wood or hybrid, hit it straight and let gravity do the rest. "For most people, that leaves a 100-yard shot into the green, which doesn't sound tough. But if you hit it bad to the right or long to the left, you're dead," he says. Why? "The trees on the left and the lake on the right." A small two-tiered green awaits. "This hole is all about the scenery," Carr adds.
Monarch Beach Golf Links Hole
No. 3 / 315 Yards / Par 4
Yet another short par 4, this one in Dana Point. Here's one you can drive, you think. Here's an easy birdie, you think. And here's Monarch Beach general manager Eric Lohman to disabuse you of both notions.
"You'd think it would play pretty easy," Lohman says. "But you have to hit a precise layup 215 yards, then hit a 100-yard wedge shot downhill, and downwind to a green with slope and three pin placements about the size of a VW Beetle—so it's hard to get it close. It's the shortest hole out here, but it kicks my butt every time I play it."
Trying to drive the hole requires a blind tee shot over trees, and a hill, to a deceptive green where your lone chance of getting the ball close is to land it short and have it run up on the green. The less adventurous, and more intelligent, play: a long iron or hybrid to the dogleg left, then a wedge to the green, which is framed by a bunker and mounds.
Airmail all of that with your wedge and you're literally on the beach—Salt Creek Beach. It's a hole that requires thought, execution and no small amount of luck to walk away with a par 4.
[et_bloom_inline optin_id=optin_12]
Pelican Hill Golf Club/North Course
Hole No. 17 / 558 Yards / Par 5
Aside from the stunning view of the Pacific Ocean from the tee box, the genius of this Tom Fazio-designed, dogleg-right hole in sumptuous Newport Coast is simple. It is a true risk-reward hole that provides options and choices on every shot, starting at the tee. The closer you flirt with the right side, the easier it is to reach the green in two—and the easier it is to find a yawning fairway bunker or the lake it flanks.
Conquer that challenge and you're faced with another choice: Attempt a difficult second shot over a canyon and miss the two bunkers right of the green? Or lay up and flirt with the nest of fairway bunkers short of the canyon?
The safe play off the tee is to aim left and hit into the fairly expansive fairway. That, however, brings the fairway bunkers and canyon into play on your second shot.
"It makes you think," agrees Glenn Deck, Pelican Hill director of instruction. "On a good tee shot, you have to make a decision. If you miss, that easy par or birdie all of a sudden turns into a big number.
"It's all about angles on this hole," he adds. "Which one do you want to approach? How aggressive do you want to be?"
Pelican Hill Golf Club/South Course
Hole No. 13 / 131-108 Yards / Par 3
One of the best and most distinctive par 3s in Southern California—and not just because of the picture-perfect view of the Pacific Ocean to Laguna Beach that greets you at the tee box and never lets go.
Fazio designed this hole with two greens, bisected by a massive bunker that, from the tee box, looks like the Sahara as it wraps around the back of both.
The hole may be short, but your shot better not be, lest you find that bunker. The views are long, but your shot better not be, lest you find the back of that bunker. On either green.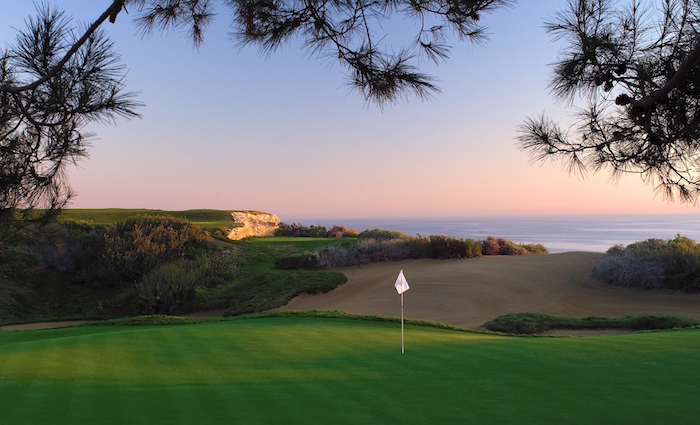 "It's breathtaking and it's unique," Deck says. "One day, you play one green, the next day, you play the other. But the beauty of this hole is that if you hit a good shot into [the green], you have a very good chance to make birdie. But if you miss the green, you're going to walk away with a bogey almost every time. Distance control is the key to playing the hole well."
The wind on the Newport Coast adds to the challenge. You can play this hole 10 times and play it 10 different ways, Deck says. That's the definition of a great golf hole—never mind the views.
Tustin Ranch Golf Club Hole
No. 11 / 165 Yards / Par 3
Here's an example of a hole that's in your head the moment you step onto the grounds. You'd think that playing a gorgeous hole with an island green, a fountain and two waterfalls framing it all would
put you in a good frame of mind.
You'd be wrong.
"You could have a great round going and be standing on the tee box, looking at all the water there, and thinking I have to have a par or, at the worst, a three-putt bogey, or my round's destroyed," says James Spadoni, Tustin Ranch general manager. The course hosts member-guest tournaments with a shotgun start and whoever starts on No. 11 always complains, he says.
There's only one safe strategy: "Hit for the middle of the green. Where you're at in your round determines how you play this hole."
That's because you're dealing with a back-to-front sloping green, where a back pin mandates one extra club and a front pin mandates discretion not to aim for it—and the latter is a sucker's pin with the water looming nearby.
"It's a make-or-break hole for your round," Spadoni says.
Monarch Beach photo courtesy of Monarch Beach.