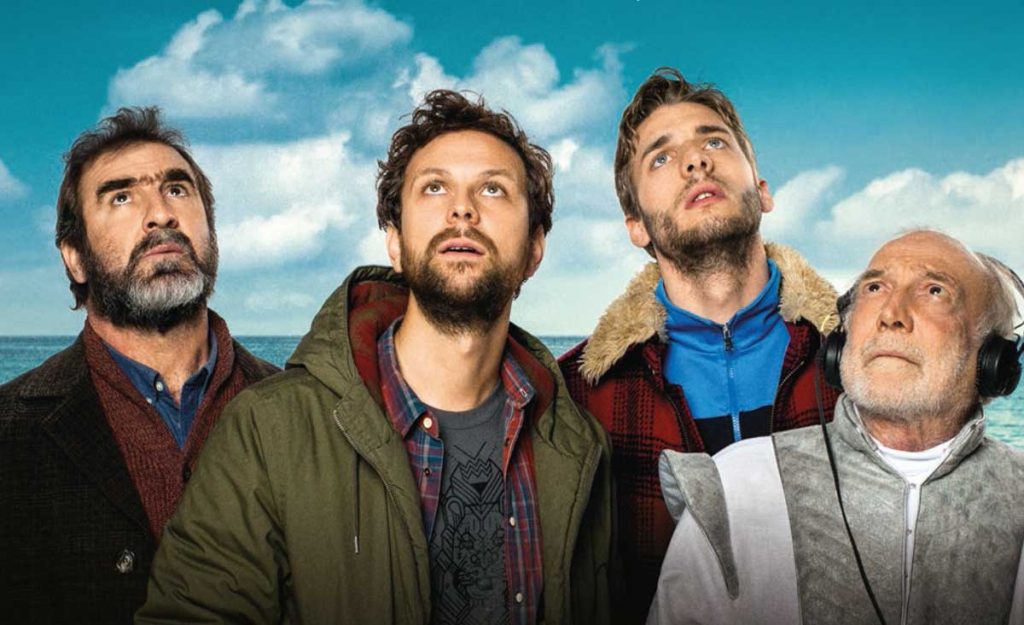 Vimala Pons, Pierre Rochefort and former soccer star Eric Cantona team up for Sebastien Betbeder's fourth feature.
With nearly a dozen shorts and four features (plus a fifth one already in the can), the prolific writer-director Sebastien Betbeder is probably the closest thing France has to a Sundance-style indie filmmaker. For his latest offbeat dramedy, Marie and the Misfits (Marie et le naufrages), he's crafted a bittersweet love triangle around rising Gallic star Vimala Pons (The Rendez-Vous of Deja-Vu, Paul Verhoeven's upcoming Elle), whose awkward matter-of-factness and extensive background in dance and performance probably makes her the closest thing France has to Greta Gerwig.
Together, they've concocted what may be Betbeder's most convincing work yet, with leading men Pierre Rochefort (son of the great Jean Rochefort) and Eric Cantona (the great Manchester United forward turned surprisingly good actor) playing two down-on-their-luck dudes chasing Pons' titular heroine to a picturesque island off the coast of Brittany. It's a fairly classic three-way affair that sometimes overdoses on quirk and runs on a bit too long, but still feels fresh compared to likeminded French fare. The director's last film, 2 Autumns, 3 Winters, received a small Stateside release from Film Movement, and this one could find a similar home with niche distributors.
An opening scene, where 30-something journalist, Simeon (Rochefort), meets a random stranger at a bar, drinks and sings karaoke with him, then finds out the man is terminally ill, sets the stage for a movie that constantly jumps between moments of euphoria and melancholy as it circles the lives of three lost souls looking for love (and perhaps a steady job).
On the way out of the bar, Simeon finds the wallet of Marie (Pons), an occasional model and failed babysitter who recently separated from her long-term boyfriend, the forlorn Marseilllais novelist, Antoine (Cantona). When Simeon meets Marie to give her back the goods, he finds himself quickly smitten, thus setting off a chain of events that will have the three of them – along with Simoen's somnambulist roommate, Oscar (Damien Chapelle) – playing cat and mouse until they all wind up on the tiny Ile de Groix, where a loaded gun and a freaky old pop star (Andre Wilms) add even more zaniness to the mix.
If the story heads in a linear direction, Betbeder fills it with tons of digressions and asides, including three breakneck flashbacks where each character narrates their life story to the camera. While Simeon's is a somewhat classic tale of a 30ish drifter with no viable career plan and a divorce to reckon with, Antoine's is by far the weirdest, plunging us into the writer's obsession with electromagnetic hypersensitivity, to the point that he ruins his relationship with Marie by sleeping at night in a handcrafted wooden box.
Cantona plays such scenes absolutely straight-faced and offers up the film's most endearing performance, while Rochefort and the ebullient Pons are terrific as two wayward underachievers who will hopefully find solace in each other's arms. Chapelle is also memorable as a DJ trying to create a "sad song that you can dance to," with his sleepwalking antics offering up a clever homage to the Paranormal Activity series.
Tech credits are solid for what feels like an intimate, well-honed production, even if Betbeder stretches his luck with a running time that outstays its welcome by about ten minutes. A trippy score by electro-pop artist Sebastien Tellier recalls the synth vibes of recent French flicks like Girlhood and You and the Night, including a closing number that allows all the protagonists to come together in a dreamlike sequence of celebratory dance.
Production company: Envie de Tempete
Cast: Pierre Rochefort, Vimala Pons, Eric Cantona, Damien Chapelle, Andre Wilms
Director, screenwriter: Sebastien Betbeder
Producer: Frederic Dubreuil
Director of photography: Sylvain Verdet
Production designer: Lionel Acat
Costume designer: Anne Billette
Editor: Francois Quiquere
Composer: Sebastien Tellier
Casting director: Laure Cochener
Sales: Alpha Violet
In French
104 minutes
Source: Hollywood Reporter