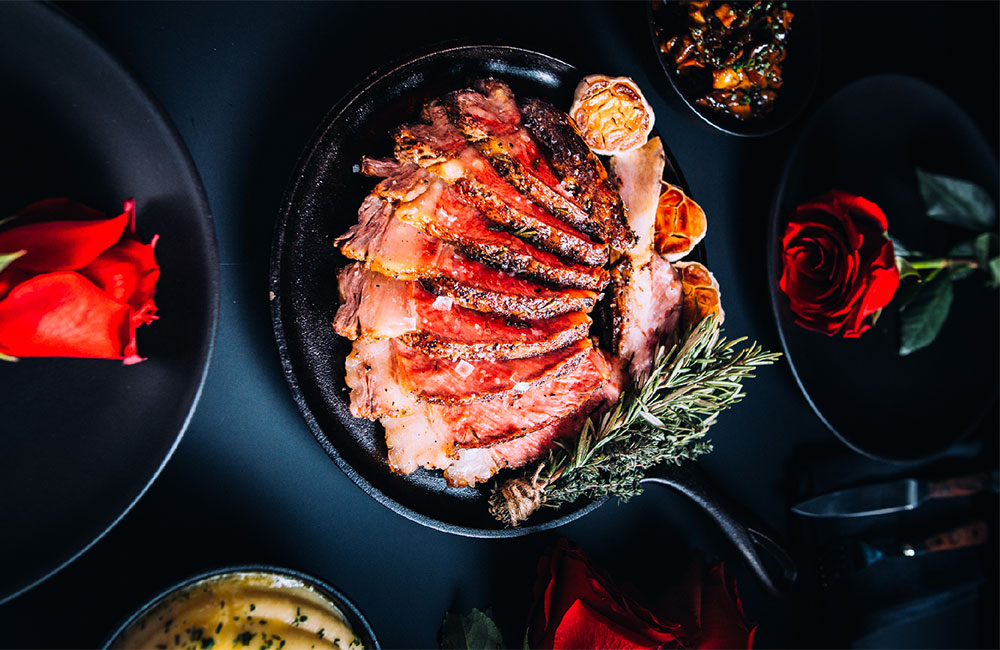 Woo your beloved (or treat yourself) with a delicious meal or delightful sweets from these L.A. restaurants
Save yourself the stress of concocting an out-of-this-world Valentine's Day menu (and making a mess in the kitchen) with help from our local restaurants. Not only will you be helping yourself, but also these businesses during these trying times—two birds, one stone! Ranging from romantic formal feasts to picnic-worthy meals to-go and sweet treats, here's our picks of places to preorder from or dine at this Valentine's Day.
Note: Call or check websites for pandemic-related updates and to confirm hours of operation before visiting venues as they can change without notice.
FORMAL FEASTS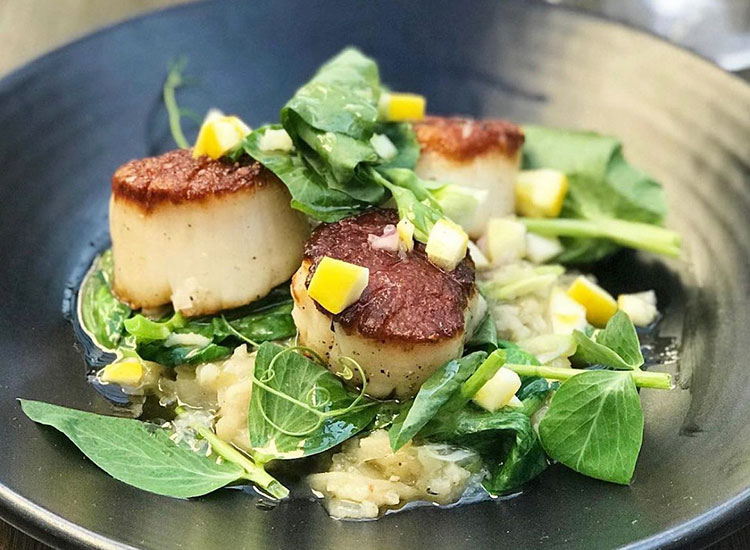 A.O.C. | Takeout, Delivery
Preorder by Feb. 7. Award-winning chef Suzanne Goin presents a decadent four-course Valentine's Day celebration for two at A.O.C. Restaurant and Wine Bar. Start with lobster, crab and shrimp Louis followed by potato gnocchi. The main course is your choice of diver scallops with risotto carbonara, sugar snaps, pea shoots and Meyer lemon (pictured); slow-roasted wagyu tenderloin with chanterelles, crispy farro and sauce au poivre; or chanterelles and grilled asparagus with farro, black rice, mustard greens and Meyer lemon crème fraîche. Finish it off with pastry chef Shannon Swindle's chocolate opera cake for two with letterpress dark chocolate, Belize cacao ganache, almond praline and Griottines cherries. Inquire about special caviar service and Valentine's Day cocktails. $75+ per person. 8700 W. 3rd St., L.A., 310.859.9859.
Jar | Outdoor dining, Takeout
Preorder by Feb. 10. Chef Suzanne Tracht of the critically-acclaimed modern American chophouse designed a romantic prix-fixe dinner for two to enjoy at home. The menu includes Norwegian halibut with celery root puree, New York steak with Pancetta or roasted Jidori chicken with English peas. Whatever your taste, all dinners finish with a tempting dessert of red velvet raspberry cake, chocolate delice with chocolate custard and praline crunch, or chocolate-covered strawberries. For families, there's also dinner for four available that includes a choice of apps and Suzanne's signature braised short rib with star anise. And don't forget the bubbly! Preorder by Feb. 10 at 8 p.m. for pick-up on Feb. 14, 3-8 p.m. $95 per person, $325 for four. 8225 Beverly Blvd., L.A., 323.655.6566.
Preorder by Feb. 10. After tons of inquiries from guests and locals, The Langham Hotel has created a special version of their signature Afternoon Tea just for Valentine's Day. Valentine's Day Tea To-Go features Langham blend tea, 4 mini-sandwich selections, 5 exquisite mini Valentine's Day desserts and freshly-baked scones with lemon curd, Devonshire cream and fruit jam. All items come beautifully packaged to-go in a Langham pink takeout box. Preorder by Feb. 10 at 5 p.m. on OpenTable for pick-up on Feb. 12 and 13, noon-2 p.m. $65 per person. 1401 S. Oak Knoll Ave., Pasadena, 626.568.3900.
Available Feb. 11-14. Create the ultimate fine dining experience right in your home with Finishing Gourmet's Valentine's Day for two—delivered directly to you! The menu includes options for add-ons ranging from Regiis Ova caviar service to Urbani black truffles and grilled Atlantic lobster. Menu highlights include Massive Shrimp "In Love" Cocktail or 39-ounce bone on ribeye steak USDA Prime 30-day dry-aged with red wine bordelaise. Sweets for your sweet are just as rich and decadent: chocolate dipped long stem strawberries with 24K gold accent or "Bleeding Hearts Pavlova"—a blood orange curd with red rose petals. $295. 911 N. Sycamore Ave., L.A., 866.634.6474.
Redbird | Outdoor Dining
Feb. 11-14. Chef/owner Neal Fraser is serving up a celebratory three-course dinner in Redbird's three beautifully appointed outdoor dining rooms with optional wine pairings by Redbird/Vibiana wine director Josh Wibbenmeyer. Each course has several delicious options that are designed to please every vegetarian, pescatarian or meat lover in your life. Start off with a beet gnocchi, a Maine lobster chawanmushi (a traditional Japanese egg custard appetizer), winter citrus and endive salad, or a grass-fed beef tartare. Main options range from smoked tofu with fried wild rice to a more adventurous bacon-wrapped saddle of rabbit. And to round out your dining experience, the chef has prepared a garden lemon custard with raspberry and orange sable, s'mores bar with feuilletine (crispy French crepe) crunch or a tropical vacherin with mango creme diplomat and passion guava gazpacho. $138 dinner, $74 wine pairing. 114 E. Second St., L.A., 213.788.1191.
Akasha | Outdoor Dining, Takeout, Delivery
Feb. 12-14. In celebration of Valentine's Day and the 13th anniversary of Akasha's opening, Akasha Richmond has created an expansive menu with a variety of gift options available for purchase as well. The holiday menu includes signature cocktails like the "Blood Orange Love Potion" or the "Old Fashioned Hanky Panky." For dinner specialties, enjoy dishes such as the Champagne & pea risotto; lamb shank osso bucco; and ora king salmon. The holiday continues with the "morning after" specialities to enjoy the next morning. Outdoor dining hours are 5:30-9:30 p.m. For takeout, preorder 24 hours in advance of desired pick-up time between noon-7:30 p.m. 9543 Culver Blvd., Culver City, 310.845.1700.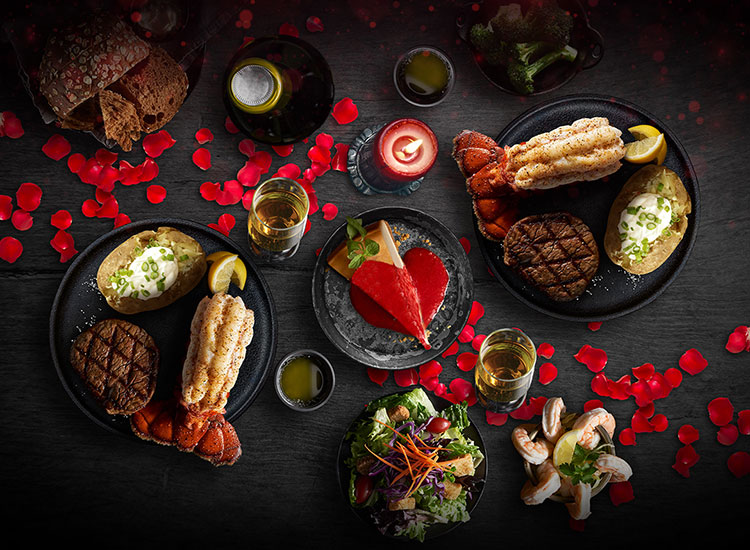 Available Feb. 12-14. Elevate your Valentine's Day (or weekend) dinner with Black Angus' exclusive holiday to-go pack ($99). The special features two 6-ounce filet mignon, two lobster tails, one appetizer to share, four classic sidekicks, one dessert to share, molasses bread and two prosecco splits. Orders can be placed on the website for takeaway or curbside pick-up. Don't forget to take advantage of Black Angus' half-price bottles of wine deal, which includes half-off on any bottle of wine with the purchase of an entree. Multiple locations.
Preorder by Feb. 12. The Front Yard is channeling the smooth love of Marvin Gaye with its two Valentine's Day takeout options. The "Ain't No River Wide Enough" meal for two ($119+) offers a filet mignon and lobster risotto paired with a bottle of Mumm Napa Brut. The "Ain't No Mountain High Enough" meal for two ($179+) pairs the wagyu filet and lobster risotto with a bottle of Veuve Clicquot, and includes an additional side of bacon-cured diver scallops. To start, each meal option comes with a golden beet and baby spinach salad and to finish a chocolate mousse cake with fresh berries. Orders must be placed by Feb. 12 at 8 p.m. Pick-up from Feb. 13-14, 4:30-8:30 p.m. The Garland, 4222 Vineland Ave., North Hollywood, 818.255.7290.
Lucques | Takeout, Delivery
Preorder by Feb. 12. Suzanne Goin has created decadent a la carte offerings with caviar service and irresistible desserts for two. So go ahead. Make the evening memorable by beginning with a caviar presentation of Russian Osetra caviar with blinis, gaufrette potatoes and classic garnishes. Whether it's the Torchio Pasta al Forno with wild mushrooms or the herb-stuffed whole fish or grilled Wagyu ribeye, main course options include something for everyone—vegetarians, pescatarians as well omnivores. Whatever your pleasure, finish the feast with a dark chocolate devils food cake, passion fruit meringue pie or a platter of Valentine's chocolates and confections. Pick-up and delivery available Feb. 13-14, 1-5 p.m. 345 N. Maple Drive, Beverly Hills, 310.800.1789.
Madre's | Outdoor Dining, Takeout
Preorder by Feb. 13. Madre is offering a dinner for two including two appetizers, two entrees, one dessert, and two cocktails. Highlights include mole verde, Coloradito and Tarta de Nicuatole for dessert. The full menu can be found on ChowNow. Available at all locations. Order via Tock, ChowNow, email or call the restaurant.⁠ Orders must be placed by Feb. 13 at 9 p.m. for pick-up on Feb. 14, noon-9 p.m. $95 package; add the Besitos de Mezcal flight for an additional $28. Multiple locations.
Available through Feb. 14. Share a romantic evening at home with your loved one courtesy of Baltaire. The Valentine's Day package for two includes dishes such as ahi tuna poke with yuzu ponzu, mache and endive salad, garlic and herb dauphinoise potatoes and roasted baby vegetables. Choose from mains like prime filet mignon and lobster or blue crab crusted chilean sea bass and finish the night out with strawberry chocolate tart and chocolate dipped strawberries. The package is made complete with your choice of Laurent-Perrier La Cuvee Brut or Joseph Swan RRV Pinot Noir. If that isn't enough to fill you up, an a la carte menu is available. Advance order suggested. Valentine's Package is available while supplies last. Available for pick-up on Feb. 13-14, noon-5 p.m. $220 per package. 11647 San Vicente Blvd., L.A., 424.273.1660.
PICNIC WORTHY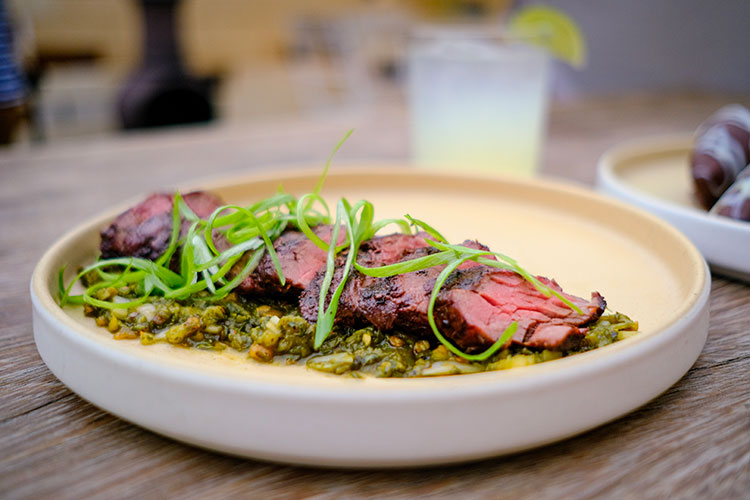 Hermanito | Outdoor Dining, Takeout
Preorder by Feb. 14. Sawtelle's bar-forward, neighborhood Mexican restaurant is celebrating Valentine's Day with a tasty special to feed two to three people. Enjoy dishes such as seafood ceviche, your choice of protein and a tres leches cake. Order through the restaurant's website or Toast. Orders can be placed in advance or day of. $99 for the special; add on Lo Fi Spritz Kit for an additional $50. 2024 Sawtelle Blvd., L.A., 424.465.9029.
Destroyer | Pick-Up, Delivery
Through Feb. 14. Michelin-starred chef Jordan Kahn has curated the ultimate Valentine's Day picnic box ($55) that includes three types of artisanal cheeses—Midnight Moon, Fiscalini Cheddar and Humboldt Fog—and a curated selection of house made delicacies ranging from lemon thyme elderflower honey and cranberry red currant jam to a mini baguette and a slice of chocolate devil's food cake. Other delectables add-ons are also available for order. Available for pick-up or local delivery from Feb. 12-14. 3578 Hayden Ave., Culver City, 310.360.3860.
Through Feb. 28. Sushi delivery concept Krispy Rice presents a Valentine's Day-themed bento box that is a complete meal featuring a few signature dishes. Having a romantic night in with your one true love? Go with "The Soulmate Box" ($55) which comes with two of each item: handroll, cut roll and Krispy Rice of your choosing—plus nigiri and edamame. The "Hold My Handroll" ($45) comes with five different handrolls, four Krispy Rice dishes and edamame. For those with a lighter appetite or going solo this year, there's the "Plenty of Fish in the Sea Box" ($40) which comes with one of each item (a selection of handrolls, cut rolls, Krispy Rices, nigiri and edamame). Available to order via UberEats, Postmates, DoorDash and GrubHub.
Through Feb. 28. Looking for an affordable Valentine's feast option that checks all of the boxes and is perfect for that romantic picnic with your sweetheart or quarantine pal? Look no further than Sam's Crispy Chicken's Lovebirds Combo Box ($35) which includes Sam's original crispy chicken sandwich, a spicy chicken sandwich, waffle fries, mac n' cheese, your choice of Ben & Jerry's ice cream and a slice of red velvet cake. Multiple locations.
Through Feb. 28. Umami Burger has created a special combo box in time for Valentine's Day and is making it available all month long. The "Umami & Chill" Valentine's Day Combo Box ($45) includes Umami cheeseburger, Umami double truffle burger, truffle fries and cheesy tots. For dessert, enjoy a slice of red velvet cake with a pint of Ben & Jerry's "Netflix & Chill'd" ice cream. Multiple locations.
SWEET TREATS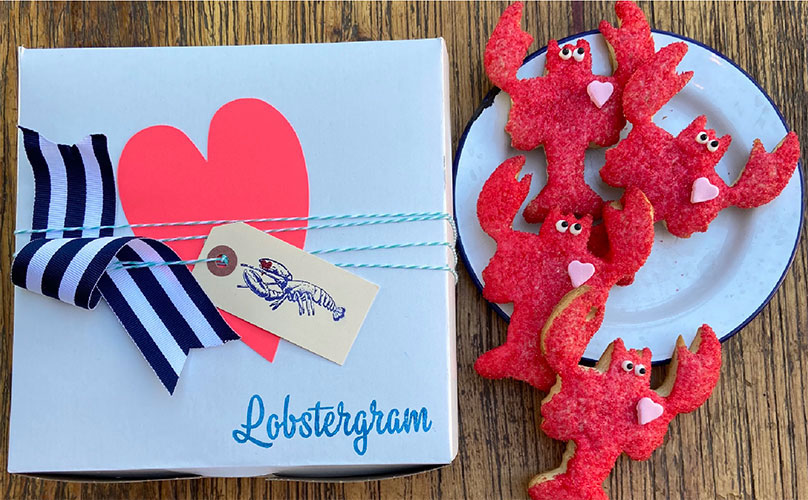 Feb. 8-14. Neighborhood favorite from "Top Chef" winner Brooke Williamson and husband Nick Roberts is offering an adorably sweet pastry that is reminiscent of Phoebe from hit television sitcom "Friends." The Lobstergrams ($25) include four sugar cookies in a decorative box with a blank card for customization and make for a perfect gift for the lobster in your life. Another fun option are the "Cheap Date Cupcakes" ($4), chocolate cake with vanilla buttercream, conversation heart candy and a tiny beer can. Call to preorder the themed desserts. 119 Culver Blvd., Playa del Rey, 310.683.5019.
Preorder by Feb. 9. Chef Simone of female-led, BIPOC Art Delectables known for its luxury cheesecakes and couture treats using only organically grown, non-GMO ingredients has created a myriad of options to treat yourself, your sweetie, gal pal, family or friend. Choose from an elevated version of the classic chocolate covered strawberries or get a sampler of the luxury cheesecake that made them famous with their cheesecake bar experience with bubbles and edible body paint. Of course you can't go wrong with the brownie truffles with a boozy twist—fudge brownies soaked in Macallan Scotch, blended with a Macallan infused chocolate ganache and dusted in 24K gold! Preorder by Feb. 7 for nationwide shipping. Order online or call 310.654.9689. See website for pick-up locations.
Preorder by Feb. 12. For those with a plant-based sweetheart, Santa Monica's newest vegetarian cafe has the perfect treat for you to gift! Order the vegan chocolate-covered strawberries, which comes in a box of four packed with ribbon and a heart-shaped customizable card. Uplifters Kitchen has also partnered with L.A.'s favorite tearoom, Chado Tea, to offer a Rose Chai Latte using Chado's best-selling chai tea blends. Orders must be placed by Feb. 12 at 3 p.m. Pick-up available on Feb. 13, noon-3 p.m. and on Feb. 14, 8 a.m.-3 p.m. 2819 Ocean Park Blvd., Santa Monica, 424.268.4904.
Through Feb. 28. Flouring LA bakeshop and DTLA-based Vases to Vases have come together to create the ultimate Flour + Flower pop-up shop in time for Valentine's Day at the historic Hotel Figueroa. Flouring LA's Valentines Day box ($44) of delectable treats includes strawberry cake bars with pressed florals and pink crumb cake donuts, to name a few. Pre-styled dessert charcuterie boards ($120) are also available. Vases to Vases' mixed bouquets and vase arrangements offer an array of roses, orchids, gerbers and more (starting at $30). Looking to give back? Add $5 to your order and Hotel Figueroa will donate a signature Flouring LA dessert or Vases to Vases floral arrangement to a first responder on your behalf. Preorder and pick-up available every Saturday and Sunday starting at 10 a.m.; email flouringla@gmail.com and vasesatthefig@gmail.com each Thursday before your desired weekend pick-up day. Hotel Figueroa, 939 S. Figueroa St., L.A.
Photo credits: The Finishing Gourmet courtesy Wagstaff Media & Marketing. A.O.C. by Suzanne Goin. All other images are courtesy of the businesses.