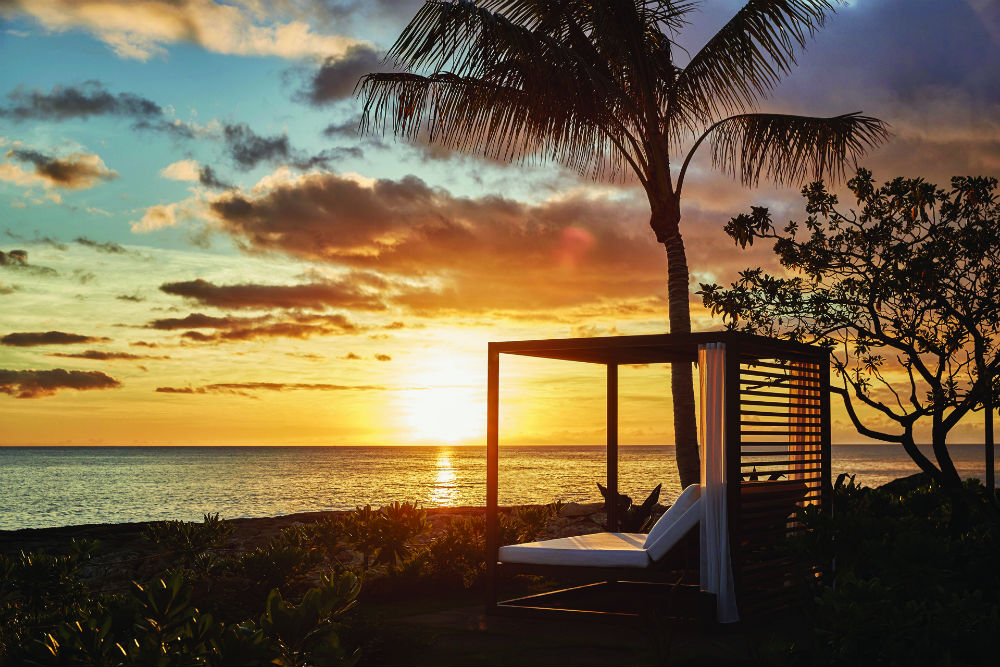 Oahu may be best known for its capital, Honolulu, a teeming metropolis, and for the North Shore, its big-wave surfing mecca. Less well known, to the west, is the Leeward Coast, offering an outer-island experience—slower, quieter, more private, sunny and dry year-round—a mere half-hour drive from Honolulu as opposed to the half-day of travel, and cost, of an inter-island flight.
The Leeward Coast is rural but for a single resort area, Ko Olina. Its properties include Disney's Aulani, which also teems, and sophisticated Four Seasons Resort O'ahu at Ko Olina, Hawaii's newest luxury hotel, on the spot where Hawaiian royalty once vacationed.
Previously operated by Marriott, the Four Seasons at Ko Olina opened in 2016. The triangular exterior remains; 85 percent of the rooms have an ocean view. The rest is dramatically changed.
The commanding presence in the lobby is the Aa—pronounced ahhh—legendary racing canoe commissioned in 1902 by a Hawaiian Kingdom prince and fashioned from a single piece of koa wood. Other historic canoes are seen throughout the hotel.
Guest rooms are now more residential, seamlessly presenting both pressed-banana-leaf headboards and marble bathrooms. The number of pools has doubled to four, one an infinity pool with luxurious cabanas overlooking the coast, another a private lap pool at the free-standing, six-story
Naupaka Spa & Wellness Center, which also has five tennis courts on the roof. Hula-esque Hanohano Lomilomi massages take place at the spa or in hales, one specifically for couples, near the Old Hawaii-style oceanview chapel. Find resort wear at Caprice boutique.
Dining options are a huge draw. The newest, Mina's Fish House—an indoor-outdoor collaboration with James Beard Award-winning chef Michael Mina opened in April. "Fish sommelier" Jared Chang, a young local fisherman, ensures bona fide line-to-table fare while providing provenance of the catch and other experience-enhancing details. Though whole fish is the focus, abalone spaghetti topped with caviar is another not-to-be-missed signature. Start with tiki cocktails in the beachy bar; the tropical If Can, Can is served in a Spam can with a little umbrella—ideal for Instagram!
Star of the dining collection is transporting Italian destination Noe. Inside are chandeliers and contemporary art. Outside are lantern-studded trees, a koi pond and a waterfall—the terrace is among the island's most romantic. Chef Ryo Takatsuka elevates housemade pasta and local seafood to produce unforgettable dishes including a deceptively simple tagliatelle with wild mushrooms and truffle and, like a Kandinsky on a plate, ahi panzanella. He pairs them with Italian wines.
La Hiki Kitchen offers locally sourced island cuisine. Curing, smoking, aging, preserving, pickling and slow cooking are the hallmarks of larger-than-life Bahamanian-born chef Simeon Hall Jr. A charcuterie board might include oxtail marmalade, house-made head cheese, pickled peppers, chicken liver pate with banana ketchup, and honeycomb. G.O.A.T. Corn—husk-roasted with onion-sriracha aioli, toasted barley, micro greens and chile lime—stands for Greatest of All Time, and nobody's arguing.
Among the more casual eateries, Waterman Bar & Grill brings the state's renowned food-truck and shrimp-shack cuisine poolside; the lobster roll is a standout.
One of the property's main suppliers is Kahumana Organic Farm, a sprawling nonprofit enterprise just up the coast that also funds transitional housing and retraining programs. The farm—with its breadfruit orchard, hydroponic microgreens and more than a few greens you've never heard of—can be toured. There's a rustic cafe, too.
Back at the resort, take advantage of complimentary equipment for the pristine beach and for ocean activities such as stand-up paddleboarding in the calm lagoon.
A new Oahu via Tesla program allows guests to explore the island in a Model X or S. A mini Tesla experience for kids features a Tesla Model S by Radio Flyer.
Artist-in-residence Welzie displays his resin surf art—sea creatures made from reclaimed surfboards—just off the lobby. Artisan-guided Wayfinders workshops include, among others, bamboo carving, lei making, wearable art weaving and sarong dyeing.
Performing arts is a rental, driver or Tesla away in nearby Honolulu.
Upcoming concerts by the Hawai'i Symphony Orchestra—founded in 1900, second oldest U.S. orchestra west of the Rockies, now under the direction of JoAnn Falletta—feature organist Cameron Carpenter Sept. 22-23, violinist Bella Hristova Oct. 27-28, cellist Mark Votapek Nov. 10-11 and pianist Conrad Tao Nov. 17-18.
Hawaii Opera Theatre presents Gounod's Romeo and Juliet Oct. 12, 14 and 16; soprano Amanda Woodbury stars as Juliet following her performance of the role at the Metropolitan Opera in New York.
There's native talent as well: Bruno Mars—born and raised in Honolulu—is at the Aloha Stadium Nov. 10-11.
Four Seasons O'ahu at Ko Olina, 92-1001 Olani St., Kapolei, Hawaii, 808.679.0079.
fourseasons.com