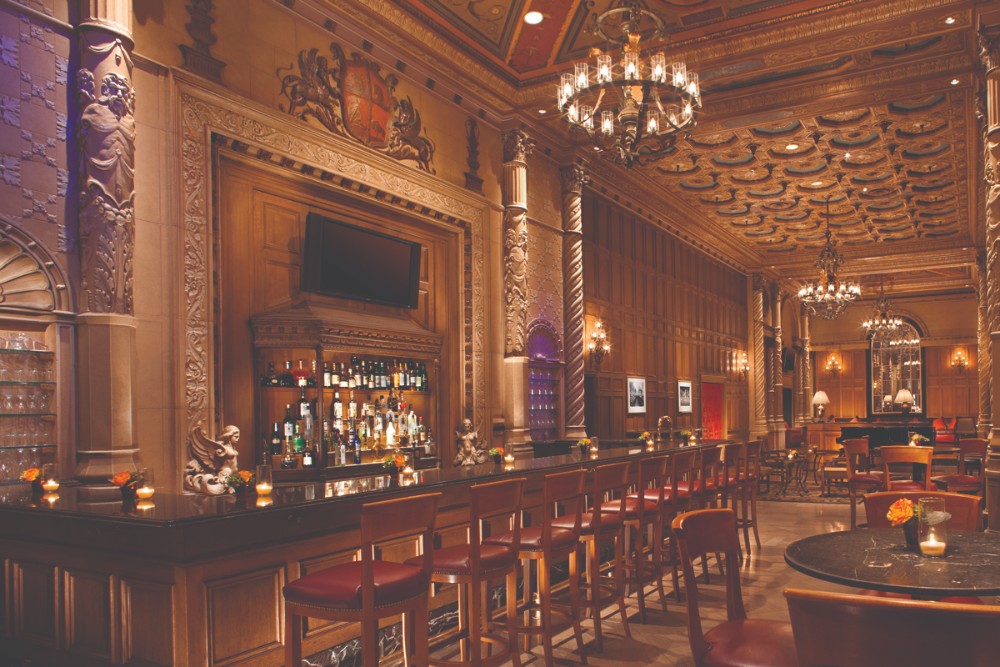 As both the background for countless classic detective movies and the site of infamous true-crime stories, Los Angeles has some shadowy secrets to share.
By James Bartlett.
This winter, TNT's I Am the Night shined a spotlight on L.A.'s hidden dark past. Retrace the City of Angels' noir history yourself at these seven shadowy stops.
Bookworms can start in Glendale, which is hosting the 40th L.A. Vintage Paperback Show. The world's largest gathering of pulpy favorites and some of the authors who scribed them, it's a treasure hunt for that elusive tale with a twist—and occasionally risque cover art. There are sci-fi, mystery and original artworks for sale too, and it's only $5 to get in. Sunday, March 24, 9 a.m.-4 p.m. Glendale Civic Auditorium, 1401 N. Verdugo Road, Glendale.
Driving through Los Feliz, gawk at the crazy/scary Sowden House. This Lloyd Wright-designed Mayan-style oddity had a secret room, was made for theatrics and, from 1945 to 1950, it was the home of Dahlia suspect (and I Am the Night villain) Dr. George Hodel. Much strangeness happened here, and the slick and shiny new Dearly Departed Tour will tell you all about it. 5121 Franklin Ave., L.A.
In WeHo, the much-missed Formosa Cafe will soon reopen after a restoration by the 1933 Group. The low-lit restaurant was partly fashioned from an old Route 66 trolley car, and its vibe is both romantic and illicit—mobsters Mickey Cohen and Bugsy Siegel were Formosa regulars. L.A. Confidential filmed in this former criminal/movie-star hangout, and there's even a resident ghost. 7156 Santa Monica Blvd., West Hollywood.
Hop over to Hollywood and check out the Noir City Film Festival, coming to the Egyptian Theatre for its 21st year. Slide into a seat, bask in the light of the big screen and check out some double features of crime flicks, genre classics, cult rarities and recent restorations from the 1950s era. March 29-April 7. Egyptian Theatre, 6712 Hollywood Blvd., L.A.
Shuffle across the boulevard to The Musso & Frank Grill for a martini. Raymond Chandler wrote The Big Sleep in the Back Room here (he even mentions it in his pages), and it's also played host to Fitzgerald, Faulkner and Hemingway. Still paparazzi-free after 100 years, Musso's has been a celebrity favorite since the days of regulars like Chaplin and Fairbanks. Nearby, at Hollywood and Cahuenga, is Raymond Chandler Square; the Pacific Security Bank building is where Chandler's private eye character Philip Marlowe had his office. 6667 Hollywood Blvd., L.A., 323.467.7788.
Moving toward downtown, you can visit colorful Echo Park Lake and watch its fountains shooting water heavenward. Its huge swan pedal boats aren't exactly undercover, but fans of the ultimate L.A. noir movie, Chinatown, know this is where private eye Jake Gittes (played by Jack Nicholson) pretended to be boating so he could spy on a man and a mysterious girl. 751 Echo Park Ave., L.A., 213.444.9445.
Finally, at the Millennium Biltmore Hotel in downtown L.A.'s Financial District, you'll find yourself in a world of glittering chandeliers and afternoon tea—but appearances can be deceptive. Fashioned in the Spanish-Italian Renaissance style with a beaux arts influence, the hotel was the last place Elizabeth Short was seen alive. The Historic Corridor gallery has a glamorous photo of her, and the opulent Gallery Bar offers the Black Dahlia cocktail in her honor. 506 S. Grand Ave., downtown, 213.624.1011.
Photo courtesy Millennium Biltmore Hotel.