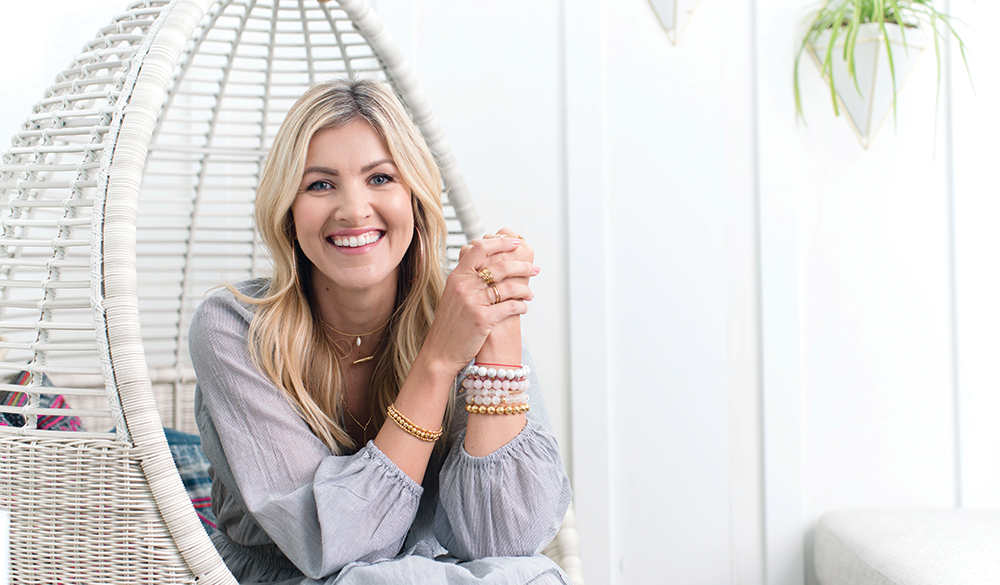 Gorjana Reidel started out making jewelry on her apartment floor in Laguna Beach. Now it's carried at 1,000 boutiques around the world—including seven of her own—and 200 major retailers.
By Kat De Angelis.
It was 2004 when Gorjana Reidel, then age 22, surmised that a 9-to-5 office job wasn't for her. Perhaps the years she'd spent as a model, traveling to countries across the globe, helped her realize how much possibility lay before her.
She applied at Neiman Marcus in Newport Beach, where the only opening was as assistant sales manager in the jewelry department—an innocuous origin story for what would become her namesake and wildly successful jewelry line.
It was there, however, that the Serbian-born beauty fell in love with jewelry. She left to work for a nearby fine-jewelry designer—where she came to another realization.
"There was fine jewelry but not much that was of quality, beautiful and approachable," Reidel recalls. "I started making a couple of pieces for myself and then for friends and family. The response was so great that we thought, Why not? Let's make and sell jewelry!"
The "we" refers to her husband, Jason. Then newlyweds, the two had met when both were pursuing marketing degrees in college. Coincidentally, both had also been modeling and acting.
Reidel began making pieces on their apartment floor. "In Serbia, I grew up with grandmothers who made everything by hand," she says. "I crocheted—it felt really natural for me to create things with my hands."
The only hitch: They had no business plan or, in fact, any notion of what to do next. Jason picked up the phone and began cold-calling local boutiques and shops.
"He called Michael Nusskern, an upscale boutique in Newport Beach, and said something along the lines of 'Hi, my wife makes jewelry; would you like to buy some?'" Gorjana recounts, laughing.
"They asked if he had a line sheet or if we were at market, and Jason hangs up the phone and says, 'So we need to figure out what a line sheet and market is.'"
A line sheet is wholesale-industry speak for a mini-catalogue that displays product images so that
buyers can easily learn about a brand. Market refers to a fashion trade show where companies exhibit their wares for prospective buyers.
The Reidels learned that, and everything else, on the fly. The pair logged more than 50,000 miles that year crisscrossing the country by car to take jewelry to shops and boutiques in Texas, New York and Florida. "During one of our power road trips, we had made it to Tampa, Florida, and I ran into a Peet's Coffee to wash my face and change my clothes, then headed straight into appointments with buyers and store owners," she says.
"We had no idea what we were doing, but we had faith that this was our path. I couldn't have done any of this without my husband."
They sought out shops that carried brands and designers they were fans of. Their connections from their modeling days also paid off. "We had both modeled for Lisa Kline, so she was one of the first to carry our jewelry line," Reidel says.
Reidel can be credited with pioneering delicate, interchangeable jewelry that can be layered to create multiple looks, all at approachable price points of $30 to $200.
"My design philosophy has always been that jewelry should make you shine and not outshine you," said Reidel.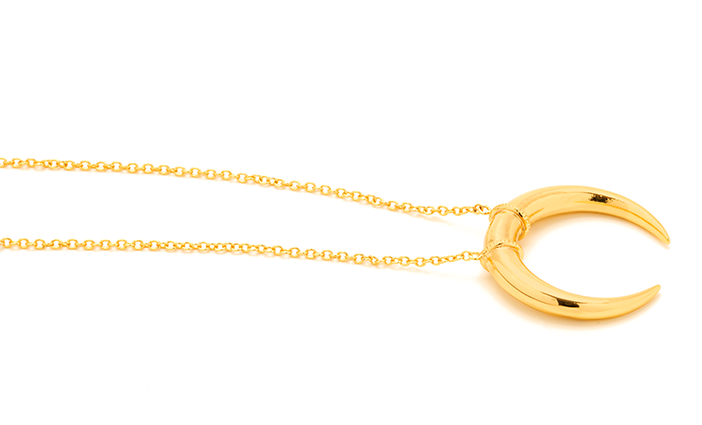 Celebrity fans include a long list of starlets and influencers, among them Bella Hadid, Keira Knightley, Jessica Alba, Jamie Chung and Mandy Moore.
Several early pieces remain top sellers. Traditionally gold or silver, the line has expanded to include gemstones such as turquoise, lapis and rose quartz for a pop of color.
A leader in the contemporary jewelry category, Reidel has enjoyed a longtime partnership with retail juggernaut Nordstrom. In 2016, she opened her first brick-and-mortar store in the couple's home base, Laguna Beach. Now there are two boutiques in New York, two in Los Angeles and two more in Orange County at Fashion Island in Newport Beach and Irvine Spectrum Center. There is also one in La Jolla and there are several more in the works, including in San Francisco and Scottsdale, Arizona.
Despite the brand's success, Reidel doesn't feel like the couple has "made it" quite yet. Though she no longer has to sketch her designs with a Sharpie on a napkin, as she did in a bar once—there are 3D renderings now—or drive across multiple states to hawk her creations, she remains a hands-on creative director overseeing a team of designers and everything that goes on in the stores. CEO Jason ensures that branding and marketing efforts are aligned.
"We are really proud of the team and the company culture that we've created," Reidel reflects. "We're grateful every day."
Carmen tassel earring photo courtesy Gorjana.