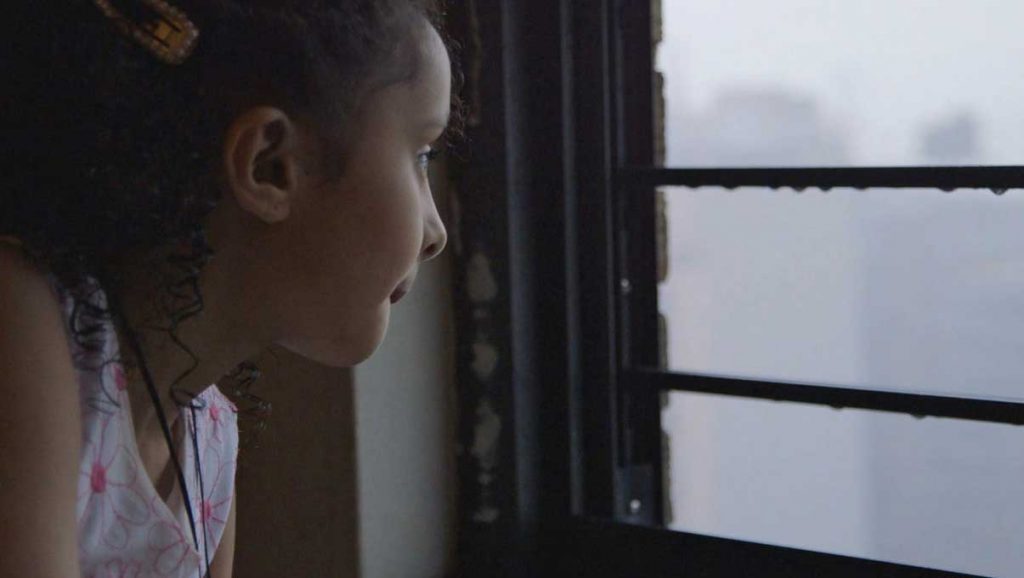 Marc Levin's documentary spotlights the dramatic contrast between the rich and poor residents of Manhattan's West Chelsea neighborhood.
Gentrification has been going on in Manhattan since the island was purchased from the Indians. But the phenomenon has only grown more acute in recent years as foreign money has poured into the area in ever increasing amounts. Marc Levin's documentary spotlights the issue by focusing not just on one neighborhood, West Chelsea, but by zeroing in on a single intersection, 10th Avenue and 26th Street. It's a highly effective microcosm that makes his documentary Class Divide, receiving a limited theatrical release before airing later this year on HBO, compelling viewing.
This is the third entry in a HBO-produced trilogy by Levin focusing on how global economic forces affect ordinary people (Schmatta: Rags to Riches and Hard Times: Lost on Long Island are the others). Here the subject is deeply personal for the filmmaker, who has lived for decades in the Chelsea neighborhood on which he is focusing and has personally witnessed its dramatic evolution.
Much of that change in recent years is attributable to the construction of the High Line, the park that was created from the elevated, decrepit railroad tracks that once served the area, formerly dedicated primarily to manufacturing. Originally resisted by most real estate forces, the High Line ironically has had the effect of, pardon the pun, elevating the neighborhood, leading to a dramatic rise in luxury apartment construction and skyrocketing rental and sale prices. (The irony that only in Manhattan could a narrow concrete strip, winding over city streets and so crowded on weekends that you practically have to walk sideways while navigating it, is unaddressed).
On the opposite sides of the intersection in question are Avenues: The World School, a tony private school for students from pre-K to the 12th grade for which tuition is over $40,000 a year, and the Elliott-Chelsea Houses, a low-income housing project with approximately 4,500 residents, a significant portion of them unemployed.
Just nearby, new apartments are being built that will cost $5 million to $13 million, featuring such amenities as car elevators and individual swimming pools. A real-estate developer practically salivates while describing the in-progress Hudson Yards project as "our Hong Kong on the Hudson!" We're informed that since 2013, almost 40% of the high-end residences in the neighborhood have been sold to foreign or anonymous buyers. Some luxury buildings get tax breaks and special zoning permission if 20% of their apartments are made affordable, with the buyers chosen by lottery. But if low-income people are lucky enough to get into them, they're often forced to go through separate entrances, sarcastically dubbed "the poor doors."
The film includes interviews with young subjects from both sides of the spectrum, including 21-year-old Brandon, who grew up in the projects and now works as a doorman, having been lucky enough to snare one of the subsidized apartments in the lottery; 22-year-old Hyisheem, who comments about his struggles, "It's not about racism, it's about classism"; 16-year-old Luc, an Avenues student who is acutely aware of the disparities between him and the young people across the street; and 16-year-old Yasemin, another Avenues student who creates an online photo diary project, "115 Steps," named for the distance between the two worlds.
But perhaps the most incisive comments come courtesy of Rosa, a feisty 8-year-old, clearly wise beyond her years, who proclaims, "I hate money! People fight over money!" It's only too bad she's not old enough to vote.
Distributor: HBO Documentary Films
Production company: Blowback Productions
Director: Marc Levin
Producers: Daphne Pinkerson, Marc Levin
Directors of photography: Mark Benjamin, Sam Cullman, Daniel B. Levin, Bob Richman
Editor: Ema Ryan Yamazaki
Composer: Marc Ribot
Not rated, 75 minutes
Source: Hollywood Reporter