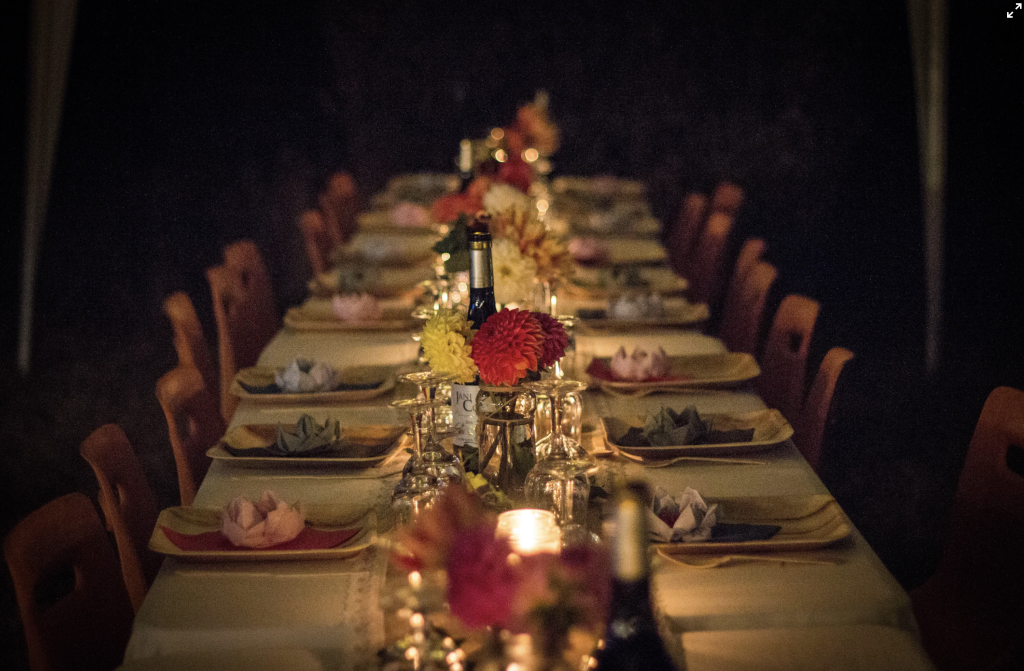 February 14th is around the corner and if you don't have your plans yet- no worries. Here are some great options for a romantic date-night experience.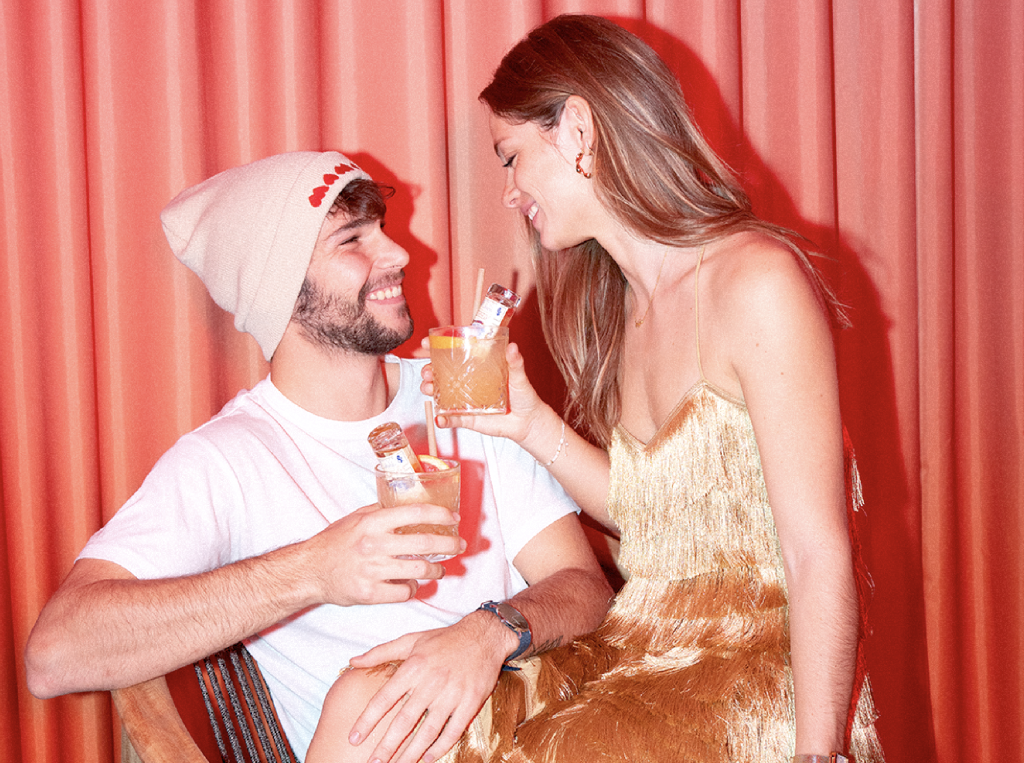 Feb. 14. MAMA Shelter LA is offering a special Valentine's Day menu that features an array of delectable dishes. Guests can indulge in fresh beausoleil oysters and Hawaiian tuna carpaccio with puff rice and truffle aioli. For the main course, diners can choose from dishes like wild mushroom risotto with kabocha squash or black bass with baby carrot, crispy yucca, and shellfish bisque. The restaurant also offers a black truffle and wine pairing to elevate the dining experience. To top off the meal, guests can enjoy desserts such as raspberry and pistachio mousse, chocolate molten cake, or lemon olive oil cake with lemon sorbet. With a menu like this, MAMA Shelter LA is sure to provide an unforgettable Valentine's Day dining experience for you and your special someone. Make reservations now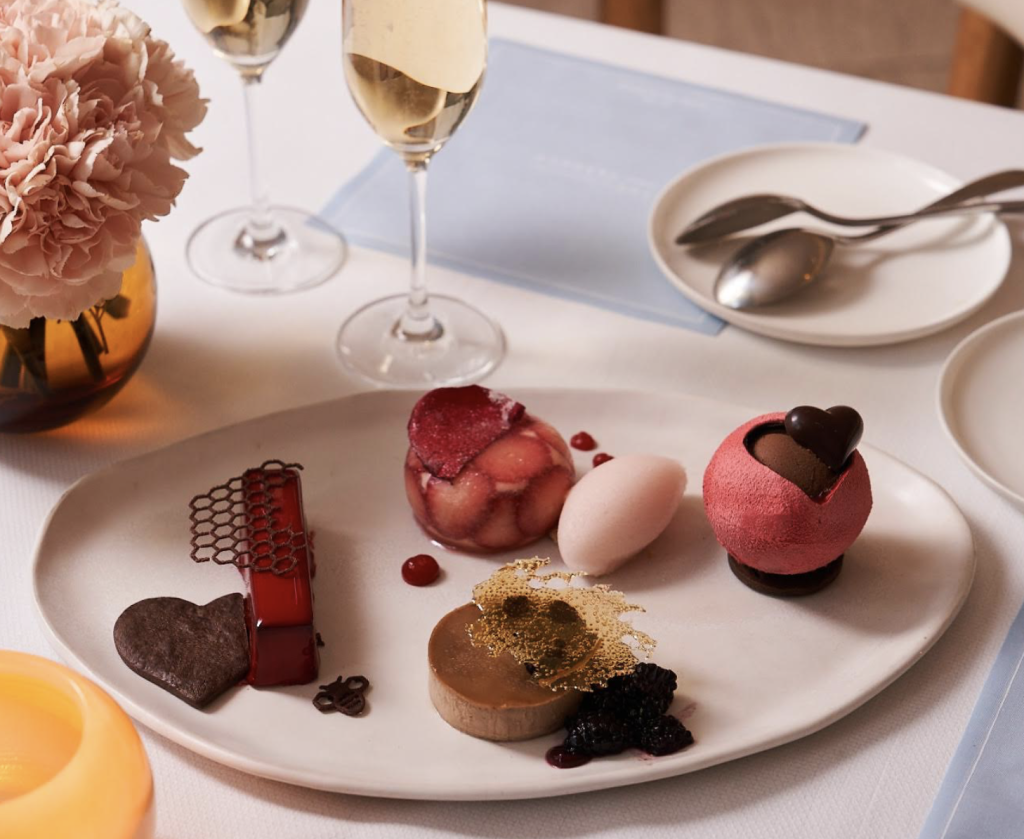 Feb. 10-14. Love is in the air at The Terrace, and The Maybourne Beverly Hills is excited to offer you a special Valentine's Day experience. Indulge in our exquisite Valentine's Day dinner menu, starting at just $170 per person. Let their world-class chefs take you on a culinary journey that will tantalize your taste buds and leave you feeling truly pampered. And that's not all – they have also putting a romantic spin on our Afternoon Tea, so you can treat your loved one to a truly unforgettable experience. Don't miss out on this special opportunity to celebrate your love in the most luxurious way possible. Book your table now at The Terrace
Feb. 14. This Valentine's Day weekend, enjoy a romantic dining experience at STK Los Angeles at W Los Angeles – West Beverly Hills with their Bubbles & Pearls special, featuring a glass of Dom Perignon paired with a delectable caviar-topped oyster. Couples looking for a memorable night out can indulge in the modern, chic steakhouse's curated menu of elevated dishes inclusive of STK's raw bar, extensive wine list, and more. Join STK Los Angeles to dine in or celebrate your love from the comfort of your home and indulge in takeout from February 11 – 14. Book your reservations or takeout orders at STKSteakhouse.com.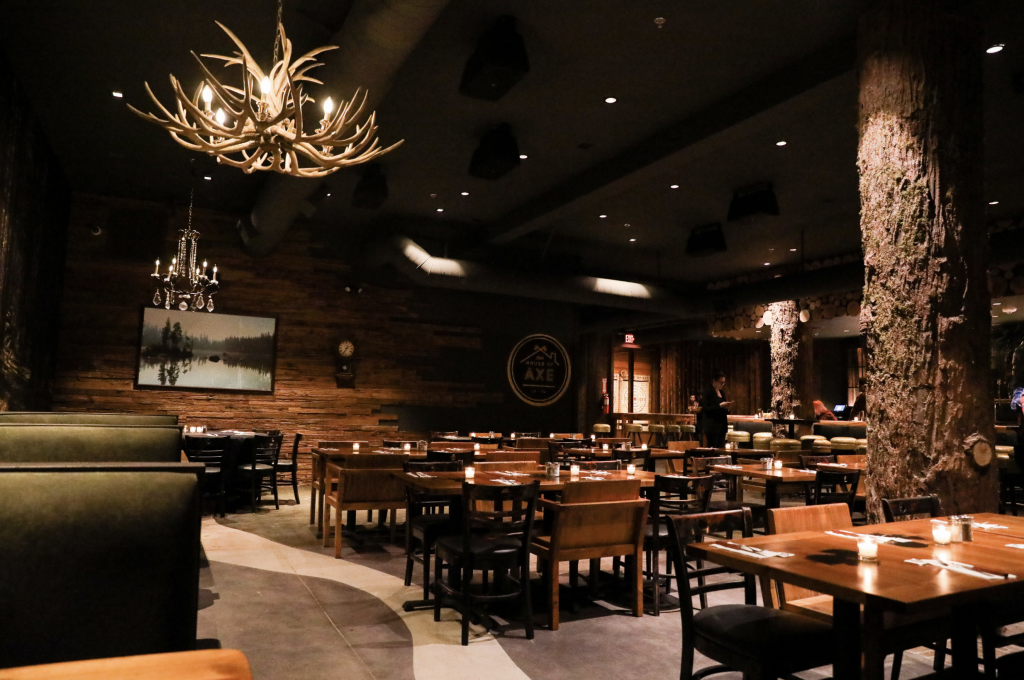 Feb. 14. Mo's is offering a special for lovebirds everywhere, which includes an appetizer, two entrees, and dessert, along with two glasses of bubbly. The menu is in line with Mo's full menu camp theme. Reservations can also be made for a 75-minute axe-throwing session through the Mo's website. $75 for two. Tuesday, 5 p.m. – 10 p.m. 611 S Western Ave, Los Angeles. Reserve Now
Feb. 14. Couples will celebrate their love with a beautiful Southern California evening at The Front Yard this Valentine's Day weekend. The Garland's signature restaurant boasts a stunning outdoor patio with romantic bistro lights and a crackling fireplace as its centerpiece. Enjoy a special Valentine's Day menu celebrating the restaurant's greatest hits and a "dinner for two" selection with highlights including an 8 oz. prime rib-eye cap and two 8 oz. lobster tails with cajun butter, andouille sausage, lemon potatoes and asparagus; or a whole Mary's chicken and jumbo prawns with roasted fingerlings, garlic butter, sweet onions and fried plantains. To round out the evening, cheers to your significant other (or Galentine's) with The Garand's first wine label, Sky Ranch Rosé, a beautiful blend that was especially curated for the hotel's 50th anniversary. Reserve Dinner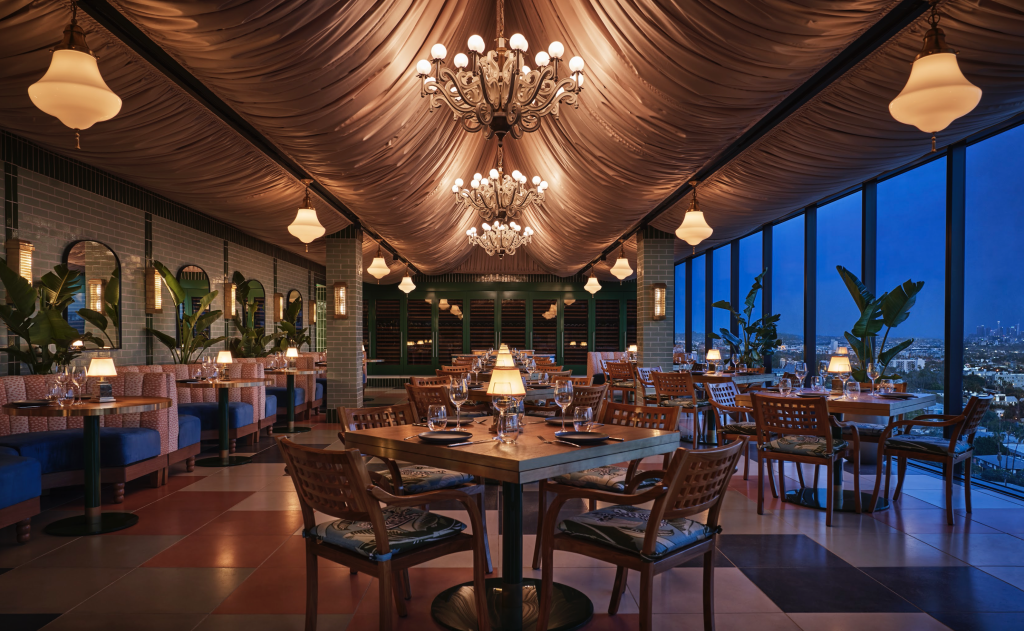 Feb. 14. Located on the rooftop of Pendry West Hollywood, take in unparalleled views of the Los Angeles skyline at Merois, boasting a romantic and inviting atmosphere this Valentines Day from 5:30 p.m. – 9:30 p.m. Dine high above Sunset as the restaurant offers with a special prix-fixe menu curated by Executive Chef Matt Dahlkemper, featuring menu items such as bluefin tuna toro with crispy rice and scallions; Kaluga caviar with green onion blinis, crème fraiche and chives; and peking duck (for two) with scallion pancakes and pear and cranberry compote. To sweeten the deal, indulge in the dark chocolate sphere for two with Sakura mousse, Lychee sorbet and Makrut lime zest. Priced at $165/person and reservations required (link here). 8430 Sunset Boulevard, West Hollywood.
Feb. 14. ‍Love is in the air at Chef Wolfgang Puck's cozy street-suede European style cafe, Ospero, located on the corner of Sunset Boulevard and Olive Drive. This Valentine's Day, indulge in an intimate prix-fixe menu of elevated dishes such as West Coast oysters, black truffle pizza, and sweet potato gnocchi, all rounded out with delicious cocktails and house-made desserts (think: rose tartlet with grapefruit marmalade, white chocolate ganache or "A Love Letter" with hibiscus-strawberry compote & vanilla mousse). Priced at $115/person and reservations required (link here). 8430 Sunset Boulevard, West Hollywood.
Feb. 14. ‍Find the perfect date night at the elegant high-end steakhouse, La Boucherie, located on the 71st floor of InterContinental Los Angeles Downtown. Offering private dining and hidden booths, you'll enjoy an intimate evening with no extravagance spared as you overlook the sprawling views of the city and enjoy a menu of high-quality meat and seafood, as well as vegetarian and vegan options. Not to mention, you'll have the luxury of choosing from an award-winning list of over 1,000 hand-selected wines. 900 Wilshire Boulevard, Los Angeles.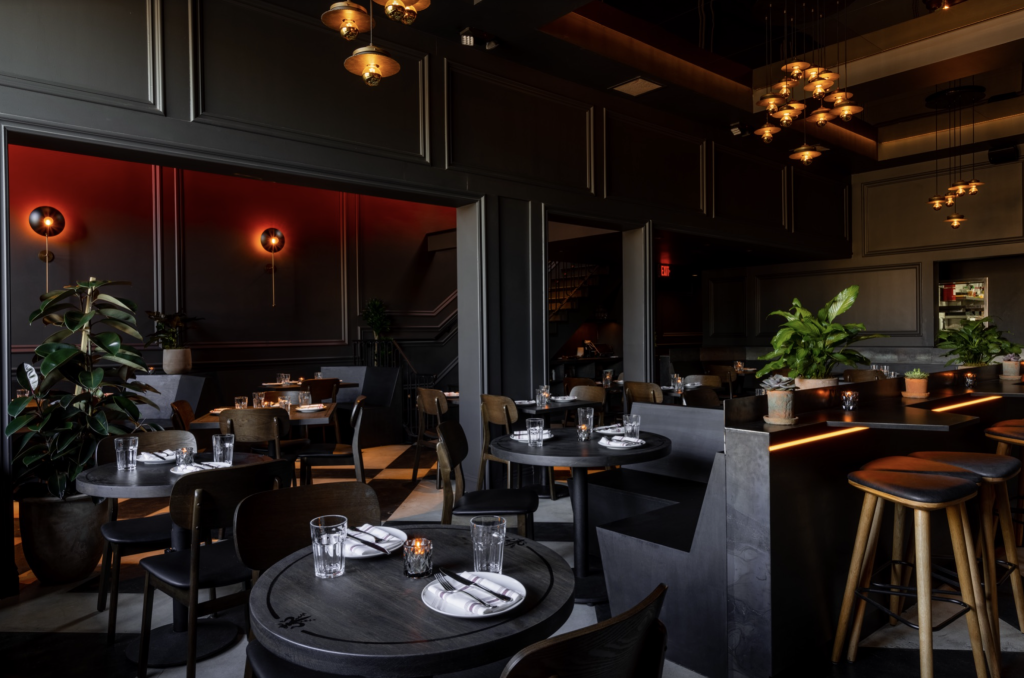 Feb. 14. Negroni is LA's latest chic bistro and bar, perfect for a romantic dinner for two. The intimate two-floor lounge and double-sided bar offer a cozy setting to enjoy Executive Chef Mark Salazar's 4-course menu, highlighting dishes like salmon carpaccio, truffle carbonara, and a sushi experience. Sip on in-house cocktails like The Incondicional while savoring a sweet ending with the red velvet cake or passion pavlova. Tuesday, 5:30 p.m. 8022 W 3rd St, Los Ángeles. Book your table now through OpenTable.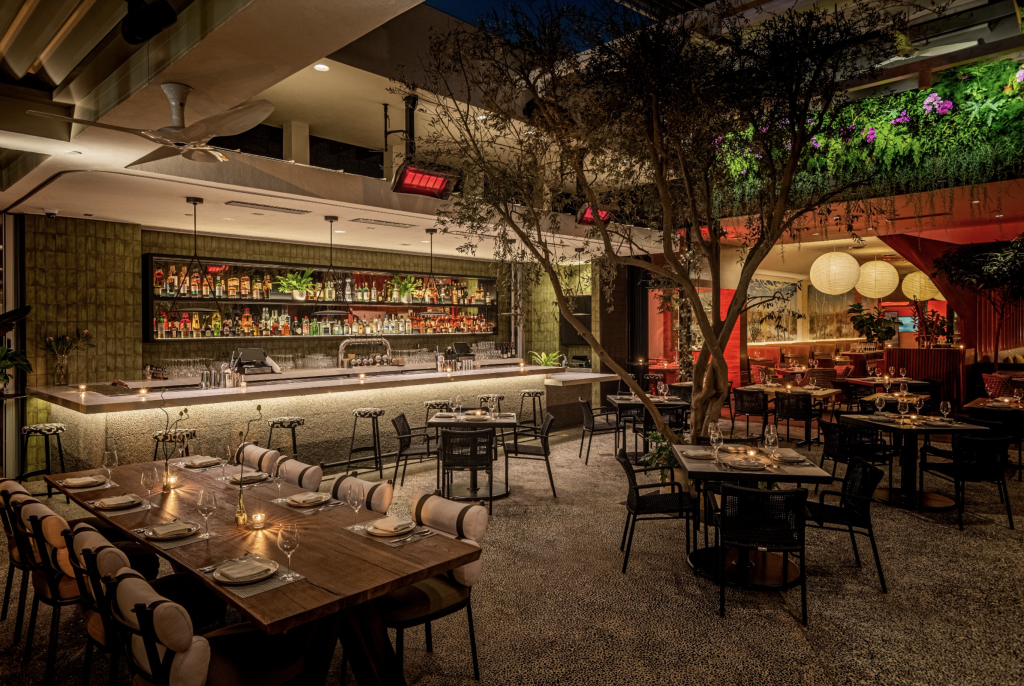 Feb. 14. Everyone is invited for a passionate night out to one of West Hollywood's most romantic, open-air restaurants, Soulmate. Have a live DJ to set the mood as you and your loved one experiencing Executive Chef Rudy Lopez's seven course prix-fixe experience ($160 per person). Lovers can expect only the most elegant dishes including, aphrodisiacs (oysters) to start, kanpachi ceviche, black truffle flatbread, uni toast, butter poached lobster, braised short rib – and to top off the meal – chocolate con fresas to finish. Soulmate's Valentine's Day prix-fixe dinner will be served on Tuesday, from 5:00 p.m. to 10:00 p.m; reservations must be prepaid on OpenTable.
Feb. 10-11. Petrossian West Hollywood will have a six course curated tasting menu over the weekend before Valentine's Day. The evening will be one seating with a caviar canapés + champagne welcome from 7 – 7:30 p.m. The menu features Petrossian favorites: caviar, smoked salmon from Paris, oysters, lobster, house made pasta with black truffles from Burgundy. To elevate the experience, Krug Grande Cuvée & Dom Perignon will be available by the glass. Friday and Saturday, for $295 per person. Prepaid reservations for parties of two to four can be made through Tock. Times vary. 321 North Robertson Boulevard (one block north of Beverly Boulevard), West Hollywood.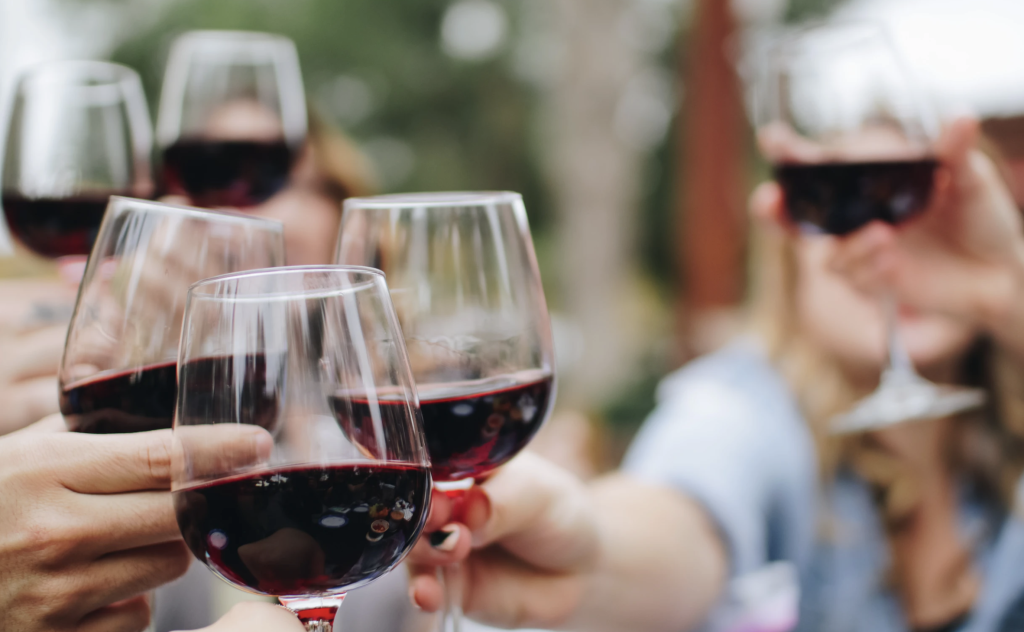 Feb. 11. On Saturday, Goodboybob is having a wine tasting event called "Boozy Bob – Wine for Lovers" at their Santa Monica location. Goodboybob's sommelier Rosemary Walker will pour four glasses from four different 'dynamic duos' of wine. Enjoy a toast with the love of your life. $25 per person. Saturday, at 12 p.m – 5 p.m. Purchase tickets through the goodboybob website.
Feb. 14. Love & Salt is showcasing an "Under the Boardwalk" themed dinner for lovers everywhere. Indulge in their regular menu along with a la carte specials while enjoying a cozy atmosphere. The menu features an array of dishes, such as their grilled bread with heart-shaped ricotta, succulent oysters with a delicate champagne mignonette, and a refreshing crab salad with juicy Cara Cara oranges and rich creme fraiche. These expertly crafted dishes are guaranteed to make a lasting impression and provide an unforgettable dining experience for you and your loved one. Book your table now through their reservation system. Tuesday, at 4:30 p.m. – 9:30 p.m. 317 Manhattan Beach Blvd, Manhattan Beach.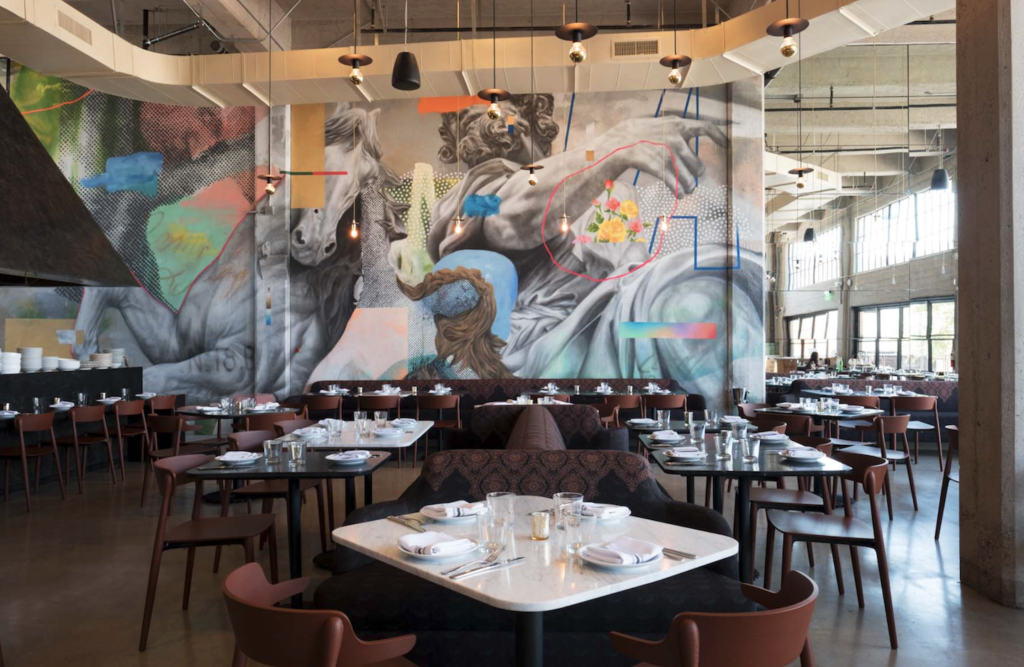 Available Feb. 11-12 & 14. Treat yourself and your loved one to a special evening of romance and fine dining at Rossonblu this Valentine's Day. Savour the taste of a delicate scallop crudo, the creamy flavors of their tagliolini pasta, and enjoy a juicy grilled wagyu zabuton steak. Don't miss the opportunity to make memories and experience the love-filled atmosphere of Rossonblu. Book at OpenTable. Starts Tuesday at 5 p.m. 1124 San Julian Street, Between 11th and 12th Street, Los Angeles.
Feb. 14. Follow the corazón to Gracias Madre for a romantic night out. At Gracias Madre's West Hollywood location, don't miss out on Executive Chef Diana Briscoe's specially curated, plant-based San Valentin prix-fixe ($185 per 2 guests) or a-la-carte menu: heirloom tomato crudo , jackfruit & poblano lettuce cups, Vieiras de Hongos y Salsa de Guajillo featuring (trumpet mushroom scallops, corn purée, peas, bacon tempeh, crispy shallots, guajillo salsa, served with corn tortillas and black beans); and a sweet ending with a cheesecake de fresas y moras. Open from 11:00 a.m to 10:00 p.m. on Tuesday, February 14th, and the San Valentin menu will be available for dinner. 8905 Melrose AvenueWest Hollywood. Reservations are highly encouraged through OpenTable or by giving the restaurant a call at (323) 978-2170.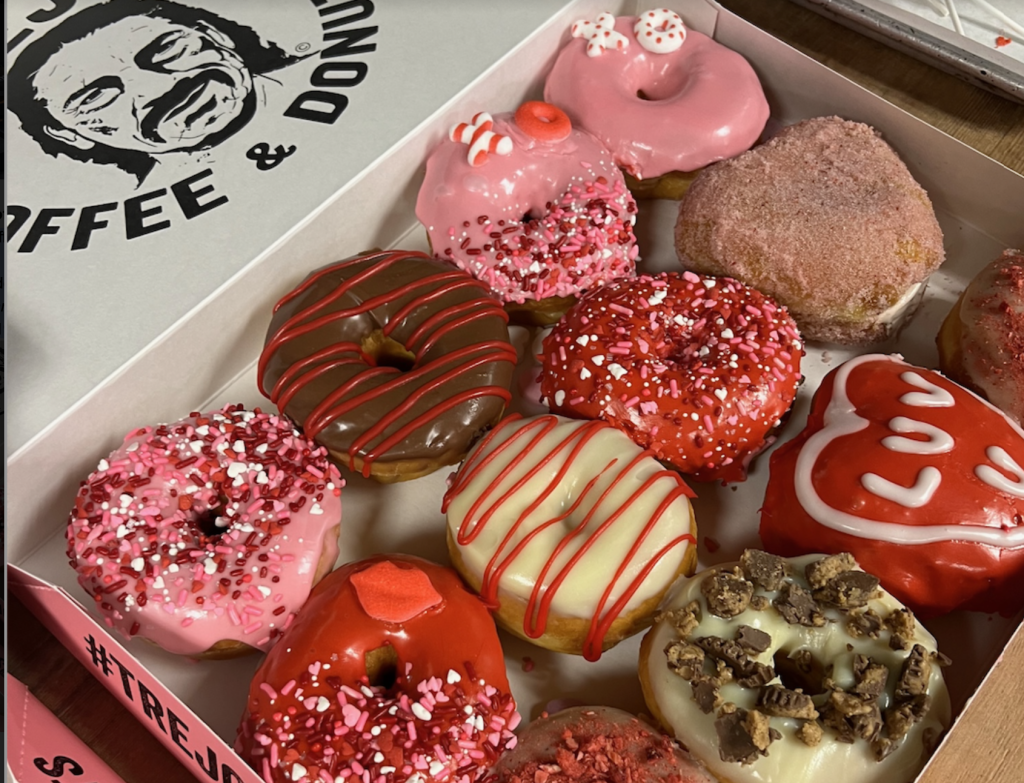 Feb. 11-12. Trejo's Coffee and Donuts is the perfect spot to enjoy a delicious treat with your sweetheart on Valentine's Day. With a range of love-inspired donuts to choose from, you're sure to find something you both love. From the Sweetie, a raised donut with a strawberry sugar coating and strawberry cream filling, to the Love You to Pieces, a raised donut topped with white chocolate ganache and Reese's Pieces, there's something for everyone. And, if you're looking to make your sweetheart's morning extra special, consider gifting the Flower of Love Bouquet – a bouquet of 6 mini heart-shaped donuts topped with red and pink buttermilk glaze, white chocolate ganache, and sprinkles. These special donuts will be available for purchase the weekend before Valentine's Day (February 11th and 12th). And, all other Valentine's Day donuts will be available from January 31st through February 19th from 7:00 a.m. to 4:00 p.m. So, why not start your day with a sweet treat from Trejo's Coffee and Donuts. 6785 Santa Monica Blvd, Los Angeles.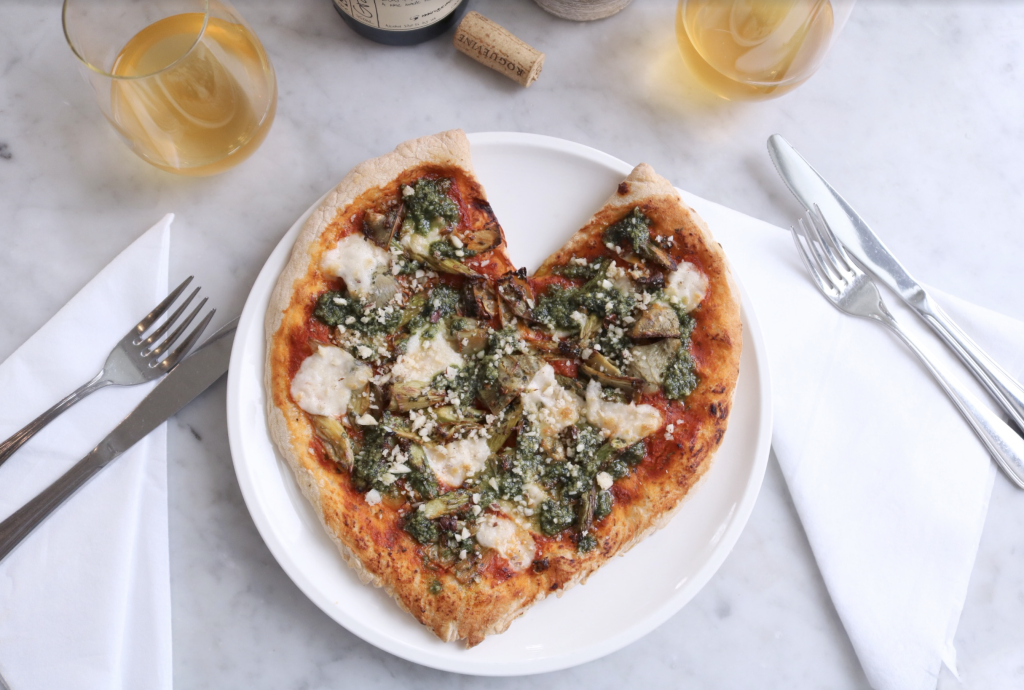 Feb. 11-13. Indulge in a romantic feast that's both delicious and nutritious with Café Gratitude's "I Am Loved" Heart-Shaped Pizza. Created by Executive Chef Dreux Ellis, this special plant-based pizza is the perfect way to nourish both the body and soul, offering a tantalizing blend of flavorful toppings like arugula, asparagus, and artichoke. Available to vegans and non-vegans alike, this heart-shaped delight is priced at $22 and comes complete with suggested wine pairings. Don't miss this limited-time offer, available from February 10th to February 17th at all Café Gratitude locations
Photo credits: Merois Dining Room, J/PR. Couple, Mama Shelter L.A. All images are courtesy of the businesses and venues.