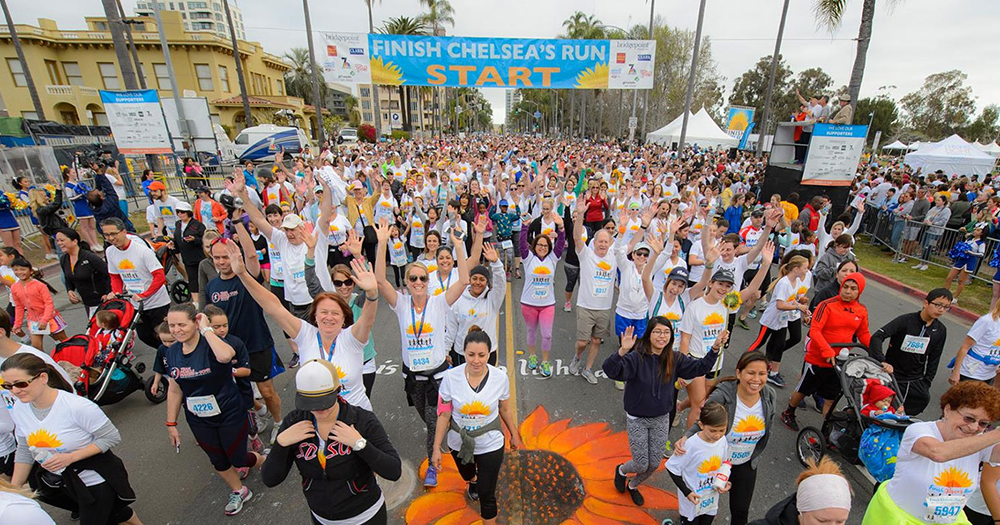 This month, San Diego brings you family-friendly races, St. Patrick's Day hooplas, spring festivities and more. See our list of 50+ top San Diego things to do in March.
Edited by Whitney Lauren Han.
The Flower Fields at Carlsbad Ranch
Mar. 1-May 13. SoCal's beloved springtime attraction returns to Carlsbad Ranch. A rainbow of Tecolote ranunculus grace the 50 acres of rolling hillsides that overlook the Pacific Ocean, making it the ultimate flower paradise. Highlights include various display gardens, new pathways at the acclaimed sweet pea maze, hands-on workshops, Mediterranean, Whimsical and Wedding gardens, plus a picnic area where visitors can bring their own food. Daily 9 a.m.-6 p.m. $16 adults; $14 seniors 60+; $8 ages 3-10; free for ages under 3. Season passes and group tours are also available. The Flower Fields, 5704 Paseo Del Norte Carlsbad, 760.431.0352. theflowerfields.com
Nick Thune at The American Comedy Club
Mar. 1-3. Comedian and actor Nick Thune brings his absurdist view, deadpan wit and one-liners to the American Comedy Club. Thune has appeared on The Tonight Show, Conan and Late Night. Ages 21+. See website for showtimes. $18. 818-B 6th Ave., San Diego, 619.795.3858. americancomedyco.com
Art After Hours
Mar. 2. Shake up your Friday evening with a visit to The San Diego Museum of Art during their extended Friday hours. Visitors will have full access to special exhibitions, 20 galleries and live music at Panama 66 in the May S. Marcy Sculpture Court, all for a discounted price. 5-8 p.m. $5. The San Diego Museum of Art, 1450 El Prado, Balboa Park, San Diego, 619.232.7931. sdmart.org
Friday Night Liberty
Mar. 2. Taking place on the first Friday of every month, visitors are invited to San Diego's biggest monthly art walk at the Arts District. Meet working artists, enjoy dance, theater and music performances, and visit museums and galleries. 5-9 p.m. Free. Arts District Liberty Station, 2640 Historic Decatur Road, San Diego, 619.756.7992. libertystation.com
Hops on the Harbor
Mar. 2. Hop aboard for this beer pairing dinner cruise while taking in the scenic views of San Diego Bay. Highlights include multiple food stations, music, dancing and a full bar with cocktails, wine, champagne and beer. Enjoy flights from the featured brewery along with a core lineup of local taps including Stone IPA, Saint Archer Pale Ale and Ballast Point California Kolsch. 7:30-10 p.m. $74.50 adults, $44.70 ages 4-12. Flagship Cruises & Events, 990 N. Harbor Dr., San Diego, 800.442.7847. flagshipsd.com
Bike Races, Cakes and Coffee Spillage
Mar. 3. Come celebrate this local, women-owned, small coffee shop's milestone the only way the Hub knows how—coffee, bikes, mimosas and fun. Owner Sandy Hanshaw and staff welcome San Diegans for a morning of live music, bike maintenance 101, a funky bike relay race, free coffee and a slice of its anniversary cake. 10 a.m.-noon. Coffee Hub & Café, 2907 Shelter Island Dr. #107, San Diego, 619.738.1482. coffeehubsd.com
Finish Chelsea's Run 5K
Mar. 3. In partnership with the Girl Scouts of San Diego and in honor of high school scholar and athlete Chelsea King, this annual event will take place in Balboa Park where Chelsea loved to visit and where she practiced with the San Diego Youth Symphony. Highlights include a competitive 5K race and fun run/walk, family festival, children's activities, team competition, entertainment and refreshments. 7:30-11 a.m. Register online and prices. Balboa Park, San Diego. chelseaslight.org
San Diego Undy Run/Walk
Mar. 3. Sport your favorite pair of family-friendly undies, dress as Santa Claus, a superhero or simply as a runner to help raise awareness on colon cancer. There will be a 5K race for ages 14 and older, a 5K for ages 6-13 and a one mile fun run for all ages. See website for registration and prices. 7-10 a.m. Mission Bay Park – De Anza Cove, 2750 North Mission Bay Dr., San Diego, 202.204.7561. fundraise.ccalliance.org
Stretch Yourself Free Yoga
Mar. 3. Spring into the new season with an outdoor morning yoga class. The class is part of the Downtown San Diego Partnership's "Healthy Living in the City" and will be taught by an instructor from Yoga One.  Please bring your own mat and water. All levels and ages welcome. Check-in 8:30 a.m. Class 9-10 a.m. Free. Horton Plaza Park, 900 Fourth Ave., San Diego. Register
Spring Busker Festival
Mar. 3-4. Have a laugh at the only busker festival in Southern California. Watch professionals from across the country perform talents like sword swallowing, knife throwing, pogo stick tricks and juggling on unicycles. Throughout the two-day festival, some of the nation's top performers fill the bay front village drawing visitors to shop, dine and enjoy an entire day of one-of-a-kind entertainment. Noon-6 p.m. Free. Seaport Village, 849 West Harbor Dr., San Diego, 619.235.4014. seaportvillage.com
Live Mural Painting with Kelsey Montague
Mar. 3-4. To complement Seaport Village's Spring Busker Festival, artist Kesley Montague will create a live mural in the center courtyard of Headquarters. Montague will be live painting Friday and Saturday and the mural will be available for photography on Sunday. Noon-4 p.m. Seaport Village, 849 West Harbor Dr., San Diego, 619.235.4014. seaportvillage.com
Oscars in the Ranch Academy Awards Viewing Party
Mar. 4. Walk the red carpet and watch the Academy Awards in style. Enjoy signature dishes from San Diego's premier chefs as you sip elegantly crafted cocktails. The lineup of premier chefs includes those from A.R. Valenien – Lodge Torry Pines, Oceana Coastal Kitchen, La Valencia, The Marine Room and more. Cocktail attire required. Red carpet 4:30 p.m., viewing 5:30 p.m. $175. Private Estate in Rancho Santa Fe, 619.818.2221. sdfilmfest.com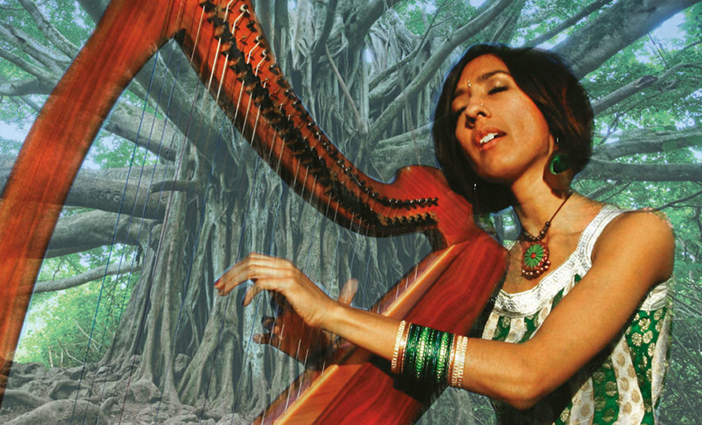 Raga, Roots & Re-imaginings
Mar. 4. Experience an evening of spiritually elevating music from Hindustani harpist, singer and bansuri flutist Sheela Bringi. Listen to beautiful re-imaginings of traditional Indian classical, devotional and folk songs, interspersed with tales of love and lore from singer and trumpeter Clinton Patterson. They will be joined by San Diego tabla artist Miles Shrewsbery and bassist Brent Kuecker. Doors open 6:45 p.m., concert 7 p.m. $25+. Encinitas Library, 540 Cornish Dr., Encinitas. centerforworldmusic.org
St. Patrick's Day Half Marathon
Mar. 4. Join in on the fun at the St. Patrick's Day half marathon, 5K and the Green Mile Fun Run for kids and adults with special needs in downtown El Cajon. For those 21 years and older, enjoy unlimited beer tastings at the beer garden from 8:30 a.m.-noon. See website for registration. 7 a.m.-1 p.m. Main Street & Magnolia Ave., El Cajon. stpatricksdayhalf.com
'The Cake'
Through Mar. 4. This touching and timely new play follows a conservative baker who must confront her beliefs on marriage when she is asked to bake the cake for her best friend's daughter's wedding. See website for showtimes and ticket prices. Potiker Theatre at the La Jolla Playhouse, 2910 La Jolla Village Dr., La Jolla, 858.550.1010. lajollaplayhouse.org
'The Importance of Being Earnest'
Through Mar. 4. Oscar Wilde's wildly entertaining comedy sparkles with dazzling wordplay and hilariously unlikely situations in what the London Telegraph calls "the most perfect comedy in the English language." See website for showtimes and ticket prices. Shiley Stage at the Old Globe, 1363 Old Globe Way, Balboa Park, 619.234.5623. theoldglobe.org
'Wind & Water: Sailing in San Diego'
Opening Mar. 4. Home to one of the world's finest collections of historic vessels, Maritime Museum of San Diego announces the opening of Wind & Water: Sailing in San Diego. The exhibit features scenes of classic yachts and historic sailboats captured on the waters of San Diego. Star of India Hold Gallery, 1492 N. Harbor Dr., San Diego, 619.234.9153. sdmaritime.org
Deschutes Beer Dinner
Mar. 7. Indulge in four courses and an exclusive American Wheat welcome beer. Menu highlights include french onion consommé, beer-horseradish cured salmon gravlax, espresso crusted lamb lion rack and cheesecake pops. The beer list includes a Pacific Wonderland Lager, Fresh Squeezed IPA, Obsidian Stout and a Dissident Sour Beer. 6:30 p.m. $50. Wonderland Ocean Pub, 5083 Santa Monica Ave. Suite 2C, San Diego, 619.255.3358. wonderlandob.com
Aries Spears at the American Comedy Club
Mar. 8. From being a regular on Fox's Mad TV, starring in feature films, appearing on a number of national talk shows and continually touring the country with his stand-up, guests can now witness comedian Aries Spears in action. 21+. Th 8 p.m., F 7:30 p.m. & 9:30 p.m. $22. 818-B 6th Ave., San Diego, 619.795.3858. americancomedyco.com
Saint Archer Beer Dinner
Mar. 8. Savor five courses of chef de cuisine Jason Winton's casual Californian fare—each expertly paired with a local Saint Archer Brewing Company craft brew and great conversation. 7 p.m. $50/pp. Fairmont Grand Del Mar, 5300 Grand Del Mar Ct, San Diego, 858.314.2700. fairmont.com
Taste of Third
Mar. 8. Take a tantalizing self-guided trip through the tree-lined streets of Chula Vista's Original Neighborhood. Enjoy discounted drinks from various locations, including local breweries, tasting rooms and bars. Along the culinary course, there will be a variety of entertainment to keep you grooving through the evening. 21+. 4-8 p.m. $25 advance, $30 day-of. 353 Third Ave., Chula Vista, 619.422.1982. thirdavenuevillage.com
Wine Dinner Featuring Schramsberg Winery
Mar. 8. Savor an evening on the coast with a five-course pairing menu crafted by chef Alex Emery that perfectly complements the flavors of Schramsberg Winery's most iconic wines. Reservations required. Reception 6 p.m., dinner 6:30-9 p.m. $125. THE MED at La Valencia Hotel, 1132 Prospect St., La Jolla, 855.818.6887. lavalencia.com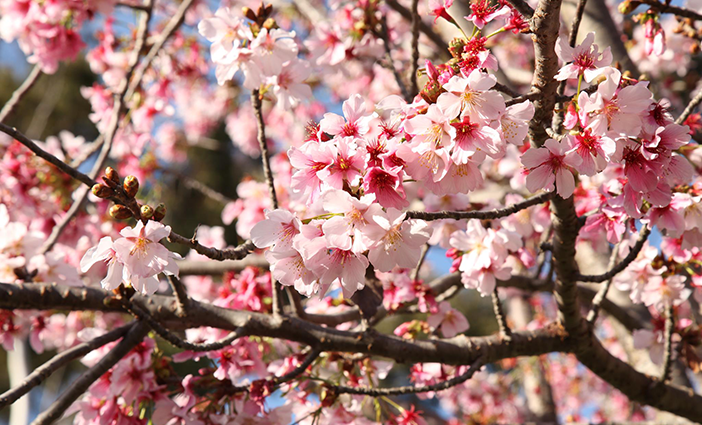 Cherry Blossom Festival
Mar. 9-11. Welcome spring with open arms while appreciating the beauty of cherry blossom flowers—the Japanese custom of hanami. Each day will be accompanied by various food vendors, cultural performances and demonstrations and family-friendly activities. 10 a.m.-6 p.m. $12 pre-sale, $10 GA; $8 students, active military, seniors (65+) with ID; free for ages 6 and under. Japanese Friendship Garden, 2215 Pan American Road E., San Diego, 619.232.2721. niwa.org
Best Coast Beer Fest
Mar. 10. Rumored to be Will Ferrell's beer festival of choice, the Best Coast Beer Fest returns to San Diego, bringing together nearly 100 of San Diego's craft breweries and 10 local food trucks. VIP entry 1 p.m., general admission 2-5 p.m. $40-$115. Embarcadero Marina Park South, 1 Marina Park Way, San Diego. bestcoastbeerfest.com
San Diego Homebrew Festival & Competition
Mar. 10. Cheers to unlimited tastes of beer from 35+ San Diego homebrewers as well as local breweries at the inaugural festival. All proceeds will be used to fund enrichment programs, scholarships and other necessities at North Park's public school Jefferson Elementary IB STEAM Magnet. 21+. Noon-4 p.m. $35 GA. North Park Mini Park Site, 2896 N. Park Way, San Diego. sdhomebrewfest.com
14th Annual Daffodil Show
Mar. 10-11. Celebrate spring with The Flower of Hope and view over a thousand daffodils on display. Visitors can have their questions about daffodils answered by National Daffodil Society experts. Noon-5 p.m. Free. Julian Town Hall, 2129 Main St., Julian, 760.765.1857. visitjulian.com
29th Anniversary of the Circle of Art
Mar. 10-11. Spend your weekend at this outdoor art show staged at Christmas Circle in the heart of Borrego Springs. Over 60 artists will exhibit their work, representing a variety of mediums including oils and watercolors, photography, sculpture, ceramics, jewelry, fabric art and more. Sa 9 a.m.-5 p.m., Su 9 a.m.-4 p.m. Free. Christmas Circle, Borrego Springs, 307.359.0191. circle-of-art.org
Tomatomania
Mar. 10-11. Scott Daigre's Tomatomania returns with his famous weekend-long sale of heirloom and hybrid tomato seedlings. Enjoy tomato-themed refreshments and take a garden docent-led tour of the venue at 10 a.m. (offered both days) where you can get first-hand information on the plants and trees growing at The Garden. 9 a.m.-4 p.m. Free. The Water Conservation Garden, 12122 Cuyamaca College Dr. West, El Cajon, 619.660.1687. thegarden.org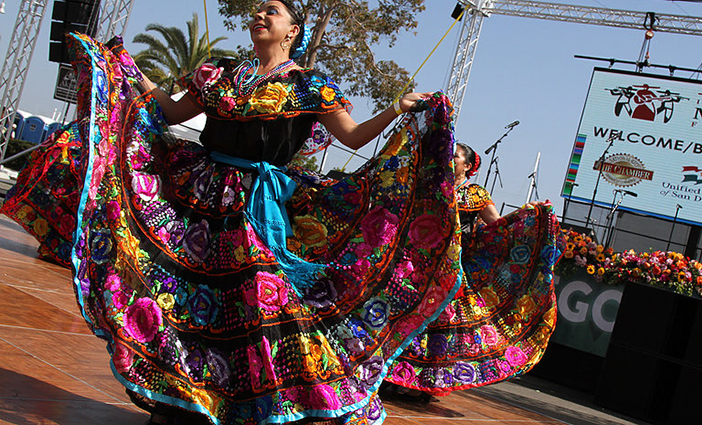 6th Annual International Mariachi Festival
Mar. 11. Dance the day away in celebration of San Diego's Mexican heritage through mariachi music, traditional ballet and folkloric dancing. 11 a.m.-7 p.m. Free. Pepper Park, 3299 Tidelands Ave., National City, 619.477.9339. mariachifest.com
'Frida and Me'
Through Mar. 11. Making its debut in the United States, Frida and Me is an interactive experience with a series of fun activity stations that immerse children and their families in the life and work of the celebrated twentieth-century artist Frida Kahlo. Visitors can explore ideas of identity, culture and the perception and representation of the self. The San Diego Museum of Art, 1450 El Prado, Balboa Park, San Diego, 619.232.7931. sdmart.org
San Diego Half Marathon & 5K
Mar. 11. Stretch out your legs for the annual premier race that celebrates the beauty and uniqueness of San Diego while raising money to help its communities. All net proceeds are donated to community service projects and local charitable causes. 7 a.m. See website for prices and registration. Petco Park, 100 Park Blvd., San Diego, 619.33.6786. sdhalfmarathon.com
'Uncle Vanya'
Through March 11. This Globe-commissioned, world-premiere translation of Chekhov's classic drama about country life, love, hope and loss is a must-see for every theater-lover. See website for showtimes and ticket prices. White Theatre at the Old Globe, 1363 Old Globe Way, Balboa Park, 619.234.5623. theoldglobe.org
'Gentlewomen of the Gaslamp Quarter'
Mar. 14. As part of the Gaslamp Museum's new History Talks! monthly lecture series and the new Notable Women of the Gaslamp exhibit, executive director Catalina Preskill and historian Sandee Wilhoit will tell the stories of six remarkable women. 7-9 p.m. $5 GA, free for members. Gaslamp Museum at the Davis-Horton House, 410 Island Ave., San Diego, 619.233.4692. gaslampfoundation.org
San Diego Latino Film Festival
March 15-25. Check out more than 160 feature and short films from Latin America, Mexico, Spain, the U.S. and other parts of the world in celebration of Latino film, art and culture. The festival also features guest celebrities, musical performances, after-parties, filmmaker workshops and more. 7037 Friars Road, Mission Valley, 619.230.1983. sdlatinofilm.com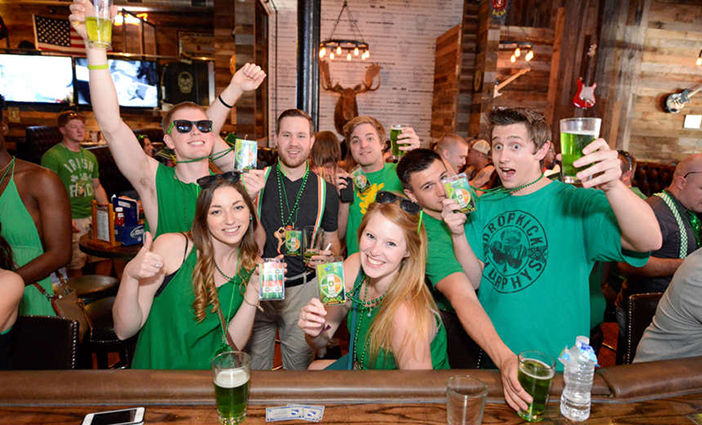 2018 IRISH 4 A DAY
Mar. 16-17. Kicks off the holiday weekend at McFadden's with live music, a DJ, leprechauns, green beer, J-Mo, Irish Car Bombs, body painting of Downtown Dolls by Cj Martinez and more shenanigans. This premier event includes 23 of Gaslamp's top nightclubs and bars including Parq, Omnia, SideBar, F6ix and more. 21+. F 5 p.m.-2 a.m., Sa 2 p.m.-2 a.m. $29+. McFadden's San Diego, 731 5th Ave., San Diego, 619.944.8900. nightout.com
38th Annual St. Patrick's Day Parade & Festival
Mar. 17. Come experience the largest St. Patrick's Day parade west of the Mississippi with the Irish Congress of Southern California. Expect a parade with over 125 entries, more than 75 food/craft booths, a beer garden, two band stages, a Celtic village, dancing and kids' activities. 9 a.m.-6 p.m. Free. Sixth Ave. & Laurel St., San Diego. stpatsparade.org
Salsa Under the Stars
Mar. 17. Dance the night away with musician Manny Cepeda and his orchestra in the beautiful outdoor courtyard. No partner or experience necessary for this event. Free. 6-9 p.m. The Headquarters at Seaport, 789 West Harbor Dr., San Diego, 619.235.4013. theheadquarters.com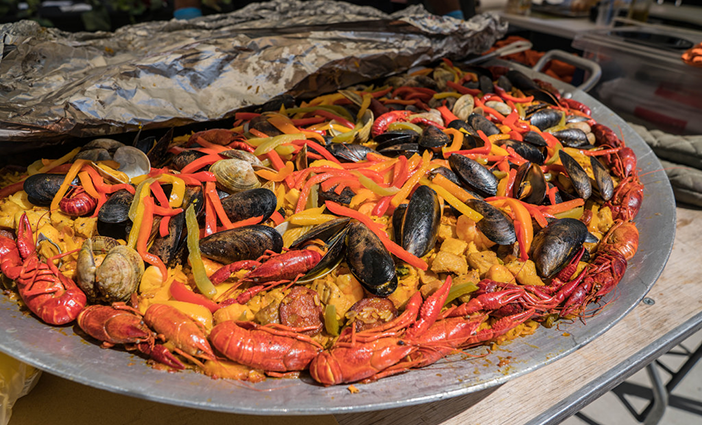 Sabor Latino Food, Beer & Wine Fest
Mar. 17. Celebrate Latino flavors and culture at this third annual festival along with live music and art showcases. Enjoy unlimited food tastings inspired by celebrated Latino chefs, as well as unlimited beer and wine tastings provided by some of the best craft breweries and wineries from San Diego and Baja California. 21+. VIP 1 p.m., GA 2-5 p.m. $40 GA, $50 VIP, $25 designated driver. Fashion Valley Mall, 7007 Friars Road, San Diego, 619.230.1938. sdlatinofilm.com
ShamROCK
Mar. 17. The Gaslamp turns green for its annual St. Patrick's Day block party featuring DJs and Irish bands on three stages, plus Irish fare and drinks at dozens of participating bars and restaurants. 4 p.m.-midnight. $40-$80. Gaslamp Quarter Historical Foundation, 410 Island Ave., San Diego, 619.233.5008.  sandiegoshamrock.com
St. Patrick's Day 10K Run & 2-4 Mile Run/Walk
Mar. 17. Before you head out for pints of Guinness, take a short jaunt around Mission Bay Park at the St. Patrick's Day 10K Run & 2-4 Mile Run/Walk. Highlights include Domino's Pizza, beer from Stone Brewery, Ballast Point and Coronado Brewery, and more. 7:45 a.m. $20-$45. Mission Bay Park, 2688 E. Mission Bay Dr., San Diego. active.com
St. Patrick's Day Block Party & Pub Crawl
Mar. 17. Don't miss out on San Diego's largest St. Patrick's Day crawl from the Gaslamp Quarter to Pacific Beach. The crawl kit includes drink coupons, free welcomes shot vouchers and a map of all participating bars and nightclubs. 1 p.m.-2 a.m. $18. Gaslamp: Smoking Gun, 555 Market St.; Pacific Beach: Bub's at the Beach, 1030 Garnet Ave., 619.718.0996. clubcrawlsandiego.com
Veuve Clicquot Champagne Dinner at Amaya
Mar. 17. Embark on a culinary journey to France with Veuve Clicquot ambassador Allie DeKock for an intimate evening of the finest champagne paired with four irresistible courses in the private dining room. Reception 5:30 p.m., dinner 6 p.m. $165. Fairmont Grand Del Mar, 858.314.2727. fairmont.com
35th Annual San Diego Cake Show
Mar. 17-18. Master pastry chefs, well-known California "sugar artists," talented local bakers, amateur decorators and those who enjoy beautiful sugar art of all kinds will come together for the annual "Confections for a Cause" cake show. Expect celebrity chef appearances, raffles, cake competitions, classes by world-renowned cake artists, shopping from the top caking vendors and free stage demos. 10 a.m.-5 p.m. $10-$50. The Exhibit Hall at The Del Mar Fairgrounds, 2260 Jimmy Durante Blvd., Del Mar. sandiegocakeshow.com
Seaworld's Seven Seas Food Festival
Mar. 17-Apr. 15. Sip and sample your way through traditional international street foods, craft beers and wines while enjoying live musical performances along the way. Waves of flavor will tantalize the taste buds with gourmet offerings created by SeaWorld's executive chef Axel Dirolf and his expert culinary team. $20-$65. SeaWorld San Diego, 500 SeaWorld Dr., San Diego, 619.222.4732. seaworld.com
2018 Spring Wedding Showcase
Mar. 18. Ring in the new season with The Crossings at Carlsbad annual wedding event. Highlights include chef's selection of appetizers, seasonal table settings, ceremony site trends, reception ideas, multiple vendors, package enhancements and more. 4-7 p.m. $15. The Crossings at Carlsbad, 5800 The Crossings Dr., Carlsbad, 760.444.1800. thecrossingsatcarlsbad.com
Beerfest at Dive
Mar. 18. Kick off spring with music, beer tastings and poolside games at Dive. Participating breweries include Ballast Point, Firestone, Funner, California's very own SR76 and more. 21+. Noon-4 p.m. $40, $40 designated drive pass. Harrah's Resort Southern California, 777 Harrah's Rincon Way, Funner, 760.751.3100. harrahssocal.com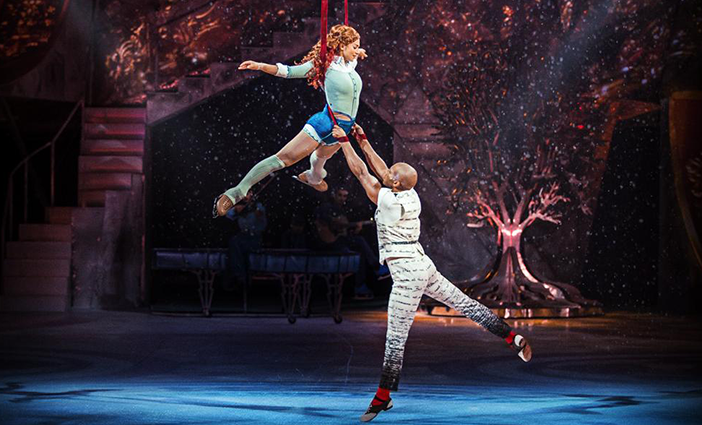 Cirque du Soleil – 'Crystal'
Mar. 21-25. Crystal is not just an ice show; it's the very first experience on ice from Cirque du Soleil. Watch world-class ice skaters and acrobats claim their new frozen playground with speed and fluidity as they challenge the laws of gravity with never-before-seen acrobatics. See website for showtimes and prices. Valley View Casino Center, 3500 Sports Arena Blvd., San Diego, 888.929.7849. cirquedusoleil.com
Evening of Wine & Chocolate
Mar. 22. Learn how to make chocolates in these fun, hands-on workshops lead by a Le Cordon Bleu, London trained patisserie chef. Additional highlights include a reception with light bites, a complimentary glass of wine and each participant will make 15 filled chocolates to package. Ages 18+. Doors open 6 p.m., event 6:30-8:30 p.m. $60 before March 13, $65 after. Forgotten Barrel Winery, 1120 W. 15th Ave., Escondido, 888.620.8466. dlitefulchocolat.com
Race for Autism
Mar. 22. Calling all superheroes! Help change the lives of thousands of San Diego families at the Race For Autism. The race features a 5k chip-timed run or walk, one-mile Superhero Family Fun Walk, educational resource fair, children's activities, music, commemorative medals, t-shirts, prizes, refreshments and more. Costumes and strollers welcome. Registration 6:30 a.m., race 7:30 a.m. See website for registration and prices. Balboa Park, Sixth Ave. and Laurel, San Diego, 858.679.8800. raceforautism.org
45th Annual Regatta and the California Swimrun
Mar. 24-25. Witness San Diego Crew Classic's action-packed, nationally acclaimed rowing regatta set in the picturesque waters, sandy shores and green lawns of Mission Bay Park. Watch nearly 4,400 athletes—ranging from 14 to 80 years old—compete in more than 100 fast-paced races on Saturday. Featured races include top tier universities such as Cal, Duke, Stanford, USC, Penn, UCLA and many more. Following day is the California Swimrun, one of the fastest-growing sports in the world. 6:30 a.m.-6:30 p.m. $12 pre-sale, $15 day-of. Corona Oriente Road, San Diego. crewclassic.org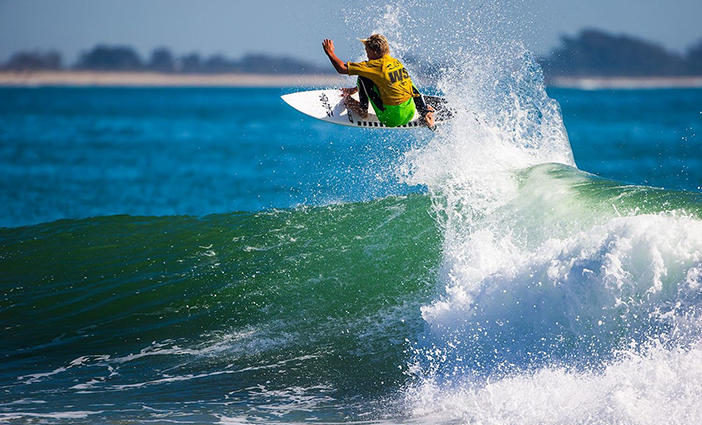 WSA West Coast Championships
Mar. 24-25. Surfs up at the oldest amateur surfing contest in the U.S. and largest on the West Coast. This event is to qualify competitors to the West Coast Championships, U.S. Championships, Prime Event and any World Team Event. Viewing the competition is free and open to the public; all ages will enjoy. South side of Oceanside Pier, Oceanside, 949.369.6677. wsa.surfsignup.com
Easter Bunny Teas
Mar. 30-31. Bring the little ones to enjoy kid-friendly petit-fours and mini pastries paired with a traditional European afternoon tea. Families can partake in an Easter egg hunt on the Riviera Terrace, watch a magical performance by a festive magician and meet the Easter Bunny. 2:30-5 p.m. $50 for adults, $35 for children 12 and under (excluding tax, gratutity and ticketing fee). Westgate Hotel, 1055 Second Ave., San Diego, 800.522.1564. westgatehotel.com
Mission Valley Craft Beer & Food Festival
Mar. 31. Head to Mission Valley for unlimited samples of beer, spirits and food and well as a commemorative tasting cup. The event features 20 local eateries, nine distilleries and 40 breweries and well as live music and entertainment. 21+. VIP noon-5 p.m., GA 1:30-5 p.m. $55 pre-sale GA; $85 pre-sale VIP; $70 GA; $90 VIP. SDCCU Stadium, 9449 Friars Road, San Diego. mvcbf.com
Nemr at Balboa Theatre
Mar. 31. Credited with establishing and pioneering the stand-up comedy scene throughout the Middle East, Lebanese-American stand-up comedian Nemr will bring his wit and humor for one evening in San Diego. 8 p.m. $33.50+. 868 Fourth Ave. @ E. Street Gaslamp, 619.570.1100. sandiegotheatres.org
Uncorked: San Diego Wine Festival
Mar. 31. The third annual fest at scenic Marina Park North features over 60 wineries, more than 200 wines from around the globe, champagne bar, amazing local ciders, gourmet food trucks, lawn games, live DJ and a fun atmosphere to sip and savor with friends. 21+. 1-5 p.m. Embarcadero Marina Park North, 400 Kettner Blvd., San Diego. uncorkedwinefestivals.com
Sip & Savasana at Hotel Solamar (New Date)
Apr. 11. Spend your evening with a yoga class and cocktails on a rooftop while watching the sunset. Look forward to featured vendors like VIVOBAREFOOT and Sunari Lifestyle as well as San Diego's Perfect Bar. San Diego's FOX5 anchor and health/wellness personality Abbey Gibb will create yoga-themed healthy cocktails. Bring your own mat. 6-8 p.m. Free, RSVP to Crystal Wagner at 619.819.9501 or at crystal.wagner@hotelsolamar.com. Upper East Bar Rooftop, 435 Sixth Ave., San Diego. Info
Sabor Latino Food, Beer and Wine Fest photo by Alex Rocha. WSA West Coast Championships photo by Jack McDaniel/WSA.

[et_bloom_inline optin_id=optin_13]