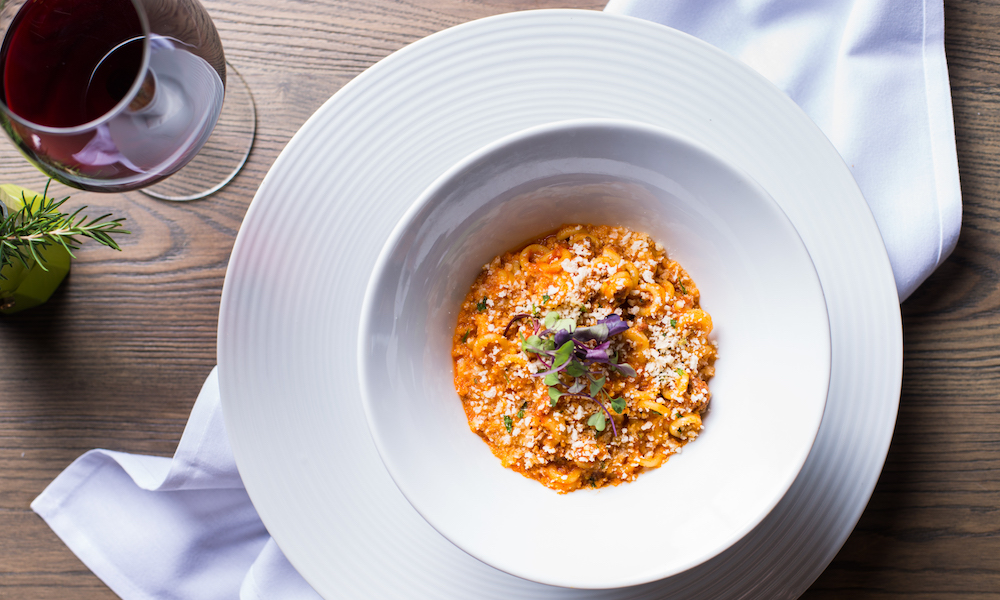 This month, San Diego brings you Brunch Cruises, Halloween Celebrations, National Pasta Day and more. See our list of the top 30+ San Diego things to do in October.
Edited by Brooke Knetzger.
Tuesday Jazz Series at Madison on Park 
Oct. 1,8,15,22,29. The neighborhood lounge and eatery will be hosting a Tuesday Jazz Series every Tuesday through October, presented by Dr. John Reynolds as he entertains diners with different ensembles. Guests can indulge in dinner under the restaurant's 25-foot vaulted and arched cedar-lined ceilings in the restaurants beautiful architecturally stunning al fresco dining space. 7-9 p.m. 4622 Park Blvd, University Heights, 619.269.6566. madisononpark.com 
Taste of Mission Hills
Oct. 2. Experience an evening of palate pleasing tastes in Mission Hills. Mission Hill's chefs, baristas, brewers, and ice cream makers will create preparations sure to captivate your taste buds. From international to local, twenty-five participating purveyors of delicious tastes, including long established and very new arrivals in Mission Hills, will be featured at the 8th Annual Taste of Mission Hills. $30+. 5 – 9 p.m. Mission Hills. Tickets 
Champagne Billecart-Salmon Winemaker Dinner 
Oct. 3. Enjoy an evening of vintage Champagne tastings, with stories told by Director of Champagne Billecart-Salmon US Geoffrey Loisel, alongside perfectly paired fall creations from Rancho Valencia's Executive Chef Joshua Holt. Menu highlights include salmon cornet with oyster and pomelo caviar to start; vanilla cream soda with sea urchin roe; amish veal with beets and dill; elk with prunes, quince and Valencia orange; and pear tart tatin with stilton and Osetra caviar. Reservations can be made by calling 858.759.6246 or emailing veladorareservations@ranchovalencia.com. $225. 6:30 – 10 p.m. Rancho Valencia, 5921 Valencia Cir, Rancho Santa Fe.
Bad Hombres/Good Wives
Oct. 3-27. Bad Hombres/Good Wives is a hilarious new comedy written by Herbert Siguenza, featuring performances by Herbert and his Culture Clash partner Ric Salinas and an original score by Nortec Collective founder Bostich! Meet Don Ernesto, a muy macho cartel lord of Sinaloa who is used to getting exactly what he wants. In this case, what he wants is Eva—the young woman he sent to a convent to be trained to become his perfect, submissive wife. En route to meet her future husband, Eva bumps into Mario, the dreamboat son of a rival Narco capitán, and her heart leaps. Lust, love and war are in the air! San Diego Repertory Theatre, Lyceum Stage, 79 Horton Plaza, Gaslamp. Tickets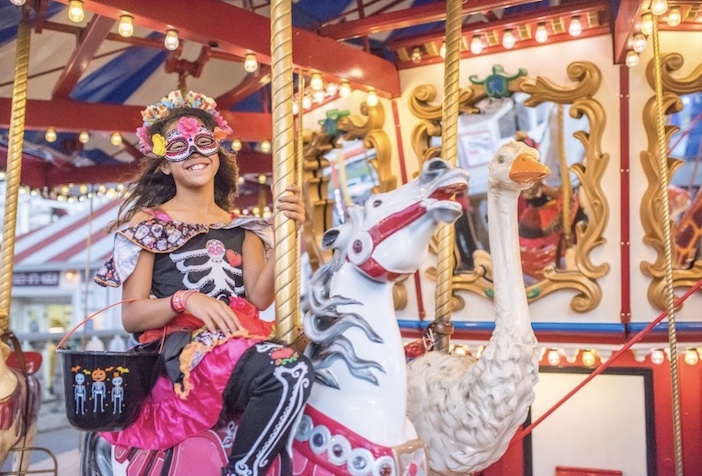 Belmont Park's Beachside Fall Fest
Oct. 4. Formerly known as BOOmont Park, Belmont Park will kick off Beachside Fall Fest – offering festive thrills and limited-time seasonal experiences. The magic of the season will transform the 94-year-old seaside park into a festive fall experience through November. Friday through Sunday in October from 5pm to close, plus Thursday, October 31st, guests will be able to participate in activities like trick-or-treating and costume contests. Other activities include a Hay Maze, encounters with roaming characters and the Draft Halloween Bash (21+) on Saturday, October 26th with a $500 cash prize for the costume contest winner. Belmont Park, 3146 Mission Blvd., Mission Beach. belmontpark.com 
National Taco Day at The Blind Burro 
Oct. 4. Head to Baja-inspired hangout, The Blind Burro, for a fresh catch taco. The taco, which features battered or grilled local fish, lime crema, green cabbage and carrot escabeche is available for $4.50 during the restaurant's Amigo Hour from 3-6 p.m. Pair your taco with a $4.50 Buena Cerveza, The Blind Burro's house beer made in collaboration with Coronado Brewing Company, for the perfect bite that won't break the bank. 639 J St, East Village. theblindburro.com
Oktoberfest La Mesa
Oct. 4-6.The 46th annual festival covers an area of nearly six city blocks of La Mesa Village. Attracting more than 100,000 attendees annually, the three-day event features local and regional bands, traditional German dishes and plenty of German bier. Highlights include traditional biergarten sing-a-longs and interactive game; the original glücklich games, such as beer stein races, beer barrel rolls, keg bowling and keg hauling; a Kinder Garten with contests and hands-on activities; and an antique market and a vendor market. Free event. lamesaoktoberfest.org
Craftoberfest
Through Oct. 6. Liberty Public Market's 10-day celebration will feature special refillable beer steins for sale at Bottlecraft, in addition to fall-themed specials throughout the food hall such as pumpkin-spiced bourbon cocktail at Mess Hall, house-made bratwurst and Bavarian pretzels at Mastiff Sausage, and, of course, a variety of Oktoberfest craft brews from Bottlecraft. On Fridays, Saturdays and Sundays, the Market will turn the party up a notch with live music, prizes, patio games like corn hole and various other activities including a costume contest, a sausage-eating contest and a build-your-own succulent class. libertypublicmarket.com
Amadeus 
Through Oct. 6. With the glorious music of Mozart as a backdrop, Peter Shaffer's Tony Award winning theatrical tale of composers Wolfgang Amadeus Mozart and Antonio Salieri starts our season on a rousing note. Told in a series of flashbacks laced with humor, intrigue and personal insight, AMADEUS explores two men – one consumed with jealousy and the other blissfully unaware of his extraordinary gifts. North Coast Repertory Theatre, 987 Lomas Santa Fe Dr, Solana Beach, 858.481.1055. northcoastrep.org 
The Virgin Trial 
Through Oct. 6. In this edge-of-your-seat thriller, the young princess Elizabeth navigates a labyrinth of political and sexual intrigue in the Tudor court that threatens her freedom – and even her life. After the death of both her parents, 15-year-old Elizabeth must defend herself against cutting accusations of plotting to kill her brother, the king, and having an illicit affair with her stepfather. Through October 6. Old Town Theatre, 4040 Twiggs St., Old Town, 619.337.1525. cygnettheatre.com
End of Summer Pool Party with Mezcal Mal Bien
Oct. 6. Say farewell to summer by celebrating at Level Four! The end of summer party with feature specialty cocktails like the Margarita, Ranch Water, Paloma, Oaxaca Old Fashioned, and others featuring Mal Bien Mezcal. Guests can also sample Mal Bien and enjoy selections from the Fruto de Carrito and Elote Bar while grooving to a DJ. No cover, but guests can purchase a drink package for $20, which gets them 2 drinks and access to the Frutas de Carrito and Elote Bar. 1- 5 p.m. 1047 5th Ave., Gaslamp, 619.515.3003. curadero.com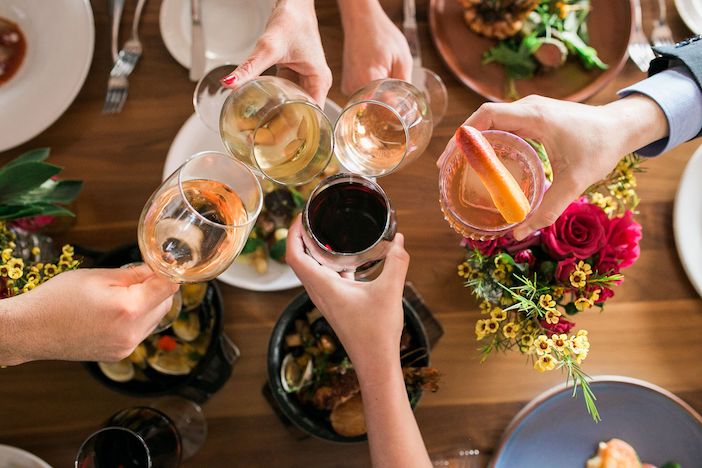 Pahlmeyer Wine Dinner at THE MED
Oct. 10. Join THE MED for an exceptional multi-course wine dinner prepared by Executive Chef Timothy Ralphs. The dinner will be paired with iconic Pahlmeyer wines, making this popular dinner one to attend. The evening begins with a welcome wine and a chef's amuse, then moves on to a seated dinner with sweeping ocean views. Courses include hamachi crudo, Chef's signature octopus and more. 6-9 p.m. La Valencia Hotel, 1132 Prospect Street, La Jolla, 855-476-6870. lavalencia.com
Art San Diego 2019
Oct. 10-13. Explore an amazing array of contemporary and modern art at Art San Diego, taking place at the San Diego Convention Center located along the beautiful waterfront setting of San Diego Bay. Entering its second decade this fall, Art San Diego is unique in bringing exceptional artwork from local, national, and international galleries together alongside outstanding show programming, live entertainment, and other exclusive events. San Diego Convention Center, Hall E, 111 W Harbor Dr., San Diego. art-sandiego.com 
Ring Around the Moon 
Premieres Oct. 11. Identical twins Hugo & Fredrick each meet their match in this intriguing, uproarious & surprisingly wise look at love and money. Christopher Fry's brilliant adaptation of Jean Anouilh's classic Invitation to the Castle. Lamb's Players Theatre, 1142 Orange Ave, Coronado, 619.437.6000. Through November 17. lambsplayers.org
Ocean Beach Oktoberfest
Oct. 11-12. Grab some friends and head to Ocean Beach for the uniquely Southern California salute to the celebration of German culture and fun. Guests can look forward to live bands, bratwurst-eating and stein-holding contests, a sausage toss and more on O.B.'s Newport Avenue. 21+. $5 entry. Newport Ave & Abbott Street, Ocean Beach. oceanbeachsandiego.com
Kiss My Aztec
Through Oct. 13. When the Spanish set their sights on Mesoamerica and its riches, they will destroy anyone and anything that keeps them from conquering and claiming it all for themselves. But the Aztecs are like, "Hell, no!" This fresh, irreverent and outrageous satire could only spring forth from the insanely hilarious mind of John Leguizamo, last seen at the Playhouse in his acclaimed one-man show Latin History for Morons. Featuring a fusion of bolero, hip hop, merengue and rap, Kiss My Aztec! celebrates, elevates and commemorates Latinx culture in an uproarious new musical. 2910 La Jolla Village Drive, La Jolla, 858.550.1010. lajollaplayhouse.org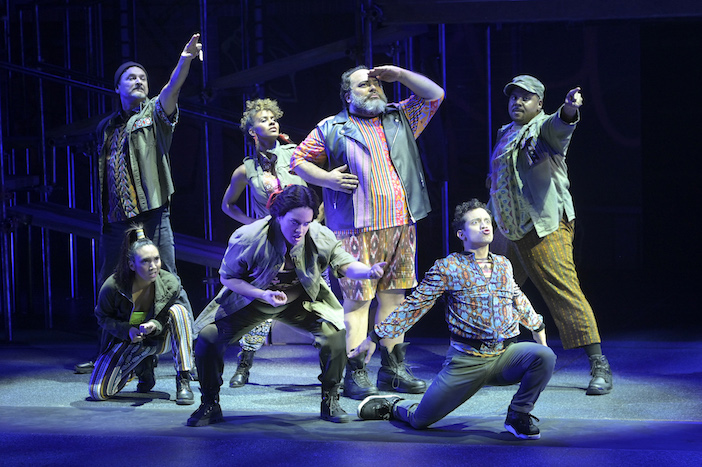 La Jolla Art & Wine Festival 
Oct. 12-13. The 11th annual juried art show/fundraiser benefits arts and physical education programs at local schools. Take in works by more than 150 artists, plus live entertainment, a beer and wine garden and more. Free event. Pets allowed. Girard Ave. La Jolla. ljawf.com.
San Diego Film Festival 
Oct. 15-20. The San Diego International Film Festival is the region's premier film event and one of the leading stops on the independent film circuit, with 200+ filmmakers gathering in San Diego to show their films every year. SDIFF celebrates film's power to create empathy via new perspectives that emerge from powerful and compelling storytelling.  The festival showcases great stories, fresh voices and diverse points of view from around the world. See website for festival schedule. sdfilmfest.com
Primavera Ristorante
Oct. 17. Primavera Ristorante will celebrate National Pasta Day by diving into a featured entrée, linguine ai frutti di mare, available exclusively on Thursday, Oct. 17. In honor of the occasion, the popular family-owned and operated Italian restaurant will offer the traditional seafood dish, made with fresh tomato, shrimp, mussels, and baby clams atop linguine with light saffron sauce, priced at $38. Primavera's full dinner menu, including an array of signature pasta dishes, will also be available. 932 Orange Avenue, Coronado, 619.435.0454. primavera1st.com
Barbusa
Oct. 17. The owners of Little Italy's Barbusa are celebrating National Pasta Day with all you can eat pasta.  Guests who want to indulge will have the option of one of three pastas, a veggie ravioli, a meat sauce pasta, and a seafood pasta. The one-day special will also include a salad and dessert, and will be available for $35 a person. 1917 India St, Little Italy, 619.238.1917. barbusa.com
Valle de Guadalupe Winemaker Dinner 
Oct. 17. Rancho Valencia is pleased to partner with two of Baja's most renowned chefs, David Castro Hussong of Fauna and Viviana Martinez of Mixtura, along with five of the region's top winemakers, to present an exquisite culinary affair. An intimate evening will allow guests, chefs and winemakers to sit alongside each other for a personal experience with a fresh, plentiful family-style dinner served under the stars. $135. Rancho Valencia, 5921 Valencia Cir, Rancho Santa Fe. Reservations can be made by calling 858.759.6246 or emailing veladorareservations@ranchovalencia.com.
WOW Festival 
Oct. 17-20. La Jolla Playhouse will gather local, national and international artists at ARTS DISTRICT Liberty Station to create four days of vibrant multidisciplinary experiences that interact with the contemporary world in exciting ways. With over twenty productions, half of which are free, there is an almost infinite combination of shows you could spend your day exploring. See website for daily schedules. Arts District Liberty Station, Point Loma. LaJollaPlayhouse.com 
Dine Out for the Cure at Cusp Dining & Drinks
Oct. 17. As part of Susan G. Komen's Dine Out for the Cure campaign, two La Jolla restaurants are coming together for a tasteful night of fundraising. Food Network Champion and chef/owner of Sugar and Scribe, Maeve Rochford, and Executive Chef Ingrid Funes of Cusp Dining & Drinks are hosting a fundraising dinner to support National Breast Cancer Awareness Month. The multi-course dinner will feature an amuse-bouche and 4-courses – two from chef Maeve and two from Chef Ingrid. An optional Drink Pink beverage pairing will also be available. Cusp Dining & Drinks has pledged to donate 10% of the evenings sales – from the dinner to their dining room – to Dine Out for the Cure. $70 pp. Hotel La Jolla, 955 La Jolla Shores Drive, La Jolla. Reservations
Da Kine's Grand Opening Party 
Oct. 19. Founded in 1997 in Pacific Beach and today one of San Diego's most respected, authentic Hawaiian eateries, Da Kine's Plate Lunches announces the long-awaited opening of its new (and only) location where Bay Park meets Mission Valley. Da Kine's embraces unpretentious Hawaiian culture with a fast casual concept and come-as-you-are approach akin to island culture. To celebrate this return after eleven years, Da Kine's and well-known founder "Uncle" Nelson Ishii invites all to the grand opening party featuring half-off nearly the entire menu for one day only. 11 a.m. – 5 p.m. 5401 Linda Vista Road, San Diego, 858.302.2096. dakines.com
Witches of Westgate
Oct. 19. The first-ever Witches of Westgate Afternoon Tea will take place on Saturday, October 19, from 2:30 p.m. to 5 p.m. in the Versailles Ballroom.The bewitching event will feature The Westgate's renowned afternoon tea complete with house-made pastries, savory tea sandwiches, gourmet teas, kid-friendly beverages and a host of treats with a distinctly wicked twist. Witches are encouraged to dress to impress for the costume contest and witch cackling competition. $69 for adults; $40 for children ages 4-12 and complimentary ages 3 and under. 2:30 – 5 p.m. The Westgate Hotel, 1055 Second Ave., Gaslamp, 619.238.1818. Tickets
11th Annual Bow Wow Brunch Cruise
Oct. 20. The 11th Annual Bow Wow Brunch Cruise is offered to help raise money and awareness about orphaned pets at Helen Woodward Animal Center. Bow Wow Brunch welcomes you, your family and your "fur child" aboard. Enjoy a delicious and bountiful buffet with unlimited champagne and desserts, plus Fido gets a pet buffet to choose from along with a dog area set up on the sun deck of the yacht. $98.00 per adult, $61.15 per child (4-12). Boarding at 11:30 a.m., cruising Noon-  2 p.m.  Pier 1 Hornblower Landing, 1800 N. Harbor Drive, San Diego. Tickets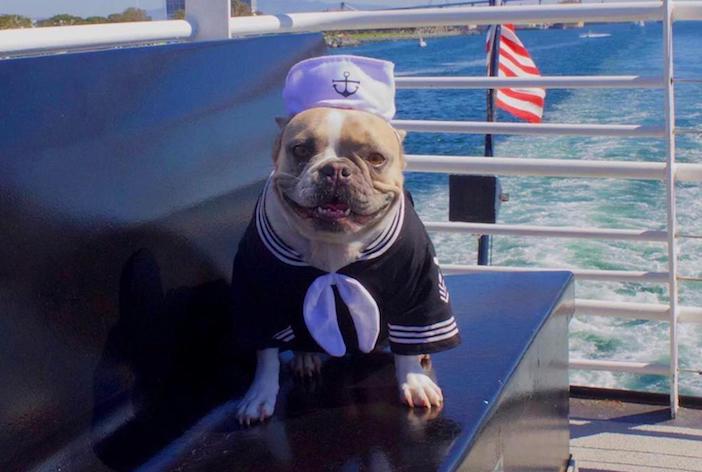 Self Care Sunday at Estancia La Jolla
Oct. 20. Estancia La Jolla's #SelfCareSunday Series continues with Boxing & Bloody Marys with The Boxing Club. A portion of the tickets sales will be donated to Susan G Komen San Diego in honor of Breast Cancer Awareness month. The event includes a 50-minute work-out class, complimentary cocktails, fitness snacks, pool day pass, B12 shots by Drip Hydration, valet parking, 20% off to Mustangs & Burros and raffle prizes. $37. Estancia La Jolla, 9700 N. Torrey Pines Road, La Jolla. Tickets
Taste of La Jolla
Oct. 21. ​La Jolla's outdoor dinner party returns ​as the Foundation of La Jolla High School hosts the 19th annual Taste of La Jolla benefiting scholastic programming at the school. This "can't miss" event takes place ​throughout the village of La Jolla and is an evening of sampling signature dishes, quick bites, drink, music and company, all while discovering the many restaurants and businesses that make this community great. $50+. 6- 8:30 p.m. Downtown La Jolla. Tickets

The Sunshine Boys
Oct. 23- Nov. 17. The late Neil Simon continues to reign as America's favorite playwright. His ability to create memorable characters who wrestle with universal problems associated with love, loss, work, family and aging, has endeared him to legions of fans.THE SUNSHINE BOYS showcases his brilliant ear for side-splitting dialogue and his sharp eye for physical comedy. Yet, beneath the raucous laughter are two vulnerable people struggling to make sense of their lives. North Coast Repertory Theatre, 987 Lomas Santa Fe Dr, Solana Beach, 858.481.1055. northcoastrep.org
School of Rock The Musical 
Oct. 25- Nov. 3. Based on the hit movie, School of Rock is the story of wannabe rock star Dewey Finn, who poses as a substitute teacher at a prestigious prep school. When he discovers his students musical talents, he enlists them to form a rock group and conquer the Battle of the Bands. Casa del Prado Theatre, 1600 Village Place, Balboa Park, 619.239.8355.Tickets
WCKD Village
Oct. 26. Prepare to enter an extravagant festival of nightmares as the streets of downtown evolve into San Diego's Premier Halloween Festival, WCKD Village. Enter this distorted realm and come face-to-face with terrorizing creatures and twisted adventures! Discover your darkest desire, summon your chosen crew, and take a journey into this elevated WCKD delusion. 6 p.m. – Midnight. 7th Avenue between Market Street & J Street, downtown. Tickets
Chocolate Chip Cookie Championship
Oct. 27. The first annual Friendly Feast Chocolate Chip Cookie Championship brings six of the city's best pastry chefs and bakers together for a festive bake-off celebrating the classic cookie. Attendees will cast their vote to determine the most creative and best overall cookies in this unique baking competition at Kairoa Brewing Company. Expect creative twists on the iconic cookie from six of the city's most talented chefs, including Jamie Decena, Jeremy Harville, Lori Sauer, Rachel King, Accursio Lota and Rocio Fleckenstein. 11 – 1 p.m. 4601 Park Boulevard, University Heights. Tickets.
Almost Famous
Through Oct. 27. It's all happening… San Diego, 1973. Led Zeppelin is king, Richard Nixon is President, and idealistic 15-year-old William Miller is an aspiring music journalist. When Rolling Stone magazine hires him to go on the road with an up-and-coming band, William is thrust into the rock-and-roll circus, where his love of music, his longing for friendship, and his integrity as a writer collide. Through October 20. The Old Globe, 1363 Old Globe Way, Balboa Park, 619.234.5623. theoldglobe.org
Amazing Race Coronado 
Oct. 27. This 11th annual event features a bike race and boat race in Coronado where teams will follow clues in a race to the finish line! Following the race will be a celebration including awesome raffle prizes, auction items, food and a live band. All proceeds benefit Make-A-Wish of San Diego. 10 a.m. Coronado Cays Yacht Club, 30 N Caribe Cay Blvd, Coronado. yachtclubsforwishes.org
Halloween Cruise on Mission Bay 
Oct. 31. Aboard the William D. Evans sternwheeler guests can BOO-gie the night away with multiple levels of DJs, dance floors and drink specials, all while gliding through the sparkling waters of Mission Bay. Costumes are encouraged and bartenders will be pouring $5 SKYY Vodka drink specials all night long. Complimentary parking will be available at Ventura Cove. $15. Bahia Resort Hotel, 998 W Mission Bay Dr, Mission Bay. Tickets
Photos: Barbusa courtesy Katalyst PR. Beachside Fall Fest courtesy C3 Communications. The MED courtesy The Nth Element. Bow Wow Brunch Cruise courtesy Hornblower.