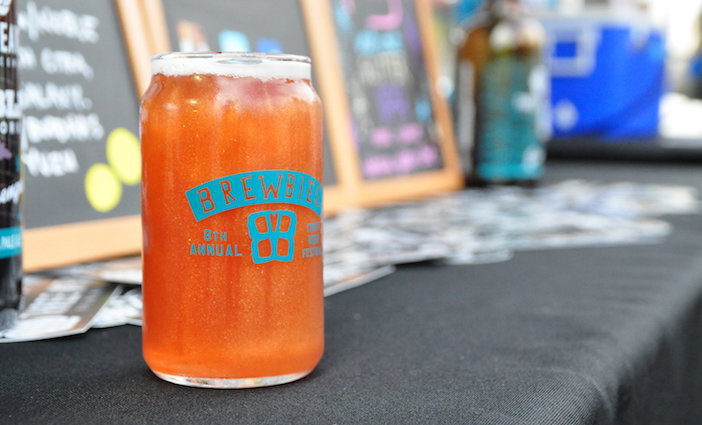 From romantic Valentine's Day dining to festive Mardi Gras celebrations, check out San Diego's top February events.
Edited by Whitney Lauren Han.
Macy's Museum Month
Feb. 1-28. Explore more than 40 of San Diego County's top museums, historical sites, monuments and gardens for half-off admission. Each pass admits up to four people at half price and features an exclusive coupon for up to 20 percent savings at Macy's. See website for list of participating museums. sandiegomuseumcouncil.org
'Around the World in 80 Days'
Through Feb. 4. Join fearless adventurer Phileas Fogg in the original "Great Race," circling the globe with danger, romance and comic surprises at every turn. See website for showtimes and ticket prices. North Coast Repertory Theatre, 987-D Lomas Santa Fe Drive, Solana Beach. northcoastrep.org
'The Cake'
Feb. 6-Mar. 4. This touching and timely new play follows a conservative baker who must confront her beliefs on marriage when she is asked to bake the cake for her best friend's daughter's wedding. See website for showtimes and ticket prices. Potiker Theatre at the La Jolla Playhouse, 2910 La Jolla Village Dr., La Jolla, 858.550.1010. lajollaplayhouse.org
'A Night with Janis Joplin'
Feb. 7-8. Celebrate the iconic Janis Joplin and her unforgettable songs in this hit musical. 8-10:15 p.m. $36+. Balboa Theatre, 868 Fourth Ave., San Diego, 619.570.1100. sandiegotheatres.org
Oceanside Valentine's Week 2018
Feb. 8-14. Celebrate all things love during the third annual Oceanside Valentine's Week. Expect romantic ferris wheel rides with ocean views, coastal carriage rides, scenic harbor cruises and more. The celebration will also include a gigantic 25-foot heart-shaped balloon that will be making appearances at different locations and community events. See website for list of activities and prices. 928 North Coast Hwy., Oceanside, 800.350.7873. visitoceanside.org
Vive Le Vodka Martini with Grey Goose
Feb. 9. Indulge in a four-course dinner with signature Grey Goose cocktail pairings. Grey Goose ambassador Selena Donovan will walk you through the history of the martini and go over each signature cocktail. Menu highlights include pacific oyster, pan-seared turbot, grouper crudo and chocolate-hazelnut "Rocher". Call to reserve seats. Cocktail reception 5:30 p.m., dinner 6-8:30 p.m. $125 (excludes tax and gratuity). Amaya in Fairmont Grand Del Mar, 5300 Grand Del Mar Ct, San Diego, 858.314.2727. sandiego.org
2018 Galentine's Day Cupid Bar Crawl
Feb. 9-10. Calling all gals! Celebrate the weekend with the first annual Galentine's Day Cupid Bar Crawl. Event highlights include an exclusive opening party, 10 hosted libations, all-night happy hour at select venues, $1 oysters, champagne toasts, dessert treats and more. F-Sa 6 p.m.-2 a.m. $25+. Vin De Syrah, 901 5th Ave., San Diego, 619.944.8900. nightout.com
Ashley Bathgate
Feb. 9-11. Described as an "eloquent new music interpreter" (New York Times) and "a glorious cellist" (The Washington Post), American cellist Ashley Bathgate will perform live on stage in Carlsbad. 7-9 p.m. $20 GA, $25 premium. Museum of Making Music, 5790 Armada Dr., Carlsbad, 760.438.5996. museumofmakingmusic.org
'Dirty Dancing'
Feb. 9-11. The Broadway musical adaptation of the popular 1980s movie starring Patrick Swayze returns to San Diego this month for a limited engagement. See website for showtimes. $27+. Broadway/San Diego, Civic Theatre, 1100 Third Ave., downtown, 619.564.3000. broadwaysd.com
Lunar New Year Festival 2018
Feb. 9-11. Celebrate the Year of the Dog at this annual cultural festival featuring carnival rides, live performances, delicious Asian food, a Lion Dance, a village to explore and martial arts. F 5-10 p.m.; Sa 11 a.m.-10 p.m.; Su 11 a.m.-8 p.m. $6 adults; $4 kids; free parking. SDCCU Stadium, 9449 Friars Road, San Diego, 619.786.7573. lunarnewyearfestival.org
9th Annual Brewbies Festival
Feb. 10. Soak in the sun and sip on cold beers at the annual Brewbies festival. Expect signature beers from over 40 of the best breweries, with all proceeds benefiting the Keep a Breast Foundation. No children or pets allowed. 21+. 1-5 p.m. $45-$60. Bagby Beer Co., 601 S. Coast Hwy., Oceanside. brewbies.org
Beauty of the Garden Exhibit
Feb. 10. Master oil painter Concetta Antico, fellow artist Irina Negulescu and famed body painter Evgeniya Golik join forces to celebrate the power of women and art. Expect a live painting by Concetta as well as local food and drink vendors. 6-10 p.m. Free, RSVP required to info@theingallery.com. The iN Gallery, 1878 Main St., #D, San Diego, 619.278.8410. theingallery.com
Escondido Chocolate Festival
Feb. 10. Bring your sweetheart or just your sweet tooth to downtown Escondido to enjoy the "For The Love of Chocolate" Festival. Stroll through more than 20 designated restaurants, shops and spas while sampling chocolates paired with local fine wines and craft beers. 21+. 1-5 p.m. $35 until February 9, $45 day-of. Historic Downtown Escondido, 198 Maple St. Plaza, Escondido, 760.207.6321. visitescondido.com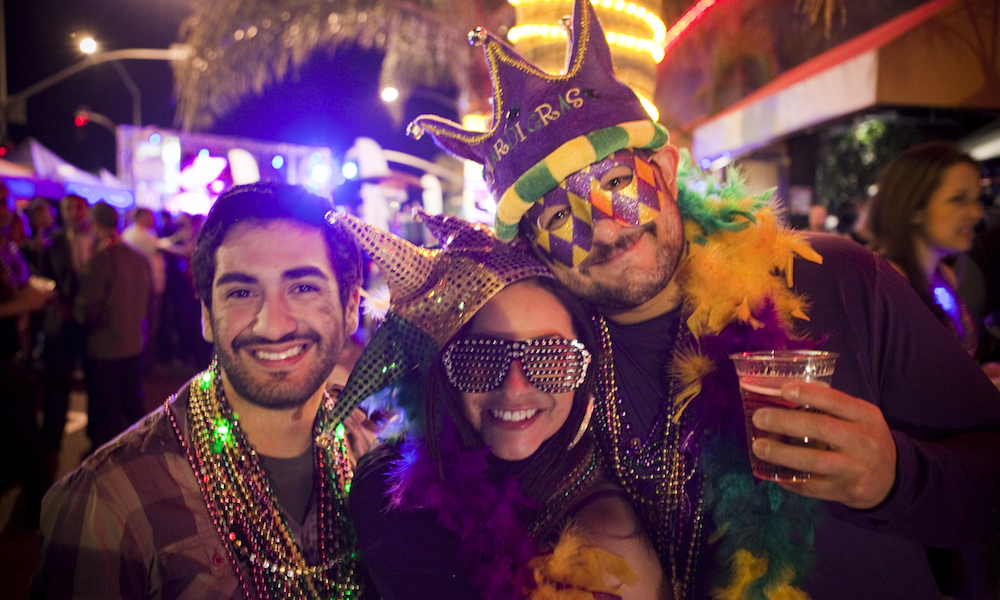 Hillcrest Mardi Gras
Feb. 10. Celebrate Mardi Gras at this roaring annual celebration, featuring live dance and music performances, DJs, a costume contest and DIY mask-making. 6-11 p.m. $10 advance, $15 day-of. Hillcrest Rainbow Pride Flag, University Avenue and Normal Street, San Diego, 619.299.3330. fabuloushillcrest.ticketleap.com
Mardi Gras Beads, Bites And Booze Tour
Feb. 10. Grab your crew and indulge in this holiday-inspired tasting tour filled with 20 delicious bites and sips throughout the historic Gaslamp Quarter. Collect 10 beads from each hotspot and you will receive entry to the exclusive VIP Carnival after-party. 21+. 1-5 p.m. $25 advance, $30 day-of. Gaslamp Quarter, San Diego, 619.233.5008. sdmardigras.com
Mardi Gras Club Crawl
Feb. 10. Party with locals and tourists at four of the best bars and clubs that downtown San Diego nightlife has to offer. Enjoy drink specials, no cover charges and VIP express entry to all venues. 21+. 9:30 p.m.-2 a.m. $25. Club Crawl San Diego, 801 5th Ave., San Diego, 619.718.0996. clubcrawlsandiego.com
Mermaid Half Marathon San Diego
Feb. 10. Calling all mermaids! Join an on land scenic race series (women's 5k, 10k and half marathon) at San Diego's Mission Bay. Bring the little ones (ages 6-12) for one of two Mermaid Dashes. 7 a.m. 10k, 7:15 a.m. half marathon, 7:25 a.m. 5k. See website for prices and to register. Parking at South Shores Park, San Diego. mermaidseries.com
Champagne Dinner Cruise
Feb. 10-11, 17-18. Sip on free-flowing bubbly aboard a Hornblower yacht while taking in views of San Diego landmarks on the sundeck. Tickets includes a private reserved table, full brunch buffet featuring seasonal dishes, decadent dessert buffet, a narrated tour and unlimited champagne, mimosas and sparkling cider. Boarding 10:30 a.m., cruising 11 a.m.-1 p.m. $65.95 (excludes tax, service charge and landing fee). Pier 1, Hornblower Landing, 1800 N. Harbor Dr., San Diego, 619.686.8715. hornblower.com
Cupid's VIP Dinner Cruise
Feb. 10, 14, 17. Sweep your Valentine off their feet with a romantic evening of dinner and dancing. Feast on a luxurious four-course meal (vegetarian and gluten-free options available), toast to your love with bottomless champagne and spend the evening dancing beneath the stars. Boarding 6 p.m., cruising 7-10 p.m. $114.95 (excludes tax, service charge and landing fee). Pier 1, Hornblower Landing, 1800 N. Harbor Dr., San Diego, 619.686.8715. hornblower.com
'Uncle Vanya'
Feb. 10-March 11. This Globe-commissioned, world-premiere translation of Chekhov's classic drama about country life, love, hope and loss is a must-see for every theater-lover. See website for showtimes and ticket prices. White Theatre at the Old Globe, 1363 Old Globe Way, Balboa Park, 619.234.5623. theoldglobe.org
World Famous Gospel Brunch
Feb. 11. Grammy-award winning star Kirk Franklin takes center stage at House of Blues for this month's Gospel Brunch. With Franklin's hand-picked performers showcasing explosive energy and contemporary music, it's an unforgettable afternoon of great tunes and tastes. 11 a.m. $44. 1055 Fifth Ave., San Diego, 619.299.2583. houseofblues.com
'The Last Wife'
Through Feb. 11. This contemporary reimagining of the compelling relationship between Henry VIII and his last wife, Katherine Parr, is a witty and powerful examination of sexual politics and women's rights. See website for showtimes and ticket prices. Cygnet Theatre at Old Town Theatre, 4040 Twiggs St., Old Town, cygnettheatre.com
Valentine's Day & Eve at Cafe Sevilla
Feb. 13-14. Whether it's Valentine's Day or the night before, enjoy a multi-course dinner with a flamenco show and salsa dancing. All dinner show packages include complimentary entry to their nightclub, where you can salsa dance with your partner from 8-10 p.m. with club access after. Tu: 7 p.m. doors open, 7:30 p.m. showtime, $69; W: see website for showtimes, $89. 353 Fifth Ave., San Diego, 619.233.5979. cafesevilla.com
Romance Dinner Cruise with DJ
Feb. 14. All aboard the love boat for a romantic dinner across the San Diego Bay. The evening includes a gourmet three-course seated dinner (vegetarian and gluten-free options available), live DJ to get you on the dance floor and San Diego's mesmerizing skyline views. Boarding 6:30 p.m., cruising 7-10 p.m. $114.95 (excludes tax, service charge and landing fee). Pier 1, Hornblower Landing, 1800 N. Harbor Dr., San Diego, 619.686.8715. hornblower.com
Valentine's Day Outdoor Movie Night 
Feb. 14. Grab a bucket of popcorn and a box of chocolates for the Valentine's Day screening of the 1939 love and crime classic Bonnie & Clyde in the Headquarters outdoor courtyard. 6 p.m. Free. 789 W. Harbor Dr., San Diego, 619.235.4013. theheadquarters.com
Valentine's Jazz Evening at The Abbey on Fifth Avenue
Feb. 14. Take your Valentine back in time at San Diego's historic venue, the Abbey on 5th. Enjoy an intimate private table with flowing champagne all evening long. Vibrant live jazz from David Patrone will set the mood and bring out your moves on the dance floor. Savor the evening with gourmet hors d'oeuvres and divine desserts. 8-10 p.m. $55 GA, $75 VIP (both excludes tax and service charge). The Abbey, 2825 Fifth Ave., San Diego, 619.686.8715. hornblower.com
Valentine's Day at Tidal
Feb. 14-17. Savor a love-inspired three-course prix-fixe dinner with your valentine. Begin the evening with a dish featuring paradise oysters, hibiscus béarnaise sauce and pomegranate; or a salad with wild arugula, dragon fruit, blood orange, lychee, almonds and more. Afterwards, select one of two entrees like Soulmate Soiree with a 14 oz New York steak and lava salt white prawns; or Affair of the Heart highlighting truffle tremor raviolo and saffron poached spiny lobster. End the night on a sweet note with either roasted chocolate budino or passion fruit panna cotta with oaxaca chocolate and peppermint syrup. 5-9 p.m. $65 per person with optional wine pairing for $30. Tidal – Paradise Point, 1404 Vacation Road, San Diego, 858.490.6363. destinationhotels.com
5th Annual San Diego Improv Festival
Feb. 15-18. The four-day fest offers professional workshops and performances from a selection of handpicked improv teams from cities around the country. See website for list of shows, times and prices. Finest City Improv, 4250 Louisiana St., San Diego. sdimprovfestival.com
San Diego Theatre Week
Feb. 15-25. Support the diverse performing arts community in this week-long event featuring performances at MOXIE Theatre, The Old Globe, Diversionary Theatre, San Diego Musical Theatre, La Jolla Playhouse and many more. See website for locations and showtimes. $15, $30 or $45. 858.437.9850. sandiegotheatreweek.com
Como La Flor Band: Tribute to Selena
Feb. 16. Join the Como La Flor Band for a tribute to the iconic Mexican-American entertainer Selena. 21+. 9 p.m. $20 advance, $22 day-of. The Music Box, 1337 India St., San Diego, 619.836.1847. musicboxsd.frontgatetickets.com
5K Paw Walk in the Garden
Feb. 17. Take a morning walk with your furry canine at this annual event. The route winds through a 37-acre garden that include native plants to California, Australia, the Canary Islands and Hawaii as well as bamboo, tropical fruit and palm canyon. Limited to two dogs per person and dogs must be kept on leash at all times. 8-11 a.m. $14-$32. San Diego Botanic Garden, 230 Quail Gardens Dr., Encinitas, 760.436.3036. rchsoc.convio.net
Local Brews Local Groove
Feb. 18. Don't miss the ultimate craft beer, food and music festival this President's Day. Enjoy 14 of California's finest breweries and 14 bands as they take over two stages. 21+. 3 p.m. VIP hour, 4-10 p.m. GA $10-$20, VIP $30-$60. 1055 Fifth Ave., San Diego, 619.299.2583. houseofblues.com
'Vietgone'
Through Feb. 18. A love story like no other, this comedy offers a mash-up of comic books, martial arts, hip-hop and Hollywood action movies, while recounting a family's true story of fleeing Vietnam and immigrating to the U.S. See website for showtimes and ticket prices. San Diego Rep, Lyceum Theatre, 79 Horton Plaza, downtown, 619.544.1000. sdrep.org
130th Anniversary Dinner
Feb. 19. Raise a glass in celebration of Hotel del Coronado's monumental anniversary. Enjoy a sunset champagne toast and oceanfront fireworks display to music by DJ Hevroc, then head inside for a six-course menu from chef Patrick Ponsaty, paired with exquisite wines. 5:30-11 p.m. $250. Hotel del Coronado, 1500 Orange Ave., Coronado, 800.468.3533. hoteldel.com
Good Dog Pet Outfitters Presents Doga
Feb. 24. Practice your downward dog pose with your pup for the inaugural Doga—Dog and Yoga—class. The class consists of a pack walk followed by yoga poses behind the boutique accessible for all levels of fitness. After the class, humans and their companions are invited into the Good Dog Pet Outfitters boutique for treats and 10 percent off the entire store. 9-10 a.m. $20 per person/dog. 3034 Cañon St., San Diego, 619.564.7534. Tickets
San Diego Winter Brew Fest
Feb. 24. Get a taste of craft brews from over 30 breweries and listen to live music throughout the night at this one-day fest. 21+, no infants. VIP hour 6-7 p.m., GA 7-10 p.m. VIP $50 advance, $60 day-of, GA $40 advance, $50 day-of.  Fleet Science Center in Balboa Park, 1875 El Prado, San Diego. sandiegobrewfest.com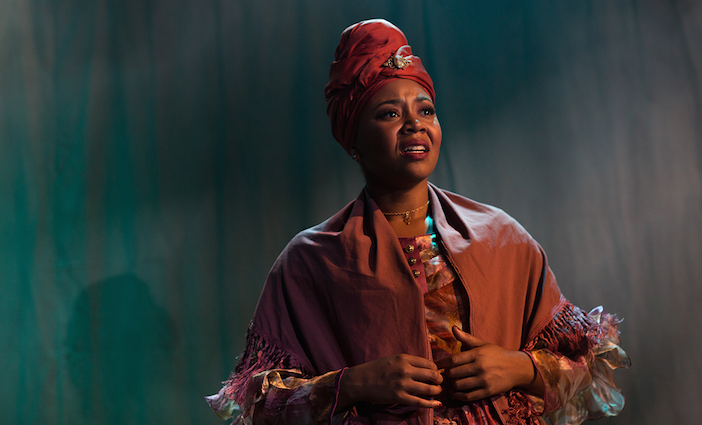 'Cardboard Piano' 
Through Feb. 25. Confronting the religious and cultural roots of intolerance, this modern-day parable explores the U.S.'s relationship with Africa, and the human capacity for forgiveness. See website for showtimes and ticket prices. Diversionary Theatre, 4545 Park Blvd. #101, San Diego, 619.220.0097. diversionary.org
'The Importance of Being Earnest'
Through Mar. 4. Oscar Wilde's wildly entertaining comedy sparkles with dazzling wordplay and hilariously unlikely situations in what the London Telegraph calls "the most perfect comedy in the English language." See website for showtimes and ticket prices. Shiley Stage at the Old Globe, 1363 Old Globe Way, Balboa Park, 619.234.5623. theoldglobe.org
Mardi Gras photo by Daniel Solomon/GSD.
[et_bloom_inline optin_id=optin_13]