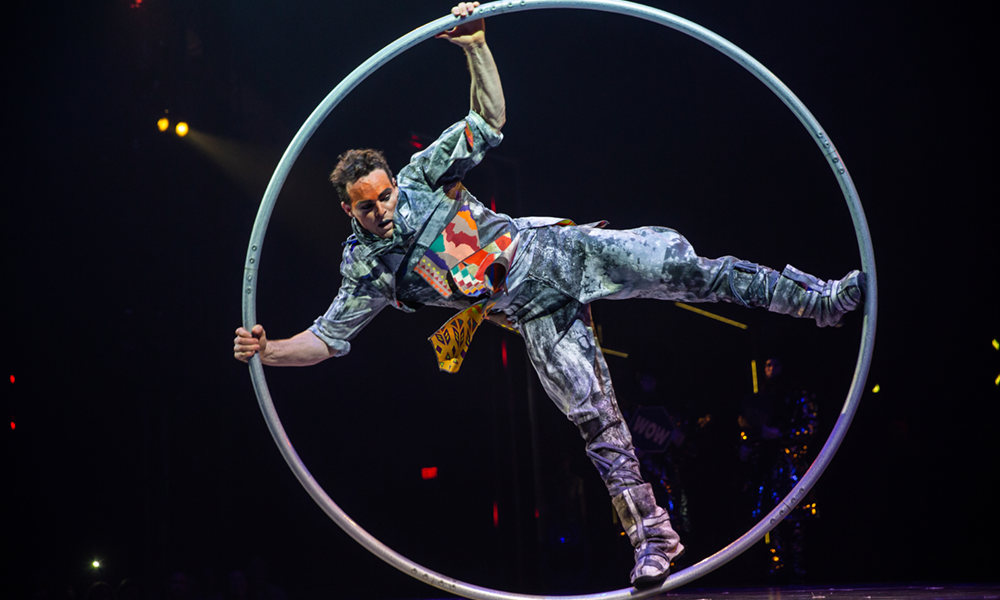 EarthFair, Mission Federal Art Walk, Taste of Hillcrest, Cats and more fun things to do are on tap this month. Here are the top 30+ San Diego things to do in April.
Edited by Jordan Fraser.
Cirque du Soleil Volta
Opens April 3. Cirque du Soleil tackles the worlds of BMX, street sports and acrobatics in this high-octane production. Riders will jump boxes, perform air tricks, leap off ramps, and crisscross and spin their bikes midair. Driven by a stirring score and inspired by the adventurous spirit that fuels the culture of street sports, at its heart, Volta is a story of transformation, which comes to life with a steep ever-evolving stage. See website for show times and ticket prices. Del Mar Fairgrounds, 2260 Jimmy Durante Blvd., Del Mar. cirquedusoleil.com
Kansas
April 4. America's preeminent progressive rock band stops in San Diego to celebrate the 40th anniversary of its hit album Point of Know Return. The tour showcases more than two hours of classic Kansas music including hit songs, deep cuts and fan favorites, and for the first time in history, the band will perform the album in its entirety. 8 p.m. $49.50+. Balboa Theatre, 868 Fourth Ave., downtown, 619-570-1100. sandiegotheatres.org
Petal To Plate
April 4-14. Carlsbad turns its focus to all things floral during this 10-day festival celebrating the peak bloom of the ranunculus at the Carlsbad Flower Fields. Tour the fields and enjoy the delights of spring with floral-inspired creations at multiple venues throughout the city including resorts, spas, restaurants and breweries. Special events include a sunset wine tasting in the fields, picnics, basket-weaving workshops and more. See website for event details and participating business specials. Various locations. visitcarlsbad.com
Rooftop Cinema Club
Starts April 4. Enjoy a wide range of movies throughout the month under the San Diego sky. Films include recent releases like Bohemian Rhapsody and A Star Is Born as well as classic favorites like The Big Lebowski and Top Gun. Grab a cocktail or craft beer along with your popcorn at the concession stand before the movie starts or head over early for one of the Manchester Grand Hyatt's on-site dining options like Top of the Hyatt lounge or Sally's Fish House & Bar. 18+. $17 for a single lounge seat, $20 for a single lounge seat along with bottomless popcorn, and $24 for two people to share a double love seat with bottomless popcorn for both. Manchester Grand Hyatt, 1 Market Place, downtown. rooftopcinemaclub.com
They Promised Her the Moon
Opens April 6. This West Coast premiere tells the true story of Jerrie Cobb, a skilled aviator who trained at NASA to become an astronaut in 1960, and the many forces that kept her from reaching orbit despite rigorous physical and psychological testing. See website for show times and ticket prices. Donald and Darlene Shiley Stage at The Old Globe, 1363 Old Globe Way, Balboa Park, 619.234.5623. theoldglobe.org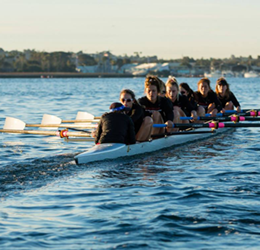 San Diego Crew Classic Regatta
April 6-7. The country's top competitive rowers gather at Mission Bay for a grueling two-day competition. Now in its 46th year, this regatta includes collegiate, junior and masters races. Plus, enjoy special events and a VIP experience that includes mingling with the athletes. See website for schedule and ticket prices. Crown Point Shores Park, Mission Bay. crewclassic.org
Bubbly & Brunch
April 7. Add a little sparkle to your Sunday brunch routine with a unique three-course brunch from JRDN's Executive Chef David Warner paired with a selection of sparkling wines. Relax beachside while sipping on bubbles at one of San Diego's most scenic oceanfront settings. 11 a.m. $59 includes tax and gratuity. Tower 23 Hotel, 723 Felspar St., Pacific Beach, 858.270.2323. t23hotel.com
Campagnolo Gran Fondo
April 7. Held annually in downtown San Diego, this bike festival features a mass-start, timed Gran Fondo (Italian for Big Ride) with four route options of varying distances for cyclists of all levels. The finish-line celebration includes live music, guest speakers, an Italian pasta feast, beer garden and more. Ride begins 7:15 a.m. $29-$130. 1747 India St., San Diego. sdgranfondo.com
All In the Timing
Opens April 10. This sextet of one-act comedies uses inspired language and wordplay to examine various attempts at relationships and communication with comical results. See website for show times and ticket prices. North Coast Rep, 987 Lomas Santa Fe, Solana Beach, 858.481.1055. northcoastrep.org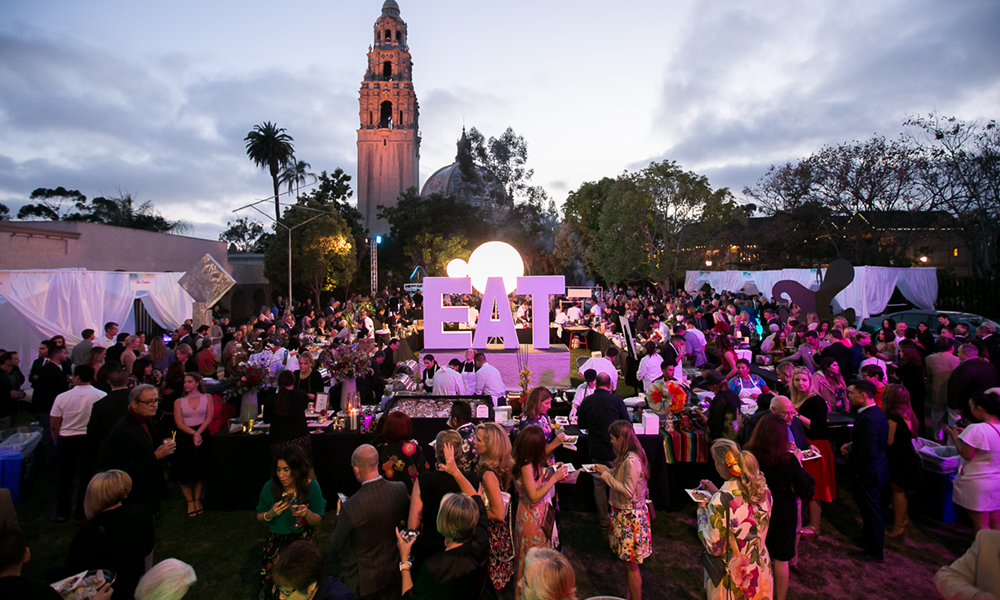 Art Alive
April 11-14. The San Diego Museum of Art's signature fundraiser and a highly anticipated spring tradition, Art Alive features nearly 100 floral designers' interpretations of famous works of art displayed throughout the museum. The four-day event includes the Bloom Bash, which will expand into the Plaza de Panama this year to accommodate a growing guest list and new activities including a Ferris wheel. See website for schedule and ticket prices. San Diego Museum of Art, 1450 El Prado, Balboa Park, 619.232.7931. sdmart.org
Picnic in the Flowers
April 11. Enjoy a warm, coastal sunset with a delicious picnic basket meal prepared by the culinary team at 20|Twenty Restaurant paired with a refreshing beer or a delicious glass of wine from the TapTruck amongst thousands of Tecolote Giant Ranunculus flowers during their peak bloom. Tickets include exclusive after-hours entrance to The Flower Fields. $65. 5:30-7:30 p.m. The Flower Fields, 5704 Paseo Del Norte, Carlsbad. Tickets
Cinderella
April 12-14. The California Ballet invites you to revisit the magical world where wishes do come true. Jared Nelson's choreography breathes new life into the timeless story of the downtrodden girl with big dreams, her malicious stepfamily, a magical fairy godmother and the dashing prince who steals her heart. Set to Prokofiev's classic score, this brand new production brings classical ballet to the contemporary audience. F 7:30 p.m., Sa 2 p.m. and 7:30 p.m., Su 2 p.m. $25+. San Diego Civic Theatre, 1100 Third Ave., downtown. 619.570.1100. sandiegotheatres.org
La Jolla Concours D'Elegance
April 12-14. You don't have to be a car lover to enjoy three days of fun at this community auto show, including a Friday night social club; Saturday's "Brake in the Village" sip, shop and stroll event; Night of Steampunk on Saturday; and the Concours on Sunday, which features more than 300 vehicles parked along the Pacific. La Jolla Cove, Ellen Browning Scripps Park, 1133 Coast Blvd., La Jolla. lajollaconcours.com
ArtFest
April 13-14. Celebrate the art of Asian horticulture with some of the finest regional artists displaying, selling and giving demonstrations of their craft. More than 35 artists will display their talents with the beautiful San Diego Botanic Garden as a backdrop. Plus, enjoy outstanding displays by the Ohara School of Ikebana, La Jolla Chapter and Bonsai and Beyond, live music and a gift shop full of garden-related gifts. Locally-sourced food will be offered by The Go Go Truck and hot, fresh coffee and treats will be available from Rush Coffee. 9 a.m.-5 p.m. Free with paid admission or membership. San Diego Botanic Garden, 230 Quail Gardens Drive, Encinitas, 760.436.3036. sdbgarden.org
San Diego Gay Men's Chorus Presents Motown
April 13-14. You'll be dancing in the aisles to all the hits from Motown superstars like Stevie Wonder, Diana Ross and The Supremes, Lionel Richie and Gladys Knight in this lively tribute. The group's 200 singers and dancers will rock you with renditions of "Ain't No Mountain High Enough," "Midnight Train to Georgia," and "Heatwave," and bring a tear to your eye with powerful ballads like "What's Going On" and Diana Ross' first solo hit "Reach Out and Touch (Somebody's Hand)." Sa 3 p.m. and 8 p.m., Sun 3 p.m. $27+. Balboa Theatre, 868 Fourth Ave., downtown, 619.570.1100. Tickets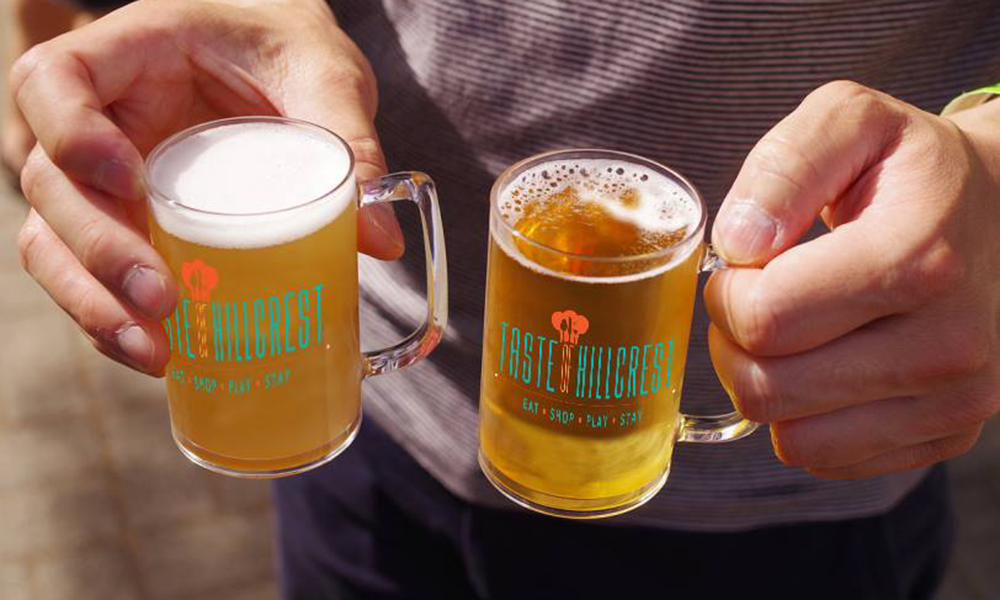 Taste of Hillcrest
April 13. Hillcrest is known for its fabulous cuisines, and now, guests can stroll and sample through a self-guided culinary tour of the neighborhood with more than 35 participating restaurants and bars. Taste the eclectic neighborhood's best dishes including Pad Thai, fresh sashimi, Italian antipasto and classic American comfort food. Must be over 21 to sample beers. $30 in advance, $35 day of. Noon-4 p.m. Check in at Rich's San Diego, 1051 University Ave., Hillcrest. fabuloushillcrest.com
VinDiego Wine & Food Fest
April 13. Wine and food enthusiasts can enjoy unlimited samples from more than 200 distinct, award-winning wines from upwards of 75 wineries. Guests will also taste food and appetizers from more than 25 San Diego eateries while enjoying live music performances. 4-7 p.m., early entry 3 p.m. GA $85, Early Entry $105. Waterfront Park, 1600 Pacific Hwy., Embarcadero. vindiego.com
Fallbrook Avocado Festival
April 14. Head to the "Avocado Capital of the World" in northeast San Diego County to celebrate and eat the best of the crop. The festival includes avocado-themed gifts, guacamole contests, live music and entertainment, beer gardens and plenty of food to pair with the avocados. Downtown Fallbrook. fallbrookchamberofcommerce.org
Alan Cumming: Legal Immigrant
April 16. Renaissance man, style icon, performer extraordinaire and social activist, Alan Cumming is many things to many people. In this one-man cabaret of songs and stories about his life and finding an adopted homeland in the United States, he represents himself through his own eyes, as a storyteller and provocateur for hire. 7:30 p.m. $35-$95. California Center for the Arts, 340 N. Escondido Blvd., Escondido, 800.988.4253. artcenter.org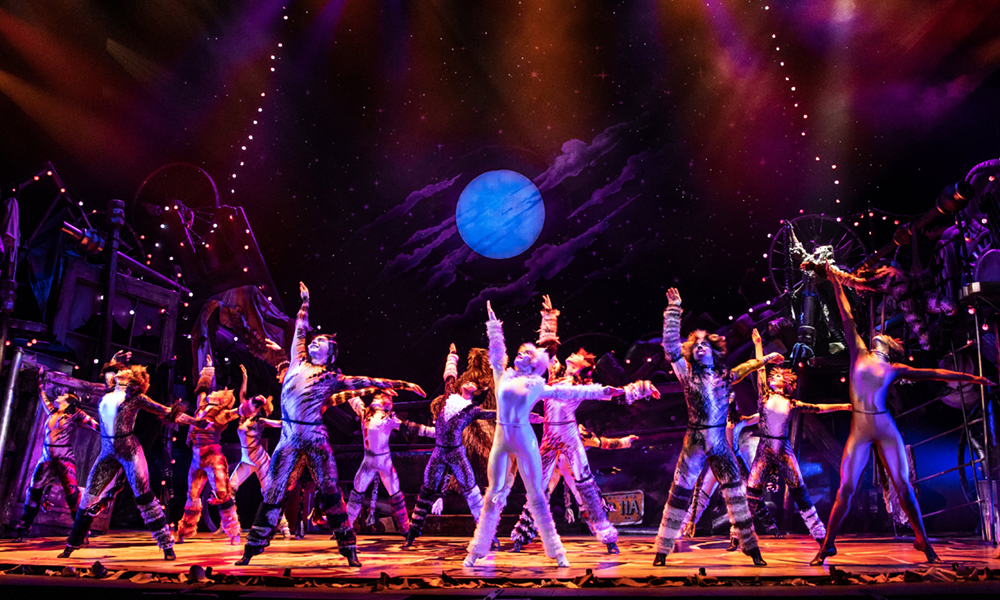 Cats
April 16-21. Andrew Lloyd Weber's record-breaking musical about one magical night that an extraordinary tribe of cats gathers together for its annual ball to rejoice and decide which cat will be reborn has been reimagined for the next generation. With new costumes, staging and lighting effects, Cats features the original score, including one of the most treasured songs in all of musical theater history, "Memory."  See website for show times and ticket prices. San Diego Civic Theatre, 1100 Third Ave., downtown, 619.570.1100. sandiegotheatres.org
Sweat
Opens April 18. In this Pulitzer Prize-winning drama, the fragile bonds between a group of close friends begin to splinter when the layoffs shake up the factory where they work. With humor and tremendous heart, Sweat speaks directly to the unsettling changes in America. See website for show times and ticket prices. San Diego Rep, Lyceum Stage, 79 Horton Plaza, downtown, 619.544.1000. sdrep.org
Bikes, Boards & Brews
April 20. Celebrate the Pacific Beach culture and all of the neighborhood's unique eateries and breweries at the annual Bikes, Boards and Brews event. Tickets include 10 tasters from San Diego's best craft breweries, food pairings from local restaurants, live entertainment, and more. Participating vendors include favorites such as PB Fish Shop, Amplified Ale Works, Bareback Grill and many more. 21+. Noon-5 p.m. $30. Crown Point Park, 3600 Corona Oriente Road, Pacific Beach. pacificbeach.org
Chicano Park Day
April 20. The 49th annual event celebrating Chicano Park—a designated National Historic Landmark—features traditional music and dance, a lowrider car show, art workshops for kids, and food, arts and craft vendors. The park has received international recognition as a major public art site for its commanding mural paintings of the past and present struggles of Mexican and Chicano history. 10 a.m.-5 p.m. Free. Chicano Park, between National and Logan avenues, Barrio Logan. chicano-park.com
Ali Wong
April 19-22. The stand-up comedian, writer and actress hit critical acclaim with her breakout Netflix special Baby Cobra in 2016. Since then she has thrown out the first pitch at a Giants game, appeared on Ellen and became the very first artist to sell out eight shows at the San Francisco Masonic Theater. See website for show times and ticket prices. April 19-20, Balboa Theatre, 868 Fourth Ave., downtown. April 22 at San Diego Civic Theatre, 1100 Third Ave., downtown, 619.570.1100. sandiegotheatres.org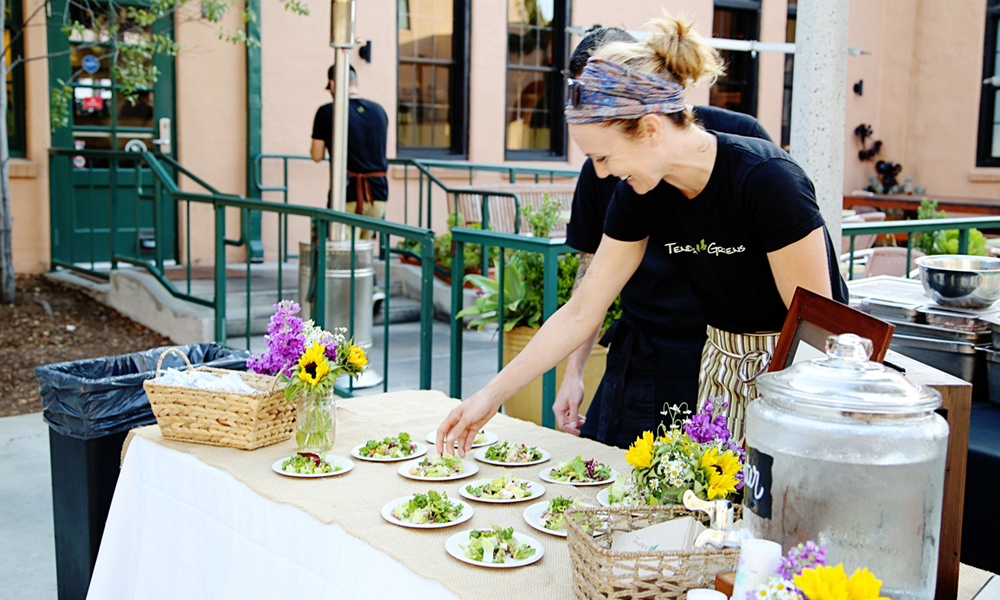 Taste of Liberty Station
April 24. Music, art, culture, drinks and food come together to showcase one of San Diego's more burgeoning areas. Ticketholders can peruse Liberty Station's corridors and promenades while enjoying pop-up entertainment as they stroll from restaurant to restaurant or from gallery to business. The "Liberty Pass"  map lists out all the participating businesses and their special offerings, making it simple to make the most of this experience. $30 advance, $40 day of. 5-9 p.m. Tickets can be exchanged for a Liberty Pass at locations in the South and North Promenade, Liberty Station. libertystation.com
Queen Bee Market
April 26-27. Co-owned by two San Diego sisters and described as "Etsy comes to life," this market features artisans and vendors who create handmade home decor, accessories, clothing, paper arts, vintage items and furniture. Along with the creative and unique vendors, there will also be live demonstrations, make-and-take stations and more. F 4-9 p.m.; Sa 9 a.m.-4 p.m. $3, free for kids 12 and under. Del Mar Fairgrounds, Bing Crosby Hall, 2260 Jimmy Durante Blvd., Del Mar. thequeenbeemarket.com
Adams Avenue Unplugged
April 27. Watch live musical performances inside restaurants, bars, coffee houses and galleries along a two-mile stretch of Adams Avenue. There will be 24 stages with 80 performances at venues such as Twiggs Coffeehouse, Rosie O'Grady's, Polite Provisions, Ken Club and more. Noon-10 p.m. Free. Adams Ave. from University Heights to Kensington, 619.282.7329. adamsavenueunplugged.com
Mission Federal ArtWalk
April 27-28. Now in its 35th year, this free festival offers the opportunity to meet more than 350 local, national and international artists and purchase art directly from the creators. The largest and longest running arts festival in Southern California, it showcases every medium including painting, sculpture, glasswork, photography, fine jewelry and much more. Also enjoy live music, dance performances, interactive art experiences, street food and family-friendly art projects at KidsWalk. 11 a.m.-6 p.m. Free. Little Italy. artwalksandiego.org
Tequila and Taco Music Festival
April 27-28. The traveling Tequila and Taco Music Festival makes its first stop of the year in San Diego. Both days will include food vendors with gourmet street tacos, craft beer and live music, while Saturday will feature a top-shelf tequila tasting from noon to 4 p.m., Sa noon-7 p.m., Su noon-6:30 p.m. $10 general admission, $40 Saturday tequila sampling. Embarcadero Marina Park South, 200 Marina Park Way, Embarcadero. tequilaandtacomusicfestival.com
La Jolla Half Marathon and Shores 5K
April 28. Kick-start your morning with a marathon course beginning at the Del Mar Fairgrounds that goes along the coast, through Torrey Pines State Park and finishes in Ellen Browning Scripps Park at La Jolla Cove. The 5K course is just as scenic, beginning near Scripps Pier and finishing at the same location as the half marathon. Start time for both races 6:30 a.m. $130 half marathon, $50 5K. Del Mar Fairgrounds, 2260 Jimmy Durante Blvd., Del Mar. inmotionevents.com
San Diego EarthFair
April 28. Celebrate Mother Earth at this Balboa Park environmental fair that features more than 300 educational exhibits, kids' entertainment, food vendors and live music. The exhibits represent a well-rounded collection of environmental organizations, government programs and commercial enterprises with goods, services, and causes that address the environment and quality of life. There will also be food courts and an Earth Day Parade starting at the Spanish Village marching to the Children's Area in the Pan American Plaza. 10 a.m.-5 p.m. Free. Balboa Park, San Diego. earthdayweb.org
Photos: Volta by Matt Beard. San Diego Crew Classic Regatta courtesy San Diego Crew Classic. Art Alive courtesy The Idea Brand. Taste of Hillcrest courtesy Fabulous Hillcrest. Cats by Matthew Murphey. Taste of Liberty Station by Maria Pablo.