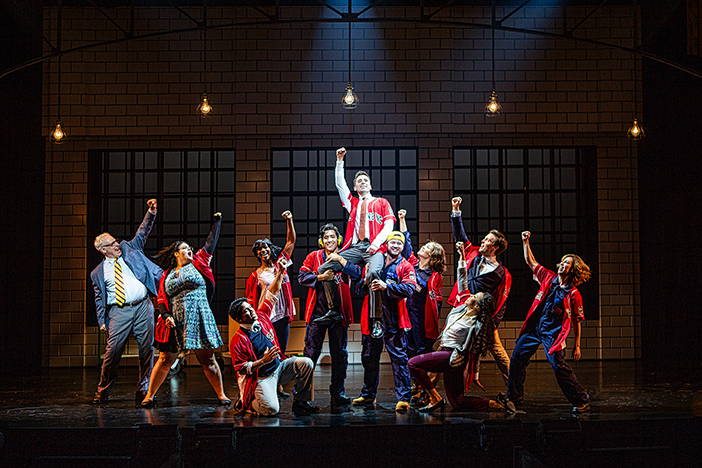 From award-winning Broadway musicals to modern day comedies, check out the top performances and plays in San Diego this fall.
Edited by Eva Scattergood.
"The Heart of Rock & Roll"
Sept. 6-Oct. 21. Catch this world-premiere musical comedy that celebrates the classic songs of Huey Lewis and the News, including hits such as "Workin' for a Livin'," "If This Is It" and "The Power of Love." See website for show times. $39+. Shirley Stage at the Old Globe Theatre, 1363 Old Globe Way, Balboa Park, 619.234.5623. theoldglobe.org   
"Bull in a China Shop"
Sept. 13-Oct. 14. Witness the San Diego premiere of the true story of Mary Woolley and her partner Jeannette Marks as they set out to revolutionize women's education and electrify the suffrage movement. Told with a modern twist, this surprising, whip-smart comedy examines the ambition and desires of two women bent on changing the course of history, and how they ended up changing each other. See website for show times. $15-$55. Diversionary Theatre, 4545 Park Blvd. #101, University Heights, 619.220.0097. diversionary.org
"Hundred Days"
Sept. 22-Oct. 21. Written and performed by husband-and-wife team Abigail and Shaun Bengson, this autobiographical piece centers on taking a leap and loving as if you only had 100 days to live. See website for show times. $35+. Mandell Weiss Forum at the La Jolla Playhouse, 2910 La Jolla Village Dr., La Jolla, 858.550.1010. lajollaplayhouse.org
"HIR"
Oct. 3-28. A veteran returns from Afghanistan to help take care of his ailing father, only to discover his mom and newly out transgender sibling are trying to dismantle the patriarchy. See website for show times and ticket prices. Cygnet Theatre, 4040 Twiggs St., Old Town, 619.337.1525. cygnettheatre.com
"Persuasion"
Oct. 5-Nov. 18. The California premiere of a musical adaptation of Jane Austen's final novel and its heroine, Anne Elliot, in which a Navy Captain returning from war discovers that the woman who had hastily broken off their engagement years before remains unmarried. See website for show times. $28+. Lamb's Players Theatre, 1142 Orange Ave., Coronado, 619.437.6000. lamsplayers.org
"Actually"
Oct. 11-Nov. 4. Tom and Amber connect at a party in ways that seem innocent enough, but as the night heats up, they find themselves in murky territory in this bold play that tackles the topic of sexual consent. See website for show times. $21+. San Diego Rep, Lyceum Theatre, 79 Horton Plaza, downtown, 619.544.1000. sdrep.org
"Holmes & Watson"
Oct. 17-Nov. 18. See if you can solve the riddle at the West Coast premiere of Holmes & Watson in which Dr. Watson must discern which of three men is the missing Sherlock Holmes. Conceived by Jeffrey Hatcher, this show is fast-paced, thrilling, and full of twists and turns. See website for show times. $42+; discounts for seniors, students, military and educators. North Coast Repertory Theatre, 987 Lomas Santa Fe Dr., Solana Beach, 858.481.1055. northcoastrep.org      
"Wicked"
Oct. 31-Nov. 25. The Tony Award-winning Broadway musical tells the untold story of the two witches of Oz, long before that girl from Kansas arrives in Munchinland. See website for show times. $39+. Broadway/San Diego, Civic Theatre, 1100 Third Ave., downtown, 619.570.1100. broadwaysd.com

"The Heart of Rock & Roll" photo by Jim Cox. "HIR" photo by Karli Cadel. 
[et_bloom_inline optin_id=optin_13]