7 Top San Diego Farmers Markets
Beyond its beautiful beaches, trendy neighborhoods and immense dining scene, San Diego's collection of fresh produce continues to don the menus of top restaurants, and fill the baskets of visitors and locals alike.
With local farmers markets spanning the county every day of the week, shoppers are spoiled by the rich variety of locally grown produce. Spring and summer seasons make for the freshest berries, citrus, avocados, and a plethora of other fruits, vegetables, nuts and flowers. We've rounded up seven San Diego farmers markets where shoppers can cash in on the goodness. Visit sdfarmbureau.org for even more farmers' markets throughout San Diego.
Coronado
With its gorgeous views of downtown San Diego, the Coronado farmer's market is a favorite stop for locals and visitors alike. The produce is all grown within San Diego county and harvested at the pique of freshness, giving shoppers a true taste of San Diego. Guests can shop from 2-6 p.m. every Tuesday. First and B (Ferry Landing), Coronado.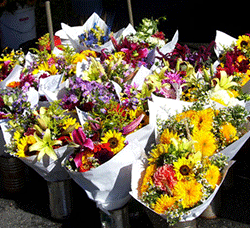 Hillcrest
Hillcrest Farmers' Market is now accessible by trolley, and each Sunday more than 100 vendors showcase their produce and crafts. Shoppers can pick up fresh ingredients for a Sunday brunch between 9 a.m. and 2 p.m. at the intersection of Lincoln Ave. and Normal St., Hillcrest. Hillcrestfarmersmarket.com.
Pacific Beach
The popular beach town boasts farmers markets on both Tuesdays and Saturdays. Tuesday evenings from 2-7 p.m., vendors line Bayard St., from Garnet Ave. to Hornblend St. On Saturday mornings, just steps from the ocean, shoppers can peruse the market along Mission Blvd. between Reed and Pacific Beach Blvd from 8 a.m. to noon.
Little Italy Mercato
As one of San Diego's most well-known farmers markets, Little Italy is also a destination for craft goods, artisan foods and specialty items. The marketplace typically offers over 150 booths overflowing with fruits, vegetables, flowers and herbs. Guests to the mercato will also enjoy live music and the energy of downtown San Diego just steps from the bay every Saturday from 8 a.m. to 2 p.m. West Cedar Street from Kettner Blvd. to Front St., Little Italy. littleitalymercato.com
Escondido
North county visitors and locals wander the historic downtown Escondido as Grand Ave. transforms into a bustling marketplace. Tuesday afternoons, from 2:30-6 p.m., shoppers can stock up on their fruits, vegetables and other produce. Grand Ave., at Juniper, Escondido. EscondidoFarmersMarket.com
Point Loma
Every Sunday "rain or shine" the Point Loma farmers' market sets up at Canon and Rosencrans near the San Diego Yacht Club. From 9:30 a.m.-2:30 p.m., guests can fill their baskets with fresh fare. Once a month shoppers can also catch a cooking demonstration from chef and cooking instructor, Marissa Joinson. Cannon St., between Rosencrans and Shafter, Point Loma. BriansFarmersMarkets.com
Seaport Village
Seaport Village's trendy destination, the Headquarters, hosts Sunday farmers market from 10 a.m.-2 p.m. at the corner of Pacific Hwy. and W. Harbor Dr. The proximity to the marina and downtown makes this a popular stop while enjoying a weekend in San Diego. Pacific Hwy. and West Harbor Dr., Seaport Village. BriansFarmersMarkets.com