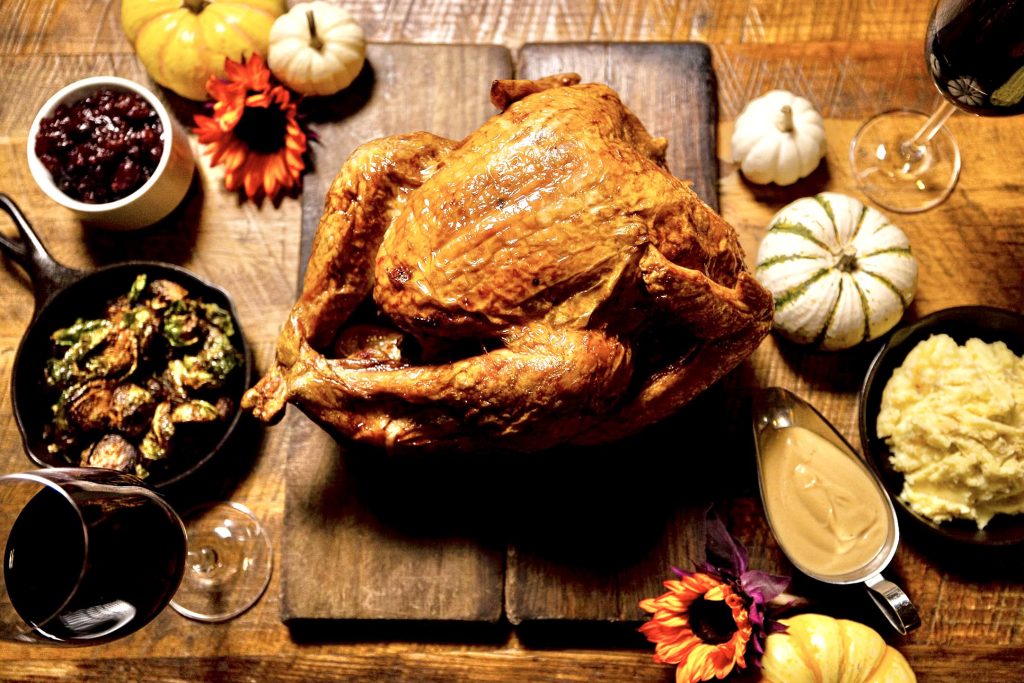 From special restaurant menus to takeout meals—we've rounded up some delicious ways to celebrate Thanksgiving in San Diego.
Let's talk turkey. From traditional Thanksgiving dinner enjoyed at your favorite San Diego restaurants, to decadent to-go meal packages, turkey is no doubt the star of most menus this holiday weekend. We've rounded up some of our favorite spots offering special menus filled with classic Thanksgiving dishes. We've also mixed in a few restaurants offering some nontraditional—but equally delicious and festive—holiday menus. So if cooking isn't in the cards for you this year, San Diego's top chefs are glad to do it for you. Happy Thanksgiving!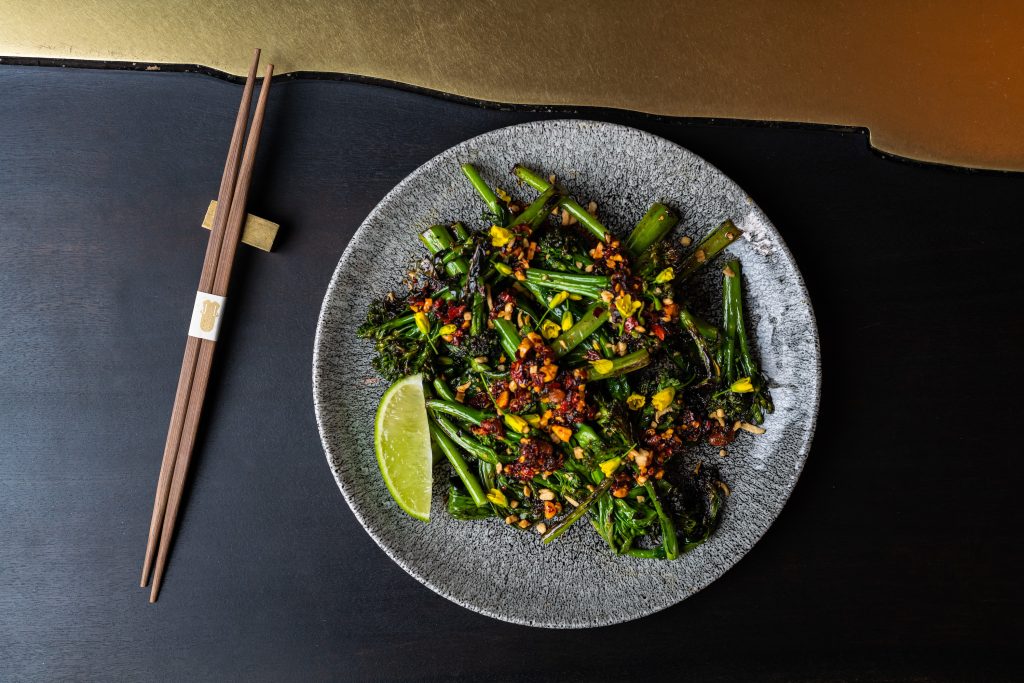 Nov. 23. Enjoy a decadent, not-so-traditional meal on Thanksgiving at this posh downtown hot spot, known for its creative Pan-Asian plates by executive chef Tara Monsod—who has created a special four-course dinner menu. Offerings include starters like Hamachi tataki and Laab beef tartare; a second course of crispy pig ears, lamb chops or charred cabbage; short-rib kare kare, roasted turkey, mushroom ragu or Szechuan fish as mains; family-style sides such as roasted broccolini and golden chicken rice; and green-apple-yuzu semifreddo for dessert. Reservations required. 3-8 p.m. $110 adults; $42 kids. 969 Pacific Hwy., downtown, 619.432.1225
Nov. 23. Celebrate by indulging in the French bistro's special three-course menu—with your choice of appetizer, entree and dessert—by owner/executive chef Ken Irvine. Choices include pumpkin-hominy soup and duck pâté with pork terrine to start; beef bourguignon, Faroe Island salmon, and turkey prepared two ways as entrees; and crème brûlée and warm brioche-bread pudding with caramelized apples and white chocolate for dessert. Add-ons such as the limited-edition Pumpkin Pie Martini are also available. Reservations required. Noon-4 p.m. $75 adults; $29 kids under age 12. 4090 Adams Ave., Kensington, 619.255.4167
Nov. 23. The popular Encinitas restaurant is offering a pre-fixe Thanksgiving menu—with starters like kanpachi crudo, Waldorf salad and wild boar sausage with bordelaise, cherries and polenta; mains including fried turkey with mashed potatoes and cranberry sauce, cioppino, braised lamb stew or veggie paella; sides such as herb stuffing, candied yams and Parker House rolls; and desserts like classic apple pie with vanilla ice cream, and pecan pie with ginger ice cream. Reservations required. 1-7 p.m. $89 adults; $38 children. 131 D St., Encinitas, 760.704.8300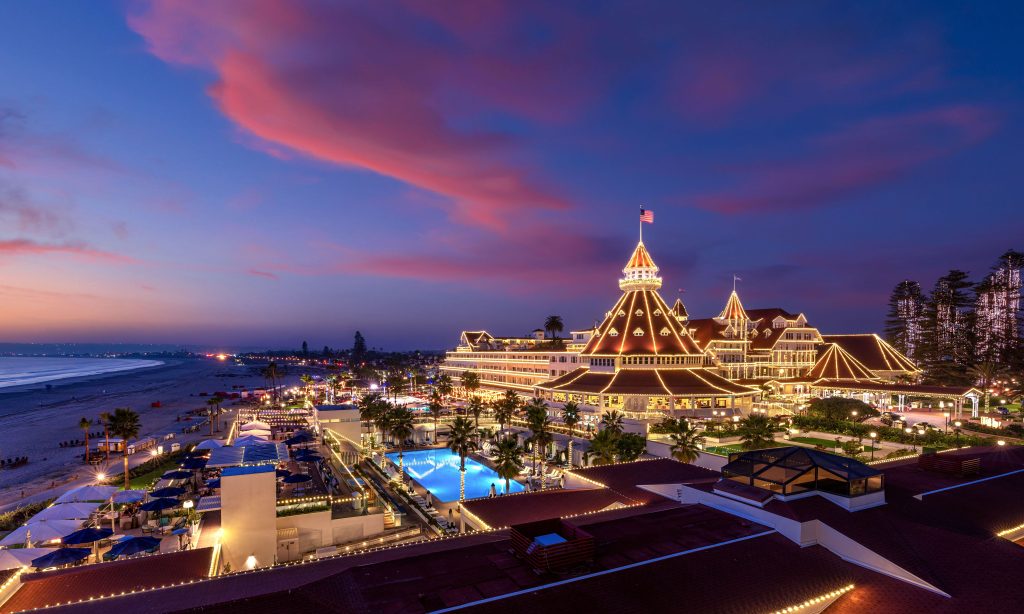 Nov. 23. The iconic historical resort will host an equally grand Thanksgiving dinner buffet in its new Southpointe Ballroom, located on the south end of the property—complete with all your favorite dishes, traditional trimmings, live music, and stunning holiday lights and decor. The buffet menu includes a chilled seafood display, sushi and sashimi, lobster bisque, whole-roasted organic turkey, pepper-crusted prime rib, a vegan curry station, a culinary square with cured meats and artisanal cheeses, and a decadent dessert buffet—including caramel-apple and gelato stations. Afterward, head outside for Skating by the Sea, and stroll around the resort grounds—which are decked out with art-deco-style decorations and lights that embrace this year's theme: "A Twenties Holiday Affair." See website for reservations and pricing. 1500 Orange Ave., Coronado, 619.435.6611
Nov. 23. The beachfront restaurant's executive chef Jerry Ranson has dreamt up a festive menu where guests can choose from a handful of options across three courses (plus side dishes) for a customized holiday meal; plus a curated selection of wines by the bottle. Choose from appetizers like pumpkin-lobster bisque and pomegranate-glazed pork belly; mains such as turkey, glazed ham and pumpkin risotto; sides that include traditional stuffing, garlic-mashed potatoes and roasted baby carrots; and desserts created by pastry chef Justin Sazon, such as carrot-micro sponge cake and puff-pastry apple pie. Reservations recommended. Noon-8 p.m. $69-$74. 723 Felspar St., Pacific Beach, 858.270.5736
Nov. 20, 22, & 24. Take your pick of three dates the week of Thanksgiving to enjoy a special prix fixe, nontraditional holiday season meal at Kingfisher—known for its French-influenced Vietnamese fare and glam decor. The four-course, family-style menu includes Vietnamese Caesar Salad, Laab-style beef tartare, Chicken Congee, Vietnamese Curry, Oxtail Cassoulet, and warm bread pudding for a sweet finish; with wine pairings as an add-on. Reservations required. $90 per person. 2469 Broadway, Golden Hill, 619.432.1014
Preorder by Nov. 20. Looking for a plant-based Thanksgiving feast? The Plot has you covered. Choose from a savory meatless loaf (caramelized tomato jam, garlic yam mash with fresh herbs, and black pepper collards), or shepherd's pie (hearty meatless gravy topped with mashed potatoes, served with seasonal veggies); along with persimmon salad with garden greens and pomegranate vinaigrette; and spiced pumpkin cake for dessert. Preorder your meal online for pickup on Nov. 22. (Meals come ready to reheat, with instructions.) $35 per person. 1733 S. Coast Hwy., Oceanside, 442.266.8200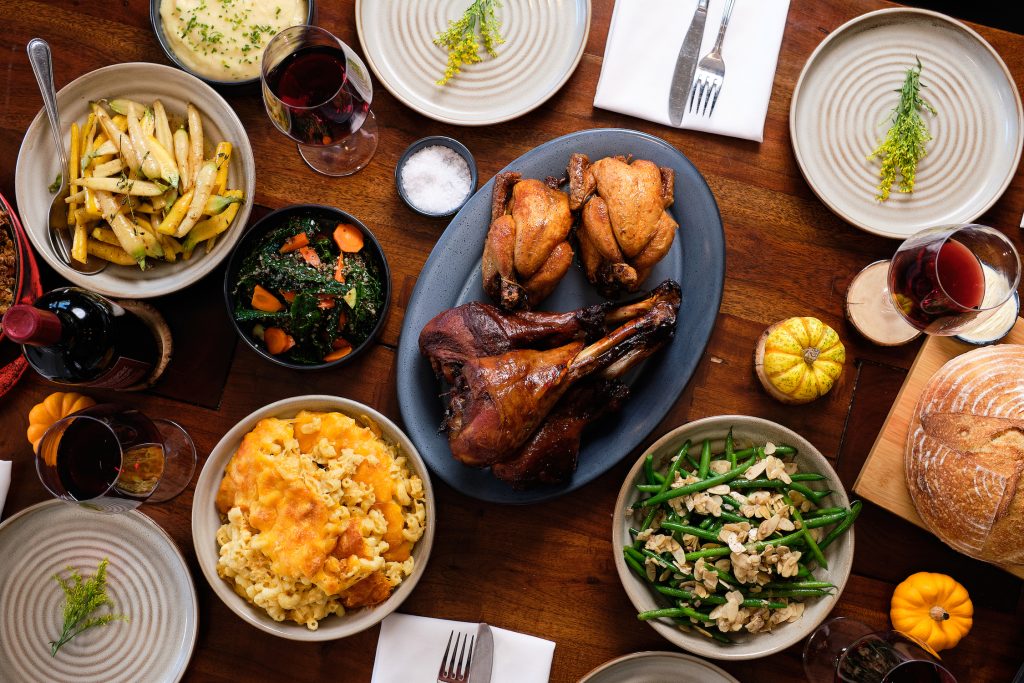 Preorder by 4 p.m. Nov. 19. Want to eat at home but don't feel like cooking this year? The butcher shop and eatery is offering a fully customizable, à la carte Thanksgiving menu, available for pickup on Nov. 22. Choose from mains such as herb-crusted prime rib, smoked turkey legs and 45-day-aged ribeye; sides including honey-and-thyme roasted rainbow carrots, country-style baked mac 'n' cheese, green-bean almondine and olive-oil-smashed potatoes; and pumpkin cheesecake, pecan pie and apple crisp for dessert. 512 Via de la Valle, Suite 102, Solana Beach, 858.461.0092
Preorder by midnight Nov. 19. The luxe resort is offering an array of family-friendly fun on Thanksgiving day—including its signature buffet offering a raw bar, carving stations and desserts; along with carriage rides, a petting zoo, a bounce house, face painting, lawn games, and arts & crafts for the kiddos. And new this year: Rancho Valencia is offering "Thanksgiving To-Go," with full takeout meals that serve four people. Offerings include whole roasted turkey, stuffing, sides, sauces and whole pies for dessert; plus wines by the bottle. See website to order to-go meals ($350 minimum order), and to schedule a pickup time on Nov. 22. Onsite Thanksgiving day buffet offered from 10 a.m. to 4 p.m.; call for dining reservations. $195 adults; $55 kids age 3-11. 5921 Valencia Circle, Rancho Santa Fe, 858.759.6246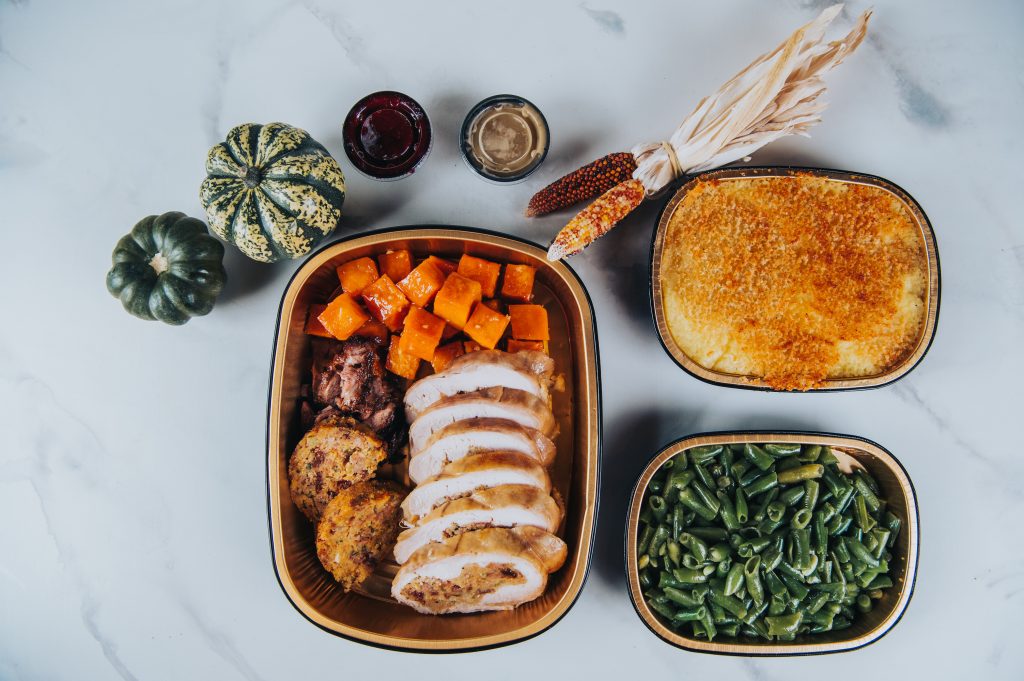 Nov. 23-26. The Gaslamp steakhouse is offering Thanksgiving specials all holiday weekend long, available for dine-in as well as takeout. Offerings include roasted free-range turkey with cornbread-sage stuffing and shallot-and-thyme confit thighs; with sides including sauteed green beans with crispy shallots, maple-baked sweet potatoes, Yukon Gold mashed potatoes with a Parmesan crust, classic gravy and cranberry-orange chutney; plus add-ons such as spiced pumpkin pie. Reservations recommended. $64 per adult; $29 per child (age 12 and under); $124 per takeout meal (serves two). 600 F St., Gaslamp Quarter, 619.354.5988
Nov. 22-25. North County's refined-dining restaurant at Alila Marea Beach Resort is offering a family-style, three-course meal experience (for four or more guests) across four days—perfect for Thanksgiving or "Friendsgiving" gatherings—created by chef Claudette Zepeda. Feast on Thanksgiving classics with a twist: Turkey Pibil (Yucatan-style roast turkey), Yucca mash, sweet potatoes, crispy Brussels sprouts, stuffing, gravy, and your choice of a fall salad or squash-smoked-coconut soup; plus petit-sweet-potato pot de crème, warm-caramel-apple-cheesecake hand pies, and mini-pumpkin-butter cakes for dessert. Reservations required. 2-9 p.m. $109 adults; $38 children. 2100 N. Coast Hwy., Encinitas, 760.452.3484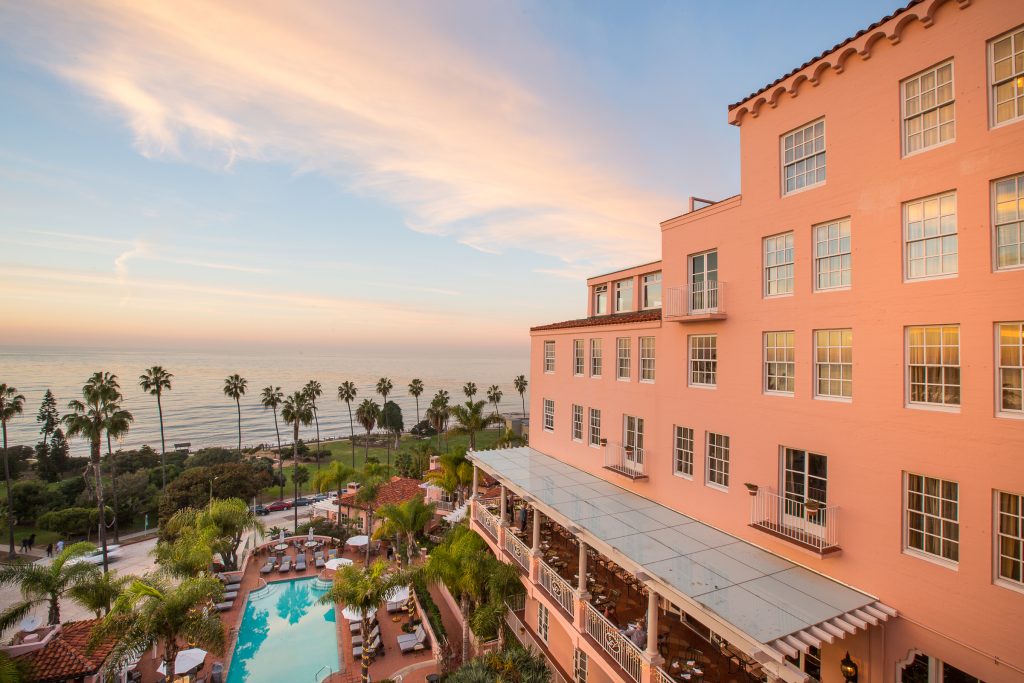 Nov. 23. Celebrate the holiday at the iconic "Pink Lady" overlooking La Jolla Cove. Chef Fabian Aceves has dreamt up a special Thanksgiving menu featuring your choices of dishes such as Agave Cinderella Pumpkin Bisque, orange-blossom-poached lobster tail, herb-roasted Diestel turkey with cornbread stuffing and fixings, Alaskan halibut, prime New York strip steak, pumpkin pie and more. Reservations required. 12:30-7 p.m. $130 adults; $40-$60 kids. 1132 Prospect St., La Jolla, 855.476.6870
Photo credits: Animae by James Tran. Ranch 45 by Chris Costa. Other images are courtesy of the venues featured.