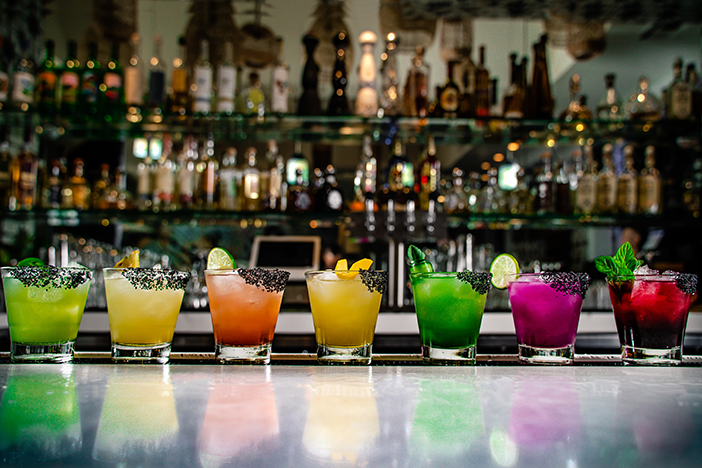 From live Mariachi music and dance performances to traditional Mexican street food, here are the best places to celebrate Cinco de Mayo in San Diego.
Edited by Eva Scattergood.
Death by Tequila
May 3-5. Fiesta like there's no mañana with a weekend-long celebration. The restaurant will introduce a festive and flavorful new dragon fruit and tangerine margarita punch bowl in honor of the holiday, available throughout the weekend. Meant for sharing and serving four people, the 40-ounce cocktail is served in a skull-shaped goblet and priced at $45. Stop by for dinner or Sunday brunch complete with an array of signature Baja-inspired dishes and drinks. F 1 p.m. bar, 5 p.m. dinner; Sa 1 p.m.-midnight; Su 10 a.m.-8 p.m. 569 S. Coast Hwy. 101, Encinitas, 760.782.2240. deathbytequila.com
Balboa Park
May 4. Experience one of the region's largest Cinco de Mayo events in Balboa Park. The festive day features Mexican-themed music and dance performances, colorful horseback riders, strolling mariachis, a fashion show of traditional Mexican dress, hands-on activity booths for kids, arts and crafts vendors, food trucks and more! The family-friendly celebration culminates with a 5 p.m. concert in Spreckels Organ Pavilion with crowd-favorite Jarabe Mexicano. 11 a.m.-6 p.m. Free. Plaza de Panama, 1450 El Prado, Balboa Park, 619.331.1920. balboaparkconservancy.org
Bazaar del Mundo Shops
May 4-5. Find artists displaying their Cinco de Mayo-themed crafts and collectibles including traditional Mexican clothing, carefully hand-selected folk art, jewelry and home decorations in vibrant colors available for purchase and decorating inspiration. Throughout the weekend, performances from lively Ballet Folklorico dancers and Chinelos dancers will take place. Sa 10 a.m.-8 p.m., Su 10 a.m.-5:30 p.m. 4133 Taylor St., Old Town, 619.296.3161. bazaardelmundo.com
Casa de Bandini
May 4­­­-5. Spice up your fiesta with the Carnitas Taco Sampler and wash them down with Don Julio margaritas. Sip on specialty cocktails with drink specials by the hour, offered Saturday and Sunday, along with live Mariachi music and Folkloric dancers. Sa 11 a.m.-10 p.m., Su 11 a.m.-9 p.m. 1901 Calle Barcelona, Carlsbad, 760.634.3443. casadebandini.com
Casa Guadalajara
May 4-5. Outside the entrance, guests will be welcomed into a charming and lively marketplace filled with Mexican folk art, crafts, handmade clothing, accessories, plus delicious traditional Mexican street food for purchase and activities for kids. Inside, Casa Guadalajara will be bursting with festive colors and decor. Enjoy Cinco-inspired fare, such as Cincoritas, strawberry, kiwi and lemon-lime margaritas decked out in the colors of the Mexican flag; and Enchiladas Banderas, a savory sampling of chicken, cheese and beef enchiladas served with three different sauces—rojas, verde, and blanca. Sa 10 a.m.-8 p.m., Su 10 a.m.-5:30 p.m. 4105 Taylor St., Old Town, 619.295.5111. casaguadalajara.com
Pacific Beach AleHouse
May 4-5. Delight in $5 Pacifico drafts and $8 Don Julio margaritas all weekend long, plus a sunset mariachi on the 5th! Pair this with grilled fish tacos, crafted with marinated mahi, chipotle aioli, jalapeño cream, purple cabbage, pineapple papaya salsa and cotija cheese rolled into a warm flour tortilla, served with a black bean and corn skillet. 9 a.m.-2 a.m. 721 Grand Ave., Pacific Beach, 858.581.2337. pbalehouse.com
barleymash
May 5. Head to the high-energy, vibrant Gaslamp District for great eats and delicious drinks. Sip on festive cocktails like their Coconut Margarita or Afternoon Delight, made with Herradura Reposado, pineapple, jalapeño, lime and agave. You can also snack on dishes like the San Diego Fries, topped with red chili braised short rib, pepper jack beer cheese, sour cream, spicy guacamole and salsa fresca. 10 a.m.-2 a.m. 600 Fifth Ave., Gaslamp Quarter, 619.255.7373. barleymash.com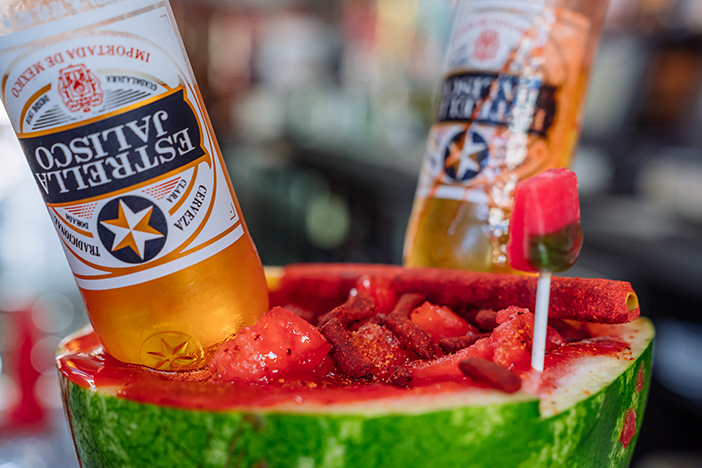 El Chingon
May 5. Join the party with signature brunch drinks and dishes. Featured items include the Chingon Breakfast Burro, a flour tortilla filled with scrambled eggs, bacon, chingón cheese blend, french fries, avocado and sour cream; huevos rancheros, a tostada topped with refried beans, two eggs, ranchero sauce, sliced avocado and sour cream; as well as the Super sunDIA, a shareable cocktail made with Dos XX, fresh watermelon, house-made michelada mix and chaca chaca, served in a halved-watermelon with a chamoy and a tajín rim. 9:30 a.m. 560 Fifth Ave., Gaslamp Quarter, 619.501.1919. elchingon.com
Himmelberg's
May 5. What better way to kick off the festivities than with mouthwatering appetizers and a delicious margarita in hand? Celebrate with the signature Wasted Away in Margaritaville cocktail, the perfect spicy blend of Milagro blanco tequila, Cointreau, ancho reyes verde, lime, agave and jalapeño, for $5 all day long. 11 a.m.-close. 369 Tenth Ave., East Village, 619.541.8301. himmelbergs.com
Jalisco Cantina
May 5. Raise a glass to the vibrant Mexican culture as you sip on tasting flights of tequila and mezcal or toast with house specialty margaritas including the Cilantro Smash, the Mango Serrano and the Pineapple Jalapeno. Celebrate all day long with $5 house Micheladas. 11:30 a.m.-11 p.m. 213 N. Coast Hwy., Oceanside, 760.429.1679. thejaliscocantina.com
Mavericks Beach Club
May 5. PB's top party destination is going big this year with a Cinco De Mayo Lucha-Mania fiesta. The beach bar will have a full-size wrestling ring with professional luchadores from Mexico, announcers and wrestling matches, including a battle royale at the end of the evening. There will also be a ring-side bar, street taco station, taco eating contest during half-time of the wrestling competition, tons of giveaways and much more. Noon-9 p.m., first match begins at 2:30 p.m. 860 Garnet Ave., Pacific Beach, 858.999.0348. maverickssd.com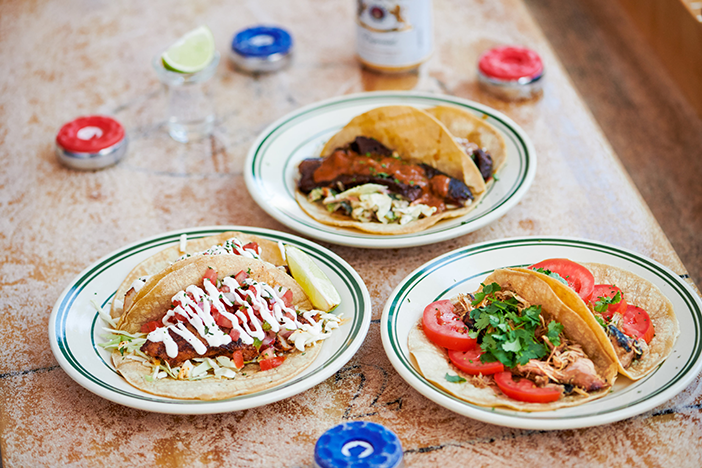 The Smoking Gun
May 5. Celebrate with specialty cocktails, available all day long, including the Tijuana Lady with Olmeca Altos, lime and honey; Jalisco Scout made with El Jimador, curacao and Angostura Bitters; and the one-of-a-kind Al Pastor Taco with El Jimador, lime, pineapple, vinegar and taco seasoning. Food specials include an $8 TJ Bacon Wrapped Hotdog, nachos and queso, and three tacos with your choice of brisket, chicken or fish for $7.50. 11 a.m.-2 a.m. 555 Market St., Gaslamp Quarter, 619.233.3836. thesmokinggunsd.com
The Taco Stand
May 5. Pick your taco of choice like the coveted Al Pastor, packed with flavorsome rotisserie-marinated pork, cilantro, onions, cilantro sauce and pineapple to pair with $3 beers, available all day at the La Jolla, downtown, Encinitas and North Park locations. See website for hours and addresses. letstaco.com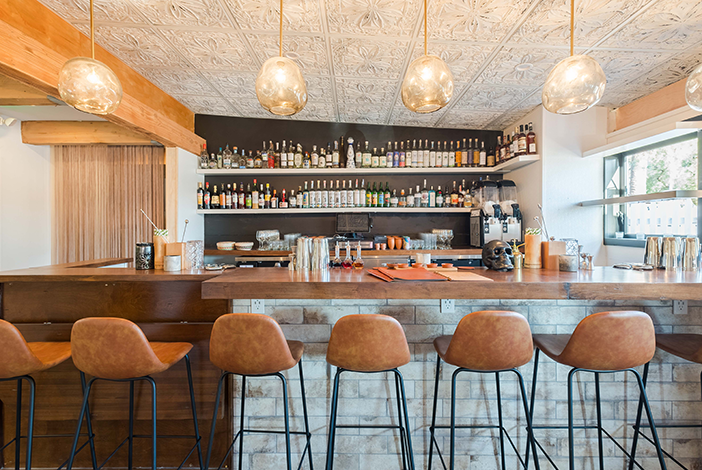 Tahona
May 5. Experience the launch of Tahona's first-ever brunch service as you celebrate the holiday. Featured dishes include Chilaquiles with Tesajo, a traditional Oaxacan-style dried meat; Frenchican Toast, French toast with a Mexican twist; Breakfast Sopes, eggs benedict with a sopes-style thick corn tortilla bottom; and Guacamole Avocado Toast. Round out the festivities with tequila pairing samples, cocktail specials and the debut of brunch cocktails such as the Bloody Mayahuel. Brunch 11 a.m.-2 p.m., drinks 2-5 p.m., dinner 5 p.m.-midnight. 2414 San Diego Ave., Old Town, 619.255.2090. tahonabar.com
Tocaya Organica
May 5. Enjoy select combinations for just $5.50 to celebrate the holiday. Snack on deals like small chips and guac + a bottle of beer or one taco + a bottle of beer all day, at both San Diego locations. Plus, $5.50 margaritas, like refreshing Prickly Pear and Tamarind, available at Tocaya Organica Gaslamp. See website for hours. 755 Fifth Ave., Gaslamp Quarter, 619.343.2898; Westfield UTC, 4301 La Jolla Village Dr., #2003, La Jolla, 858.333.7920. tocayaorganica.com
Death by Tequila photo by James Tran. Super sunDIA photo courtesy El Chingon. The Smoking Gun photo courtesy Alternative Strategies. Tahona photo by Haley Hill Photography.