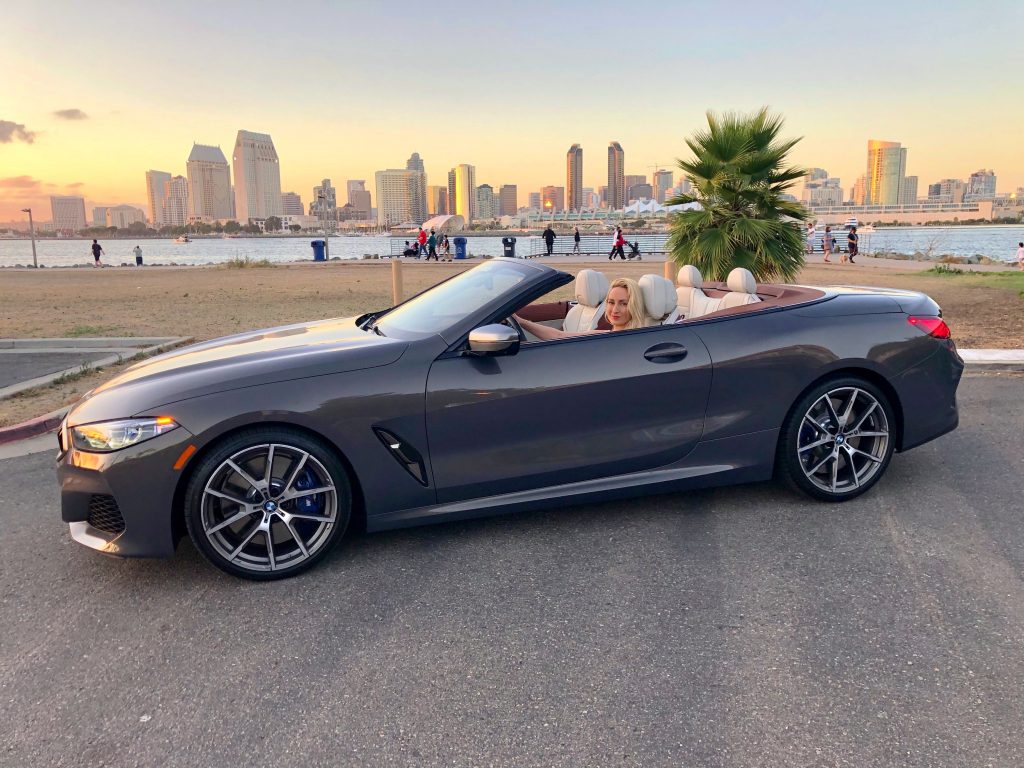 Take a localized road trip across America's finest city, driving from south to north, with editor Sarah Daoust.
Summer 2020, by many accounts, sadly has been cancelled. In my view, it's a matter of perspective and pivoting (my vote for word of the year), and I've chosen to make the best of it. More than ever, I'm feeling extremely fortunate to call San Diego—a destination for myriad outdoor activities and scenery that fall under the "summertime fun" umbrella—my home. So, keeping both safety and a spirit of adventure at top of mind, I recently hit the road—playing tourist in my own backyard and visiting some of my favorite scenic spots.
And I got to travel in style. Meet "Niles," the name I bestowed my partner in crime on this localized summer road trip. On loan for two weeks (in partnership with California Media Group and BMW USA), Niles is quite the dashing gentleman—a fully loaded, 2020 BMW M850i xDrive, V-8, twin-turbo convertible in a gleaming metallic grey. Translation: Niles is as powerful and fast as he is gorgeous and luxurious, and the daily act of putting his top down with a touch of a button instantly shifted my mind to vacation mode.
Driving south to north, Coronado was our first destination. From the sandy, white stretches of Coronado Beach to the iconic, red-turreted Hotel Del Coronado (currently closed for a remodel, though its flagship restaurant Serea is open for outdoor ocean-view dining), it's my favorite place to get away and play without really leaving town. The drive alone from downtown San Diego across the 2.1-mile-long Coronado Bridge exhilarates every time. A coastal drive down "the Strand" toward Imperial Beach and the Mexico border is a must. And make time for a leisurely beachfront stroll near Hotel Del, where you just might spot the ghost-like wreckage of the SS Monte Carlo—a 1930s "sin ship" that ran aground nearly 85 years ago. Its wooden skeleton is visible at low tide (if you're lucky). I also drove along Coronado's bayfront near the ferry landing to take in the dreamy views of downtown and the San Diego Convention Center from across the water.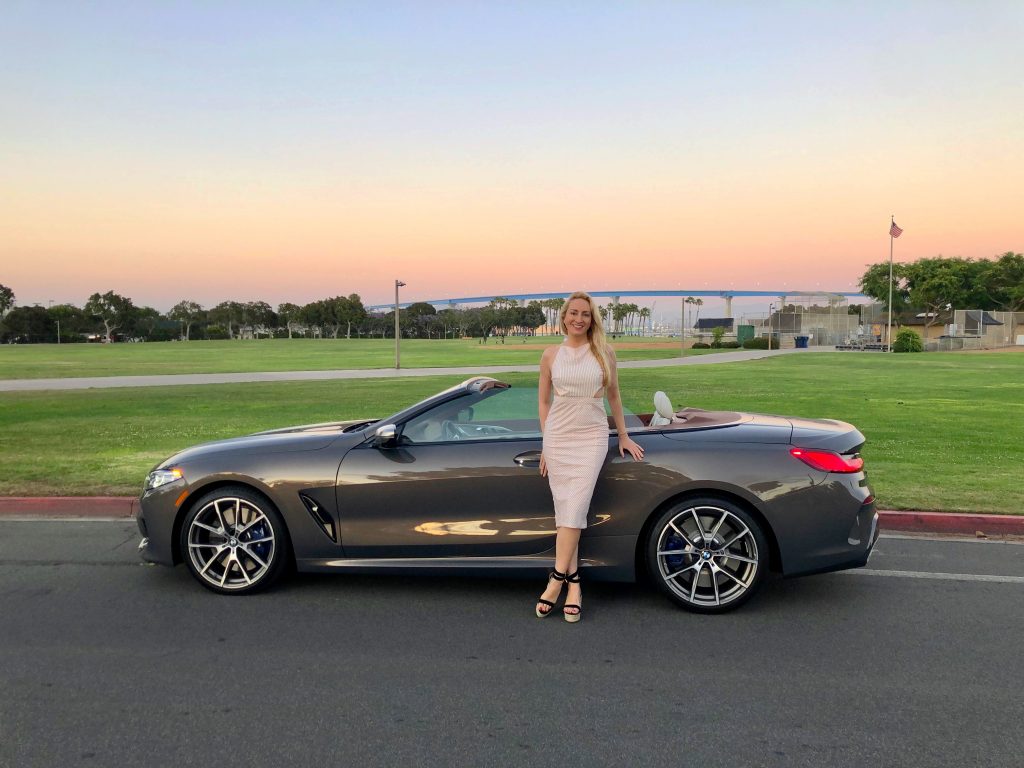 Next, Niles and I cruised along the downtown embarcadero skirting San Diego Bay, where the majestic USS Midway aircraft-carrier sits permanently docked. Now a museum (temporarily closed due to the pandemic), the Midway still makes for a memorable photo op. Find walkable pathways leading into Seaport Village on one side, and an ample parking lot on the other side that puts you directly at water's edge, within a few feet of the carrier. Continuing north along Harbor Drive, we passed the floating Maritime Museum and 1863 Star of India ship. Two more left turns took us past the San Diego International Airport and onto Harbor Island Drive, which offers sweeping views of the bay, skyline and North Island.
A 1,200-acre oasis at the city's center, the 105-year-old Balboa Park is my happy place. The largest urban cultural park in the U.S., it's home to the San Diego Zoo; more than two dozen museums, theaters and gardens; the historical Irving Gill-designed Marston House; and the Spreckels Organ, the world's largest outdoor pipe organ. Of course, many venues remain temporarily closed, but several spacious grassy areas along Sixth Avenue are open for walking and jogging. I loved driving along the landmark El Prado corridor, which takes you over Cabrillo Bridge (a perfect viewpoint for watching incoming airplanes as they fly by), past the California Tower, around the park's central fountain and back.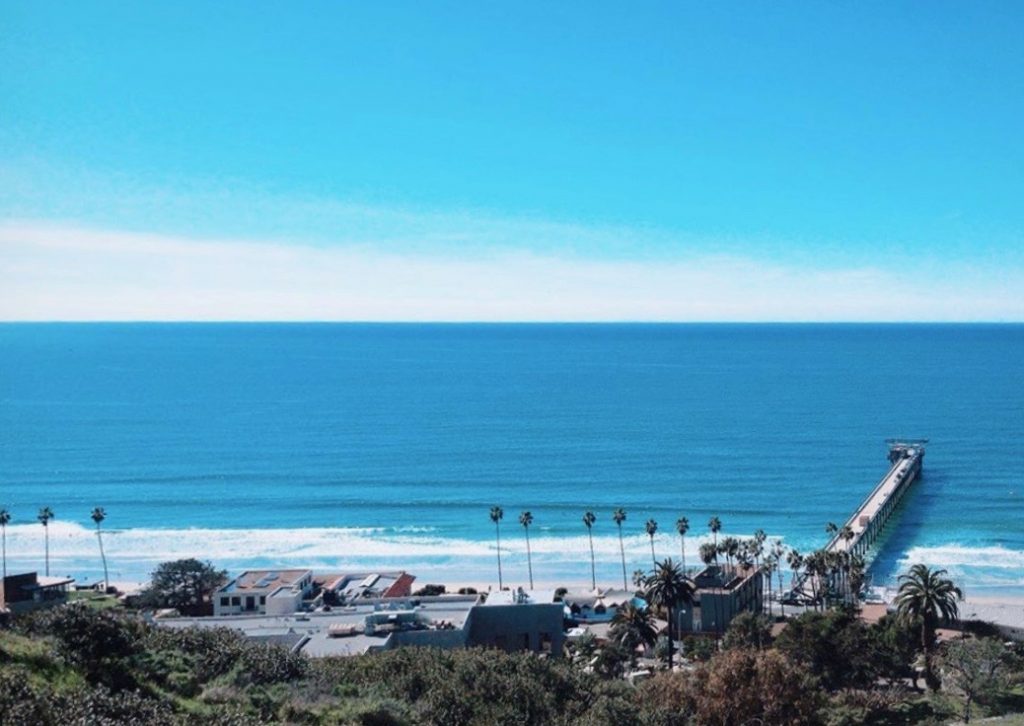 Continuing north, we drove to La Jolla and pulled over to enjoy a short hike along the La Jolla Coast Walk Trail. Dating back to the early 1900s, the trail boasts views of La Jolla Cove, La Jolla Shores Beach and Scripps Pier below. The sunsets here are spectacular. We also drove by Torrey Pines State Natural Reserve, where the main beach is open for "passive and active recreation," but the trails, park road and visitor center remain closed. The ocean views from the road are postcard-worthy.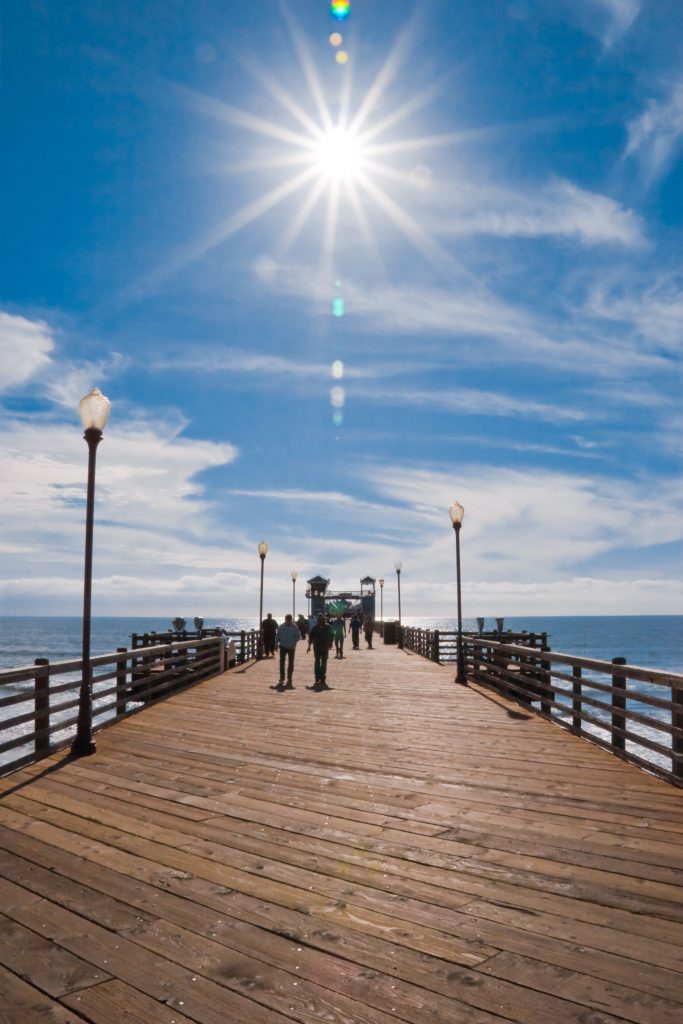 Completing our San Diego road trip, Niles and I explored coastal North County. We drove through quaint Del Mar Village before hopping onto Coast Highway 101, an iconic sliver of SoCal. It took us through Solana Beach, Cardiff-by-the-Sea (I stopped for seafood on the beachfront patio at Pacific Coast Grill), Encinitas, Carlsbad and Oceanside—ending at the Oceanside Pier, built in 1888. There I enjoyed watching local fishermen cast their lines over its wooden rails, as surfers paddled in and out around its perimeter. I breathed in fresh air as the salty sea breeze whipped my hair around, and reminded myself that (despite the current state of the world beyond my control) this is still the stuff of California dreams.
Oceanside Pier photo by Trevor Dyck.